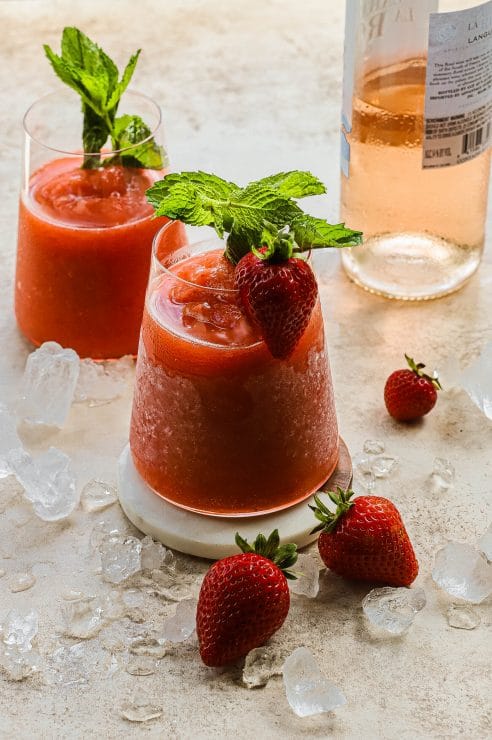 Strawberry-Peach Frose
Strawberry-Peach Frose
Summer isn't over yet and I'm coming in hot with one of my favorite libations: strawberry-peach frose! A frozen slushie of wine, fruit, and vodka? Yes, please! Making frosé is so quick and easy! I just throw everything into the blender and a tasty cocktail is ready to go in seconds. I always have frozen fruit on hand, so it's extra easy to whip up whenever I feel like it. Swap in your favorite fruits and try some fun new combos–I promise frosé will be your summer go-to.
History of Frose
So what exactly is frose? Frose originated at a bar in NYC in 2016 when a couple of bartenders decided to see what would happen if they added rose to a slushie machine. Since that summer, frose has taken over bars and restaurants all over the US–and who can blame them? Frose is delicious and perfect for sipping on a hot summer day. Since most people don't have a slushie machine, my recipe for strawberry-peach frose combines the elements of the drink for a simple at-home version. Rather than freezing rose for the drink, I use frozen fruit, which I always have on hand, to create the frosty beverage.
How to Make Strawberry-Peach Frose
Tools Needed
Ingredients you'll need
Rose wine. Rose is not a type of grape, it's a method for making the wine. It's produced similarly to other red wines, but the contact with the skin is limited giving it its signature pink hue.
Vodka. To kick this strawberry-peach rose up a notch, I love adding a little vodka to the mix. You could also swap in some floral gin or white rum!
Frozen fruit. I used strawberries and peaches this time around but it would be great with strawberries and mangos, pineapple, etc.
Simple Syrup. I use a naturally tart rose, so I like to add a touch of sweetness to balance the drink out.
Lemon juice. Optional, but a little fresh lemon juice really brightens the drink up!
Strawberry-Peach Frose FAQs
Is Strawberry-Peach Frose alcoholic?
Yes. Frose contains both rose wine and vodka making it a boozy libation. Without the booze, it's just a fruit slushie.
Can I make this with a sparkling rose?
Yes! But it feels like a waste of sparkling wine, in my opinion, as the bubbles won't come through.
How long does frose take to freeze?
In this instance, I'm not using frozen rose wine cubes which can take 6-8 hours to freeze all the way through. I'm using frozen fruit to give the frose its texture. This means it's easier to make and much quicker!
What is frose made of?
This recipe for strawberry-peach frose is made with frozen fruit, rose wine, vodka, simple syrup, and lemon juice.
More Cocktail Recipes to Try
This post contains affiliate links from which I receive a small commission at no additional cost to you. Affiliate links allow me to keep providing great recipes for free and I never recommend products that I don't love and personally own.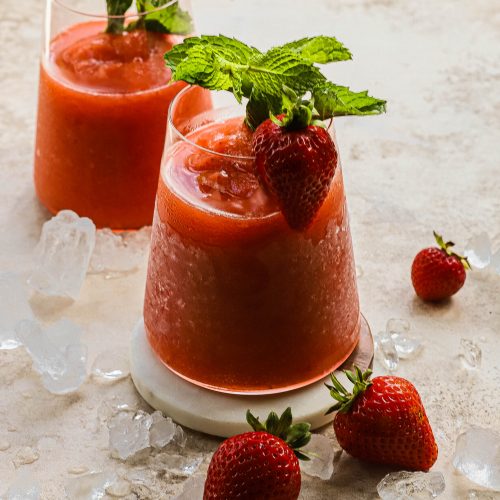 Strawberry-Peach Frose
Strawberry-Peach Frose is the drink of summer! It only requires a handful of ingredients and comes together in minutes!
Ingredients
8

oz

frozen strawberries

8

oz

frozen peaches

12

oz

dry rose wine

4

oz

vodka

2

oz

fresh lemon juice

3

oz

simple syrup

Fresh mint

for garnish
Instructions
Combine all the ingredients in a high-powered blender and blend until smooth. You can add a bit of ice if you want it to be more frozen. Pour into glasses and serve garnished with fresh strawberries and mint.
Nutrition
Serving:
8
oz
Calories:
328
kcal
Carbohydrates:
63
g
Protein:
1
g
Sodium:
5
mg
Sugar:
33
g
You might also like...