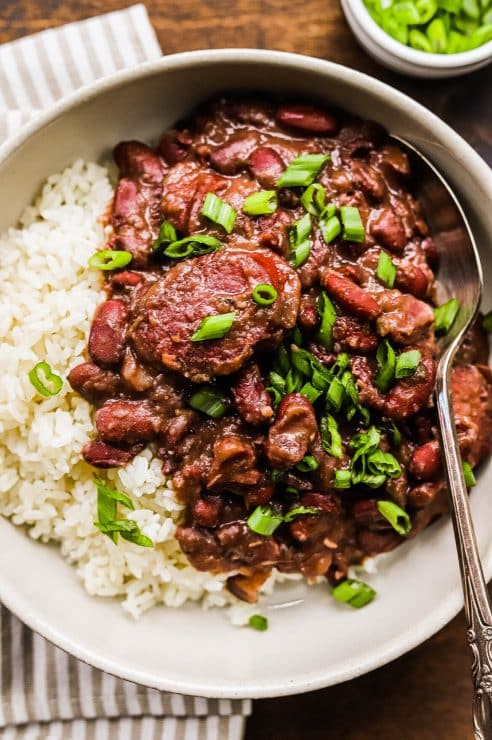 Louisiana-Style Red Beans and Rice Recipe
Louisiana-Style Red Beans and Rice Recipe
Thick and creamy red beans and rice is the perfect comfort food recipe just in time for Mardis Gras. This Louisiana-style one-pot red beans and rice recipe features creamy red kidney beans, smokey sausage, smoked ham hock, and tons of flavor. Did I mention how low-effort this recipe is? You toss everything in a pot and let it simmer for a couple hours and you've got an incredible meal. Red beans and rice freezes beautifully and easily feeds a crowd. Make this recipe just in time for Mardis Gras!
What is Red Beans and Rice?
Red beans and rice is an emblematic staple of Louisiana creole cooking. Because ham was a traditional Sunday dinner, red beans and rice was a natural meal for the next night using leftover ham and bones.  The red beans are simmered with the flavorful leftovers until creamy and served over warm, buttery rice.
How to Make Red Beans and Rice
While you do need to simmer this recipe for a while, it really is a simple and perfect classic that's low-effort.
Tools Needed
Ingredients you'll need
Holy trinity. The base of much of cajun and creole cooking starts with a combination of onion, celery, and green bell pepper.
Red kidney beans. Opt for dried beans and not canned, it makes a huge difference. Soak the beans overnight before cooking.
Andouille sausage. Andouille adds a ton of flavor and spice. If necessary, you could swap in kielbasa.
Smoked ham hock. Simmering the beans with a smoked ham hock creates the most flavorful broth.
Bacon fat. This is totally optional, but I browned the sausage in a little bacon fat for extra flavor.
Chicken stock. I always have homemade chicken stock on hand, so I opted for that. You could use water in a pinch.
Spices. Smoked paprika, thyme, cayenne, and bay leaves to be specific.
Sherry vinegar. I know this sounds odd, but a little drizzle of vinegar towards the end of cooking adds brightness which really balances out the heavy flavors.
Dried Beans Vs. Canned Beans
Can you use canned beans for this recipe? Sure, but it won't be the same. Taking the extra step of soaking your red kidney beans overnight makes ALL the difference. The texture is so much better and it really doesn't require much effort.
Why soak beans with salt?
This is a crucial step! Soaking the red beans in water with salt helps soften the skin on the beans, adds more flavor, and actually changes the texture of the beans. Beans soaked in salt water end up being much creamier.
Start with your water and kosher salt and stir until the salt is dissolved. Add the beans and make sure that they're covered by the water. Let them sit overnight and then drain and rinse before using.
Making perfectly buttery rice
What are red beans and rice without the rice? Serving creamy red beans with rice is a natural combination and the rice helps soak up any extra juices. This is my fool proof recipe for stovetop rice! It serves 3-4 and can easily be doubled.
Bring 2 cups of water, 1 teaspoon of kosher salt, 1/4 teaspoon pepper, and 2 tablespoons of salted butter to a light simmer. Add 1 cup of long grain white rice and stir. Bring to a simmer, cover, reduce the heat to low and cook for 12 min.
Remove the rice from the heat but leave it covered for another 10 minutes. The extra time steams the rice and makes it extra fluffy.
Remove the lid, fluff the rice with a fork, and enjoy!
Freezing red beans and rice
I personally wouldn't freeze the rice, but it's so easy to freeze the red beans! Make sure your red beans are room temperature before freezing. Transfer to an airtight container or freezer-safe ziplock bag. Label your red beans and enjoy within 6 months of freezing!
Other One-Pot Recipes to Try Now
This post contains affiliate links from which I receive a small commission at no additional cost to you. Affiliate links allow me to keep providing great recipes for free and I never recommend products that I don't love and personally own.
Louisiana-Style Red Beans and Rice Recipe
Louisiana-style red beans and rice is the perfect comfort food recipe! Creamy red beans loaded with sausage and ham served over buttery rice.
Total Time:
3

hours
15

minutes
Ingredients
1

lb.

dried red kidney beans

2

tablespoons

bacon fat

1

lb.

andouille sausage

cut into rounds

1

yellow onion

diced

3

ribs celery

diced

1

green bell pepper

diced

5

cloves

garlic

minced

1

teaspoon

smoked paprika

1

teaspoon

dried thyme

1/2

teaspoon

cayenne pepper

2

bay leaves

1

tablespoon

Worcestershire sauce

6

cups

homemade chicken stock

1

large smoked ham hock

1-2

tablespoons

sherry vinegar

Kosher salt

Freshly cracked black pepper

Green onions

sliced

Hot sauce

for serving

Steamed rice

see above instructions
Instructions
In a large bowl, combine the dried kidney beans, 1 1/2 tablespoons kosher salt, and 6 cups of water. Stir until the salt is dissolved. Leave undisturbed at room temperature for at least 8 hours, up to 16. Drain and rinse.

Heat the bacon fat in a large dutch oven (at least 5 qt) over medium-high heat. Once the fat is hot, add the sliced sausage and cook, stirring occasionally, until browned. Using a slotted spoon, transfer the browned sausage to a plate.

Add the onions, bell pepper, and celery to the pot and cook the veggies until they're starting to brown. Add the garlic, paprika, thyme, and cayenne and cook for 2 more minutes.

Return the sausage to the pot and add the chicken stock. Use a wooden spoon to scrape up any browned bits. Add the Worcestershire, soaked beans, ham hock, and bay leaves and bring to a simmer. Cover, reduce the heat to medium-low, and cook for 2 hours.

Remove the lid and simmer for another 30-25 minutes, until the beans are very creamy. Remove the ham hock, shred the meat (discard the bones), and return the meat to the beans. Season to taste with salt and pepper and add a bit of sherry vinegar to taste for brightness.

Serve over buttery white rice topped with green onions and hot sauce.
Nutrition
Serving:
1
cup
Calories:
400
kcal
Carbohydrates:
40
g
Protein:
12
g
Fat:
10
g
Saturated Fat:
4
g
Cholesterol:
60
mg
Sodium:
900
mg
Fiber:
6
g
Sugar:
1
g
You might also like...