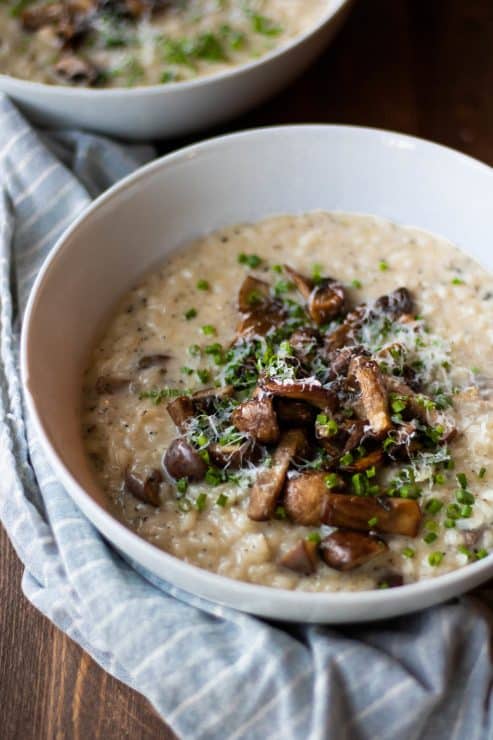 Truffle Mushroom Risotto
Truffle Mushroom Risotto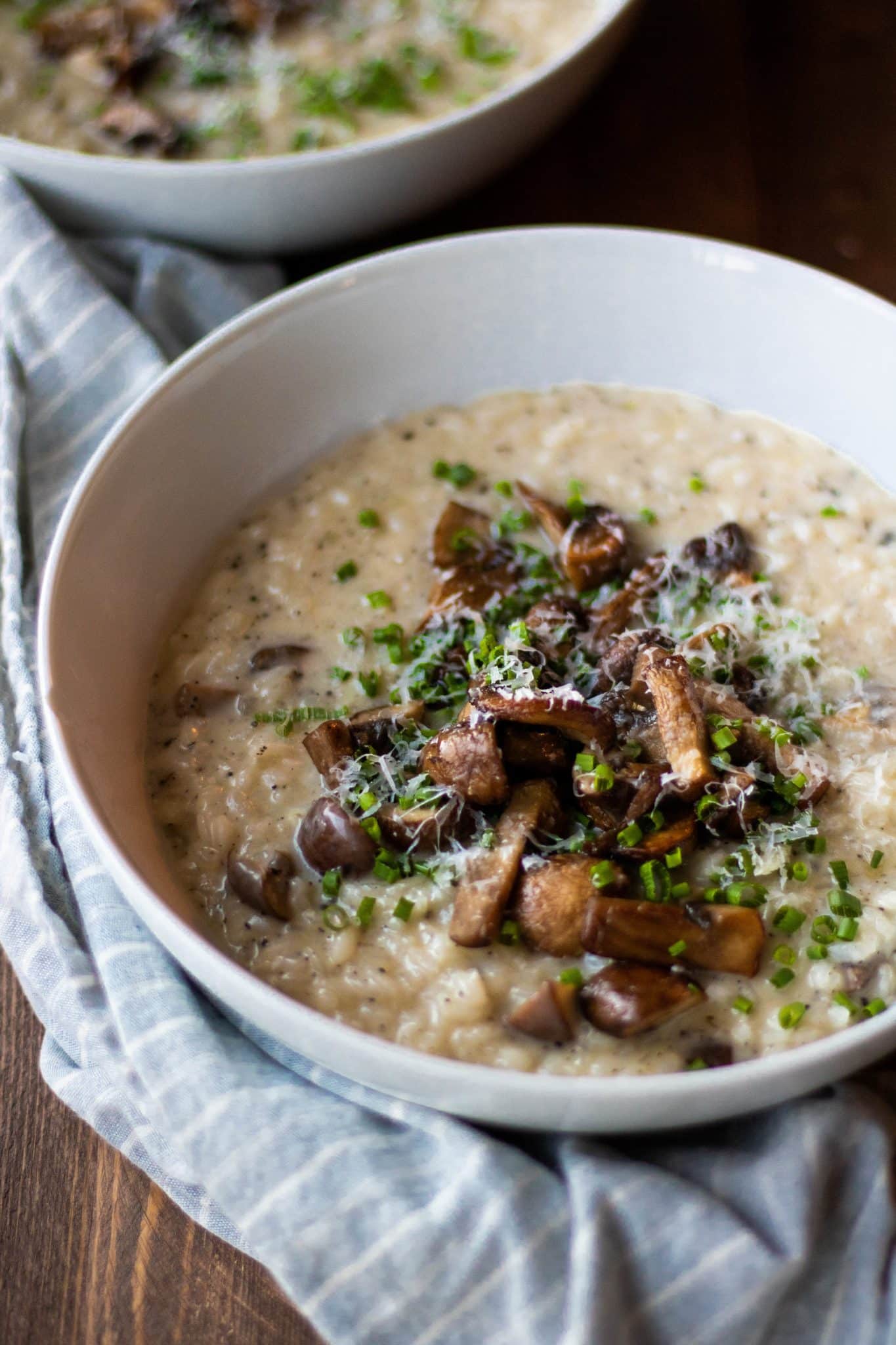 Truffle mushroom risotto is my go-to perfect date night meal. It always looks incredibly impressive, but it's actually a simple dish to throw together! Risotto is creamy and rich and gets so much flavor from the mushrooms and truffle.
I also love to serve risotto at any dinner party for the same reason! So impressive with minimal work so you look like an ace!
What is Risotto?
Risotto is a northern Italian dish made with starchy short or medium-grain rice (oftentimes arborio or carnaroli) cooked with broth until it reaches a creamy consistency. Stirring the rice while cooking releases the starches in the rice, giving risotto its signature texture.
It may sound labor-intensive but I promise it's not! The rice is truly the star of the dish which is why you're not likely to see proteins in risotto. Sometimes you'll see lighter proteins on top like seared scallops, shrimp, or bacon. However, risotto is often meat-free as it's so rich on its own!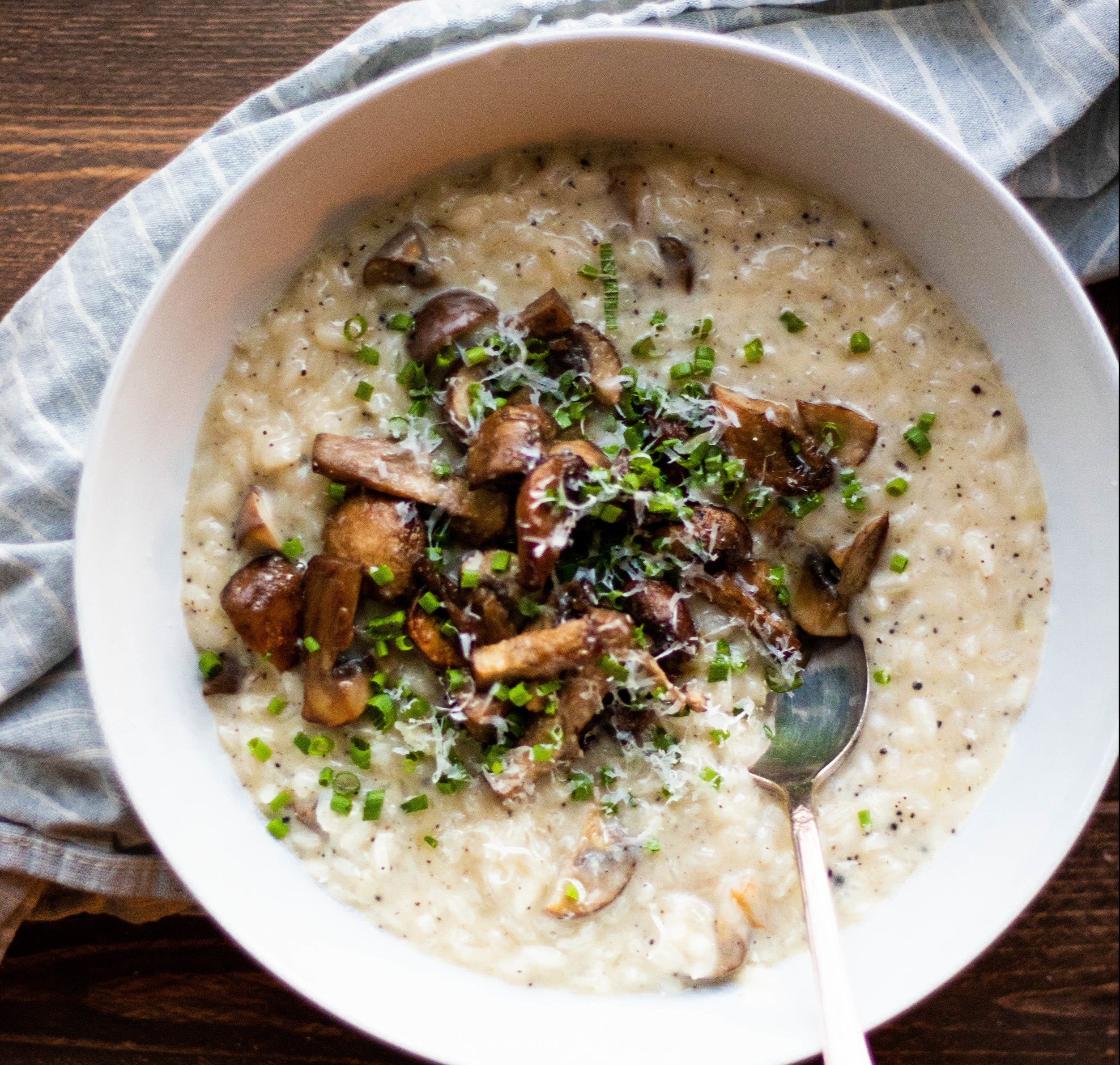 How to make truffle mushroom risotto
This dish is a cinch to make! All you need is a handful of quality ingredients and 20 minutes.
Tools Needed
Ingredients you'll need
Rice. Rice is an obvious ingredient for risotto! Opt for short to medium-grain rice like arborio or carnaroli. In truth, plain white medium-grain rice works great.
Broth. Risotto is best when made with homemade broth. I've always got a store of chicken broth in the freezer–get my easy Instant Pot chicken broth recipe here.
Truffle. I find that truffle oil can be too perfumey, so I love this black truffle puree. You can find it on Amazon here. Swap a small amount of truffle oil in a pinch.
Mascarpone. Using mascarpone isn't strictly traditional, but it gives the risotto the most glorious texture and flavor. You can find mascarpone at pretty much any well-stocked grocery store including Trader Joe's, HEB, Whole Foods, etc.
Parmesan cheese. Please don't use the canned pre-grated stuff here! Use freshly grated or throw some chunks in a food processor and pulse until grated.
White wine. Wine is present in almost every risotto! Opt for dry white wine and one that you'd like to drink.
Preparing Truffle Mushroom Risotto
Mince your shallots. Make sure your shallots are very finely minced so that they melt into the risotto and don't leave large chunks.
Start the risotto. Risotto starts in a wide shallow pan with a bit of butter and your shallots. Cook for a couple of minutes until the shallots are softened. Add the rice and make sure you toss well so that all the grains are coated with a bit of butter. Cook for one minute more until the rice is gently toasted. Add the wine to de-glaze the pan and stir well.
Stir, stir, stir. Risotto gets its texture from the starches released while stirring. Add your warm stock 1 cup at a time, stirring constantly, until the rice absorbs the liquid. Repeat this step until the rice reaches the desired level of doneness–risotto should be cooked to al dente and have a bit of bite.
Cook your mushrooms. While the risotto is cooking, take the opportunity to crisp some mushrooms up in a bit of oil and butter. I used cremini, but chanterelle would be absolutely divine here.
Finish your risotto. Once your rice is done cooking, remove it from the heat. Add in the mascarpone, remaining butter, parmesan, and some of your crispy mushrooms. Ladle into bowls, top with more mushrooms and chives, and enjoy!
Common mistakes when making risotto
Using cold stock. Make sure your broth or stock is simmering! Adding cold liquid slows down the cooking process and hurts the finished product.
Stirring too much or not enough. If you stir too much, the air cools the risotto down (slowing the cooking process), and not enough, the rice will stick to the pan. Be sure to agitate the rice and stir frequently, but take small breaks from time to time.
Adding all the broth at once. You need to add the broth in stages. Adding all the broth at once is just boiling rice. The grains need to bump into each other to release starches. Add your broth one cup at a time and stir until the liquid is absorbed before adding more.
Over or undercooking the rice. Risotto is meant to be cooked to al dente. It should have a little toothiness. If your risotto is mushy, it's been cooked too long. If it's crunchy, it needs more broth and to be cooked longer.
Not using enough heat. Risotto is a slow cooking process, yes, but too low heat won't cook at all. Be sure to keep the rice at a medium-low simmer while adding broth.
Adding cheese and mascarpone too early. Cheese and mascarpone should be added at the very end of the cooking process.
Truffle Mushroom Risotto FAQs
Can I freeze truffle mushroom risotto?
Yes, but I never recommend it. Risotto needs to be served immediately. That being said, you can revive it with a bit of broth after it's defrosted. Your rice will be a little more cooked than recommended, but still doable.
Can I make truffle mushroom risotto ahead of time?
Also, no. Risotto is a quick-cooking dish and to save time, prep and measure your ingredients ahead of time so that throwing it together is a breeze.
Is truffle mushroom risotto gluten-free?
You bet! Truffle mushroom risotto is gluten-free.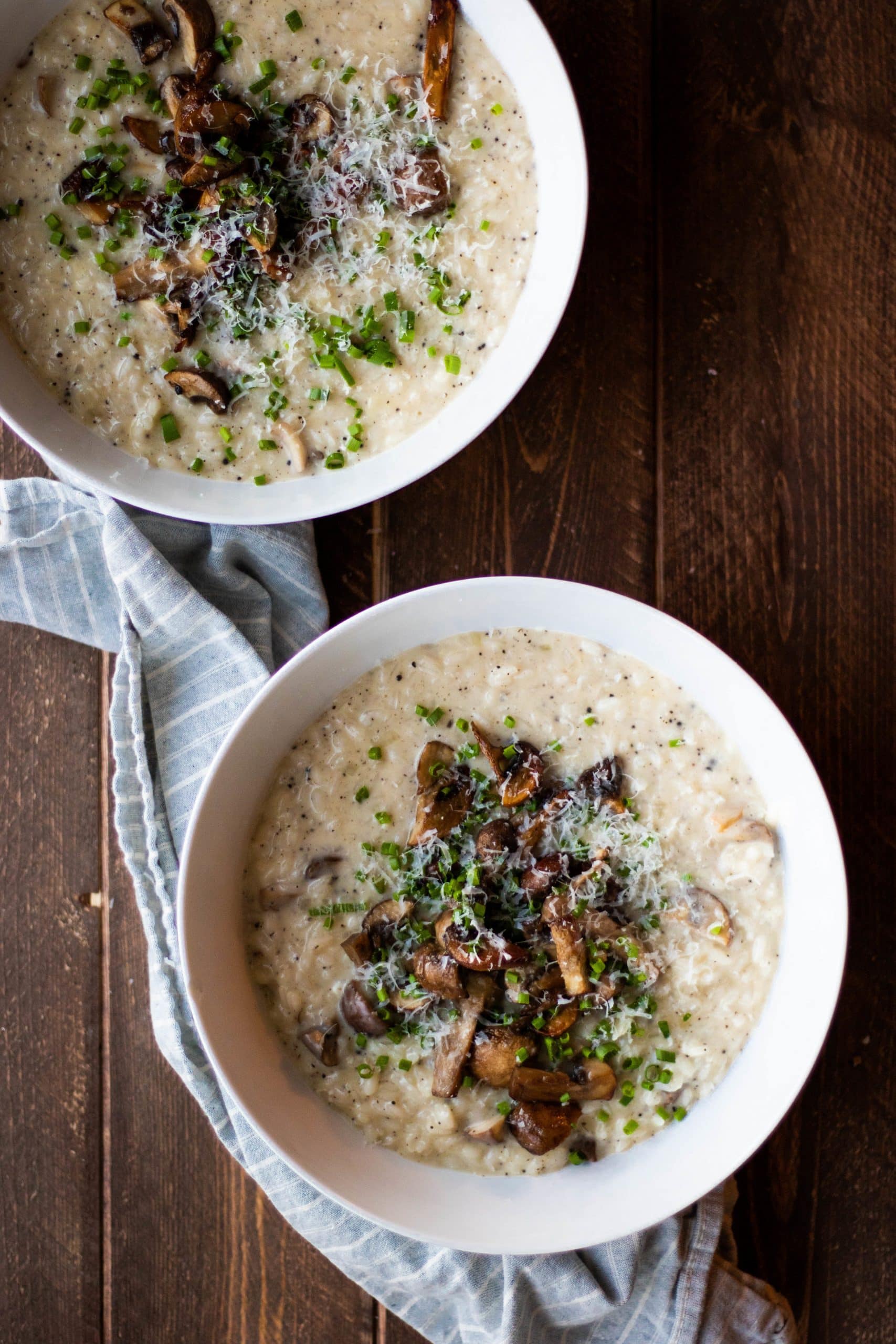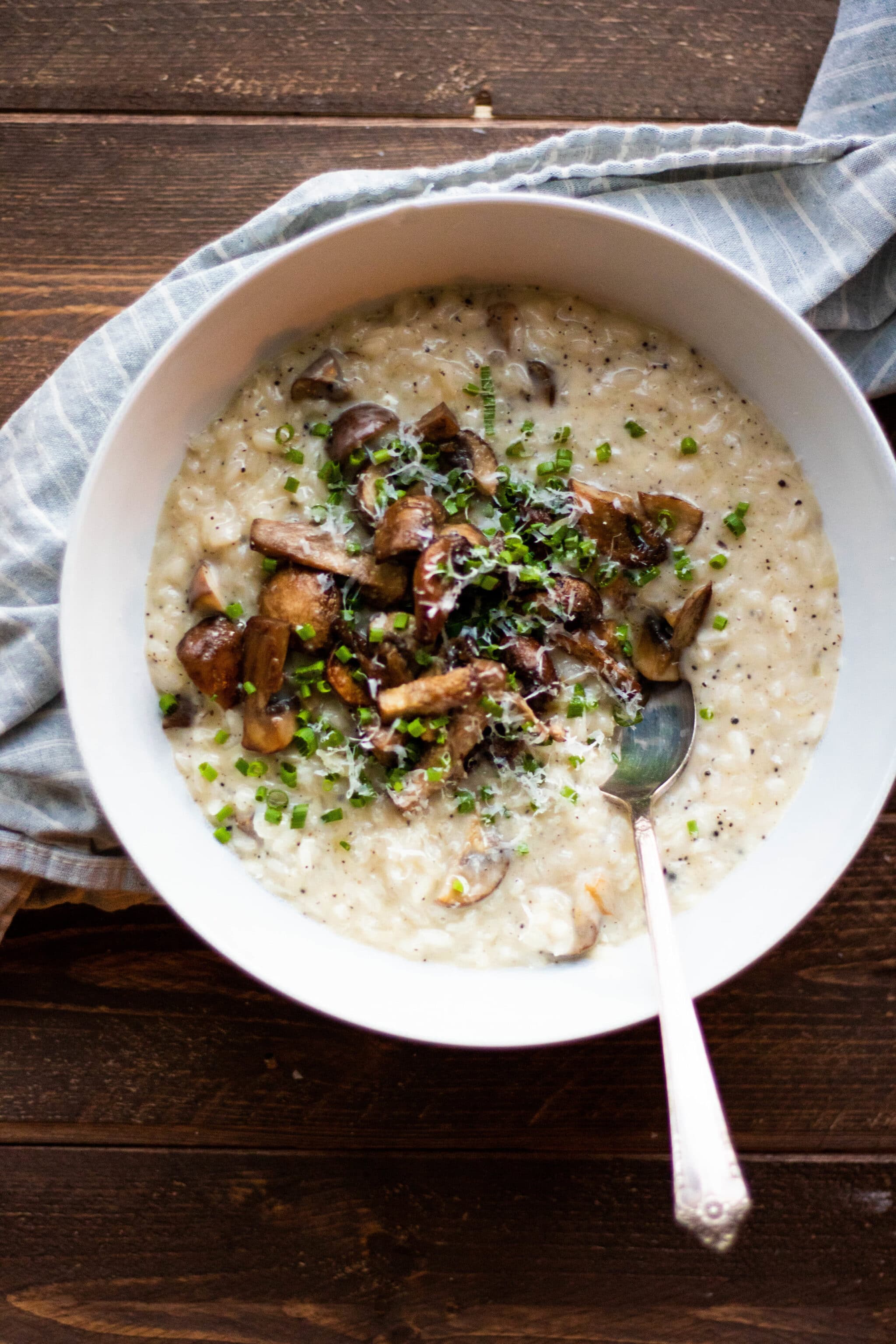 Truffle Mushroom Risotto
Risotto is one of my go-to "fancy" meals at home that feels very elegant, but is so easy to make!
Ingredients
4

oz

(1 stick) unsalted butter, divided

2

small shallots,

finely minced

1 1/2

cups

arborio rice or medium-grain rice

1/2

cup

dry white wine

6

cups

chicken or vegetable broth,

preferably homemade, warmed

12

oz

cremini mushrooms

quartered

2

tablespoons

black truffle puree

or truffle oil, if using

1/2

cup

mascarpone cheese

2/3

cup

freshly grated parmesan,

plus more for garnish

salt and freshly cracked pepper

to taste

chopped chives

for garnish
Instructions
Heat two tablespoons butter over medium heat in a wide bottomed skillet or pan with at least 3 inch sides. Add minced shallot to the pan and cook for 2-3 minutes until softened. Add rice and stir with a wooden spoon to coat in the butter so that all the grains are shiny. Toast rice for about 1 minute. Add wine and stir into the rice continuously.

Once the wine has been absorbed into the rice, add 1 cup of warm broth while constantly stirring the pot. Once that broth has been absorbed, add another cup. A trick to tell when it's time to add more broth is if the bottom of the pan is exposed when you drag your spoon across the bottom. You will continue to add broth, 1 cup at a time while stirring until it has been absorbed into the rice and the rice is just slightly al dente. 

While rice is cooking (and you're stirring), heat 1 tablespoon of butter and 1 tablespoon of neutral oil in a cast iron. Add the mushrooms and let them sear on one side until golden brown. Stir and cook for 2-3 minutes more. Turn off the heat and season lightly with salt and pepper.

Once the rice has reached the desired doneness, turn off the heat. Stir in 2/3 of the cooked mushrooms, truffle puree (or oil), remaining 5 tablespoons butter, mascarpone, and parmesan cheese. Stir until all the cheese and butter has melted. Season to taste with salt and pepper.

Ladle the risotto into bowls. It should have the texture of slow-moving lava and not be a stiff ball. Top with extra mushrooms, parmesan, and chopped chives.
Nutrition
Serving:
1
cup
Calories:
818
kcal
Carbohydrates:
79.5
g
Protein:
15
g
Fat:
36
g
Saturated Fat:
16.2
g
Cholesterol:
67
mg
Sodium:
167
mg
Fiber:
25.7
g
Sugar:
21
g
You might also like...