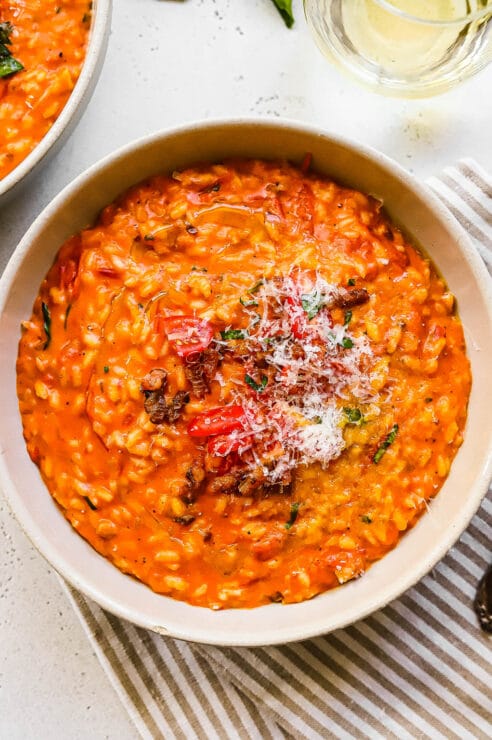 Tomato Risotto
Tomato Risotto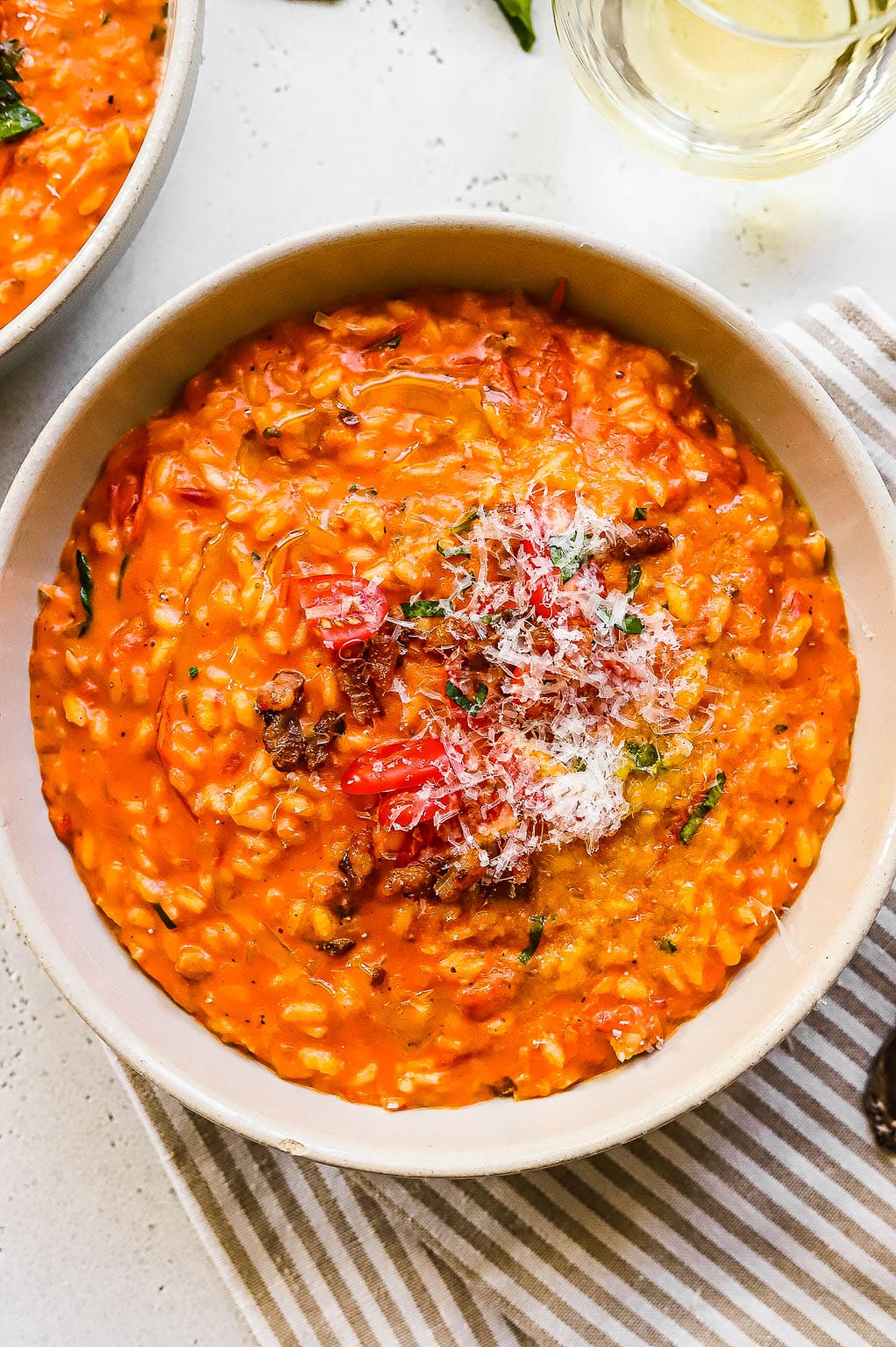 Tomato risotto is a celebration of summer tomatoes! This is an easy, one-pot risotto recipe that only takes about 30 minutes to prepare. This risotto is bursting with fresh tomato flavor, bolstered by crispy pancetta and loads of pecorino cheese. It's bright and fresh, while still feeling incredibly lux.
There is honestly nothing more delicious than this tomato risotto recipe, and if you've been here for a while you know I don't say that lightly!
Risotto is one of my favorite dishes, period. It was a dish I excelled at making in my restaurant career and it has been a recipe I've loved adapting for So Much Food. If you've ever felt intimidated to make risotto, I've got you! Follow my tips, and you'll be whipping up tomato risotto like a pro.
Tomato Risotto: A Celebration of Summer Tomatoes
I would happily make tomato risotto all year long, but there is something so special about summer tomatoes. When tomatoes are at their peak season, there's just nothing quite like it.
This recipe introduces tomatoes in two ways: fresh cherry or san marzano tomatoes are cooked down in the pancetta fat with Calabrian chilies and tomato paste is cooked down with shallots and rice.
Using both tomato products really lets the flavor shine! The tomatoes combined with the crispy pancetta and basil is just an incredible combination. The result is a risotto with intoxicating tomato flavor and a creamy, silky-smooth texture. You can skip the pancetta and make this a vegetarian main dish as well!
What is Risotto?
Risotto is a northern Italian dish made with starchy short or medium-grain rice (oftentimes arborio or carnaroli) cooked with broth until it reaches a creamy consistency. Stirring the rice while it cooks releases the starches from the rice which yields its creamy consistency. It may sound labor intensive but I promise it's not!
Risotto is an exercise in patience, but the result is so worth it. There are a couple of steps you can tackle ahead of time, like crisping up the pancetta and cooking down the tomatoes. Getting a bit of the work out of the way makes tomato risotto a no-brainer recipe for dinner parties! Risotto is my go-to for having friends over because it feels impressive without being truly labor intensive.
If you love risotto as much as I do, check out some of my other recipe variations! My favorites are Pumpkin Bacon Risotto and Cacio e Pepe Risotto.
How to Make Tomato Risotto
You don't need a lot of special equipment to make a great risotto! I would invest in a wide braiser (one of my most used pans!), since risotto is best made in a wide shallow skillet.
Tools Needed
Ingredients and Substitutions
Pancetta. You could swap in some bacon lardons or skip it all together.
Tomatoes. I got my hands on some fresh little san marzano tomatoes, but you can swap in cherry tomatoes, grape tomatoes, chopped heirloom tomatoes, anything that looks good!
Tomato paste. A bit of tomato paste really helps the tomato flavor shine.
Shallots. Shallots are always my go-to for risotto because I love their delicate flavor. You can swap in some sweet onion, just make sure to dice it real small so it melts into the tomato risotto.
Rice. This is an important ingredient! I like to use carnaroli rice, but you can use arborio or any risotto rice or even plain medium-grain rice.
Butter. I always stir a couple of tablespoons of good butter in at the end!
Wine. A bit of dry white wine really brings out the flavor in risotto. You could skip this, but I always enjoy a glass of wine with risotto!
Pecorino Romano. You could swap in some good parmesan, too. Just don't use the canned stuff!
Mascarpone. Mascarpone is my secret ingredient in all my risotto recipes! It adds the best creaminess and really balances the acidity of the tomatoes.
Calabrian chilies. I use the jarred 'bomba' paste from Trader Joe's which is chopped Calabrian chilies. They are my absolute favorite chili and add so much flavor. You can find chopped Calabrian chilies on amazon here, or swap in a bit of crushed red pepper flakes.
Broth or stock. I always use homemade chicken stock, but you can use store bought too. Swap in vegetable stock or broth to keep tomato risotto vegetarian.
Fresh basil. Adding fresh chopped basil at the end is just *chef's kiss*.
The Process
Step one: Add your diced pancetta to a skillet over low heat. Cook, stirring occasionally, until the pancetta is crispy and some of the fat has rendered out. Use a slotted spoon to transfer the crispy pancetta to a small bowl.
Step two: Add your tomatoes to the skillet and let them cook down in the pancetta fat. Add a sprinkle of salt to help the tomatoes break down. Once they're starting to burst, add the Calabrian chili or crushed red pepper flakes. Once the tomatoes have broken down into a thick paste, transfer them to a small bowl.
Step three: Add 1 tablespoon of butter to the skillet over medium heat and add the shallots. Use a spoon to scrape up any browned bits on the bottom.
Step four: Once the shallots are soft, add the tomato paste and cook for 2-3 minutes, stirring often. Add the rice and really work it into the tomato paste. Then, add the wine and let it simmer until it's absorbed into the rice. Add the tomatoes that you cooked earlier.
Step five: One ladleful at a time, stir the warm stock into the risotto. You'll want to be mostly continuously stirring here. Let the liquid absorb into the rice before adding more stock. Keep adding stock until the rice is cooked through, but has a little toothiness. The whole process takes about 15-20 minutes or so.
Step six: Once the rice has reached the desired doneness, remove it from the heat and stir in the cheese, mascarpone, remaining butter, pancetta, and chopped basil. Season to taste with salt and pepper and serve warm.
Best Rice for Tomato Risotto
The best rice to use for this tomato risotto recipe is arborio (short grain) or carnaroli (medium grain). Both are regional varieties to northern Italy and work great. You can find Italian rice varieties online and in most well-stocked grocery stores.
I've also used plain medium-grain rice as well with great results.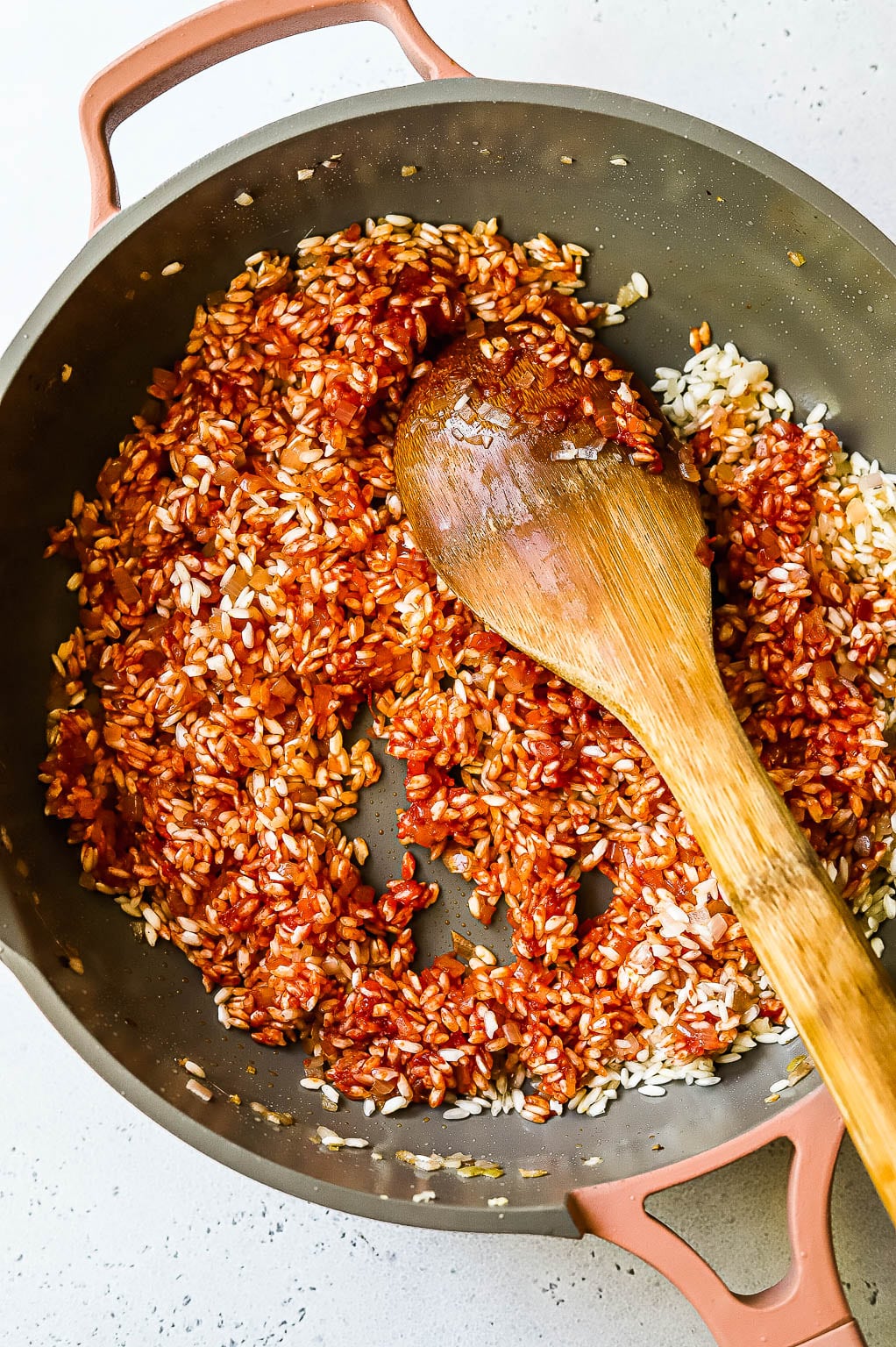 Making Tomato Risotto Ahead of Time
Tomato risotto is one of those recipes that's best made and served right away. That being said, there are ways to speed up the process and make cooking a breeze.
Crisp up pancetta ahead of time. If you're making risotto for dinner, you can crisp up the pancetta ahead of time! This saves a bit of time.
Cook tomatoes ahead of time. If you're crisping up your pancetta ahead of time, you might as well cook the fresh tomatoes down too! If you do both of these steps ahead of time, you can have risotto on the table in 20-25 minutes for your guests.
Get your mise en place ready. Mise en place is a French term meaning "everything in its place." This is a cooking philosophy that you should have all the components of your dish prepped and ready to go before you even start cooking. In this instance, having your shallots diced, butter and mascarpone portioned, your cheese grated, and your broth warm saves tons of time. If you have all the components ready to go, once you start cooking it speeds up the process immensely.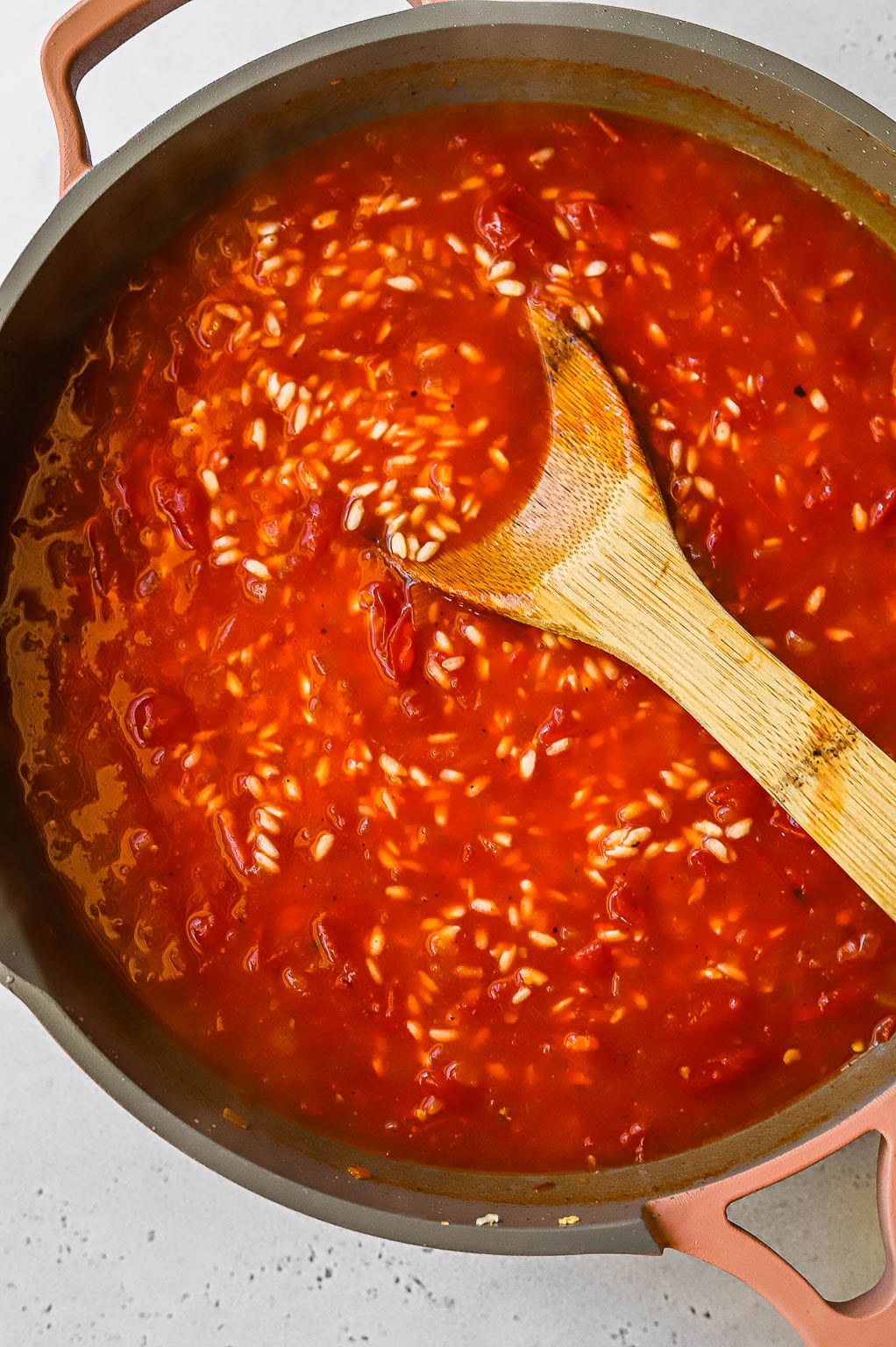 Common Mistakes When Making Risotto
If your tomato risotto isn't turning out the way you hoped, you could be making one of these common mistakes!
Using cold stock. Make sure your broth or stock is simmering! Adding cold liquid slows down the cooking process and hurts the finished product.
Stirring too much or not enough. If you stir too much, the air cools the risotto down (slowing the cooking process), and not enough, the rice will stick to the pan. Be sure to agitate the rice and stir frequently, but take small breaks from time to time.
Adding all the broth at once. You need to add the broth in stages. Adding all the broth at once is just boiling rice. The grains need to bump into each other to release starches. Add your broth one cup at a time and stir until the liquid is absorbed before adding more.
Over or undercooking the rice. Risotto is meant to be al dente. It should have a little toothiness. If your risotto is mushy, it's been cooked too long. If it's crunchy, it needs more broth and cooking time.
Your heat is too low. Risotto is a slow cooking process, yes, but too low of heat won't cook at all. Be sure to keep the rice at a medium-low simmer while adding broth.
Adding cheese or mascarpone too early. Cheese and mascarpone should be added at the very end of the cooking process off the heat.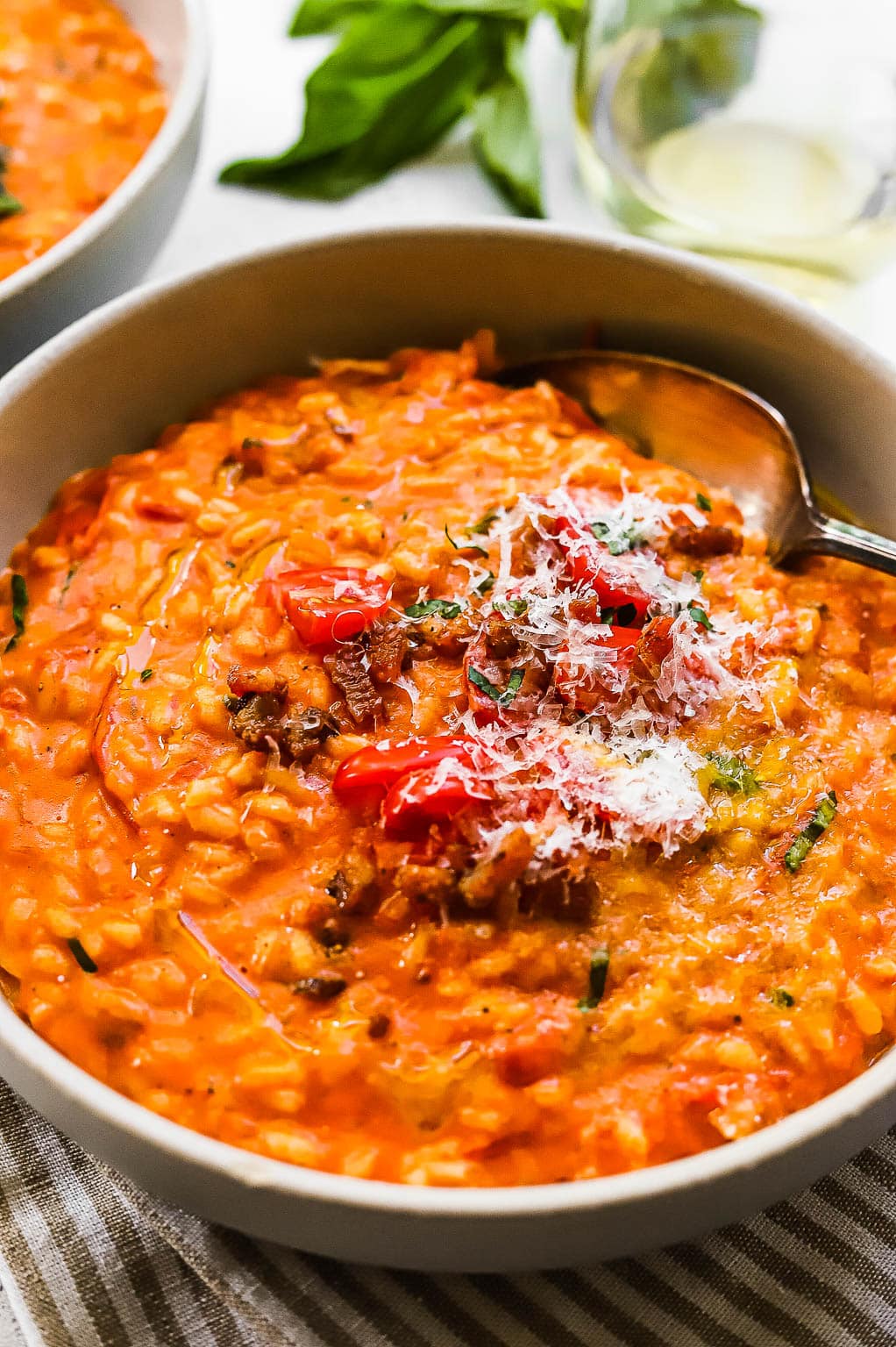 Storing, Freezing, and Re-Heating Tomato Risotto
Store leftover tomato risotto in an airtight container for up to 4 days. Keep in mind the consistency may not the same upon reheating, but it will still taste delicious! You can reheat it in a skillet with a bit more broth or water to bring it back.
To freeze, let the tomato risotto cool to room temperature. Transfer to a freezer-safe ziplock bag and press out as much of the air as possible when sealing. This helps prevent freezer burn. Defrost overnight in the fridge and reheat in a skillet with a bit of water of broth. Keep in mind, it won't be the same re-heated but it will still be tasty!
Tomato Risotto FAQs
Should I wash risotto rice before cooking?
NO! Rinsing rice removes some of the starch and we need all that starchy goodness during cooking. Add your dry, unwashed rice directly to the pan when cooking.
What do I do if my risotto is watery?
It's possible that you added a touch too much broth—add a bit more cheese to help bring the risotto together. Also, keep in mind that the perfect risotto should spread like lava in a bowl and not clump together in a pile.
Do I have to use wine?
No, but I do think it adds a lot of flavor. If you're worried about trace amounts of alcohol, simply omit the wine and use chicken stock.
More Risotto Recipes to Try Now
This post may contain affiliate links from which I receive a small commission at no additional cost to you. Affiliate links allow me to keep providing great recipes for free and I never recommend products that I don't love and personally own.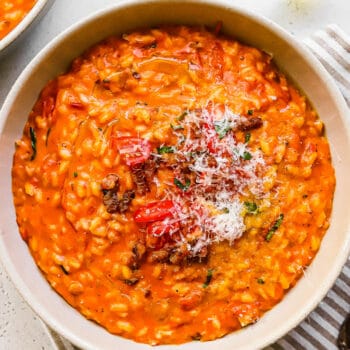 Tomato Risotto
This tomato risotto recipe is perfect for entertaining! It's busting with bright tomatoes, crispy pancetta, and lots of cheese.
Ingredients
3

oz

pancetta, diced

1

pint

cherry or san marzano tomatoes

2

teaspoons

chopped Calabrian chilies

4

tablespoons

butter, divded

2

small shallots, minced

2

tablespoons

tomato paste

1 1/2

cups

arborio or carnaroli rice

1/2

cup

dry white wine

5-6

cups

chicken or vegetable broth, warmed

4

oz

mascarpone

1

cup

freshly grated pecorino romano cheese

1/3

cup

chopped fresh basil

kosher salt, to taste

freshly grated pepper, to taste
Instructions
Heat 1 tablespoon of olive oil in a wide skillet or braiser over low heat and add the pancetta. Cook, stirring occasionally, until the pancetta is crispy and has rendered some of its fat. Use a slotted spoon to remove the crispy pancetta from the skillet and transfer it to a small bowl.

Increase the heat to medium-low and add the tomatoes to the rendered pancetta fat. Season the tomatoes with a bit of salt and pepper to help them break down. Once the tomatoes start to burst, add the Calabrian chili and cook until the tomato mixture is close to a paste. Remove from the skillet and transfer to a small bowl.

Melt 2 tablespoons of butter in the skillet and add the shallots. Use this opportunity to scrape up any browned bits from the skillet. Cook for 2-3 minutes until the shallots are soft and then add the tomato paste. Cook for another 1-2 minutes, stirring often until the tomato paste has darkened in color slightly.

Add the rice to the skillet and toss to coat in the tomato paste and shallots. Once the rice is well-coated, add the cooked tomatoes and the white wine and let the rice simmer until the liquid is absorbed.

Once the wine is absorbed, add the warm stock one ladleful at a time while stirring. Continue to stir until the liquid is absorbed before adding more. Repeat with the broth until the rice is cooked through, but still has a bit of toothiness. You may not need all the broth.

Once the rice is cooked through, remove from the heat and add the remaining butter, cheese, mascarpone, crispy pancetta, and chopped basil. Stir until all the cheese has melted in. Season to taste with salt and pepper. Serve topped with more cheese and basil, if desired.
You might also like...