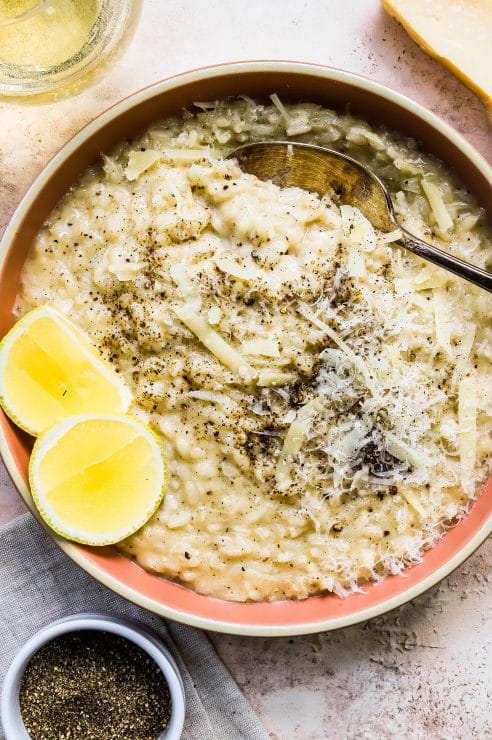 Cacio e Pepe Risotto
Cacio e Pepe Risotto
Cacio e Pepe risotto transforms the familiar pasta dish into an elegant meal that couldn't be easier to make. It's luscious and creamy with a little bite from the freshly cracked pepper and perfectly balanced with the salty cheeses. If you're nervous about making risotto, don't be.
It couldn't be easier! If you're a visual person, I've got a risotto tutorial in my Instagram highlights here. Buon appetito!
What is Cacio e Pepe Risotto?
Risotto is a northern Italian dish made with starchy short or medium-grain rice (oftentimes arborio or carnaroli). It's simple, but it's also loaded with cheese and butter–impressive recipes don't have to be complicated! Stirring the rice as it cooks, releases the starches and yields a perfectly creamy consistency.
What kind of rice is best for risotto?
The best rice to use for cacio e pepe risotto is arborio (short grain) or carnaroli (medium grain). Both are regional varieties to northern Italy and work great. Did you know that arborio rice grows in California, Arkansas, and Missouri? US Farmers grow nearly 85% of the rice we eat!
Each year, local farmers in Arkansas, California, Louisiana, Mississippi, Missouri, and Texas grow and harvest 18 billion pounds of rice. For this recipe, I used the arborio rice from Rice Select. Rice select is a company committed to producing and packaging US-grown and harvested rice.
How to make Cacio e Pepe Risotto
Cacio e Pepe risotto is so easy to make at home! Here are my favorite tips and tools to make this recipe a breeze.
Tools Needed
A high-sided skillet or braiser. It's best to make risotto in a wide skillet or braiser. Something with a large diameter across with sides that are at least 2 inches high. I don't recommend trying to make risotto in a pot.
A wooden spoon. Wood is non-reactive and it won't change the flavor of your risotto like some metal utensils will.
Ingredients you'll need
Rice. Obviously, rice is the main ingredient here! Select a short or medium-grain US-grown rice varietal.
Shallot. I love shallot here instead of onion because the flavor is much milder when cooked. If necessary, swap in finely minced yellow onion for shallot.
Wine. Opt for a dry white wine here like a Sauvignon Blanc or a Pinot Grigio. Make sure it's a wine you'd drink!
Broth. I love the richness of the chicken broth, but it's easy to keep this dish vegetarian by using vegetable broth. Homemade is always best!
Cheese. Traditionally, cacio e Pepe is made with Pecorino Romano cheese, but I love adding some parmesan in too.
Mascarpone. This isn't strictly traditional, but a couple of tablespoons of mascarpone adds creaminess and it's my secret ingredient in every risotto that I make! No mascarpone? No problem—swap in a bit of sour cream, cream cheese, or heavy cream.
Pepper. Pepper is a key ingredient in Cacio e Pepe risotto, so make sure to grind your pepper fresh!
Common mistakes when making cacio e pepe risotto
If your cacio e pepe risotto isn't coming out the way you want, you may be making one of these common mistakes!
Using cold stock. Make sure your broth or stock is simmering! Adding cold liquid slows down the cooking process and hurts the finished product.
Stirring too much or not enough. If you stir too much, the air cools the risotto down (slowing the cooking process), and not enough, the rice will stick to the pan. Be sure to agitate the rice and stir frequently, but take small breaks from time to time.
Adding all the broth at once. You need to add the broth in stages. Adding all the broth at once is just boiling rice. The grains need to bump into each other to release starches. Add your broth one cup at a time and stir until the liquid is absorbed before adding more.
Over or undercooking the rice. Risotto is meant to be al dente. It should have a little toothiness. If your risotto is mushy, it's been cooked too long. If it's crunchy, it needs more broth and cooking time.
Your heat is too low. Risotto is a slow cooking process, yes, but too low of heat won't cook at all. Be sure to keep the rice at a medium-low simmer while adding broth.
Adding cheese or mascarpone too early. Cheese and mascarpone should be added at the very end of the cooking process off the heat.
Cacio e Pepe Risotto FAQs
What does Cacio e Pepe mean?
It literally translates to "cheese and pepper" in Italian! With so few ingredients in this recipe, make sure you're using the best quality cheese and pepper for optimum results.
Should I wash risotto rice before cooking?
NO! Rinsing rice removes some of the starch and we need all that starchy goodness during cooking. Add your dry, unwashed rice directly to the pan when cooking.
What do I do if my risotto is watery?
It's possible that you added a touch too much broth—add a bit more cheese to help bring the risotto together. Also, keep in mind that the perfect risotto should spread like lava in a bowl and not clump together in a pile.
Do I have to use wine?
No, but I do think it adds a lot of flavor. If you're worried about trace amounts of alcohol, simply omit the wine and use chicken stock.
More Risotto Variations to Try
This post may contain affiliate links from which I receive a small commission at no additional cost to you. Affiliate links allow me to keep providing great recipes for free and I never recommend products that I don't love and personally own.
Cacio e Pepe Risotto
Cacio e Pepe risotto transforms the classic pasta dish into a rich and delicious one-pan risotto!
Ingredients
1

tablespoon

olive oil

4

tablespoons

2 oz unsalted butter, divided

1

shallot

finely minced

2

teaspoons

freshly ground black pepper

1 1/2

cups

arborio or carnaroli rice

1/2

cup

dry white wine

6

cups

homemade chicken or vegetable stock,

simmering

1/3

cup

freshly grated parmesan cheese

1/2

cup

freshly grated pecorino romano cheese

2

tablespoons

mascarpone cheese

Kosher salt

to taste

Lemon wedges

for serving
Instructions
In a wide, shallow skillet, melt one tablespoon of olive oil and one tablespoon of butter over medium heat. Add the shallot and cook for 1-2 minutes, stirring constantly, until the shallots have softened. Add the pepper and cook for another minute, until fragrant.

Then, add the rice and cook for another minute, while stirring, so that the rice is coated in the butter and oil. Add the wine and stir until the rice has absorbed most of it. Once the wine has been absorbed into the rice, add 1 cup of warm broth while stirring frequently.

Once that broth has been absorbed, add another cup. A trick to tell when it's time to add more broth is if the bottom of the pan is exposed when you drag your spoon across the bottom. You will continue to add broth 1 cup at a time while stirring until it has been absorbed into the rice and the rice is just slightly al dente, about 20-22 minutes.

Once the rice has reached the desired doneness, turn off the heat. Stir in the remaining butter, cheese, and mascarpone. Stir until all the cheese has melted. Season to taste with salt and pepper and serve immediately with more cheese on top and lemon wedges on the side.
Nutrition
Serving:
1
cup
Calories:
400
kcal
Carbohydrates:
46
g
Protein:
10
g
Fat:
9.2
g
Saturated Fat:
3.7
g
Cholesterol:
14
mg
Sodium:
700
mg
You might also like...