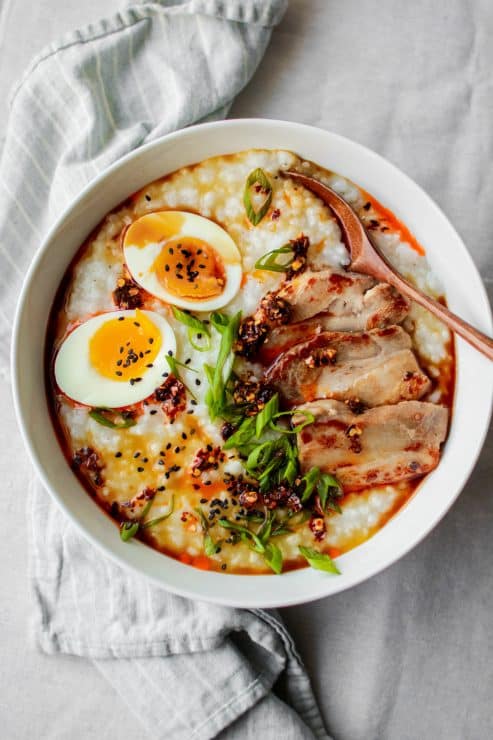 classic congee with pork belly, egg and scallion
classic congee with pork belly, egg and scallion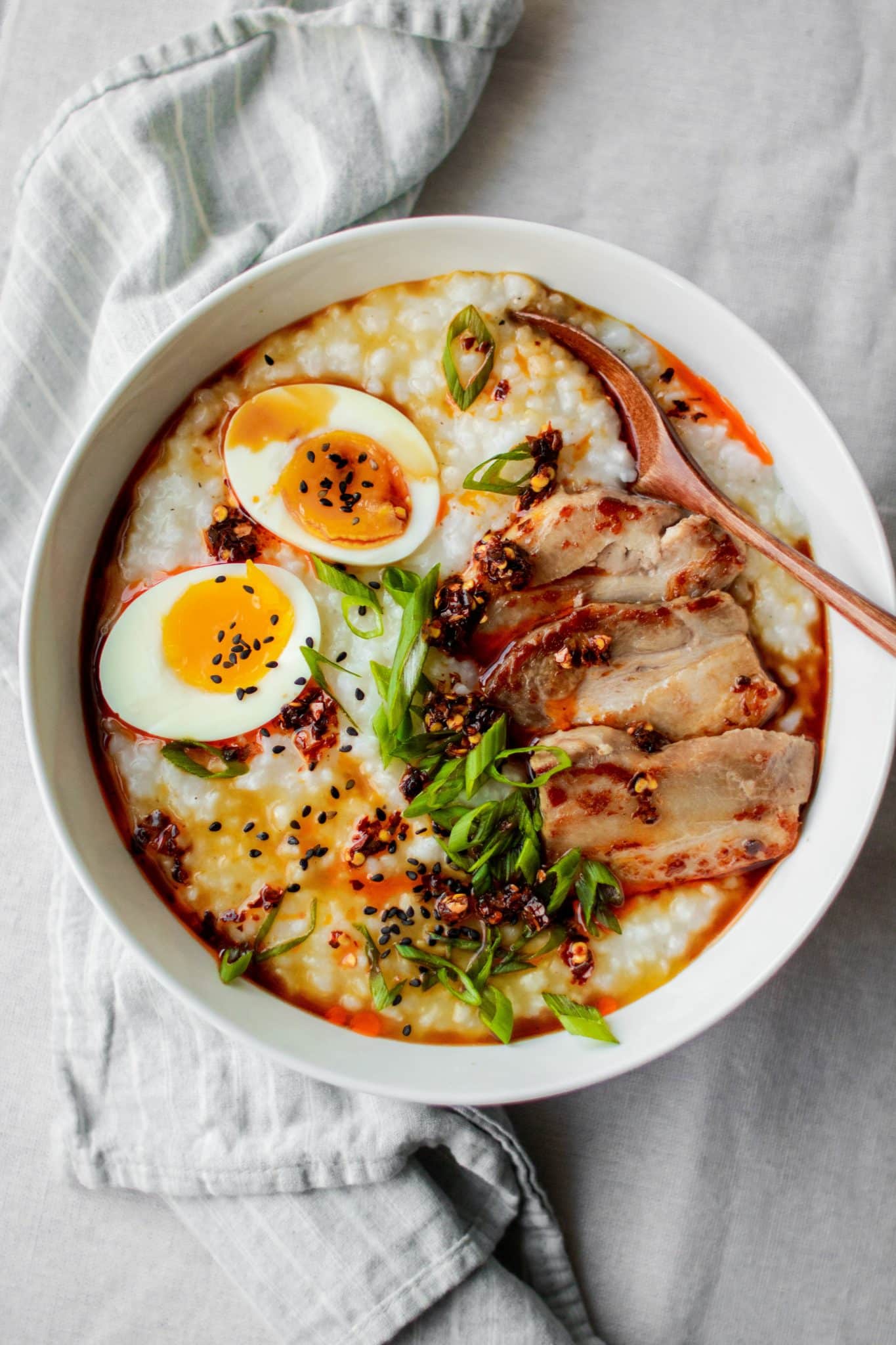 Well, this is definitely the easiest recipe I've ever posted on my site. If you've never had classic congee with pork belly, it is the most delightful, savory rice porridge dish and requires almost no effort. If you can rinse rice, you can make this dish. Rinsing the rice is an important step for removing excess starch from the rice and after that you throw it in a pot with broth and simmer for 90 minutes. THAT'S IT. This is like the equivalent of chicken noodle soup in Chinese cuisine (specifically Cantonese). Truth be told, most Asian cuisines have some version of this dish just by a different name. As the rice breaks down over the cooking period, it becomes soft and creamy and absorbs the majority of liquid and what you're left with is rice that has absorbed every bit of chicken flavor. It can be topped with just about anything from fresh herbs to jammy eggs to different meats or fish. It can also be served vegan/vegetarian by swapping in vegetable broth. It is hands-down one of my favorite meals for cooler days or for when I'm fighting off a cold.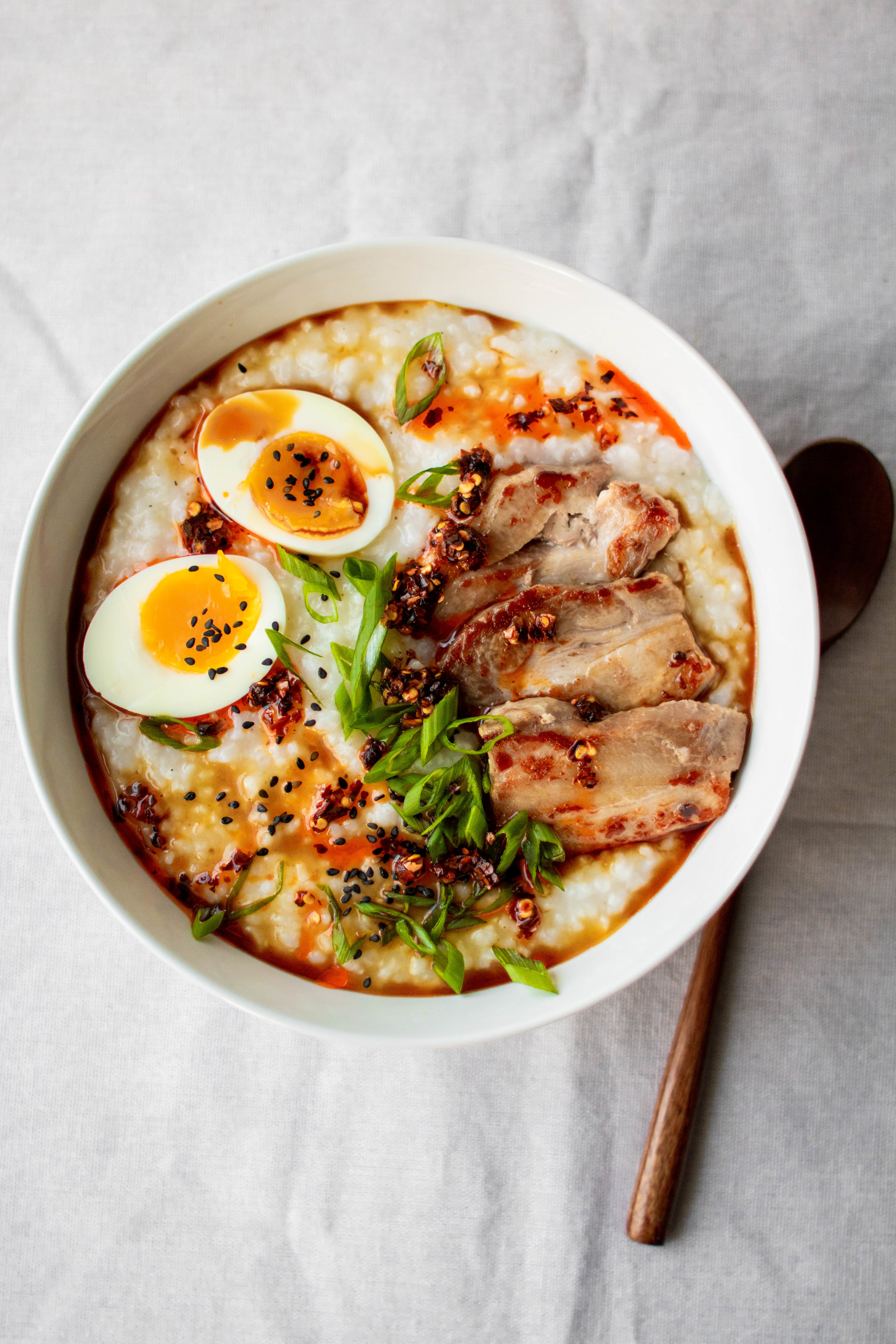 Because there are so few ingredients in the dish, you absolutely have to use homemade chicken broth (or broth of your choice). It seriously makes all the difference. Now, I know not everyone has all day to simmer broth on the stove, so you'll find my instant pot chicken stock recipe below and it's so easy and flavorful and perfect for this dish. It makes more that you need so I usually freeze some so I can always have it on hand. Otherwise, go forth and top your congee with all your favorite toppings. My favorite way to enjoy a classic congee is with pork belly, egg and scallion and you can find my pork belly and chili oil recipe below!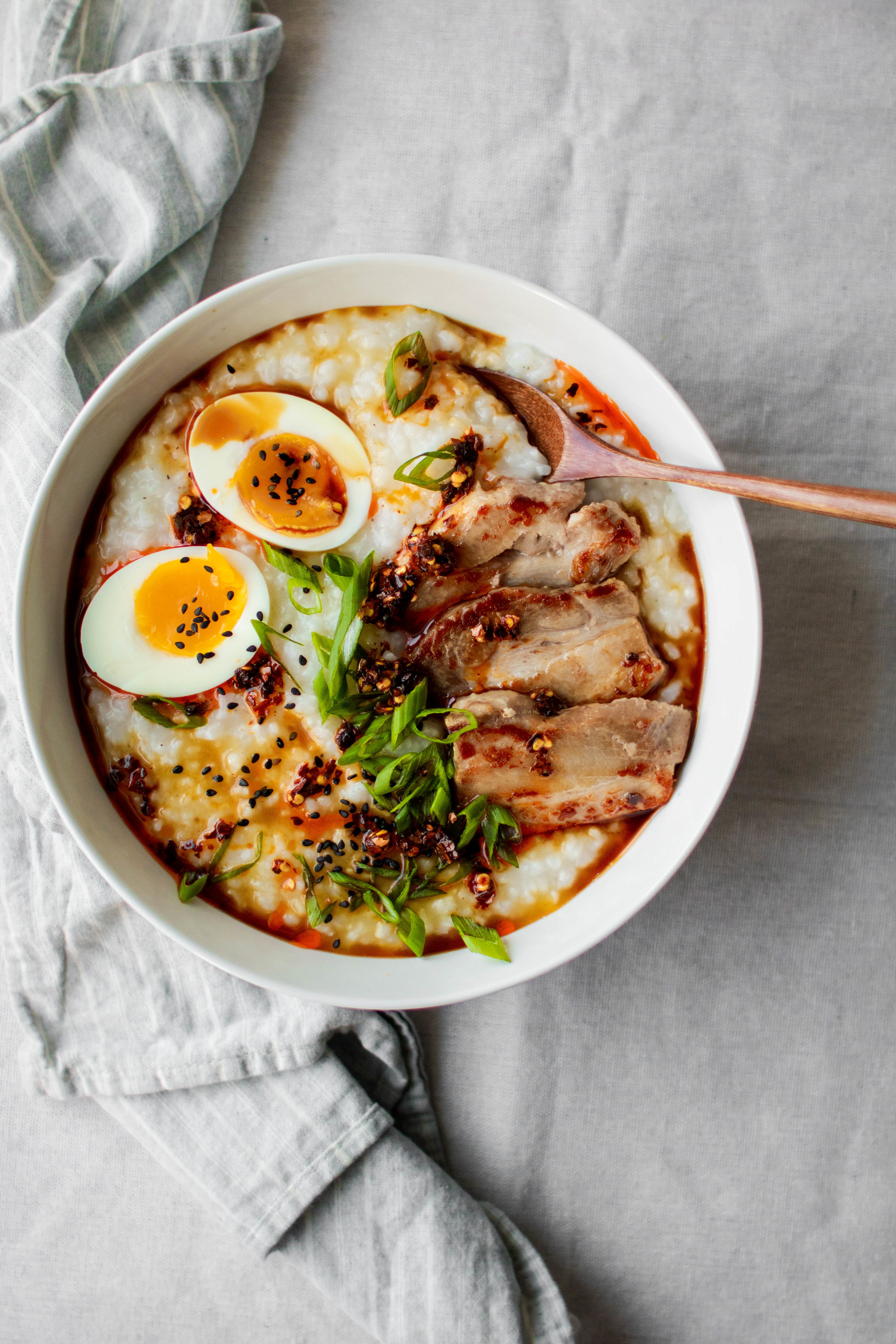 INSTANT POT CHICKEN STOCK:
2 lbs. chicken wings
white parts of 1 bunch of green onions (you'll need the tops for garnish for the congee)
1 tablespoon black peppercorns
1 bay leaf
3 quarts water
Place the chicken and remaining ingredients in the pot of an instant pot (be sure that the water doesn't come above the max liquid line). Lock the lid in place and set the instant pot to 'pressure cook-high' for 1 hour. Allow the pot to naturally release. Change the setting to 'saute' with the lid off and simmer the chicken broth for 15 minutes. Allow to cool slightly (or use right away). Strain the broth once cool. Can be stored for 1 week in the fridge or 6 months in the freezer.
Pork Belly recipe here.
Homemade Chili oil recipe here.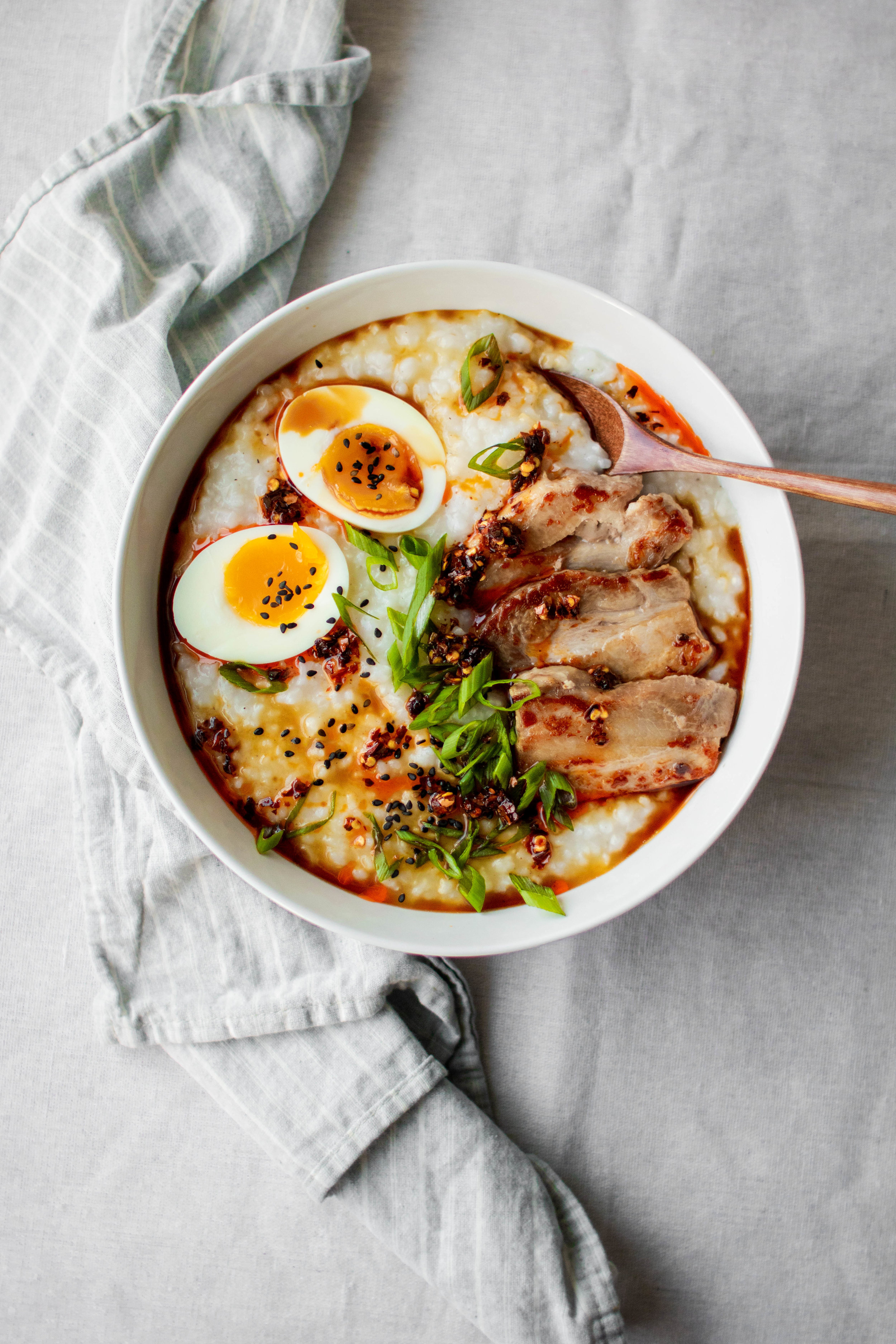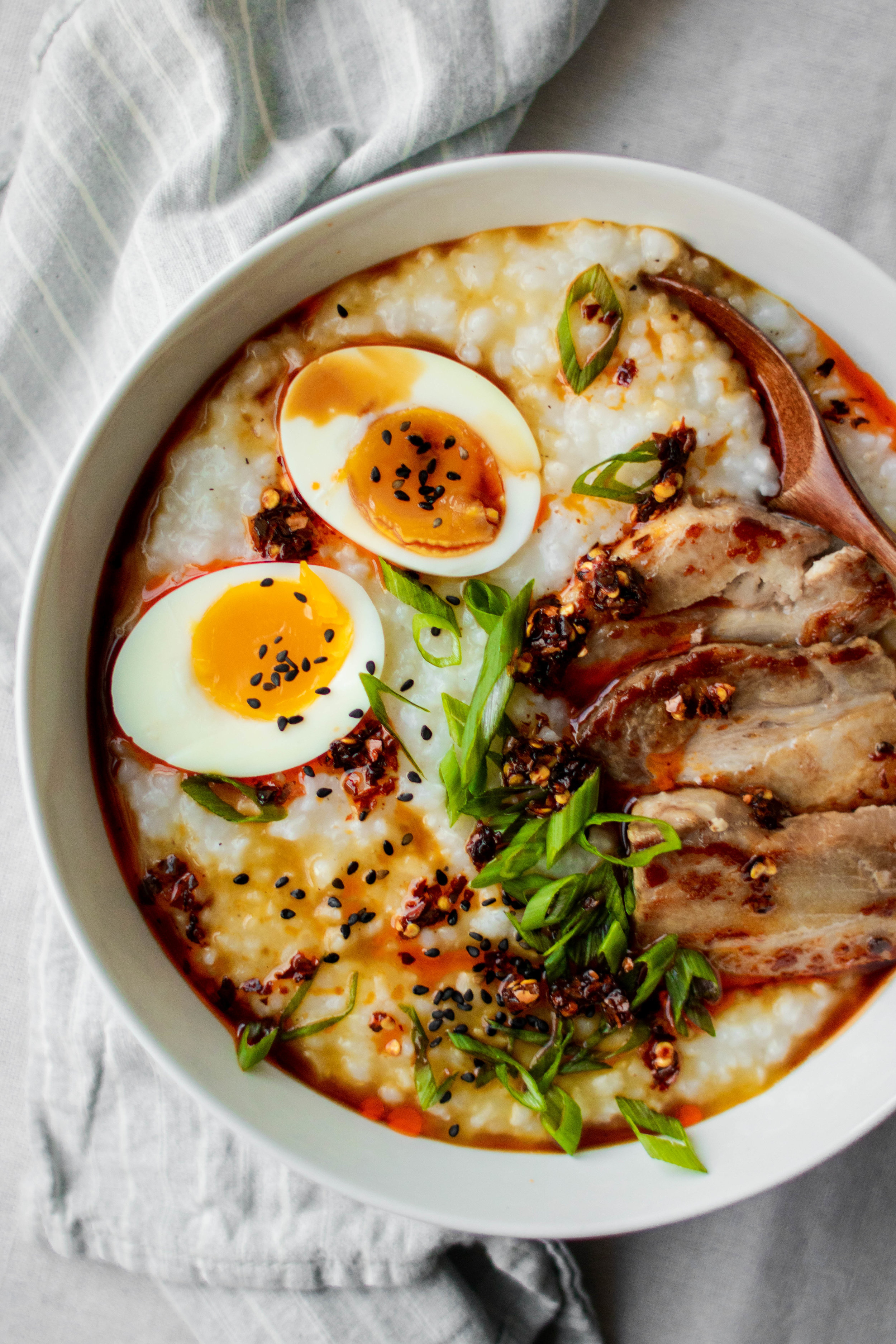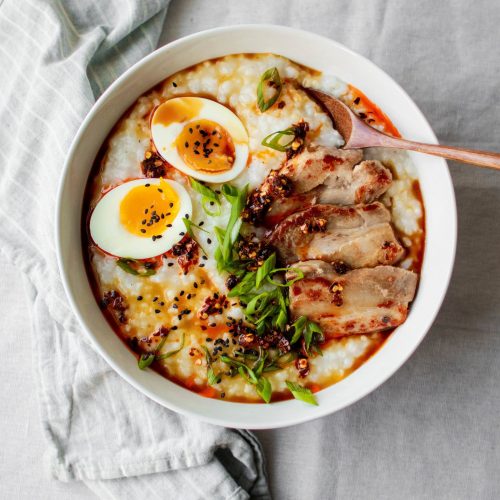 classic congee with pork belly, egg and scallion
If you haven't ever had congee, it is the easiest and most comforting meal ever!
Cook Time:
1

hour
30

minutes
Ingredients
Congee

1

cup

sushi rice

7

cups

homemade chicken broth

see above

1

tablespoon

freshly grated ginger

salt and pepper to taste

Toppings

4

eggs

8

slices

cooked pork belly

crisped up in a pan

1

bunch green onions

sliced (dark green parts only)

2

tablespoons

soy sauce

1

tablespoon

chili oil

1

teaspoon

sesame oil

optional
Instructions
To make the congee: place the rice in a fine mesh strainer and rinse under cool water until the water runs clear. This step is important, take your time with it!

In a 4 qt pot or dutch oven, add broth and rinsed rice and bring to a simmer. Lower the heat, cover and continue to simmer for 90 minutes stirring every 15 minutes or so. At the end you will have the texture of porridge.

To make the jammy eggs: bring 2 quarts of water to a boil in a medium sauce pot. Gently lower in 4 eggs and set a timer for 8 minutes. Once the timer goes off, immediately transfer the eggs to an ice bath for 1 minute (just to make them cool enough to handle, but it won't completely cool the inside). Peel and cut in half when you're ready to serve.

Season the congee with the grated ginger and salt/pepper to taste. It's important to season at the end because simmering for that long can make the dish too salty if the salt is added at the beginning. Top with jammy eggs, sliced scallions, pork belly, chili oil, soy sauce and a bit of sesame oil, if desired.
Notes
Homemade stock is a must here. See above for a quick instant pot chicken stock recipe.
Congee can be made with any rice, I personally prefer the texture of sushi rice or short grain rice.
This recipe can be made vegetarian/vegan by substituting homemade vegetable broth.
You might also like...