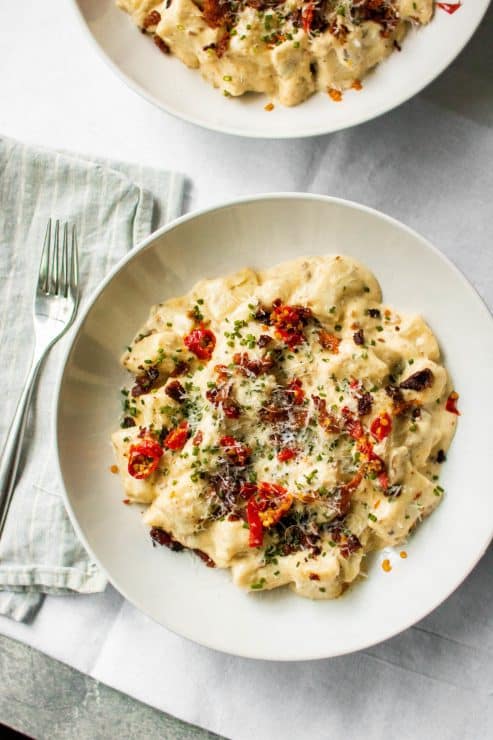 truffle ricotta gnocchi with bacon, calabrian chili and chive
truffle ricotta gnocchi with bacon, calabrian chili and chive
OKAY GUYS. This might actually be my favorite recipe to date. I ate way too much of this last night at dinner and I REGRET NOTHING. Seriously, I cannot overstate how good these ricotta gnocchi were. Like soft, little cheesy pillows.
If you are unfamiliar with ricotta gnocchi, it's potato gnocchi's less complicated cousin. Potato gnocchi can be extremely finicky as you have to the cook the potato to just the right consistency and add only enough flour and barely mix it so that you don't end up with tough dumplings. Ricotta is a hell of a lot more forgiving than potato, let me tell you. There are only like four ingredients in this gnocchi (I don't count salt and pepper) and the truffle is 100% optional, I just like to be extra.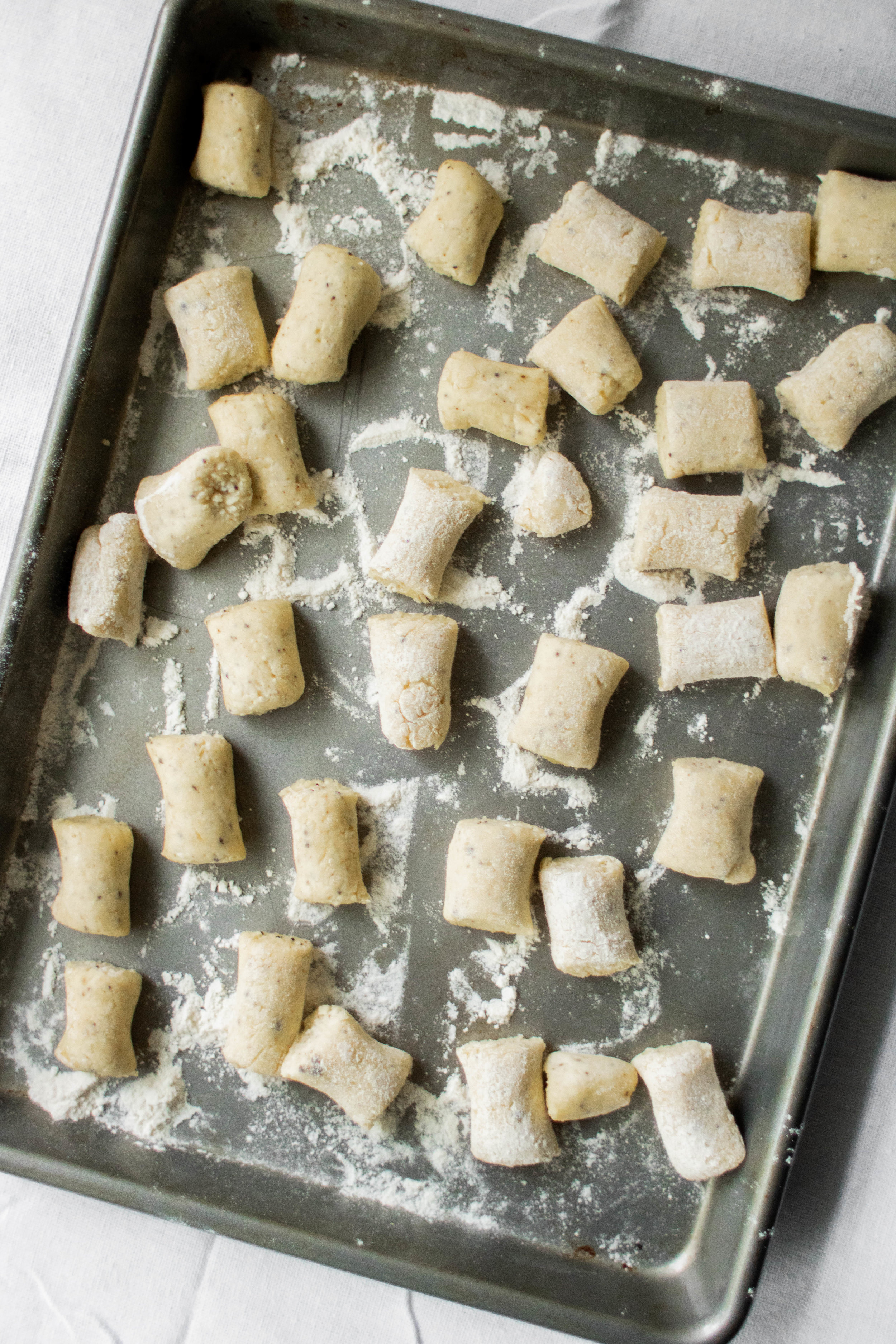 While the gnocchi is awesome, the sauce is really where it's at! Only a few ingredients to end up with a super creamy, cheesy, and rich sauce perfect for coating those little pillows. Plus, there's tons of crumbled bacon. And calabrian chili, for a little heat. And more parmesan, because why not?
I guarantee this recipe will become a staple in your household! If you haven't ever made ricotta gnocchi, you're in luck because I made this recipe start to finish last night on my instagram and you can check out my highlights here. I hope you love this recipe as much as I do!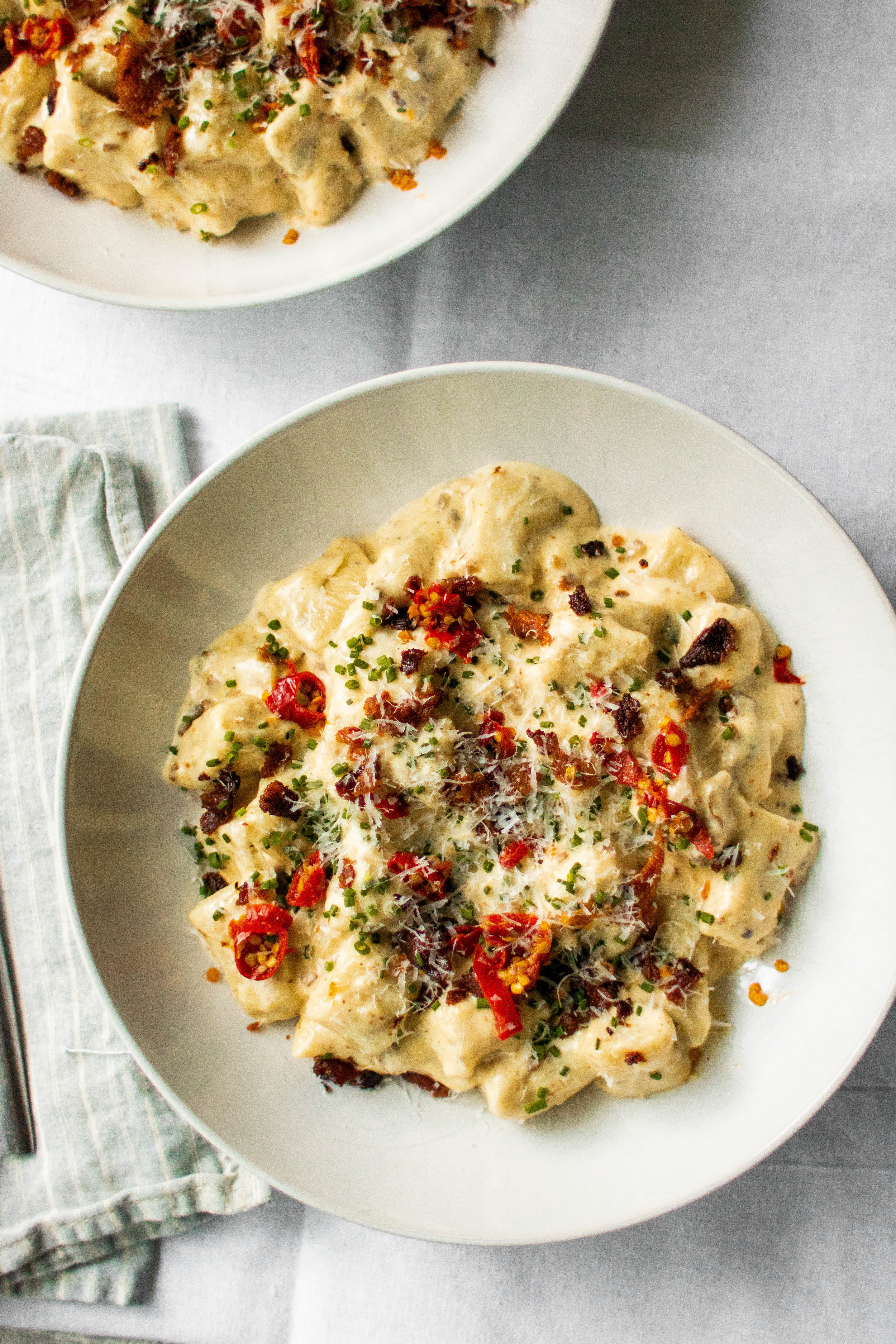 Products I used in this recipe:
truffle ricotta gnocchi with bacon, calabrian chili and chive
These are the lightest and fluffiest gnocchi ever and so easy to make!
Ingredients
Truffle Ricotta Gnocchi

16

oz

whole milk ricotta

drained of excess liquid

2

eggs

1

cup

freshly grated parmesan

1/2

teaspoon

kosher salt

1/2

teaspoon

freshly ground pepper

2

teaspoons

truffle puree

1 1/4

cup

flour

Sauce

8

slices

thick-cut bacon

1

tablespoon

rendered bacon fat

1

medium shallot

finely minced

1 1/2

cups

heavy cream

3/4

cup

freshly grated parmesan

5

oz

goat cheese

at room temperature

3

tablespoons

minced calabrian chilies

4

tablespoons

minced chives

salt and pepper to taste
Instructions
To make the truffle gnocchi: set a fine mesh strainer over a medium bowl and add the ricotta. Allow the ricotta to drain in the fridge for at least 30 minutes, but longer is better. Drain the liquid from the bowl, wipe it clean and add the strained ricotta to the bowl with 2 eggs, parmesan, truffle, salt and pepper. Fold until well combined. Add the flour and gently fold until all the flour is incorporated and the dough is only slightly sticky.

Flour a surface to work on and turn the dough out onto your work surface. Divide the dough into five pieces. Dust a piece with flour and roll into a 3/4" thick rope. Using a knife or bench scraper, cut the rope into 1" pieces and transfer to a lightly floured baking sheet. Repeat with remaining dough. Refrigerate uncovered until ready to use.

To make the sauce: Preheat an oven to 400 degrees F. Line a baking sheet with foil and lay the bacon out in a single layer. Bake until bacon is crispy, about 15-20 minutes. Transfer bacon to a paper towel lined plate to cool. Add 1 tablespoon of the rendered bacon fat to a skillet over medium heat. Add the shallot and cook, stirring frequently, until softened. Add the cream and bring to a simmer. Add the parmesan and goat cheese and stir until both cheeses are melted. Season to taste with salt and pepper. Crumble all the cooked bacon and add half of it to the sauce. Set aside.

To cook the gnocchi: Bring 3 quarts of water to a rolling boil (this is super important! the water has to be boiling or the gnocchi will turn out gummy). Season the water lightly with salt. Working in batches of 15-20 pieces, add the gnocchi to the boiling water and allow them to boil for about 3 minutes. Using a slotted spoon, transfer the cooked gnocchi to the sauce. Repeat with remaining gnocchi. If the sauce is a little thick, add a couple of tablespoons of the gnocchi pasta water to the sauce. Toss so that the gnocchi is well coated in sauce. Transfer to a serving bowl and top with remaining bacon, calabrian chili, minced chives and more parmesan.
Notes
Calabrian chili is a chili from the calabria region of Italy. It has medium spice to it and has a pleasantly fruity taste.
The sauce needs to be prepared before you start boiling off the gnocchi as they need to go right into the sauce from the water.
You might also like...