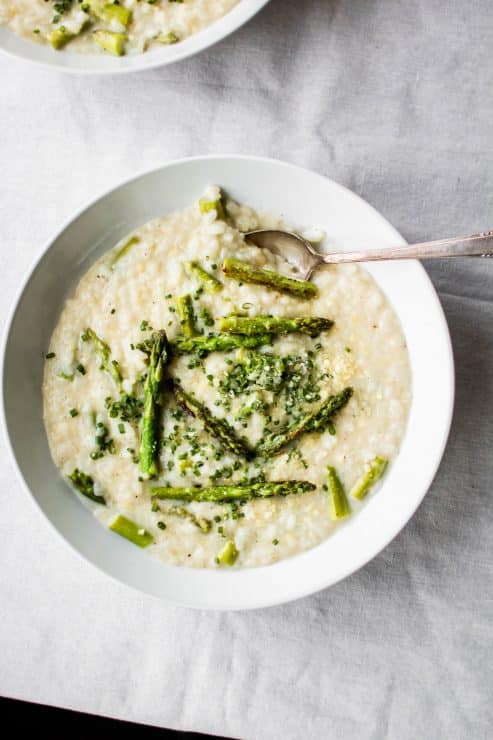 spring risotto with asparagus and lemon
spring risotto with asparagus and lemon
In Texas, February is basically Spring and so I'm ready to start eating like it's Spring. Risotto is one of my favorite "fancy" dinners to make at home and this Spring Risotto with asparagus and lemon is so perfect for the season. It's bright with lots of charred asparagus on top and it's truly amazing.
I've gone off on risotto rants in previous posts, so I'll save you from my diatribe this time. But just know, great risotto is all about texture. There are 948539457 images floating around on Pinterest of shitty risottos. Risotto should spread gently in a bowl when you serve it. LIKE LAVA. I feel like I've said "like lava" a million times now, but it's true. Risotto shouldn't be served on a plate. If you can pile risotto on a plate, you are doing something very wrong. Risotto shouldn't be soupy or stiff, but somewhere in the middle. Just very creamy, to be eaten with a spoon. I know this sounds specific, and it is, but I've also eaten too many shitty risottos at restaurants to continue to perpetuate the bullshit. Just remember that, risotto should gently flow when ladled into a bowl.
Otherwise, this is an extremely easy recipe that comes together in about 20 minutes, making it an awesome weeknight meal. It's funny because I think people perceive it as fancy, but in reality it boils down to rice, butter, broth and cheese. It's extremely customizable and you can add just about anything to it. This is why I love it for random nights when I'm trying to rid my fridge of all its vegetable/meat stragglers. It's comforting and hearty, but truth be told—I eat it yearound.
If you feel nervous about making it, this recipe was my 'recipe of the week' that I made step by step on Instagram, so you can watch it start to finish here. I hope you guys have found my weekly recipes helpful! I know that so many people out there are visual learners and I totally get that. Plus, some steps are hard to describe. How do you describe the texture of the rice when it needs more broth? Some recipes really benefit from visual representations. Anyway, I hope you enjoy this spring risotto with asparagus and lemon as much as I did! Buon Appetito!
spring risotto with asparagus and lemon
Risotto is one of my favorite "fancy" dinners to have at home, and this version is so perfect for spring!
Ingredients
1

tablespoon

olive oil

1

stick unsalted butter

divided

1

medium shallot

minced

1 1/2

cups

medium grain white rice

such as arborio or carnaroli

2/3

cup

dry white wine

6 1/2

cups

broth

preferably homemade, warmed

1

bunch asparagus

trimmed and cut into 1" pieces

1/2

cup

mascarpone cheese

3/4

cup

freshly grated parmesan cheese

1

lemon

zested and juiced

salt and freshly ground pepper

to taste

chopped chives

for garnish
Instructions
Heat olive oil and two tablespoons butter over medium heat in a wide bottomed skillet or pan with at least 3 inch sides. Add minced shallot to the pan and cook for 2-3 minutes until softened. Add rice and stir with a wooden spoon to coat in the butter so that all the grains are shiny. Toast rice for about 1 minute. Add wine and stir into the rice continuously.

Once the wine has been absorbed into the rice, add 1 cup of warm broth to the rice while constantly stirring the pot. This is the key to risotto, continuous stirring which releases starch from the rice and creates creaminess. Once that broth has been absorbed, add another cup. A trick to tell when it's time to add more broth is if the bottom of the pan is exposed when you drag your spoon across the bottom. You will continue to add broth, 1 cup at a time, while stirring until it has been absorbed into the rice and the rice is just slightly al dente. You don't want it to be mushy, it should still have a tiny bite to it. This whole process will take about 15-20 minutes, so don't rush. I start tasting little bits of the rice after about 10 minutes to gauge its doneness. Just have a glass of wine and enjoy the stirring.

When the rice is almost done, add the last bit of broth with the chopped asparagus. This will allow the asparagus to keep a little crunchiness by adding it at the end, rather than at the beginning. Once rice has reached desired doneness, turn off the heat.

Stir in the mascarpone and remaining butter. Add the parmesan, lemon zest and juice and stir until the cheese is melted. Season to taste with salt and pepper. Top with chopped chives, if desired. Serve immediately.
Notes
I used chicken stock in this recipe, but it can easily be made vegetarian by using vegetable stock or broth.
I highly recommend making your own broth because the flavor is so much better.
Tip for parmesan: cut off the rind, cube it and throw the pieces in the food processor. It'll give you nice, freshly grated parm with very little effort on your part and it melts really nicely.
You might also like...