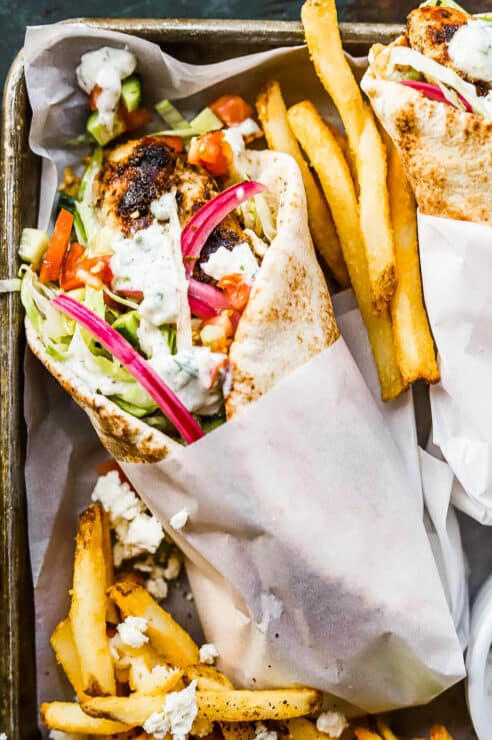 Greek Chicken Gyros with Tzatziki
Greek Chicken Gyros with Tzatziki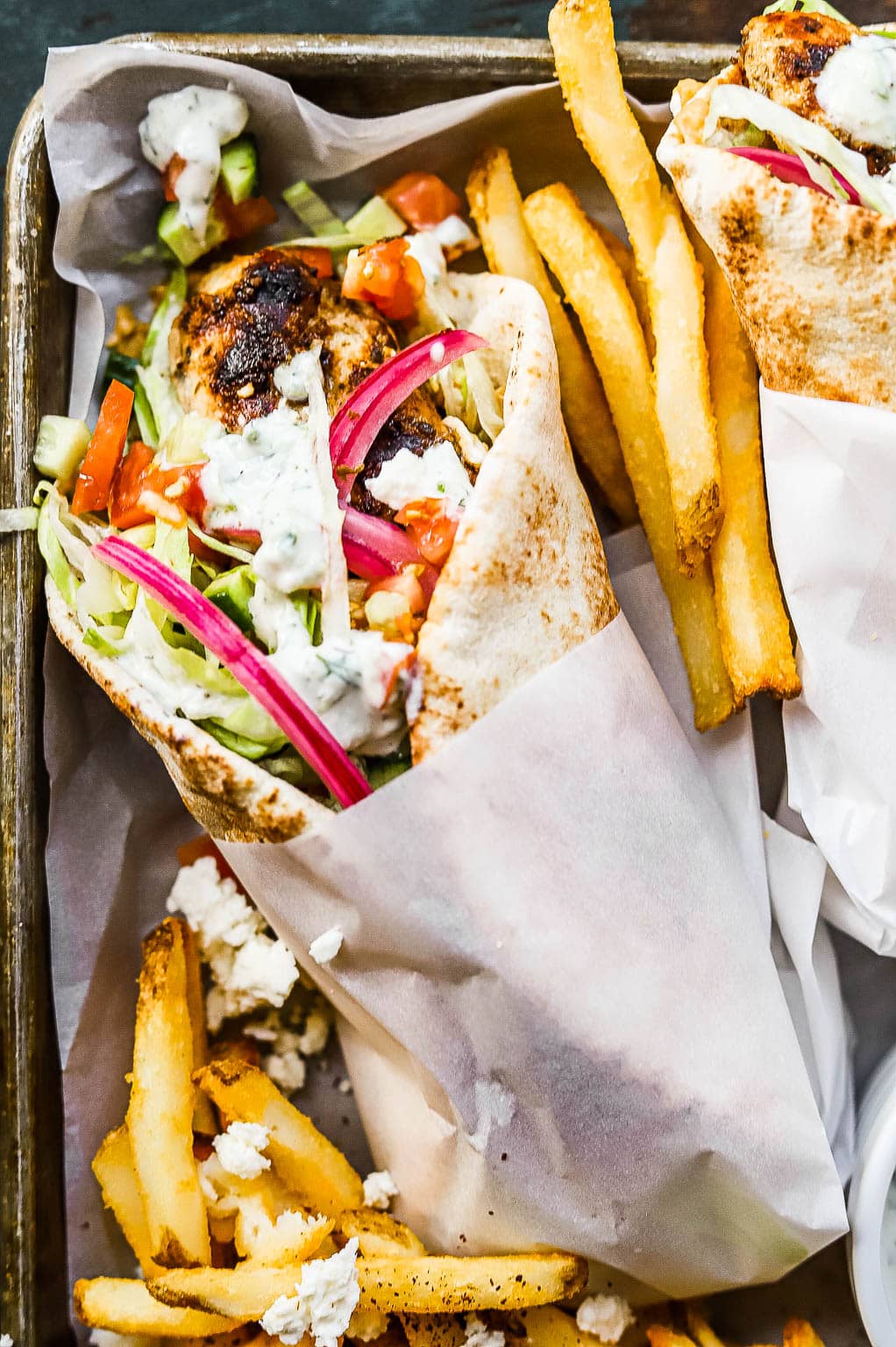 Quick and easy greek chicken gyros are so easy to whip up on busy nights with grilled yogurt-marinated chicken, chopped veggies, and creamy tzatziki sauce all wrapped in warm pita bread. Greek-style grilled chicken gyros are always in the weeknight dinner rotation!
I love a simple, healthy dinner that's full of flavor and these greek chicken gyros fit the bill. Tender grilled chicken breast marinated in a mix of yogurt, olive oil, lemon, and herbs is my favorite way to enjoy chicken! You're going to be blown away by how flavorful and juicy chicken breast can be.
The grilled chicken is sandwiched in a warm pita with homemade tzatziki sauce, chopped tomatoes and cucumber, pickled onions, and crumbled feta. This is a hearty and healthy recipe that comes together so easily–perfect for busy nights and entertaining. Serve greek chicken gyros as a build-your-own option perfect for game day or entertaining.
Why You'll Love this Recipe
Easy – this recipe is so easy to throw together any night of the week! You only need a handful of ingredients for the marinade, most of which you probably already have. The chicken only needs to marinate for 30 minutes.
Great for meal prep – This recipe is easy to double or triple and re-heats like a dream. I love prepping all the ingredients for greek chicken gyros and enjoying them throughout the week for lunch. The chicken is also great over salad greens for a light lunch.
Healthy – We try and live by the 80/20 rule at home. 80% whole and healthy foods and 20% indulgence. These greek chicken gyros are super flavorful and filling while also being healthy! Lean (but so juicy!) chicken breast is full of protein which keeps us full longer. The chopped tomatoes and cucumbers have antioxidants and the tzatziki is made with greek yogurt. This is a balanced and delicious dinner that you'll turn to over and over again!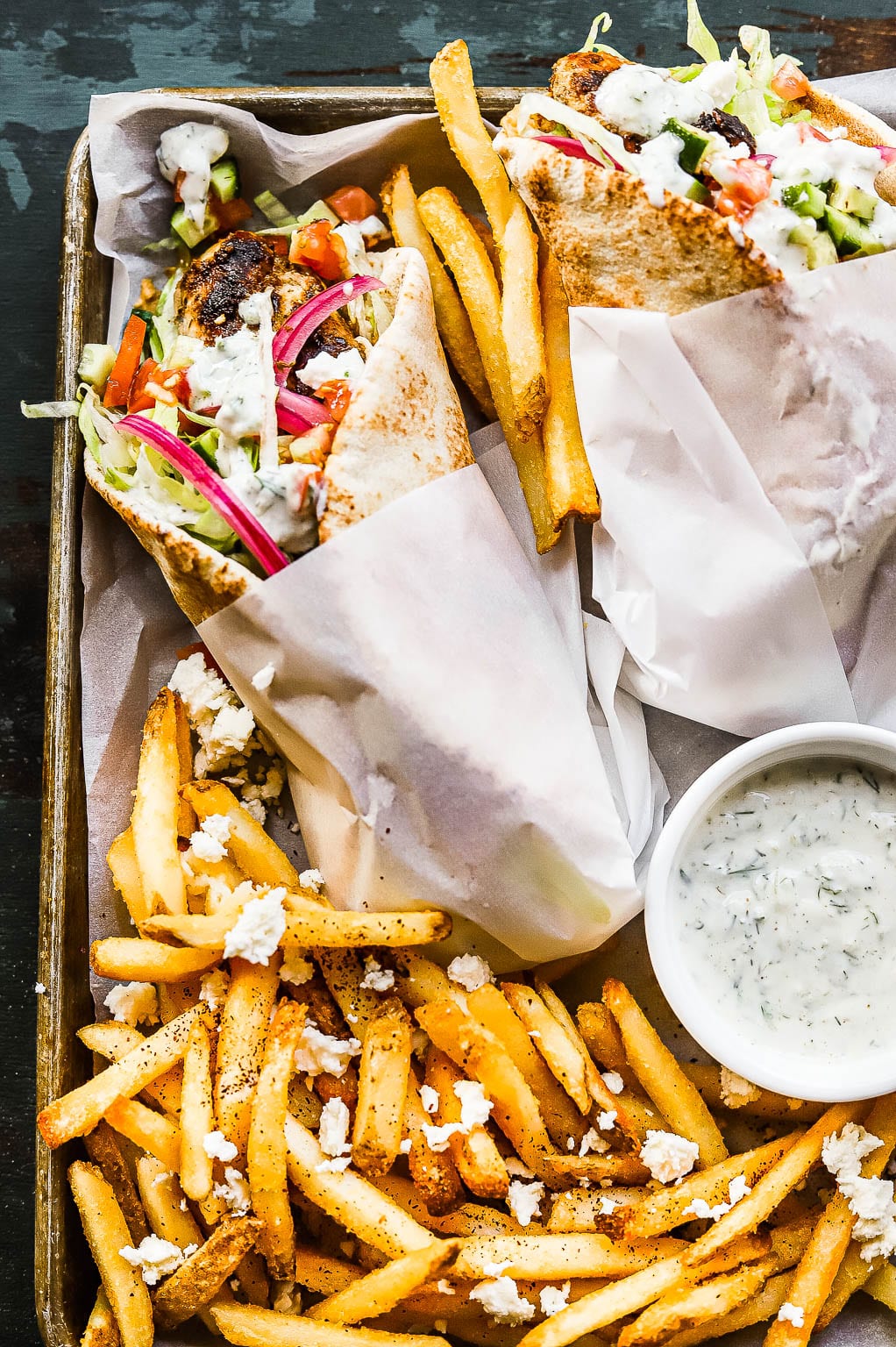 How to make Greek Chicken Gyros
You're going to love how easy these greek chicken gyros come together. When it's too hot to grill outside, we use a grill pan indoors which still works perfectly!
Tools Needed
Ingredients and Substitutions
Chicken breast or tenders. I like using lean chicken here, but you can also use chicken thighs.
Greek yogurt. I always use greek yogurt with a bit of fat. You'll need it for the marinade and the tzatziki.
Spices. Oregano, garlic, onion, and cumin give the greek chicken gyros tons of flavor.
Olive oil. Use a high-temp olive oil.
Red Wine Vinegar. I love the tangy flavor that the RWV gives the chicken. It also helps tenderize it! If you don't have RWV, you can use lemon juice.
Veggies. I always serve greek chicken gyros with diced tomato and cucumber for a fresh contrast. You'll need cucumber for the tzatziki too. I like using baby cucumbers or english hothouse cucumber so you don't have to peel them.
Fresh dill. Fresh dill in the tzatziki sauce is so, so good, You can use dried dill, but fresh is always best.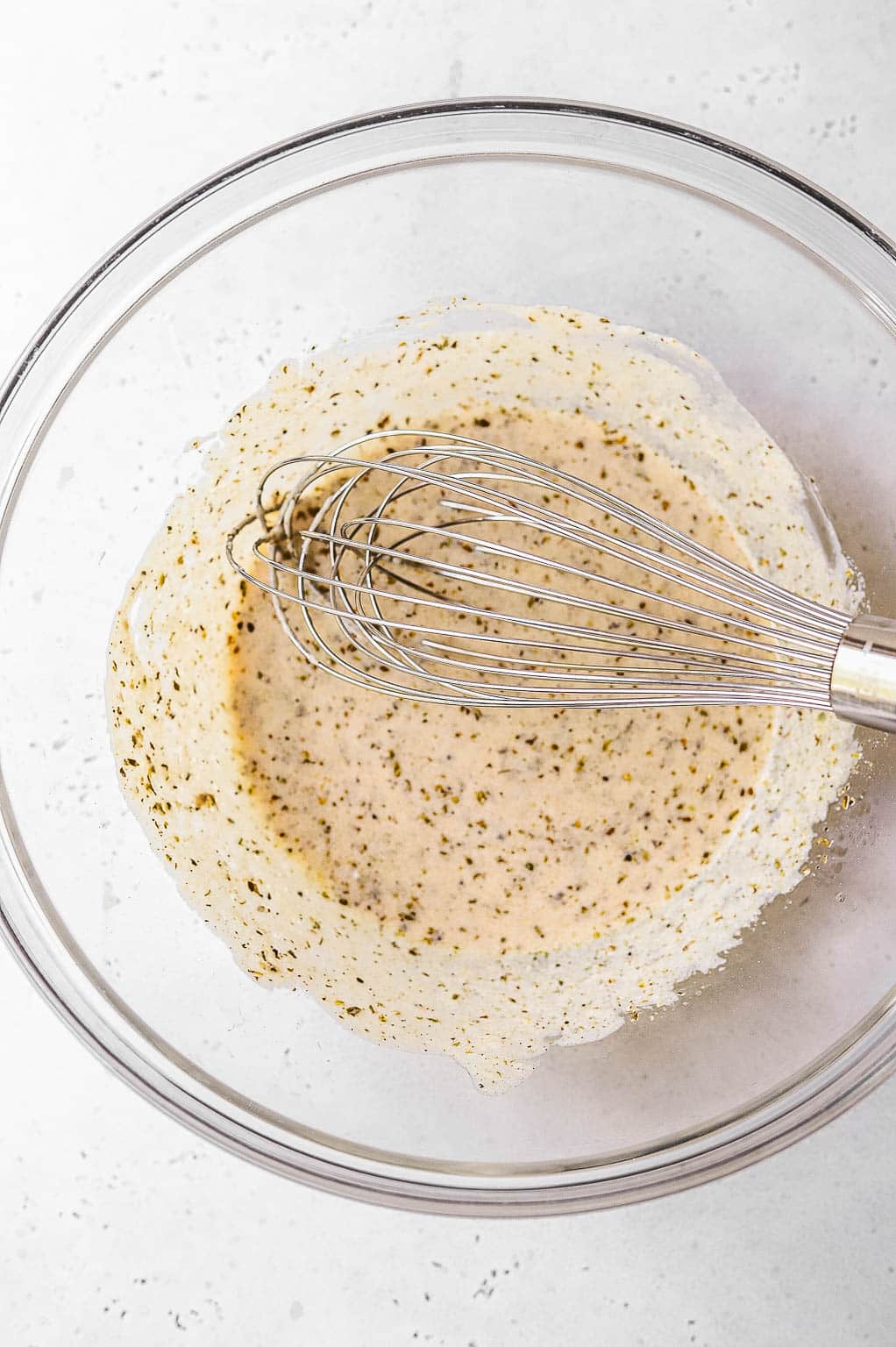 The Process
Step one: Whisk together the marinade ingredients in a mixing bowl. Add the chicken and toss to coat. Cover and refrigerate for at least 30 minutes, up to 24 hours.
Step two: Stir together all the ingredients for the tzatziki sauce. Refrigerate until you're ready to use it.
Step three: Preheat a grill or grill pan over medium high heat. If you're using a grill, make sure the grates are clean and lightly oiled. Grill for 5 minutes per side, until the chicken is cooked through to 165 F.
Step four: Assemble the gyros! Warm the pitas in a skillet and top with the chicken, tzatziki, shredded lettuce, chopped tomatoes and cucumber, pickled onions, and crumbled feta.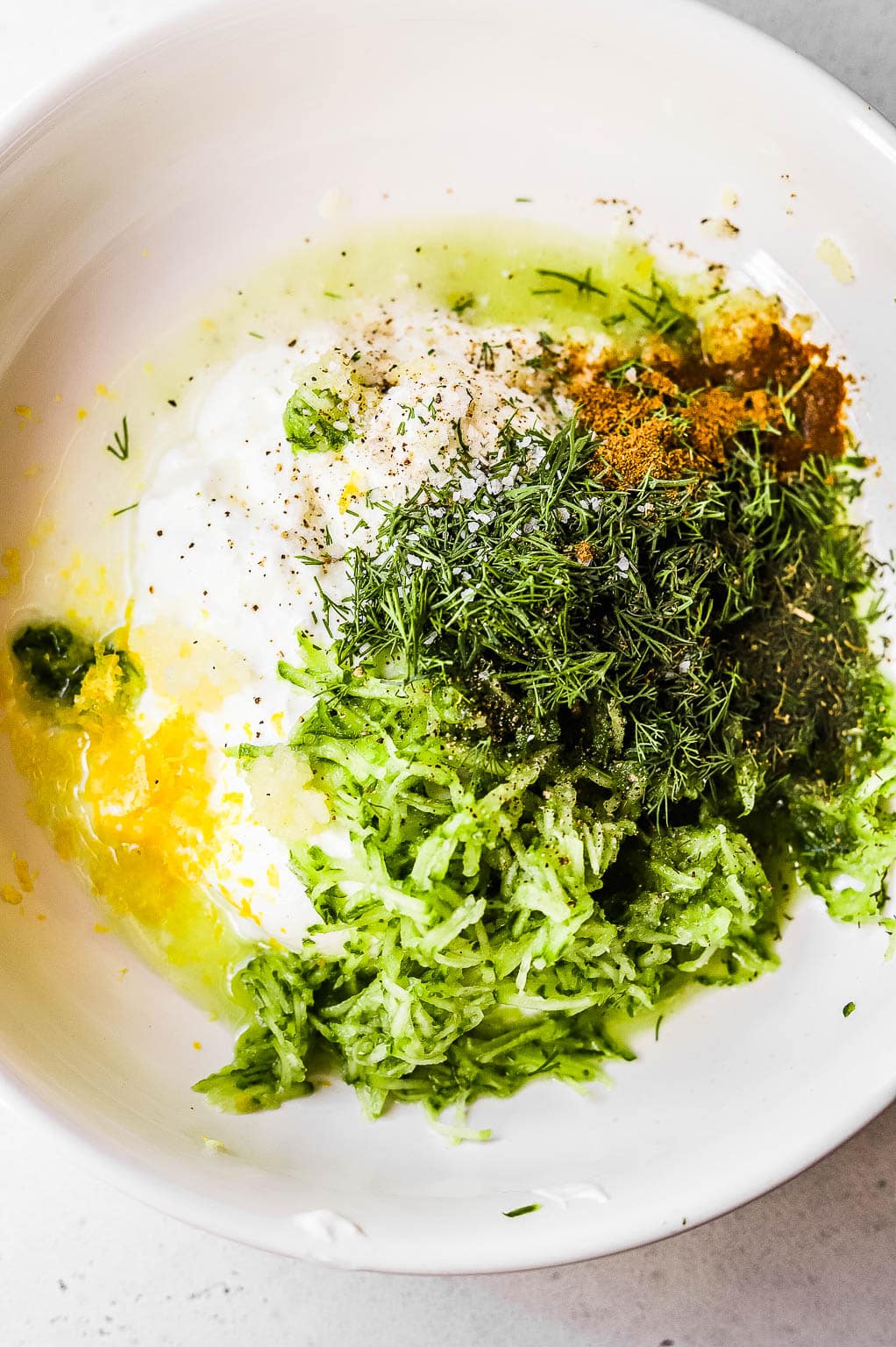 Chicken Tenders Vs. Chicken Breast
Did you know that chicken tenders are an actual part of chicken anatomy? If you've ever cut up a whole chicken, the chicken tenders are two strips that live UNDER the chicken breast.
Think of them as the 'filet mignon' of the chicken breast. Chicken tenders are, like the name implies, extra tender and flavorful. Chicken tenders are a colloquialism for chicken strips, but the tender is an actual part of the chicken. Because chicken tenders are so popular, most grocery stores now sell whole packages of tenders. Check with your local grocery store or butcher!
You can also cut whole chicken breasts into strips, or use chicken thighs.
Customizing Greek Chicken Gyros
I like to treat Greek chicken gyros like a giant taco and I am a huge toppings girl! You can use all the toppings I've mentioned plus hummus, garlic spread or toum, kalamata olives, or even crispy chickpeas for crunch and texture. The sky is the limit on toppings and sauces here!
We're huge on bowls for dinner in our household, so make Greek chicken gyros into a greek chicken bowl! Try serving the grilled chicken over my lemon dill rice with this easy cucumber yogurt salad. Add the tzatziki and toppings and you've got the perfect weeknight meal!
Want a low carb option? Turn the grilled Greek chicken into a greek salad! Serve the grilled chicken over chopped romaine with chopped cucumber, tomato, sliced red onion, and crumbled feta with the tzatziki sauce as dressing.
Once you've got the grilled chicken, it's easy to adapt this recipe into other meals throughout the week!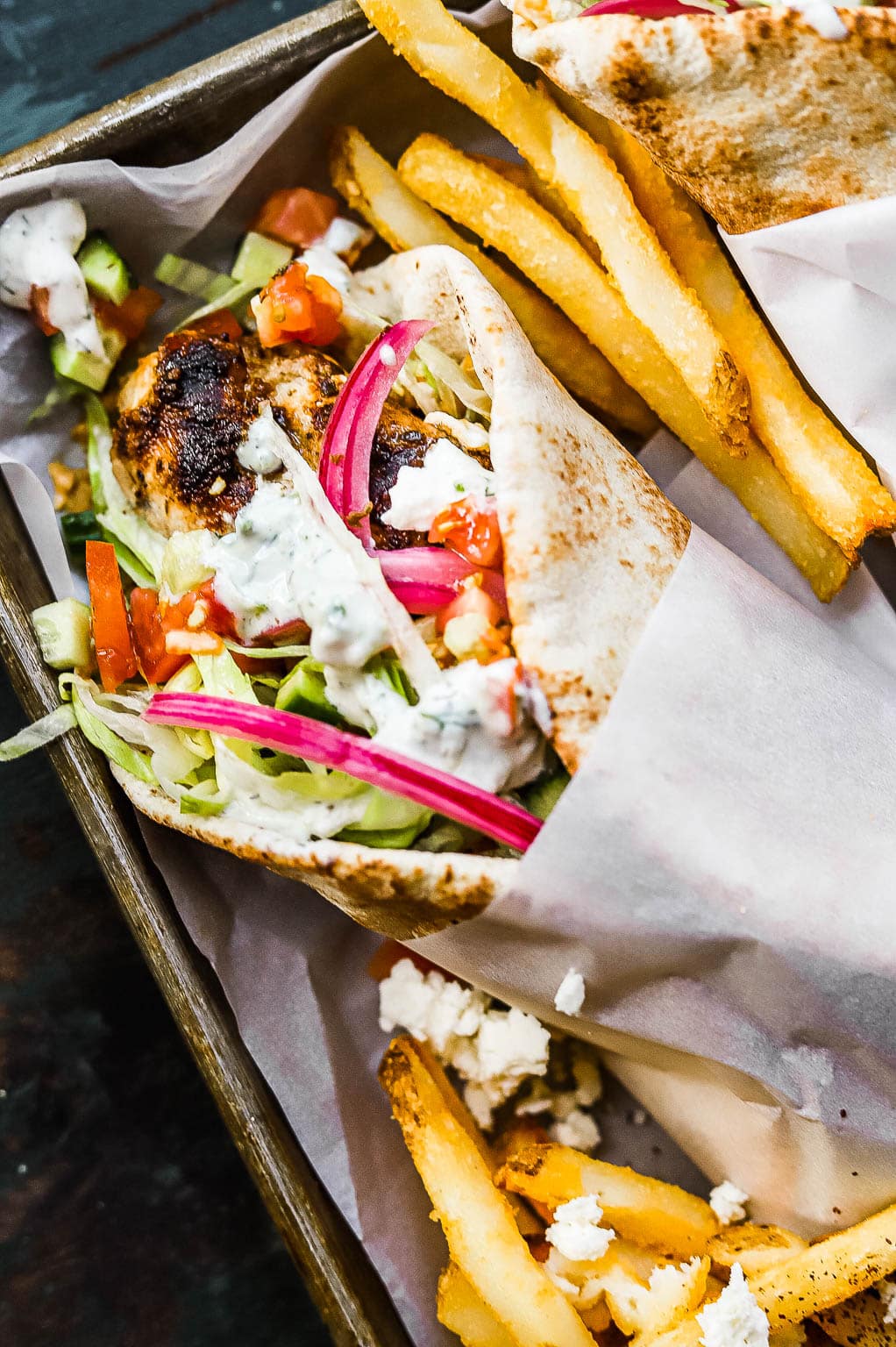 Storing, Freezing, and Re-Heating Greek Chicken Gyros
We're often so busy during the week, that I love a good dinner recipe that I can turn into lunches and leftovers for the week!
You can store the chicken in the fridge in an airtight container for up to 5 days. All you have to do is just pop the chicken in the microwave to warm it through. You can store the tzatziki sauce for up to 5 days also.
To freeze the grilled greek chicken, cool the chicken to room temperature and store in a freezer-safe ziplock bag. Try to press as much air out as possible–this helps prevent freezer burn. Make sure to label the chicken and you can freeze it for up to 3 months. Defrost the chicken in the fridge until it's completely thawed and then you can microwave it until it's warmed through.
What to Serve with Greek Chicken Gyros
Whenever we're having Greek chicken gyros, I love having some sides with it! Serving sides means I've also got more leftovers for meal prep throughout the week.
If you're making gyros try serving them with my lemon dill rice, cucumber yogurt salad, or these oven-baked sumac potato wedges. This spinach and feta orzo is also a great side dish option!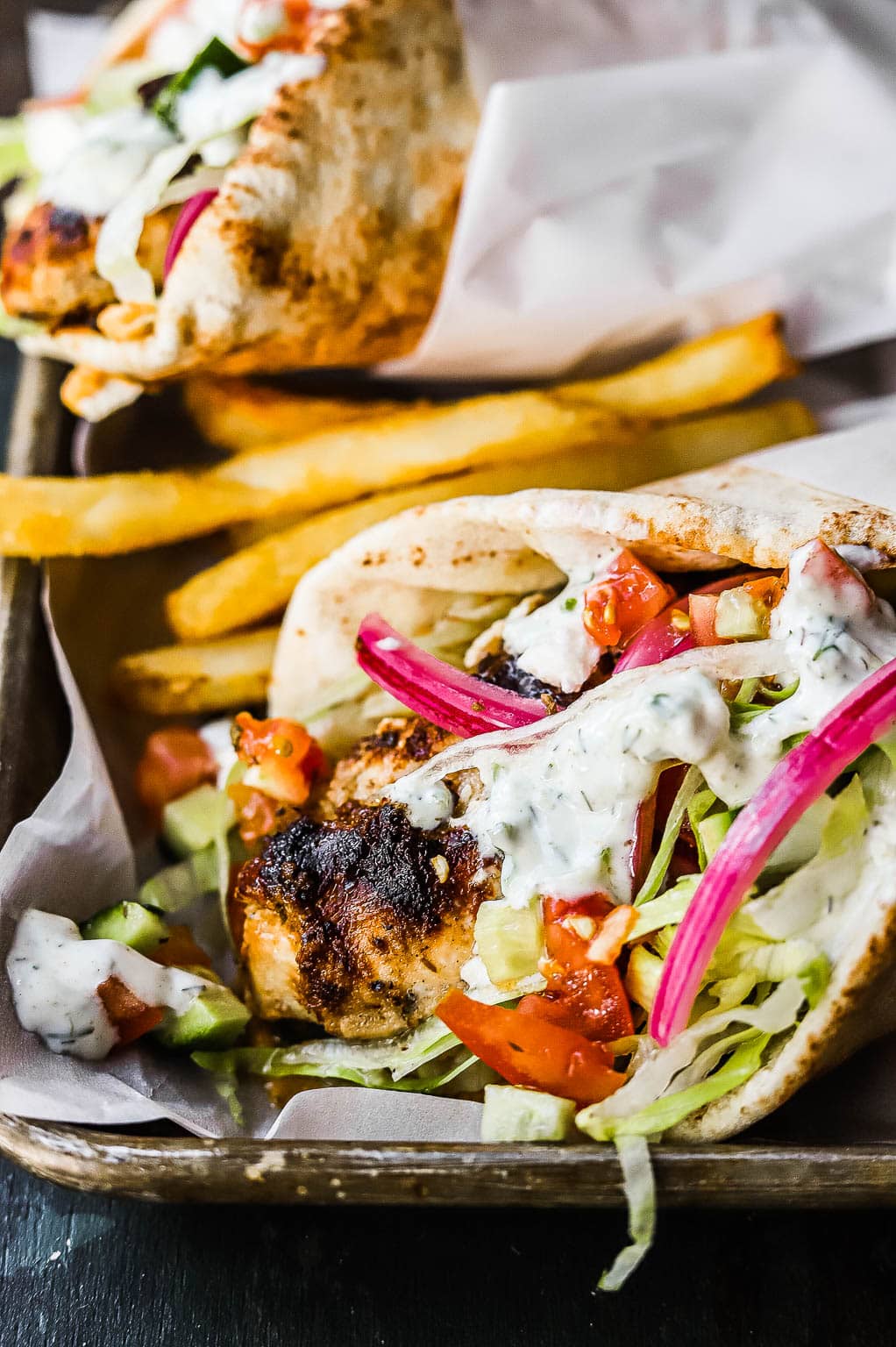 More Weeknight Dinner Recipes to Try Now
This post contains affiliate links from which I receive a small commission at no additional cost to you. Affiliate links allow me to keep providing great recipes for free and I never recommend products that I don't love and personally own.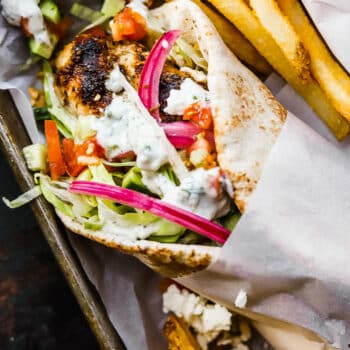 Greek Chicken Gyros with Tzatziki
Greek chicken gyros with tzatziki are the perfect weeknight meal! They come together with a handful of pantry staples in under an hour. This is a super flavorful and healthy dinner recipe that makes great leftovers and meal prep!
Ingredients
Greek Chicken
1 1/2

lbs

chicken tenders or chicken breasts cut into strips

1/4

cup

greek yogurt

1/4

cup

olive oil

2

tablespoons

red wine vinegar

1

tablespoon

dried mediterranean oregano

1

teaspoon

granulated garlic

1

teaspoon

onion powder

1/2

teaspoon

ground cumin

1 1/2

teaspoon

kosher salt

1/2

teaspoon

freshly ground pepper
Tzatziki Sauce
1

cup

greek yogurt

2

baby cucumbers, grated on a box grater

1

tablespoon

chopped fresh dill

1/2

teaspoon

ground cumin

1/2

teaspoon

lemon zest

1

tablespoon

olive oil

kosher salt

freshly ground pepper
Remaining Ingredients
4

pitas, warmed

2

cups

shredded lettuce

1/4

cup

pickled onions

2

baby cucumbers, diced

1

beefsteak tomato, diced

2

oz

feta, crumbled
Instructions
Greek Chicken
Whisk together the ingredients for the chicken marinade until smooth. Add the chicken and toss really well to coat. Cover and refrigerate for at least 30 minutes, up to 24 hours.

Pre-heat a grill or grill pan over medium-high heat. If you're using an outdoor grill, make sure to clean and lightly oil the grates. If you're using a grill pan, drizzle a little bit of olive oil in the pan.

Grill the chicken for 5 minutes per side, until the chicken is cooked all the way through to 165 F.
Tzatziki Sauce
Stir together all the ingredients until smooth. Season to taste and refrigerate until ready to use.
Gyros
Assemble the gyros! Divide the chicken between the warm pitas and top with shredded lettuce, pickled onion, diced tomato and cucumber, feta, and tzatziki sauce.
You might also like...