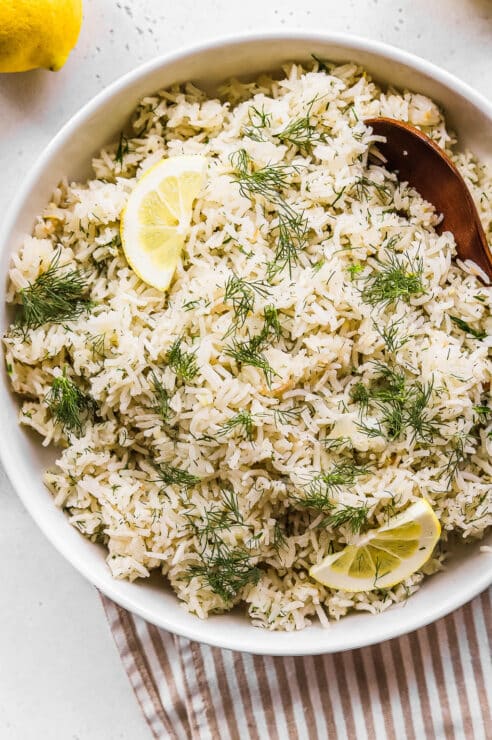 Lemon Dill Rice
Lemon Dill Rice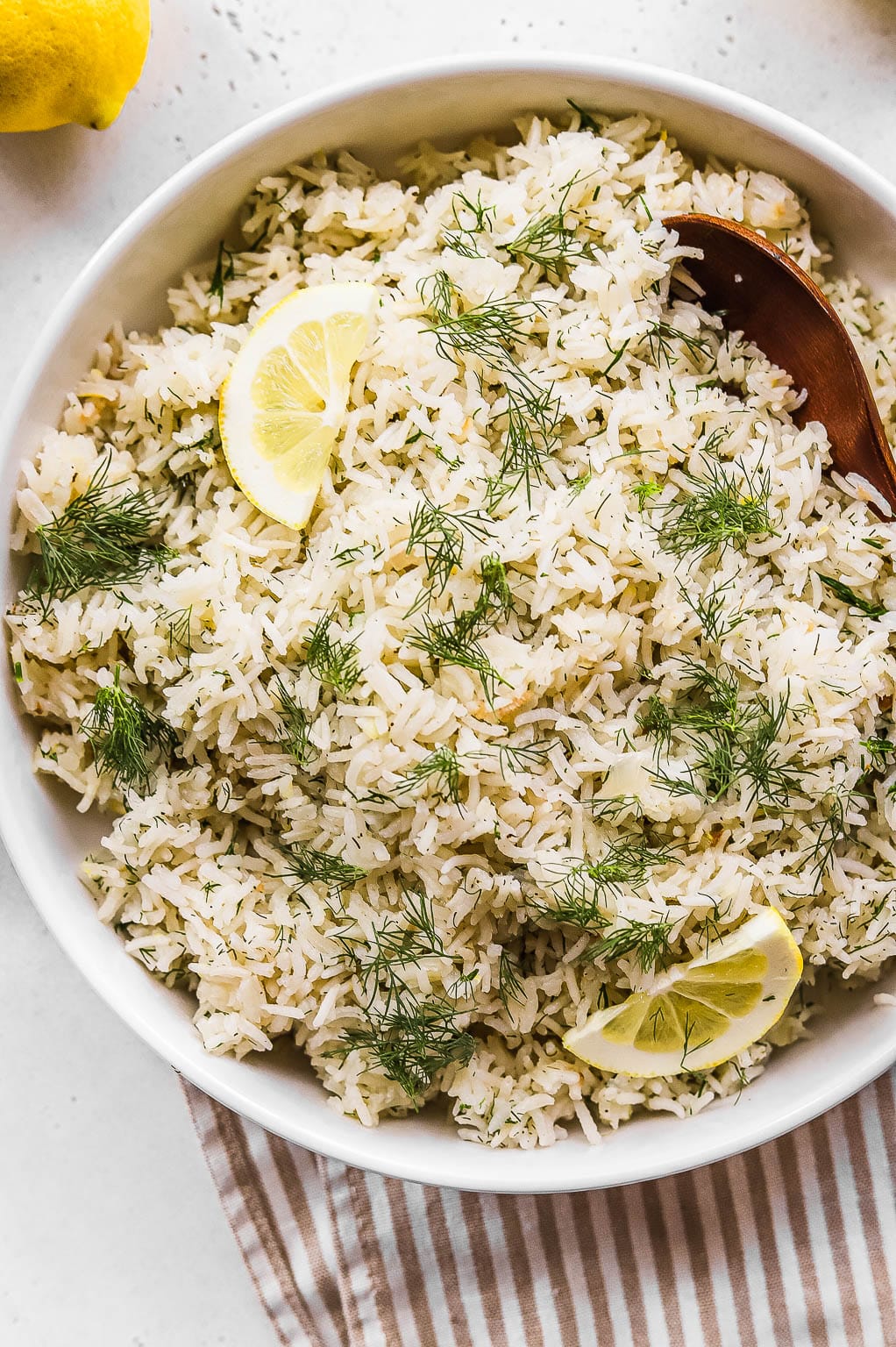 Lemon dill rice is infused with bright flavors of fresh lemon, shallot, and dill for an easy one-pot side dish recipe. This Greek-inspired rice recipe is my new favorite side! Imagine perfectly fluffy white rice made in skillet in 20 minutes–it's so easy and perfect for weeknight dinners.
We're big on bowls in our house and this lemon dill rice recipe makes the perfect base. All you need is a protein like my crispy chicken schnitzel, herb roasted chicken, grilled salmon skewers, or grilled ribeye with chimichurri.
This is the perfect rice recipe to pull out when you need to answer the question: "What should I make?". You only need 6 ingredients and 20 minutes for this easy lemon dill rice.
Lemon Dill Rice Recipe
We are obsessed with Mediterranean food in our household! If we order out, that's almost always what we're ordering. The fresh flavors are always to-die-for.
After eating out at so many restaurants, I decided it was time to create my own recipe for perfect fluffy lemon dill rice. It's the perfect side dish for any dinner, especially in the summer!
The great thing is that this recipe requires very little hands-on prep and it can be ready to go in a flash. I almost always make this recipe with butter and chicken broth, but I've got instructions for making it vegan below.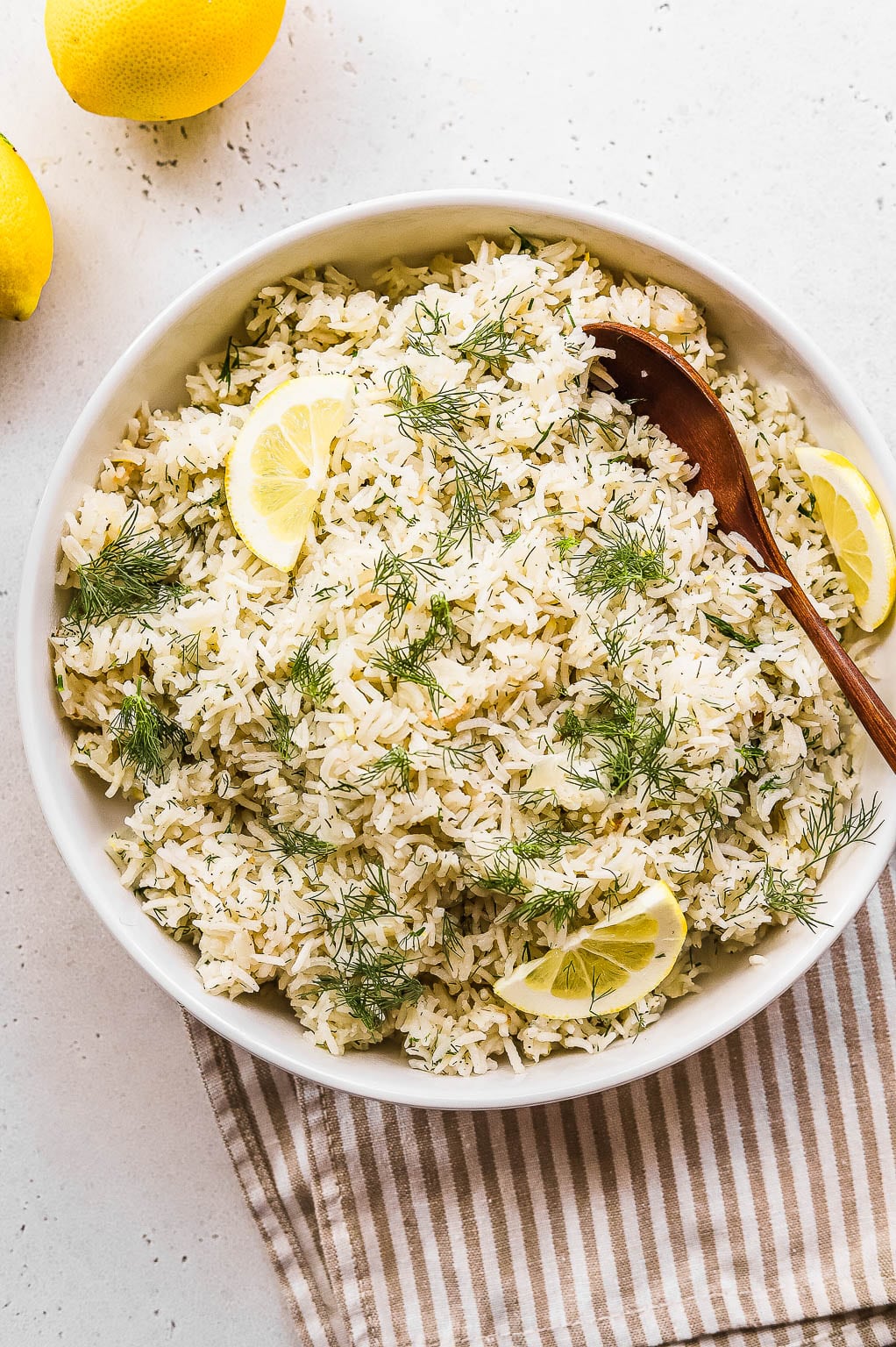 How to make Lemon Dill Rice
This recipe is so easy to make. All you need is 6 ingredients and a large skillet and you've got an easy side dish recipe ready to go.
Tools Needed
Ingredients You'll Need
Basmati rice
Butter or Olive Oil
Shallot
Lemon
Chicken or Vegetable broth
Fresh Dill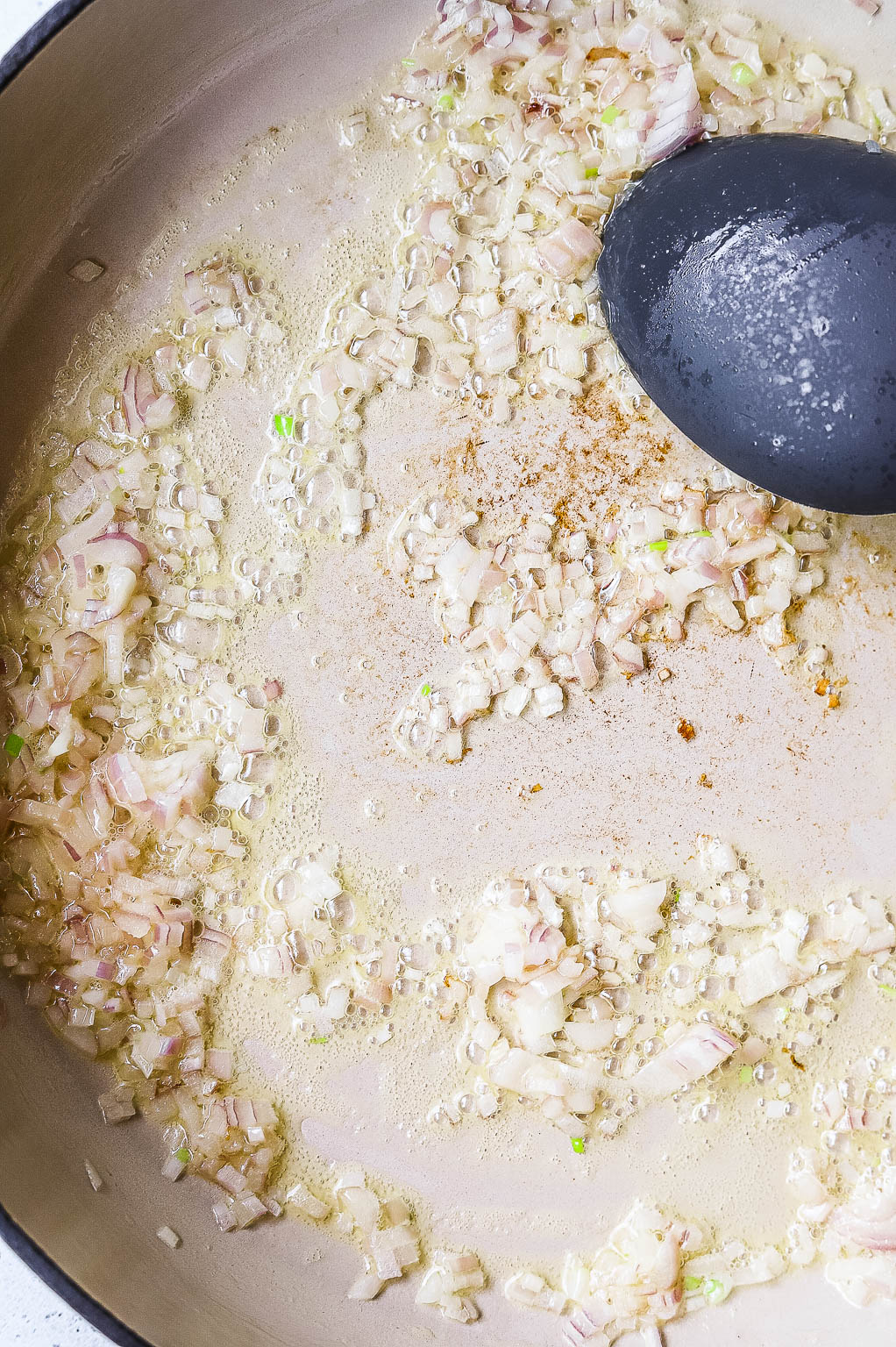 The Process
Step one: Start by sweating the minced shallots in butter or olive oil until they're translucent.
Step two: Add the rice and toss to coat in the shallots and residual butter/olive oil. Cook for 2-3 minutes, stirring often. This part is important! Toasting the rice removes moisture and ensures that the rice is extra fluffy.
Step three: Add the broth, lemon zest, salt, and pepper and stir to combine. Bring to a simmer, cover, reduce the heat to low and cook for 20 minutes. After 20 minutes, remove from the heat but leave the lid on.
Step four: Fluff the rice up and add the chopped dill and lemon juice. Fold the dill in and season to taste with extra salt and pepper, if needed.
Customizing Lemon Dill Rice
This rice doesn't just have to be a side dish! You can customize lemon dill rice with some of the ideas below.
Add a protein. Make this an entire one pot meal by adding and cooking a protein with the rice:
Lamb meatballs
Chicken Breast
Shrimp
Beans or Chickpeas
Add some veggies. If you want to bulk up this dish, add some veggies!
Bell Peppers
Zucchini
Squash
Carrots
Peas
Green Beans
Toppings. Top this lemon dill rice with some crumbled feta, fresh herbs like mint or cilantro, pine nuts or seeds for crunch.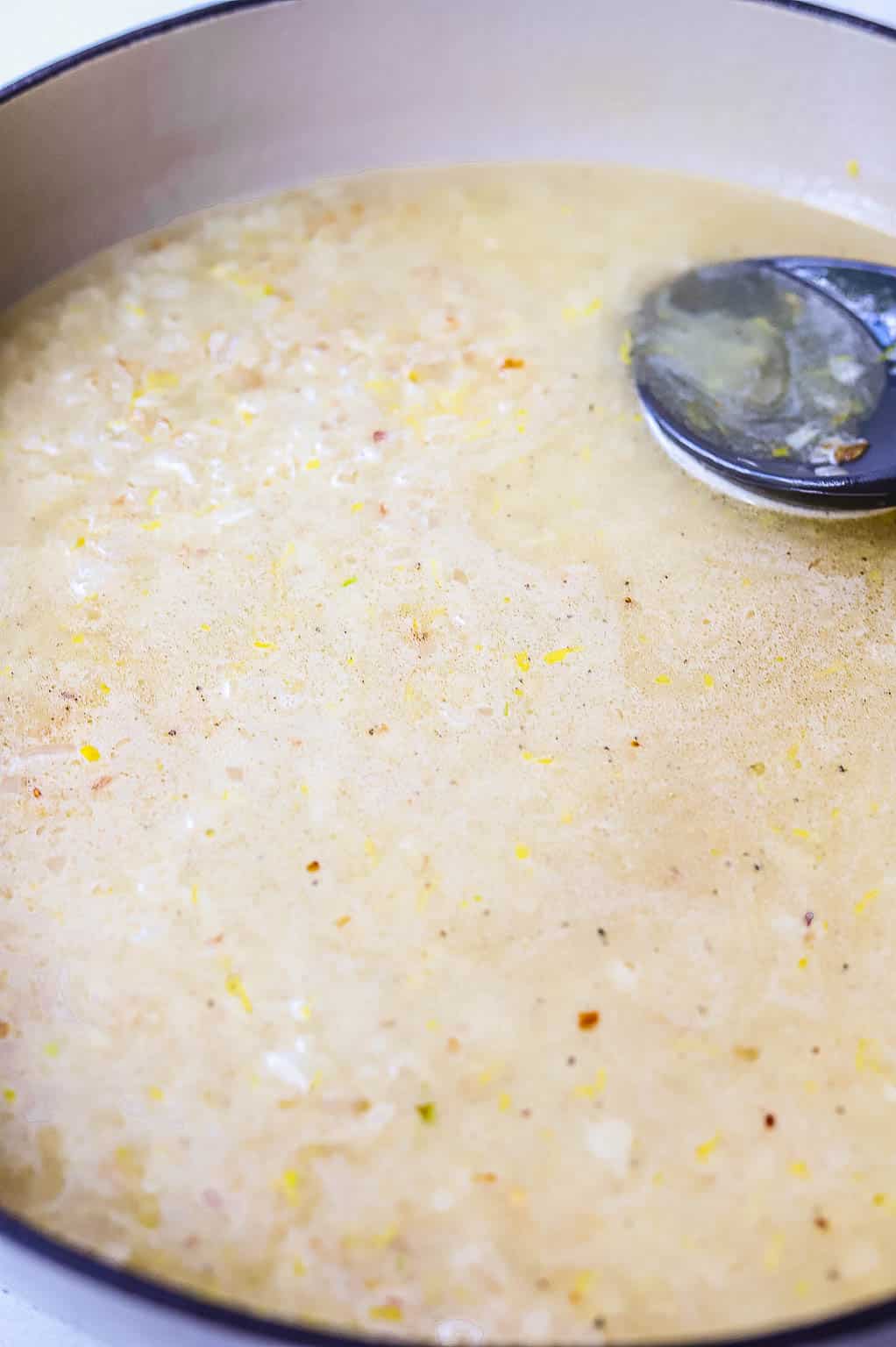 Storing, Freezing, and Reheating Lemon Dill Rice
I love making this recipe for meal prep! It's easy to make a large batch on Sunday and enjoy throughout the week for lunch or dinner.
Refrigerate: Let lemon dill rice rice cool to room temperature and then transfer to an airtight container, or several small containers for meal prep, and refrigerate for up to 1 week.
Freeze: Let the rice cool to room temperature. Spread the rice on a baking sheet lined with parchment and freeze for 1 hour. Transfer to a gallon ziplock bag and store for up to three months. When it's time to defrost, transfer the bag to the fridge and let it thaw overnight.
When it comes to reheating lemon dill rice, there are two methods:
Microwave: Portion some of the rice into a microwave safe bowl or dish and cover with a wet paper towel. Microwave for 1-2 minutes until warmed through.
Stovetop: Transfer rice to a nonstick skillet and drizzle in a couple of tablespoons of water or broth and cook on medium-low heat, stirring occasionally, until the rice is warmed through.
Lemon Dill Rice FAQs
What's the best rice to use for lemon dill rice?
I love basmati rice for the fragrance and flavor, but any long grain white rice will do!
Can I make this recipe vegan?
Yes! Just use olive oil instead of butter and use a vegetable broth or water while cooking the rice.
Can I make lemon dill rice in my rice cooker or instant pot?
Yes! I would use onion powder instead of shallot. Adjust the water/broth according to the instructions on your rice cooker or instant pot.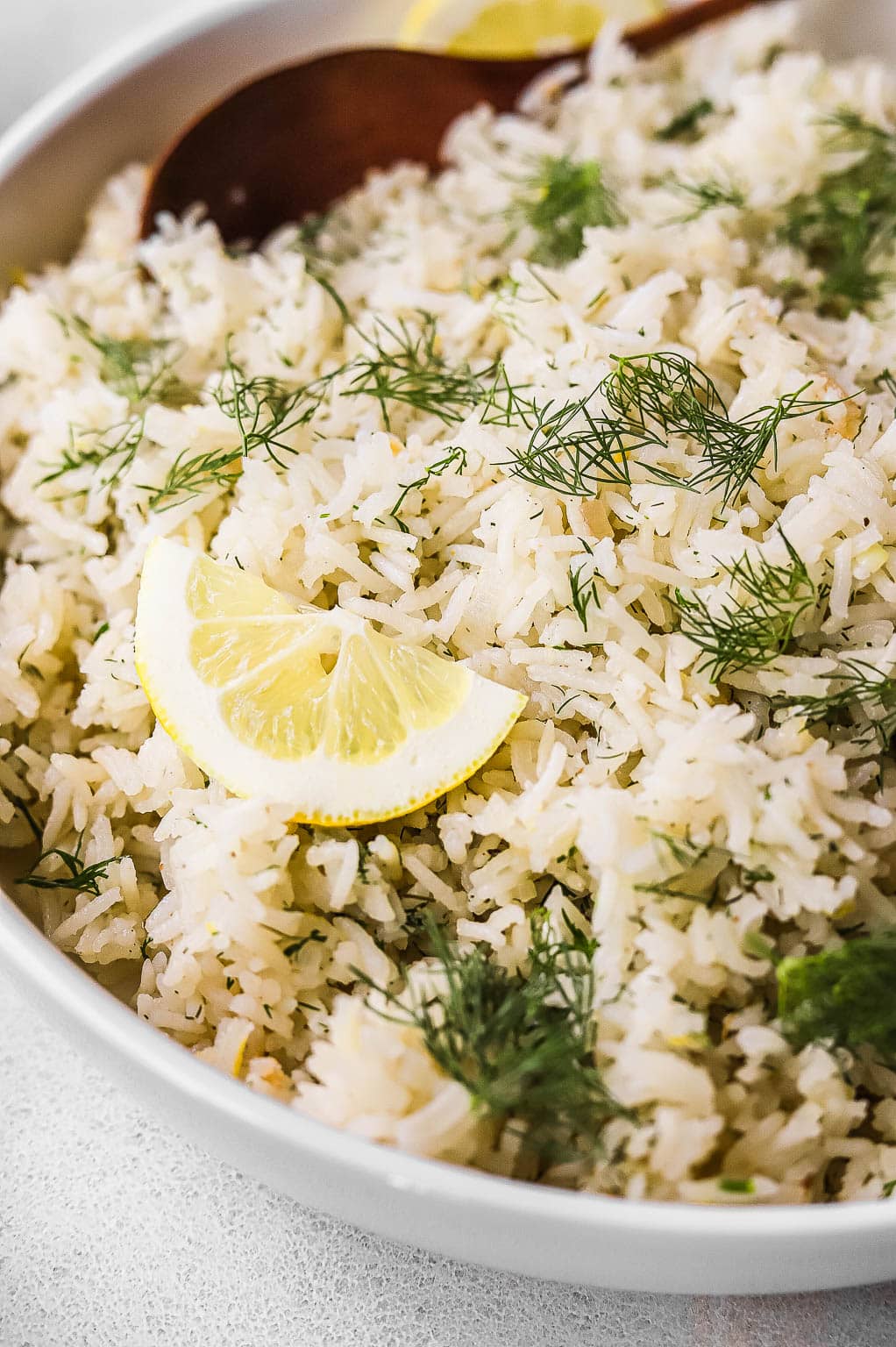 More Side Dish Recipes to Try Now
This post contains affiliate links from which I receive a small commission at no additional cost to you. Affiliate links allow me to keep providing great recipes for free and I never recommend products that I don't love and personally own.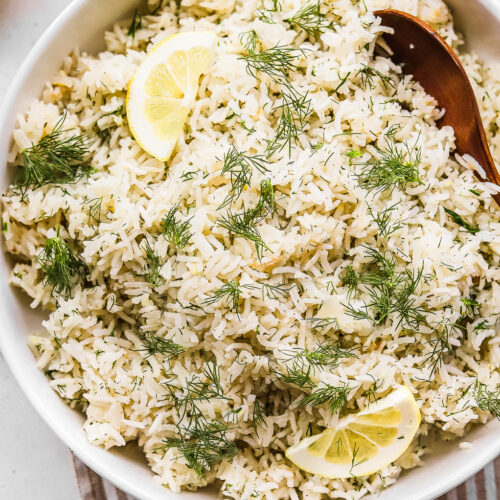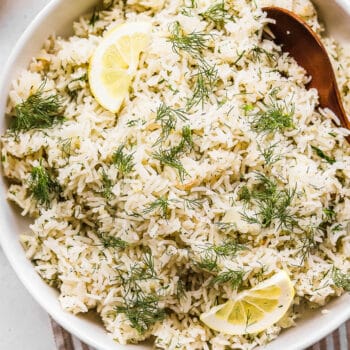 Lemon Dill Rice
This lemon dill rice recipe is perfect for a weeknight meal. You only need 6 ingredients and 20 minutes!
Ingredients
2

tablespoons

unsalted butter or olive oil

1

large shallot, finely minced

1 1/2

cups

basmati or long grain rice

1

tablespoon

lemon zest

3

cups

chicken or vegetable broth

3

tablespoons

lemon juice

1/2

teaspoon

kosher salt

1/4

teaspoon

freshly cracked pepper

1/3

cup

minced fresh dill
Instructions
Heat the butter or olive oil in a large skillet with a lit. Add the shallot and cook for 2-3 minutes until softened.

Add the rice to the pan and toss to coat in the shallot and butter/olive oil. Cook the rice for 2-3 minutes, stirring often. Add the broth, lemon zest, salt, and pepper, and bring to a simmer.

Cover, reduce the heat to low, and cook for 20 minutes. After 20 minutes, remove the pan from the heat and let it stand covered for another 10 minutes.

Fluff the rice and fold in the lemon juice and fresh dill. Season to taste with additional salt and pepper.
You might also like...