Parmesan Creamed Corn
Parmesan Creamed Corn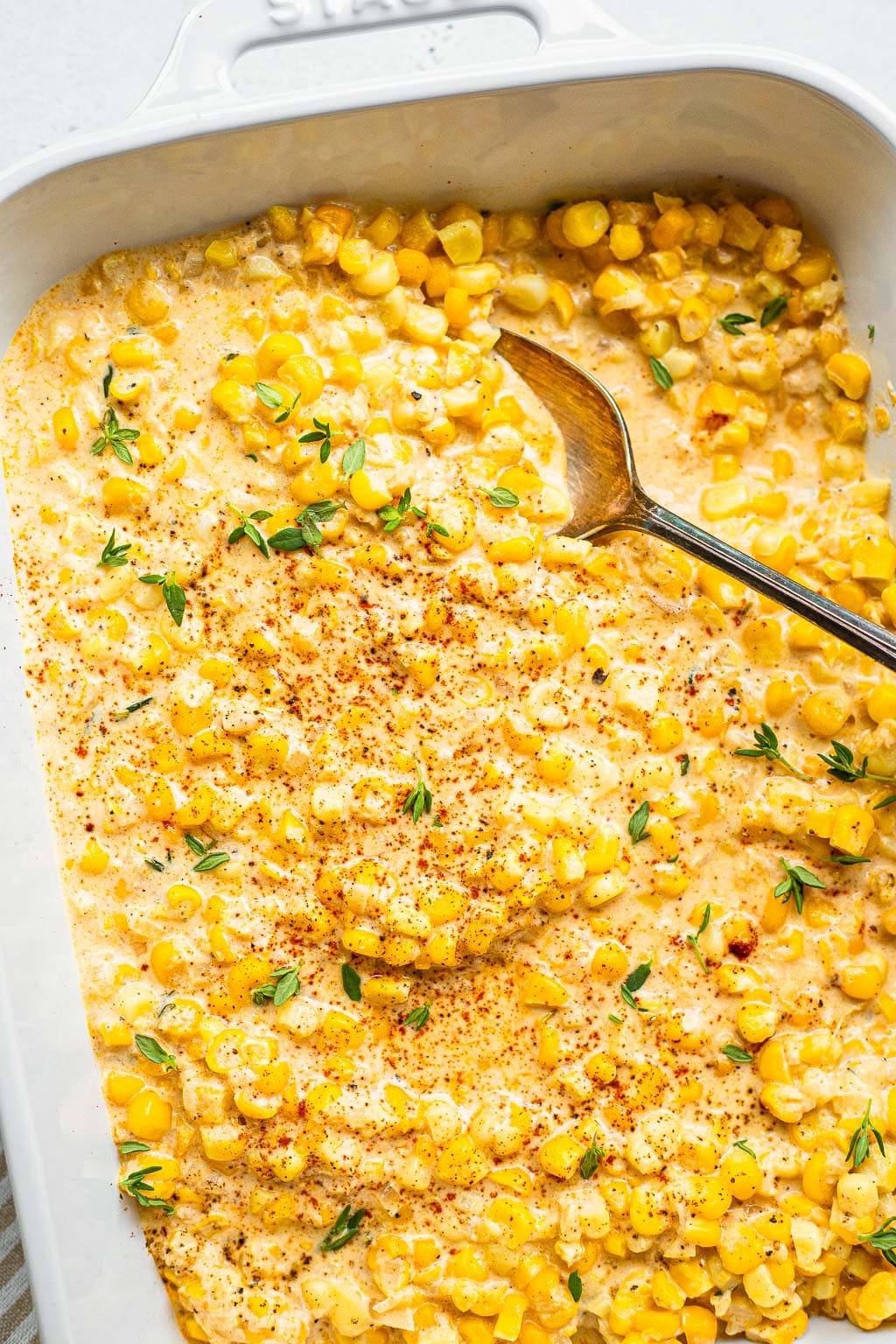 This easy and cheesy homemade Parmesan Creamed Corn is the perfect holiday or bbq side dish recipe! I don't know about you, but I'm a sucker for sweet corn at Thanksgiving. This Parmesan Creamed Corn puts the canned stuff to shame and only takes minutes to prep. You can have this easy side dish recipe on the table in 20 minutes!
It's finally the holiday season! This recipe kicks off the So Much Food Thanksgiving Extravaganza! For the next 2 1/2 weeks, I'll be posting delicious sides, desserts, and mains for the best Thanksgiving feast ever. Buckle up and let's get into this easy side dish recipe for homemade Parmesan Creamed Corn!
Parmesan Creamed Corn
This is the only creamed corn recipe you'll ever need and want to make! This quick, easy and mouthwatering recipe comes together in just 20 minutes and is the perfect side for so many dishes. While I love Parmesan Creamed Corn as a side dish for Thanksgiving or Christmas, it's also totally at home at a backyard BBQ!
Once you see how easy it is to make creamed corn from scratch, you'll never go back to the canned stuff! Adding parmesan to the creamed corn really takes this recipe up a notch. The slightly salty and funky parmesan balances the sweetness of the corn. Make sure to top your Parmesan Creamed Corn with lots of freshly cracked black pepper!
What is Creamed Corn?
There are a few major differences you'll find between a canned cream-style corn and this homemade version. Most canned cream style corn is a mixture of pureed corn with a few whole kernels, butter, salt and sugar (often times along with other additives and preservatives). The sauce comes from the pureed corn and that's what makes canned creamed corn creamy.
My homemade Parmesan Creamed Corn recipe keeps all the corn kernels whole (although you can blend half the corn if you want, which is slightly more traditional). The corn is swimming in a creamy parmesan sauce loaded with shallots, paprika, butter, and fresh thyme.
Why You'll Love this Recipe
One Pan – Who doesn't love a side dish recipe that comes together in one pan? This is an easy creamed corn recipe that comes together in one skillet in 20 minutes. On Thanksgiving, you want sides that are easy and make-ahead friendly and this recipe fits the bill!
Doesn't take up oven space – Oven space is a hot commodity during Thanksgiving and any side dishes that can be made on the stovetop are life savers! Not only is this creamed corn recipe made in one pan, but it's also made on the stovetop.
Easy vegetarian side dish – With Thanksgiving and Christmas being sort of meat-heavy holidays, I love having a couple of vegetarian sides for my guests. Not only does it provide balance to the heavier dishes, but it can be accommodating to a wide variety of diets. This creamed corn recipe is also gluten-free!
Make-ahead friendly – Thanksgiving is a marathon, not a sprint, y'all! Anything that I can make ahead without sacrificing flavor, I'm going to do it. I'm all about breaking up the work for the big dinner throughout the week.
How to Make Parmesan Creamed Corn
You don't need any special ingredients or equipment for this recipe, but I do recommend using a large nonstick skillet!
Tools Needed
Ingredients and Substitutions
Corn. I always prefer to use fresh, but you can use frozen or canned corn if that's what you have. Read below for my tips for using frozen and canned corn.
Shallot. I love shallot because it's a bit milder and sweeter than your average onion. If you can't get shallots, use 1/2 a small yellow onion and finely dice it.
Butter. Butter makes everything better!
Paprika. The touch of paprika adds a ton of flavor. You could use smoked paprika, but be sparing as the flavor is very strong.
Heavy Cream. I used a combo of heavy cream and milk, but you can swap in half and half.
Milk. Opt for whole milk here! Lower fat milks tend to break.
Corn starch. Corn starch keeps this Parmesan Creamed Corn recipe gluten free! You could also use arrowroot powder or even flour.
Fresh thyme. A bit of fresh thyme here is so good! You could also swap in some parsley, chives, or even a bit of rosemary or sage.
Parmesan cheese. Make sure to use freshly-grated parmesan cheese for best results, not the canned stuff.
The Process
Remove the corn from the cobs. If you're using fresh corn, use a sharp knife to remove the kernels from the cobs.
Saute the corn and shallots. Melt half of the butter in the skillet over medium heat and add the shallots. Cook for a couple of minutes, until the shallots are soft. Add the corn and paprika and saute for 2-3 minutes.
Add the milk and cream. Whisk the corn starch into the milk until smooth and set aside. Add the cream to the skillet and bring to a gentle simmer. Add the thyme, then pour in the milk and corn starch mixture. Bring to a simmer over medium-low heat, stirring occasionally, and cook for 3-4 minutes. Stir in the parmesan and remaining butter and season to taste with salt and pepper. Serve warm.
Frozen vs Fresh vs Canned Corn
I always think fresh corn yields the best results, but you can definitely use frozen corn or canned corn if fresh is too hard to find. There are just a couple things I recommend doing if you plan to use frozen or canned corn.
Frozen Corn
Thaw the frozen corn completely and thoroughly drain the excess liquid. Any additional liquid will thin the sauce out too much, making it watery instead of thick and creamy. If you're using frozen corn, you may also want to puree part of the corn before adding it to the pan, while leaving some kernels whole.
Canned Corn
Pour the canned corn into a fine mesh sieve or strainer to drain all the liquid. Make sure to give the corn kernels a good rinse and drain any excess liquid. Canned corn sits in a liquid to help preserve the kernels and elongate shelf life and the liquid often contains sugar and other additives that you can taste on the corn.
What to Serve with Parmesan Creamed Corn
Parmesan Creamed corn is such a versatile side dish! Some of my favorite recipes to enjoy with it:
Make Ahead and Freezing Instructions
Make Ahead
Parmesan Creamed Corn can be made up to 3 days ahead of time. Store in an airtight container in the refrigerator until ready to use.
To Reheat: Pour contents into a saucepan and gently simmer over medium-low heat, stirring occasionally. Gently simmering and stirring are both important to ensure the sauce doesn't separate.
As the mixture heats up and begins to thicken add grated Parmesan, 1 teaspoon at a time, until fully melted and desired consistency has been reached.
Adjust salt and pepper as needed and serve.
To bake: You can bake this recipe after rewarming it by topping it with more parmesan cheese and baking at 400 F. for 15 minutes, until bubbly.
Freezing
Although doable, I don't recommend freezing this recipe. The texture will be slightly off and it won't be as fresh in flavor. Creamy sauces tend to not freeze well. You can turn your leftover corn into corn chowder!
Customizing Parmesan Creamed Corn
This is an easy recipe to customize to your tastes! I love this Parmesan Creamed Corn as is, but here are a few ways to jazz things up:
Add fresh herbs. The thyme is great, but you can totally kick things up with some fresh herbs like chives, rosemary, sage, or parsley.
Add bacon. Bacon makes everything better right? Stir in some crispy bacon pieces to add a smoky, savory flavor.
Top with crispy onions. Tis the season of crispy fried onions! If you find you have some leftover from your green bean casserole, top this Parmesan Creamed Corn with crispy onion bits!
Add jalapeños. Add some diced fresh jalapeño for a bit of spice! If you add in a bit of cream cheese, you've got jalapeño popper creamed corn!
More Side Dish Recipes
This post contains affiliate links from which I receive a small commission at no additional cost to you. Affiliate links allow me to keep providing great recipes for free and I never recommend products that I don't love and personally own.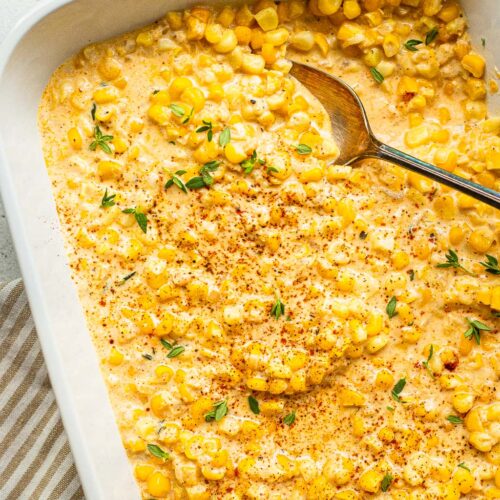 Parmesan Creamed Corn
This easy and cheesy homemade Parmesan Creamed Corn is the perfect holiday or bbq side dish recipe! This creamed corn recipe will totally blow the canned stuff out of the water. One pan, 20 minute side dish recipe!
Ingredients
4

tablespoons

unsalted butter

2

shallots, minced

3

cups

corn kernels (from 5-6 ears of corn)*

1

teaspoon

paprika

1 1/2

cups

heavy cream

1

tablespoon

fresh thyme leaves

1

cup

whole milk

2

teaspoons

corn starch

2/3

cup

freshly grated parmesan cheese

kosher salt

freshly cracked black pepper
Instructions
Using a sharp knife, remove the corn kernels from the corn cobs. Set aside.

In a large nonstick skillet over medium heat, melt 2 tablespoons of butter. Once the butter is hot and foamy, add the shallots and cook for 2-3 minutes until softened. Add corn kernels and paprika and cook for another 2-3 minutes.

Whisk together the milk and corn starch until smooth and no lumps remain. Set aside. Add the cream and thyme to the corn and bring to a gentle simmer. Pour in the milk and corn starch mixture and stir well to combine. Bring back to a gentle simmer over medium-low heat and cook for 10 minutes.

Once the creamed corn is thick, add the parmesan cheese and stir until melted. Season to taste with salt and lots of freshly cracked black pepper. Serve warm.
Notes
*can use thawed and drained frozen corn or 30 ounces of canned corn, drained and rinsed. See blog post for tips on using frozen and canned corn.
You might also like...