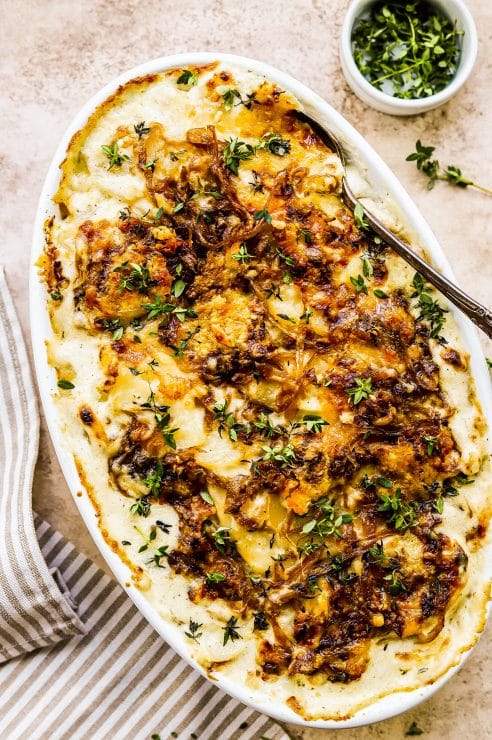 Caramelized Onion Potatoes au Gratin
Caramelized Onion Potatoes au Gratin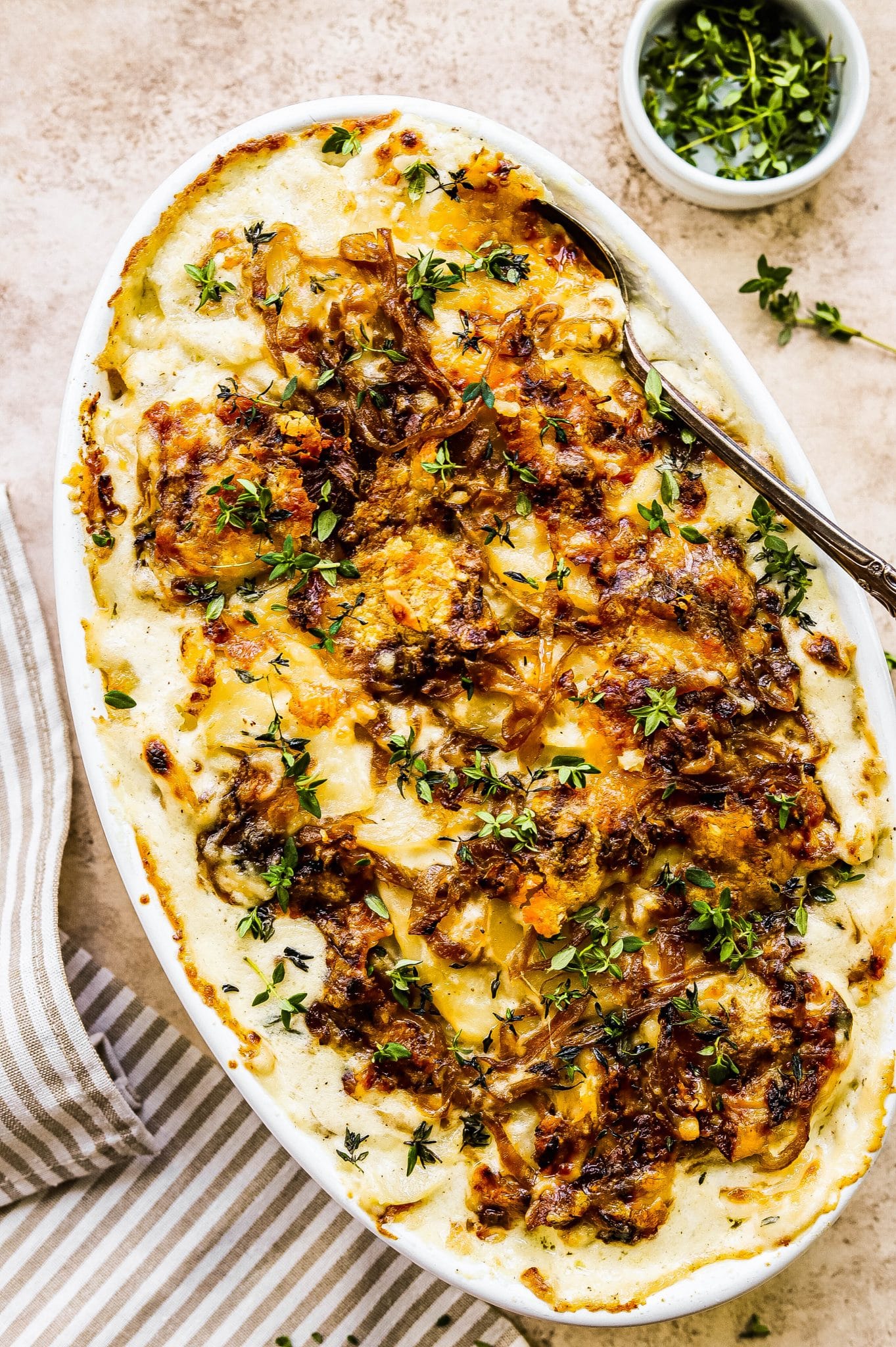 Caramelized onion potatoes au gratin is the perfect potato side dish for your Thanksgiving table. You can say goodbye to watery potato recipes this year because this recipe is fool-proof! The caramelized onions add a little extra special something and the potatoes are perfectly creamy and cheesy. You can even make this recipe ahead of time for ease!
Potatoes au Gratin vs Scalloped Potatoes
While potatoes au gratin and scalloped potatoes are similar, the biggest difference is the sauce. Scalloped potatoes are cooked in a creamy sauce that begins with flour and butter (roux); whereas the sauce for potatoes au gratin is thickened by the starch in the potatoes. There is some debate to say that scalloped potatoes don't contain cheese, but I think both potato dishes benefit greatly from cheese. I often see cheese in both. While both are delicious, I find that scalloped potatoes curdle more readily than potatoes au gratin.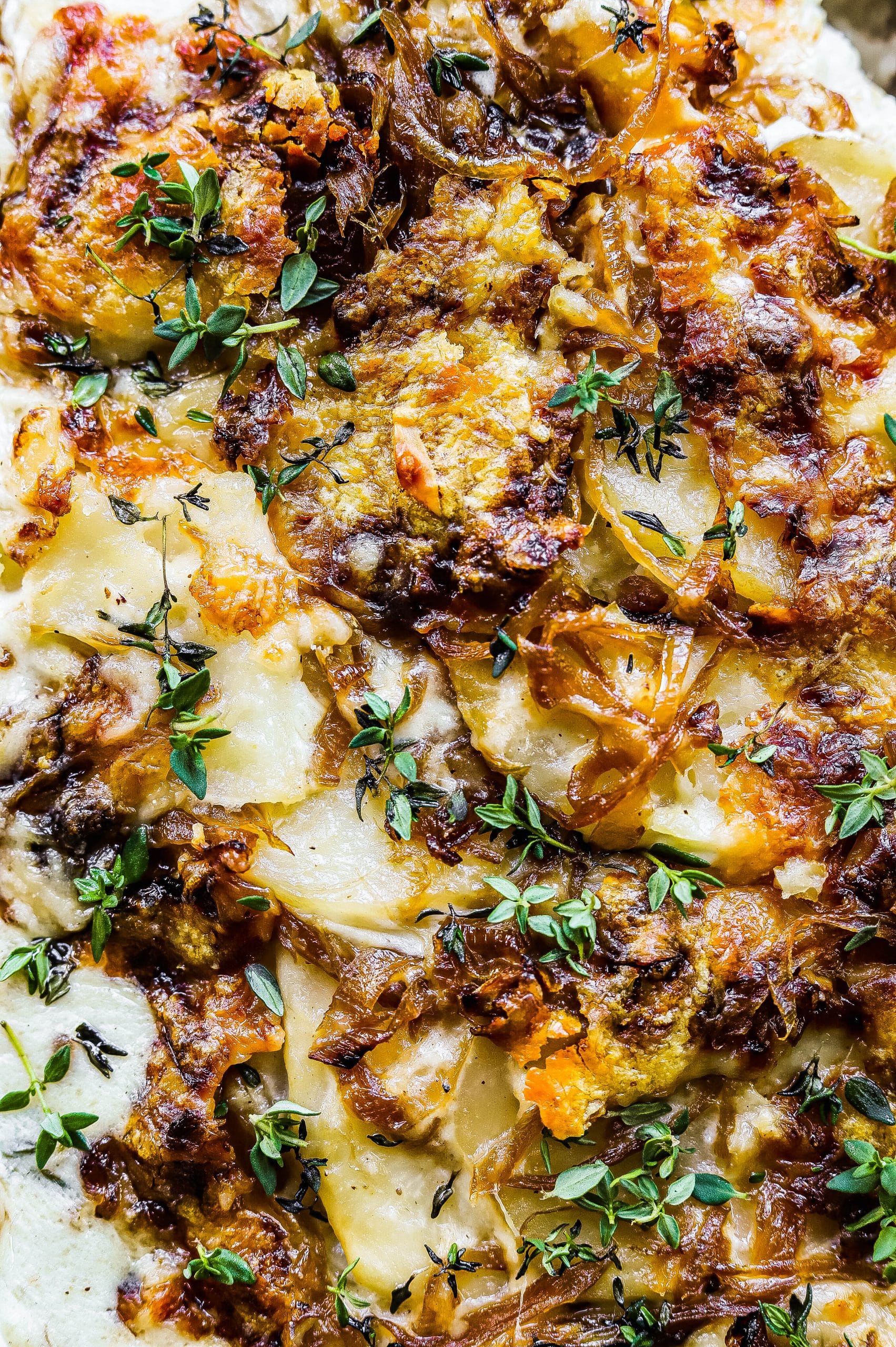 How to Make Caramelized Onion Potatoes au Gratin
I love how easy it is to make this recipe! You can even make caramelized onion potatoes au gratin ahead of time.
Tools Needed
Ingredients you'll need
Onions. Opt for a sweet onion like Vidalia if you can find it.
Potatoes. Normally I'm a Yukon gold gal but you need a starchy potato. Russet is best here.
Aromatics. Garlic, bay leaves, nutmeg, and fresh thyme give these caramelized onion potatoes au gratin all the flavor.
Dairy. I use a mix of heavy cream and half & half here for the perfect, silky texture.
Cheese. Gruyere is my favorite cheese for making potatoes au gratin. You wait to aim for a semi-hard cheese. Gouda would be a great option too.
The best potatoes for potatoes au gratin
Using the right potatoes is essential to this recipe! Because there are no thickeners in the sauce like flour, you really need a starchy potato to make everything come together. I always use russet potatoes for this recipe as it yields the best results. I'm team Yukon gold for mashed potatoes all the way, but waxy potatoes will only leave you with a broken and soupy potato dish here. Russets all the way!
Tips for making the best potatoes au gratin
Follow these simple tips and you'll have the best caramelized onion potatoes au gratin ever!
Use a mandoline. Evenly sliced potatoes cook evenly, so unless you are a whiz with a knife, use a mandoline for precise cuts.
Simmer your potatoes. Partially cooking the potatoes in the cream sauce before baking not only speeds up the cooking time but really thickens the sauce from the starch in the potatoes. You'll never have a broken, watery sauce again!
Don't use pre-shredded cheese. Shredded cheese is coated in cellulose to keep it from clumping and doesn't melt as well. Bust out the box grater and give it a little elbow grease to shred your cheese by hand.
Use the right cheese. You want a semi-hard cheese with lots of flavor. Gruyere, gouda, and Emmental would all be great choices.
Let the potatoes rest. After removing them from the oven, let your potatoes rest for at least 15 minutes before serving.
how to make caramelized onion potatoes au gratin ahead of time
I love that this recipe can be made ahead of time. Follow the recipe up until the potatoes au gratin go in the oven. Layer them in the baking dish with the caramelized onions and cheese, cover with foil, and refrigerate overnight. Remove them from the fridge 1 hour before baking. Bake covered for 20 minutes and uncovered for an additional 20-25 minutes until the top is golden and the cheese is bubbly.
Other Side Dish Recipes to Try
This post contains affiliate links from which I receive a small commission at no additional cost to you. Affiliate links allow me to keep providing great recipes for free and I never recommend products that I don't love and personally own.
Caramelized Onion Potatoes au Gratin
Caramelized onion potatoes au gratin is the perfect potato side dish for any dinner! It's easy to make, cheesy, and delicious!
Ingredients
4

tablespoons

unsalted butter

divided

2

sweet yellow onions

thinly sliced

1

teaspoon

sugar

4

lbs

about 4-5 large russet potatoes, peeled and sliced about 1/8" thick (3mm) on a mandoline

2 1/2

cups

heavy cream

1 1/2

cups

half & half

3

garlic cloves

grated

2-3

sprigs of fresh thyme

2

bay leaves

Pinch

of Nutmeg

6

oz

gruyere cheese

shredded

Kosher salt

Freshly ground pepper
Instructions
In a medium skillet, melt 2 tablespoons of butter over medium-low heat. Add the onions to the skillet and toss to coat. Season with some salt and pepper and cook, stirring occasionally, until they start to turn golden brown. Sprinkle with the sugar and cook until deeply amber in color. Set aside to cool.

In a 4 qt pot or dutch oven, combine the cream, half and half, garlic, thyme, bay leaves, and nutmeg. Season with salt and pepper. Add the potatoes to the pot and bring to a gentle simmer over low heat. Simmer for 15 minutes, or until the potatoes are just starting to become tender. Season to taste with salt and pepper, if needed. Remove from the heat and rest for 10 minutes.

Preheat an oven to 375 F. Butter a 3 qt baking dish with the remaining butter and set aside. Discard the thyme sprigs and bay leaves from the potatoes.

Using a slotted spoon, transfer half of the potatoes to the prepared baking dish. Layer in half of the caramelized onions and cheese and cover with the rest of the potatoes. Pour the remaining creamy sauce in the pot over the potatoes and top with the remaining onions and cheese. Bake uncovered for 35-40 minutes until the cheese is bubbly and golden brown and the potatoes are tender.

Rest the potatoes for 15 minutes before serving. Top with more fresh thyme, if desired.
Notes
Do not use a waxy potato for this recipe, use a very starchy potato, like russets.
Nutrition
Serving:
1
cup
Calories:
556
kcal
Carbohydrates:
45
g
Protein:
15
g
Fat:
27
g
Saturated Fat:
15
g
Cholesterol:
108
mg
Sodium:
800
mg
Fiber:
4
g
Sugar:
3
g
You might also like...