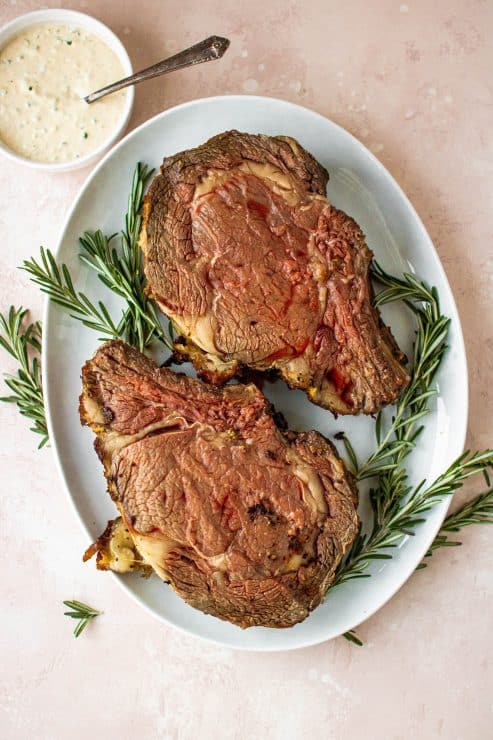 Reverse-Sear Prime Rib Recipe
Reverse-Sear Prime Rib Recipe
This reverse sear prime rib recipe yields absolutely perfect prime rib every single time. This is my go-to prime rib recipe and it never fails! It's always cooked perfectly inside with tons of flavor. Don't skip the horseradish sauce, it totally makes the dish!
The science behind the Reverse Sear Method
It's called the reverse sear because it flips what we have been taught about cooking meat on its head. Throughout history, we've been told that to cook a steak (or any cut of beef) you should sear it to "lock in juices." This thought has been proven to be definitively false many times over. Searing doesn't lock in juices, but it does add flavor and thus needs to be incorporated somehow.
Have you ever noticed a prime rib with a ring of overcooked meat at the edges with a medium-rare interior? This comes from uneven cooking. The exterior gets too hot before the inside can cook to the correct temperature. The reverse sear corrects this! You cook your prime rib low and slow to ensure a perfect medium-rare edge to edge and then finish in a super hot oven to create a flavorful crust.
How to make reverse sear prime rib
Prime rib is an expensive cut of meat and cooking it perfectly is essential! After you try the reverse sear method, I promise you won't go back!
Tools Needed
Ingredients you'll need for Prime Rib
Standing Rib Roast. I usually make a fairly small prime rib because it's just me and my husband so I opt for 4-5 lbs (2-3 rib bones) and always do bone-in for flavor. Pro tip: save your bones for stock! Head to a butcher shop for the best rib roasts and select a well-marbled piece.
Rosemary. I love the flavor that roasting the prime rib on the rosemary gives it. You could also add some thyme and sage.
Dijon. I love coating beef with dijon, it's just the most perfect savory flavor!
Horseradish. You want to use prepared horseradish here which is found refrigerated, often near the seafood at your local grocery store. Do not use cream of horseradish found at room temperature in the condiment aisle.
Salt and pepper. The kind of salt you use matters! I always use kosher salt and freshly cracked pepper. Make sure to season the roast liberally.
selecting the right prime rib roast
I tend to opt for smaller prime rib roasts as I'm usually just feeding myself and my husband. A 4-5 lb bone-in prime rib roast (2-3 bones) comfortably feeds 4-6 people. If you are looking to feed more people, adjust the sizing accordingly. A 4-5 rib (7-8 lb) roast can feed anywhere from 8-10 people depending on the sides.
Selecting the right grade of meat for prime rib
Note that just because you are ordering a "prime" rib, it doesn't mean that you are getting USDA Prime. Most "prime ribs" we get from the market are actually USDA Choice quality. That being said, choice cuts often boast plenty of marbling at a more economical price point. If you really want to splurge for a special occasion, head to your butcher and request a "prime" grade standing rib roast.
Determining the 'Doneness' of Prime Rib
Prime rib is best served rare or medium-rare. Once it's overcooked, you can't un-cook it and since it's an expensive cut of meat, you don't want to leave the cooking to chance. Invest in a dependable probe thermometer for cooking all kinds of meats. Keep in mind that the temperature of the meat will rise 5 degrees or so as it rests. For best results, pull at the temperatures listed below.
Rare roast: 115°F.
Medium-rare roast: 120°F.
Medium roast: 130°F.
Sides to serve with Prime Rib
This post contains affiliate links from which I receive a small commission at no additional cost to you. Affiliate links allow me to keep providing great recipes for free and I never recommend products that I don't love and personally own.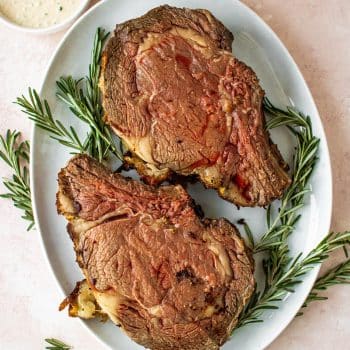 Reverse-Sear Prime Rib Recipe
Reverse searing yields the most tender and juicy prime rib roast ever. This is my go-to recipe--don't skip the horseradish sauce!
Ingredients
Prime Rib
4-5

lb.

Bone-in standing rib roast

Kosher Salt

Freshly ground pepper

Rosemary Sprigs

3

tablespoons

dijon mustard

1

tablespoon

olive oil

1

tablespoon

prepared horseradish
Horseradish Sauce
1/2

cup

mayonnaise

1/2

cup

sour cream

1 1/2

tablespoons

prepared horseradish

2

teaspoons

dijon mustard

1

tablespoon

Worcestershire sauce

1

tablespoon

freshly squeezed lemon juice

2

tablespoons

minced fresh chives

Kosher salt

Freshly ground pepper
Instructions
The day before you plan to cook the prime rib, season the roast liberally all over with kosher salt. Place it on a plate or small baking dish and leave it uncovered in the fridge for at least 16 hours. This allows the outside to dry for a better crust and lets the salt permeate past the outer later.

Preheat an oven to 225 degrees F. Place the roast, fat cap up, in a roasting pan with a rack or on a rimmed baking sheet with a wire rack. Nestle the rosemary sprigs under the roast. Mix together the dijon mustard, horseradish, and olive oil and liberally brush all over the roast. Coat with lots of freshly cracked black pepper.

Insert a probe thermometer into the middle of the prime rib. Place the roasting pan in the oven and cook until the internal temperature reaches 120 degrees F (for medium-rare, see chart above for suggested temperatures), about 3 1/2 – 4 hours. Remove the roast from the oven and tent loosely with foil, and allow the meat to rest for at least 30 minutes, up to an hour and a half.

Right before you plan to serve, set the oven to 550 F (or as high as your oven will go) and return the roast to the oven for 10 minutes or so, until the outside is well-browned and crisp. Remove from oven, rest 10 minutes, then carve.

To make the horseradish sauce: whisk together all the ingredients until smooth. Season to taste with salt and pepper. Store in the fridge until ready to serve.
Nutrition
Serving:
8
oz
Calories:
450
kcal
Protein:
56
g
Fat:
25
g
Saturated Fat:
17
g
Cholesterol:
150
mg
Sodium:
500
mg
You might also like...