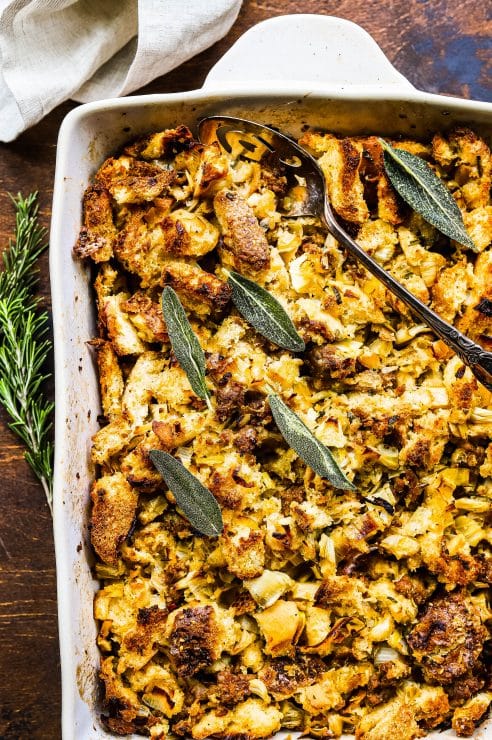 Sausage and Fennel Stuffing
Sausage and Fennel Stuffing
Sausage and fennel stuffing is loaded with spicy sausage, caramelized onion, fennel, fresh herbs, and baked to crispy golden perfection. I'll confess, I've never really been a fan of stuffing but this recipe totally changed my mind. It packs so much flavor and texture that it blows boring stuffing recipes out of the water. You can make several components of this recipe ahead of time, making it a game-changing side.
Stuffing vs Dressing
This recipe for sausage and fennel stuffing is baked alongside the turkey, not inside. Technically, that makes it a "dressing". I don't really care what we call it, but you should not be baking anything in your turkey's cavity except for aromatics.
Stuffing your bird with bread slows down the cooking process and yields an unevenly cooked turkey. If you have uncooked turkey juices dripping onto your stuffing and it doesn't reach 165 F internally, it's not safe to eat. For the stuffing to reach 165 F, the rest of the bird will dry out.
Plus, baking the stuffing separately gives you a crispy, golden-brown crust. So, just do it the safe and right way and bake your stuffing separately!
How to Make Sausage and Fennel Stuffing
I love how easy it is to make sausage and fennel stuffing! You can make several of the components ahead of time for easy cooking.
Tools Needed
Ingredients You'll Need
Sausage. I opted for spicy Italian sausage because of the fennel, but breakfast sausage would work well too.
Bread. The best bread for stuffing has a tighter crumb and great flavor. I like mixing varieties, like sourdough and pumpernickel.
Veggies. Sausage and fennel stuffing obviously needs fennel. Onion and leeks add lots of savory flavors and a crisp apple adds a little sweetness for balance.
Herbs. Fresh sage and rosemary absolutely make this dish. If you use dried, cut the quantities in half.
Eggs. Eggs are absolutely necessary for stuffing. They're the binder, keeping everything together.
Dry white wine. Adding wine is optional, but I think it adds great flavor. Opt for a dry white wine.
Stock. Use a homemade chicken or turkey stock for best results.
The best bread for stuffing
As mentioned above, the best bread for stuffing has a tight crumb (sorry airy sourdough!). You want bread that will easily absorb all the liquid and hold onto it so it doesn't dry out. I really love mixing breads–my favorite is a mix of sandwich sourdough bread and pumpernickel.
I think the color and flavor contrast is beautiful. Use your favorite, but keep flavor and texture in mind. No matter what bread you use, it's gotta be dry! Dry bread absorbs the liquid in this recipe without becoming soggy mush.
Drying out bread for stuffing
Bread needs to be dry for stuffing, it's the only way it'll absorb the liquid without becoming mush. If you have time, you can spread your torn bread out on a baking sheet and let it dry out for a day or two on your counter.
If you need to speed things up, spread your torn bread on a baking sheet and bake at 250 F until the bread is dried out, but not brown. Cool before using.
How to make sausage and fennel stuffing ahead of time
This recipe has two separate components: the dried bread, and all the meat and veggies. The day of cooking can be really hectic so this recipe is a cinch to make ahead. There are two options for making sausage fennel stuffing ahead of time:
You can make the separate components and store them until they're needed, combine, and then bake. You'll dry out your bread and separately cook your sausage with veggies and herbs and store it in an airtight container in the fridge. On the day of, combine the bread with the sausage mixture and then follow the rest of the recipe and bake as directed.
Completely make the stuffing ahead of time (up to 2 days before) and bake up until you remove the foil. Leave the stuffing covered after baking, cool to room temperature, and refrigerate covered. Remove the stuffing from the fridge 1 hour before baking and bake uncovered until it's hot and browned on top.
Torn vs cubed bread
You may notice that this recipe calls for torn bread and not cubed. I find that the odd shapes of torn bread fit together better, absorb the liquid better and more evenly, and the crooked nooks and crannies brown beautifully. Give torn bread a try, you won't go back!
Fixing soggy stuffing
If you find that your stuffing is very soggy after baking, it's possible that your bread wasn't dry enough. No sweat! Bust out a baking sheet and scoop chunks of the stuffing onto the sheet. Bake at 450 F until it's browned and sufficiently dried out. Stuffing saved!
More Thanksgiving Recipes to Try:
This post contains affiliate links from which I receive a small commission at no additional cost to you. Affiliate links allow me to keep providing great recipes for free and I never recommend products that I don't love and personally own.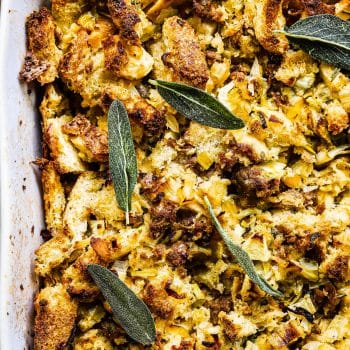 Sausage and Fennel Stuffing
Sausage and fennel stuffing is so flavorful and easy to make, you'll make it every year!
Ingredients
10-12

cups

torn bread,

about 1 large loaf, dried (see above notes)

1

tablespoon

olive oil

1

lb

spicy Italian sausage,

removed from the casings

2

leeks,

white and light green parts only, thinly sliced

1/2

yellow onion,

diced

1

fennel bulb,

fronds and core removed, diced

1

large Honeycrisp apple,

peeled and diced

2

tablespoons

chopped fresh sage

1

tablespoon

chopped fresh rosemary

1/2

cup

dry white wine

6

tablespoons

salted butter, room temperature and

divided

2 1/2

cups

homemade chicken or turkey stock,

divided

3

eggs

Kosher salt

Freshly ground pepper
Instructions
Preheat an oven to 350 F. Generously butter a 9x13 baking dish with 2 tablespoons of softened butter. Set aside.

In a large skillet, heat the olive oil over medium-high heat. Add the sausage and cook, breaking up with a spoon, until browned. Remove the sausage from the pan with a slotted spoon (leave all that fat behind!) and transfer to a small bowl.

Add the leeks, onion, and fennel to the skillet and continue to cook, stirring occasionally, until the leeks are starting to brown. Then, add the apple, sage, and rosemary and cook for another 5 minutes or so. Once the apples are slightly browned, add the white wine and cook until most of the wine has evaporated. Stir the sausage back into the pan. Turn off the heat, add the remaining butter, and season to taste with salt and pepper.

In a large mixing bowl, toss the bread with the sausage mixture and gently mix in 2 cups of the chicken broth. Take care to just gently toss the bread so it doesn't break apart too much. Let the bread sit for 10 minutes.

In a small bowl, whisk together the eggs and remaining stock until smooth. Pour over the bread mixture and gently toss to combine, making sure all the bread is moist and evenly coated. Transfer to the prepared baking dish, cover with foil, and bake for 30 minutes.

Remove the foil and bake for another 30 minutes or so, until the top is nicely browned and crisp. Remove from the oven, rest 10 minutes, and serve.
Nutrition
Serving:
1
cup
Calories:
525
kcal
Carbohydrates:
54
g
Protein:
21
g
Fat:
24
g
Cholesterol:
95
mg
Sodium:
1100
mg
Fiber:
3
g
Sugar:
3
g
You might also like...