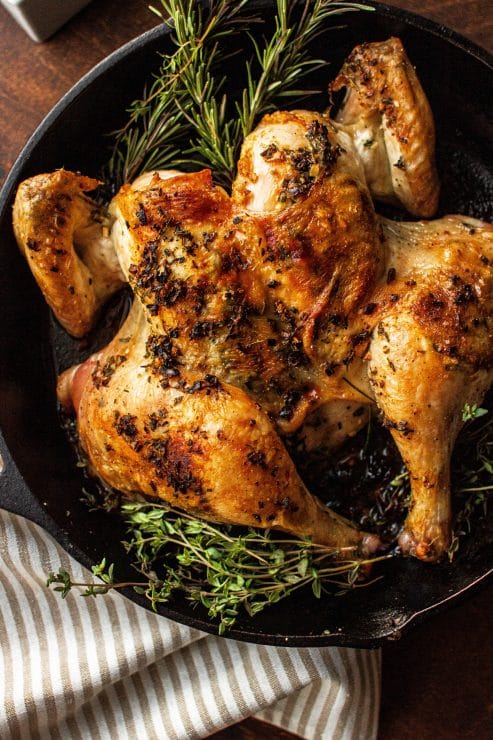 Herb-Roasted Spatchcock Chicken
Herb-Roasted Spatchcock Chicken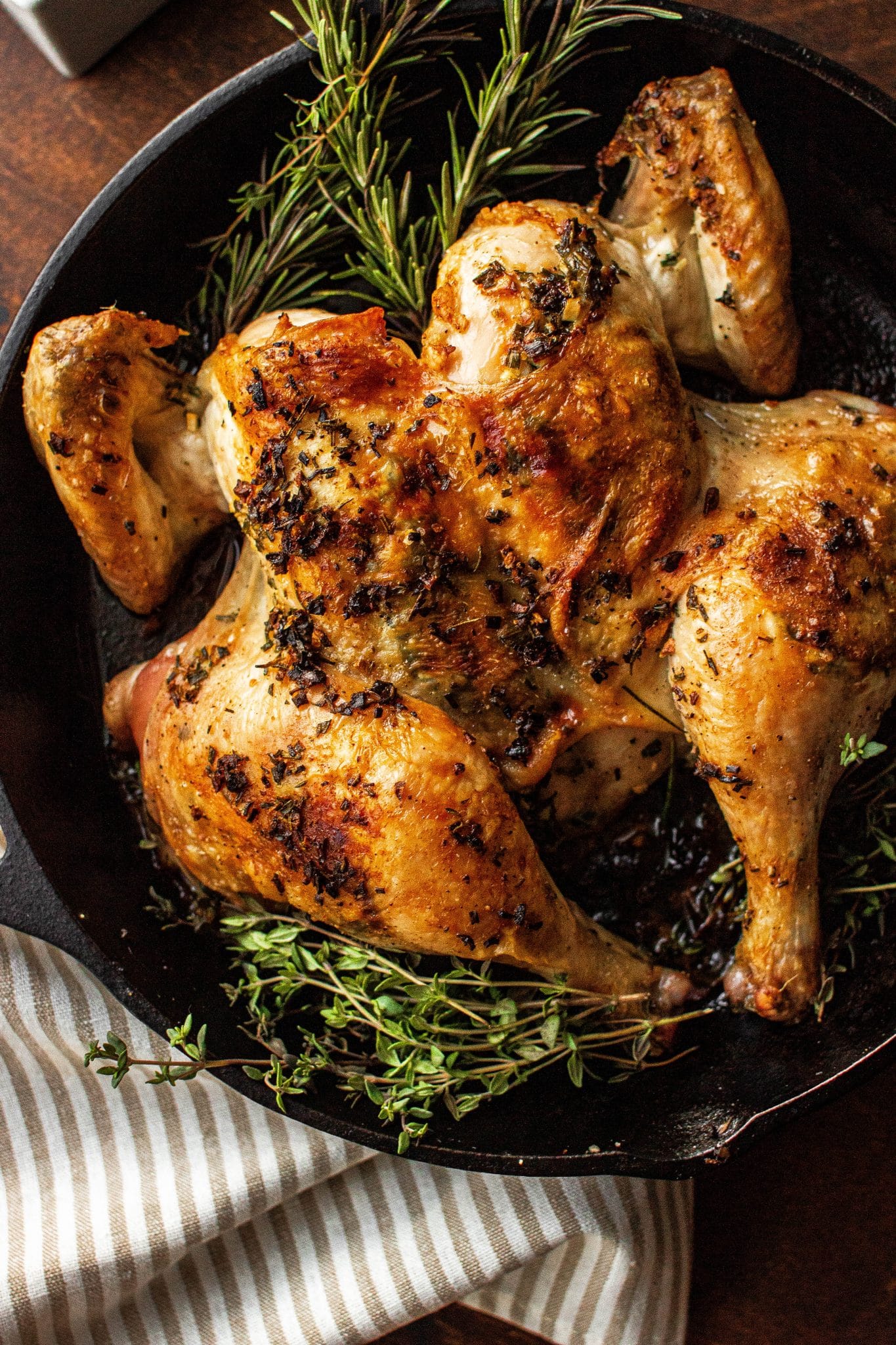 This herb-roasted spatchcock chicken is a miracle for a weeknight dinner. It's easy to make and is so flavorful. If you take anything away from this post: please always spatchcock your chicken! Doing so ensures even cooking, no dry meat, and cuts the time in half!
Read on below for all my tips/tricks in regards to spatchcock-ing and even if the thought of doing it makes you nervous, please try it! It will honestly change your roast chicken game for life and you'll be a better cook for it. Happy cooking, y'all!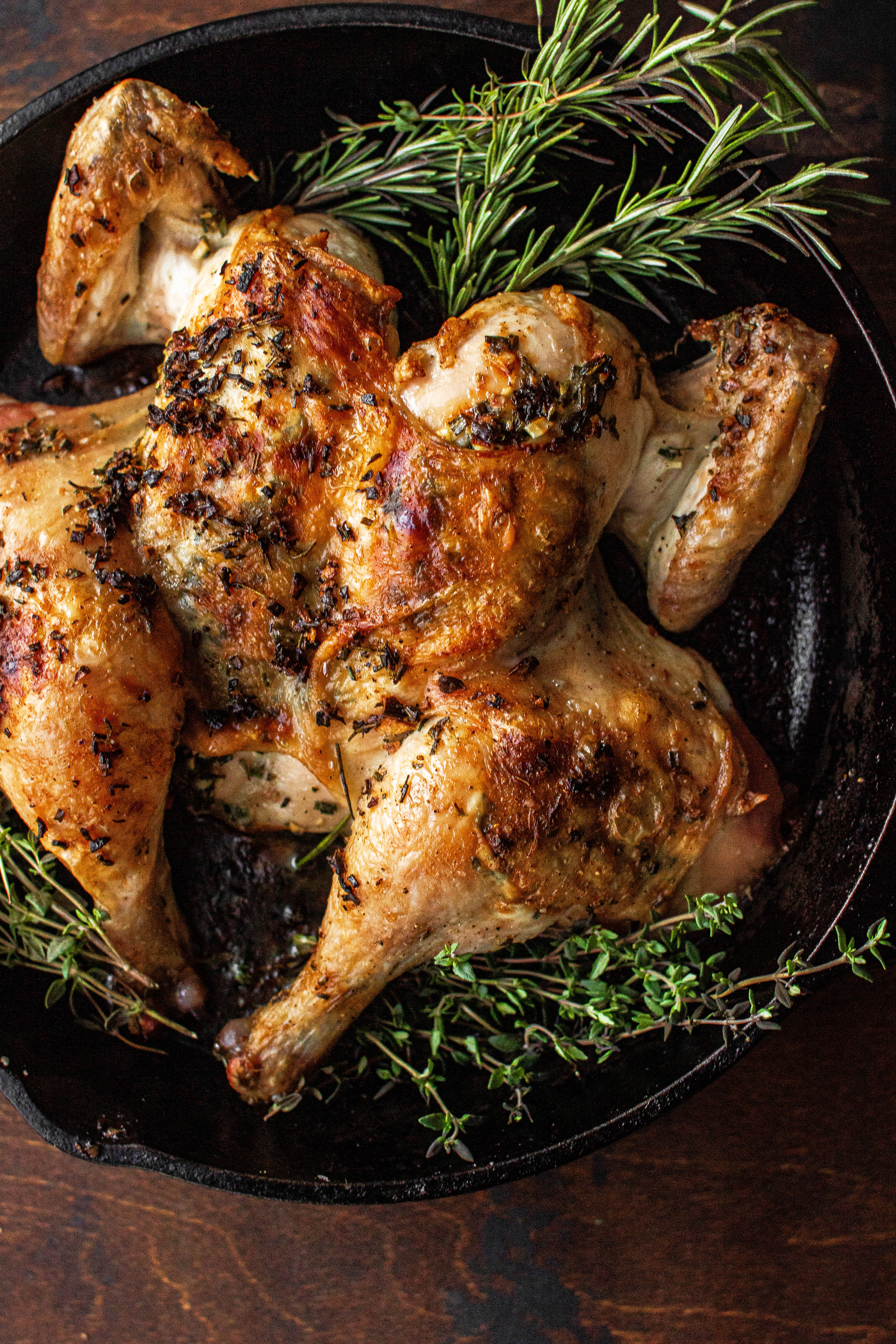 What is spatchcock chicken?
A spatchcock chicken is a chicken where the backbone has been removed prior to cooking. Doing so causes the bird to lay flat and thus everything cooks at the same rate!
Aka, no more dry white meat! Cooking in this manner also reduces the cooking time drastically and helps you get dinner on the table faster with less effort. What a win-win, amiright?
Reasons to spatchcock a chicken
Faster cooking. In a 425 degree oven, a whole chicken takes an hour and a half to cook to the proper internal temperature. A spatchcocked chicken takes 40 minutes!! Less than half the time!
Even cooking. With the bird laid out flat, everything cooks at the same speed. Say goodbye to dry chicken breasts, folks!
More Flavor. It's much easier to season every nook and cranny of the chicken, hence a more flavorful end product!
Tools needed to spatchcock a chicken
Just one! A good pair of kitchen shears. This is the pair of poultry shears I have and I love them! They cut through skin and bone with no issues and don't slip in my hands when I'm trying to make tough cuts. A good pair of poultry shears doesn't have to set you back tons of money!
Do you need to use shears? No… but your life will be much easier if you do. You can use a sharp chef's knife, but I find it to be much more dangerous.
How to spatchcock a chicken
First, place the chicken on a large cutting board and pat the chicken dry with paper towels. Arrange the chicken breast-side down on the cutting board with the legs facing towards you.
Using good-quality kitchen shears, cut along one side of the chicken spine, separating it from the ribs. Be sure to cut as close to the spine as you can so that you do not end up discarding any more of the chicken meat than necessary. Repeat on the other side of the spine.
Flip the chicken so that the breasts face upward and the chicken legs face outward. Using the palm of your hands, press along the breast bone. You might hear a small crack. This should flatten the chicken completely.
What makes this spatchcock roast chicken recipe so good?
There are a couple things! First, this chicken is dry-brined and you can read all about why that's so much better than wet-brining in my juicy roasted turkey breast post. It creates less mess, takes up less space, and gives way better flavor, and yields crispy skin (just to name a few).
I actually go a step further in this dry brine and ask you to add… BAKING POWDER. I know that sounds insane, but it's only a tiny amount and you will not taste it. The slightly alkaline mixture raises the skin's pH levels, which allows proteins to break down more efficiently, giving you crisper, more evenly browned results. Also, this chicken is slathered in the most glorious garlic and herb butter which bastes the chicken as it roasts.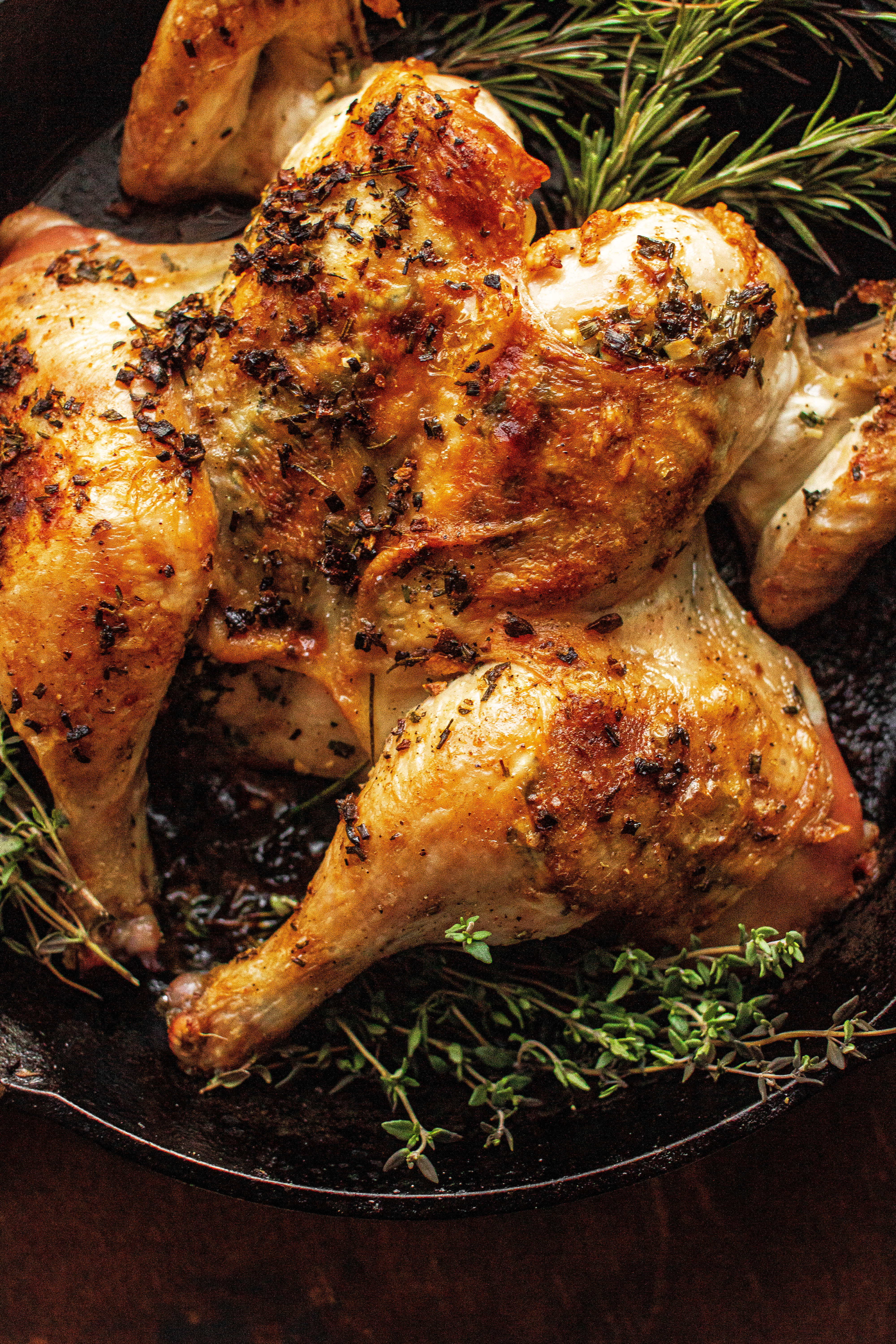 Can I use baking soda instead of baking powder?
Absolutely not. Baking soda will give off a very unpleasant metallic taste. While you're at it, make sure it's an aluminum-free baking powder.
Can I omit the baking powder?
Yes! If this whole thing freaks you out, just leave it out. You'll still have a deliciously seasoned and well-browned roast chicken.
Can I use dried herbs in this recipe?
Yes! I prefer fresh here, but if you use dried herbs, just cut the quantities in half as they are very potent.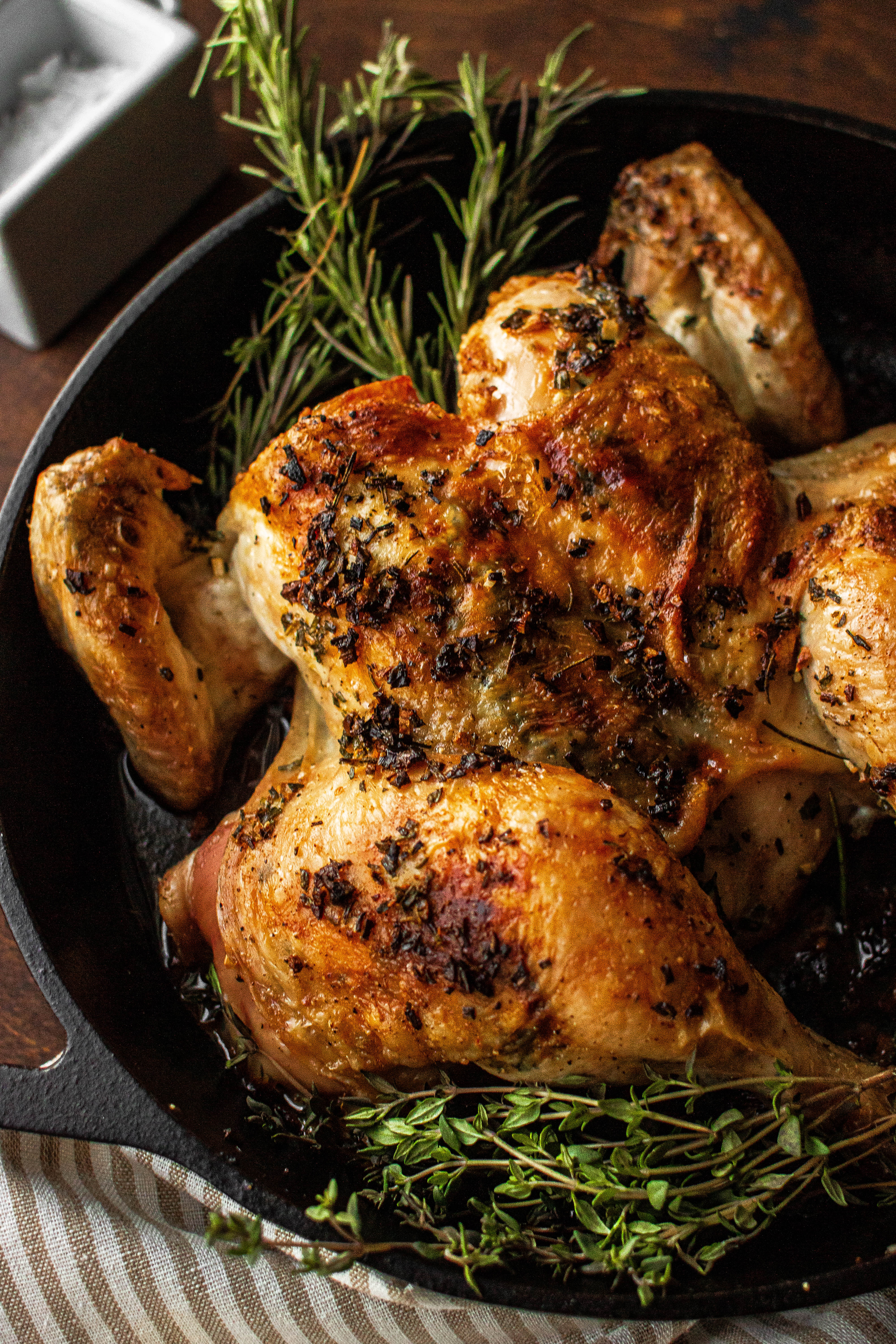 More Chicken Recipes to Try
This post may contain affiliate links from which I receive a small commission at no additional cost to you. Affiliate links allow me to keep providing great recipes for free and I never recommend products that I don't love and personally own.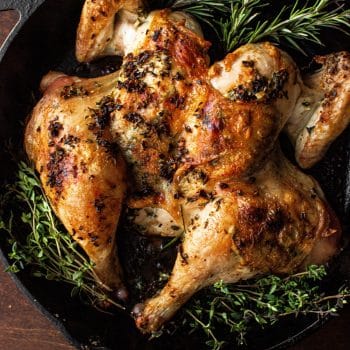 Herb-roasted Spatchcock Chicken
This herb-roasted spatchcock chicken is one of my favorite weeknight meals ever! I always serve it with mashed potatoes and some veggies.
Ingredients
1 4-5

lb

whole chicken

spatchcocked (see notes above)

2

teaspoons

kosher salt

1/2

teaspoon

freshly ground black pepper

1/4

teaspoon

aluminum-free baking powder

optional, see notes above

4

tablespoons

1/2 stick good-quality salted butter, at room temperature

3

garlic cloves

minced

1

tablespoon

fresh chives

minced

2

teaspoons

fresh rosemary

minced

1

teaspoon

fresh thyme

minced
Instructions
In a small bowl, mix together the kosher salt, pepper, and baking powder.

Place your chicken on a rimmed baking sheet or in a large baking dish. Gently pull the skin away from the meat to create a little space between the skin and meat. Sprinkle the dry brine liberally all over the chicken, including under the skin and on the underside. Gently rub the salt mixture into the meat until it's well coated. Transfer to the refrigerator uncovered for 8-12 hours (up to 24).

Preheat an oven to 425 degrees F. In a small bowl, mix together the softened butter and herbs until well combined. Remove the chicken from the fridge and spread the butter all over the chicken, including under the skin. Make sure it's well coated!

Transfer the chicken to a large skillet or a rimmed baking sheet lined with foil. Roast for 40 minutes. Change the oven setting to broil and broil for 3-5 minutes for extra golden brown goodness. Remove from the oven and rest for 10 minutes before slicing and serving.
You might also like...