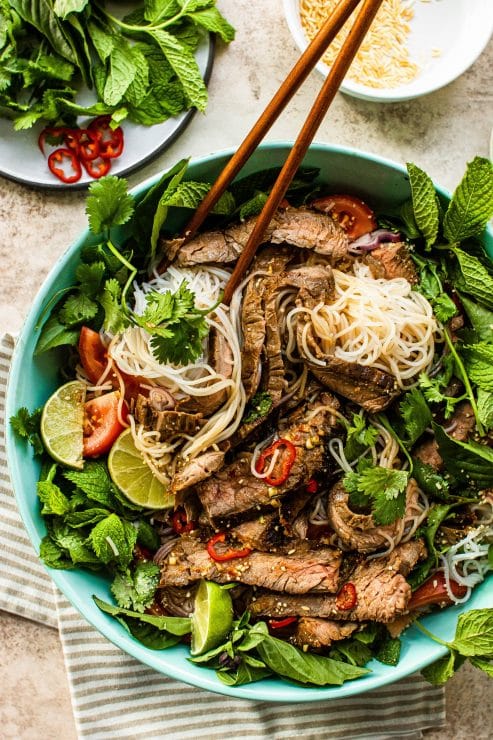 Thai Beef and Noodle Salad (Yum Nua)
Thai Beef and Noodle Salad (Yum Nua)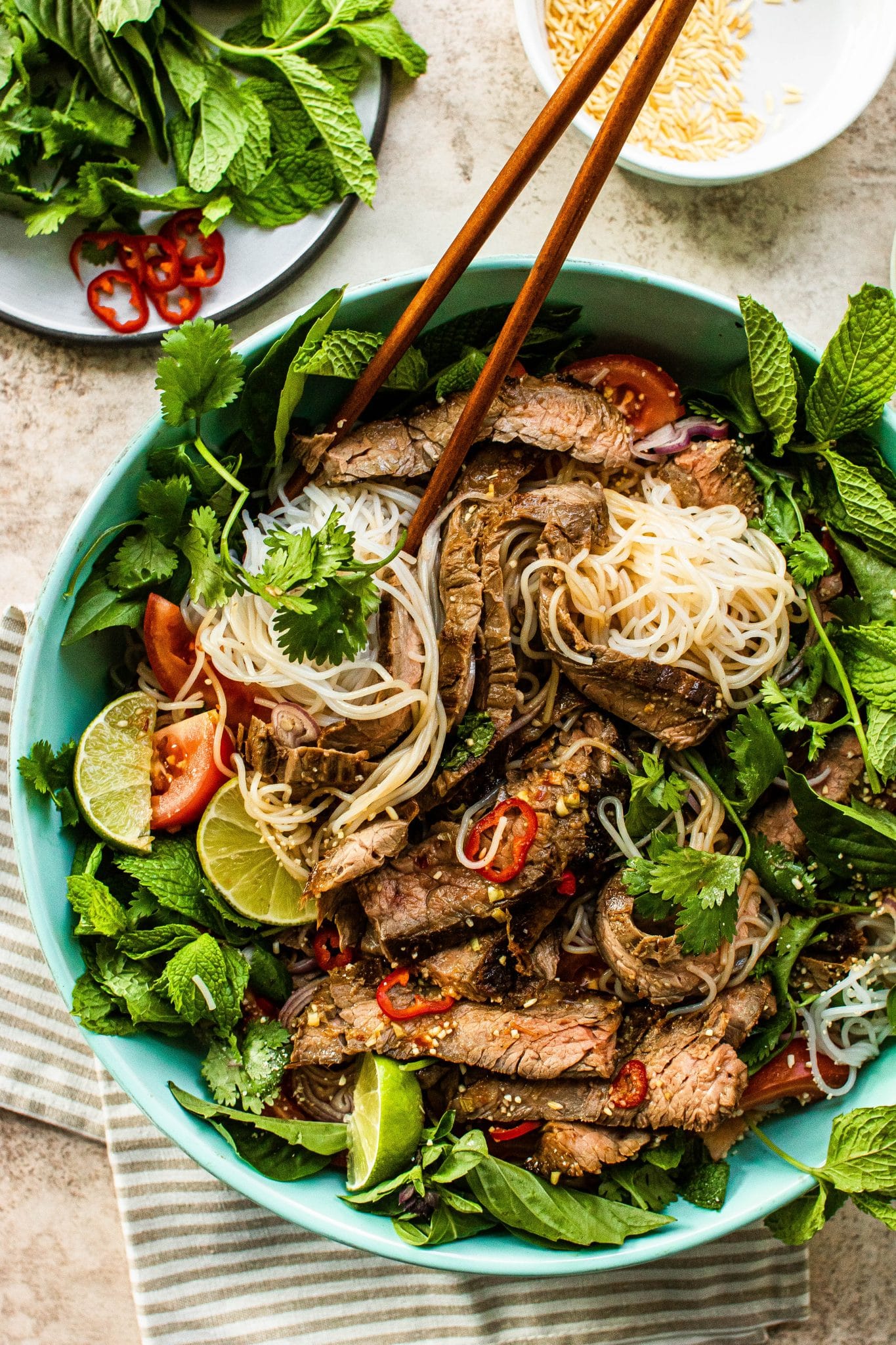 This Thai beef and noodle salad is an absolute go-to recipe in our house during the summer. Tender pieces of marinated skirt steak are grilled and served over chilled rice noodles with a spicy and tangy dressing that will blow your mind. This recipe is perfect for hot days when you want a refreshing and satisfying meal.
What is Thai Beef and Noodle Salad?
Thai beef salad (Yum Nua) is a popular dish in Thailand. Tender pieces of beef are tossed in a spicy and tangy sauce made of mostly fish sauce and lime juice with assorted veggies and fresh herbs. To make it more hearty, I added some thin rice noodles. If you love steak on a salad, I really think you're going to love this recipe!
Why You'll Love this Recipe
Easy – On busy summer nights, you want a dinner that's easy to throw together! For Thai beef and noodle salad, you can marinate the steak ahead of time, cut your veggies and herbs, and make the dressing ahead of time. Once you have things prepped, this recipe is so easy to throw together! You can even create a build-your-own bowl situation.
Customizable – This is a great recipe to put your own personal spin on! If you don't want to use beef, you could swap in chicken, shrimp, or thinly sliced pork! You could also marinate tofu for a totally plant-based dinner.
Full of vibrant flavor – The combination of the fresh herbs, tangy dressing, crunchy veggies, and grilled steak is amazing! There are so many contrasting textures that keeps this recipe interesting. It's also a healthy and balanced meal!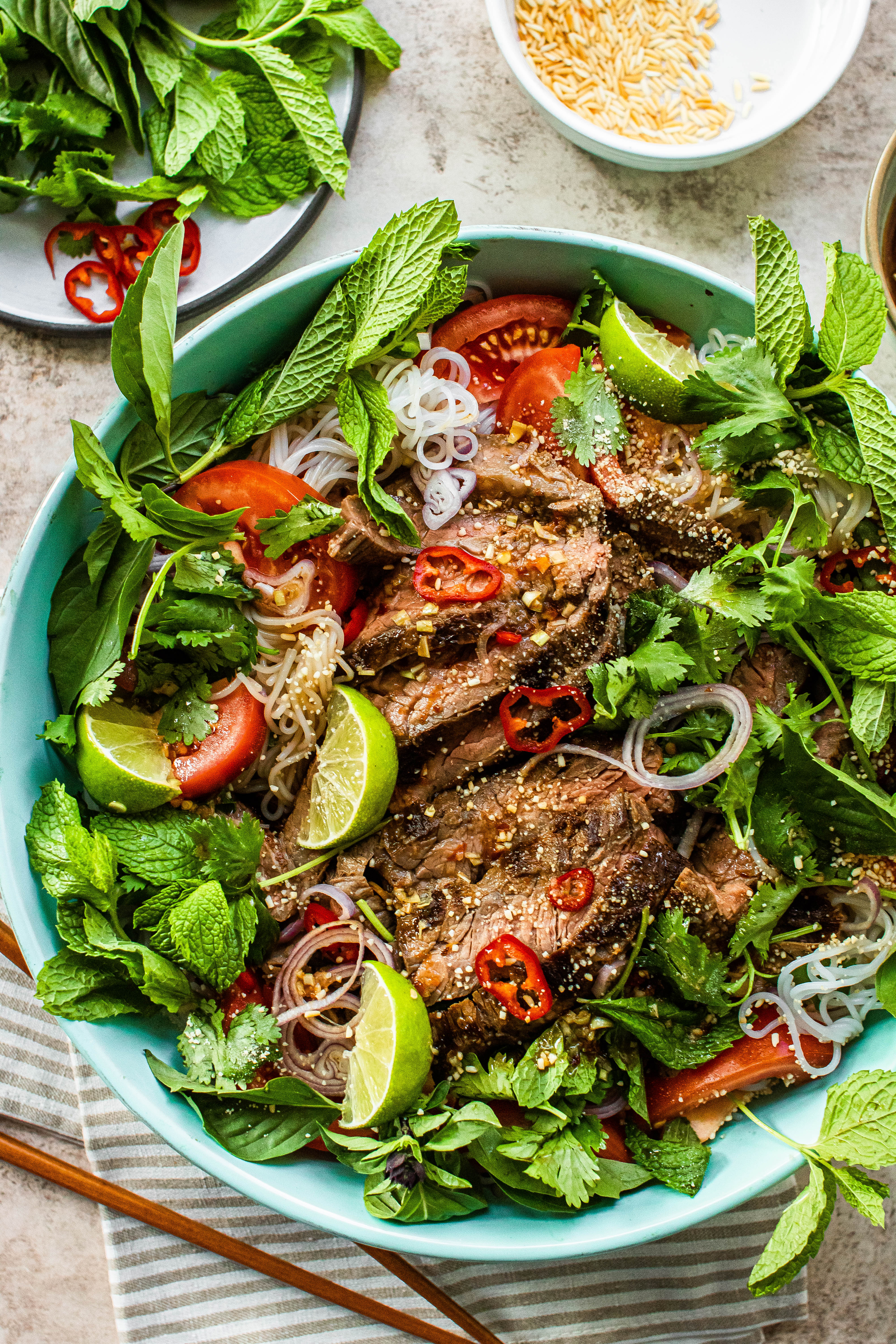 What's Lemongrass?
Cymbopogon, or lemongrass, is a genus of Asian, African, Australian, and tropical island plants in the grass family. The lemongrass grown in Southeast Asia is most suitable for cooking and has many health benefits like reducing inflammation and antibacterial properties.
It's most often found in Thai cuisine and lends a citrus-zing to many recipes. It adds tons of flavor to both the dressing and steak, so I highly recommend hunting some down! Lemongrass can be found at pretty much any Asian market, plus a lot of well-stocked grocery stores.
What cuts of Steak can I use?
So many cuts! I personally really like skirt steak so that's what I used. You could easily swap in flat iron steak, ribeye, sirloin steak, etc. so long as it's tender and has good marbling. I find that skirt steak is inexpensive and widely available, so that's my usual go-to.
You could also use different proteins here like thinly sliced pork shoulder or chicken thighs. You could even use tofu for a plant-based protein!
How to Make Thai Beef and Noodle Salad
This recipe is great to throw together in stages! You can marinate the steak and make the dressing ahead of time, as well as get all your veggies and herbs prepped.
Tools Needed
Ingredients in Thai beef and noodle salad
steak. We just went over this one, but select a tender cut with nice marbling that's at least 1/2″ thick.
lemongrass. Also addressed above, but this flavorful herb adds tons to both the steak marinade and the dressing.
fish sauce. This may be an ingredient you've never worked with, but it's a staple in our household. It's tangy and salty and adds tons of umami to a number of dishes. It's a main component of the dressing and marinade.
rice noodles. The noodles here really are optional and this salad could be served with rice instead, but I loved it all together. I used thin rice noodles but use your favorite.
Thai chilies. Also known as 'birds eye' chilies, these tiny bad boys pack spice and a fruity flavor. If you're really sensitive, I would skip them altogether.
toasted rice powder. This totally makes the dish! I wasn't able to find any (except on amazon), so I made my own. Check out my instructions below.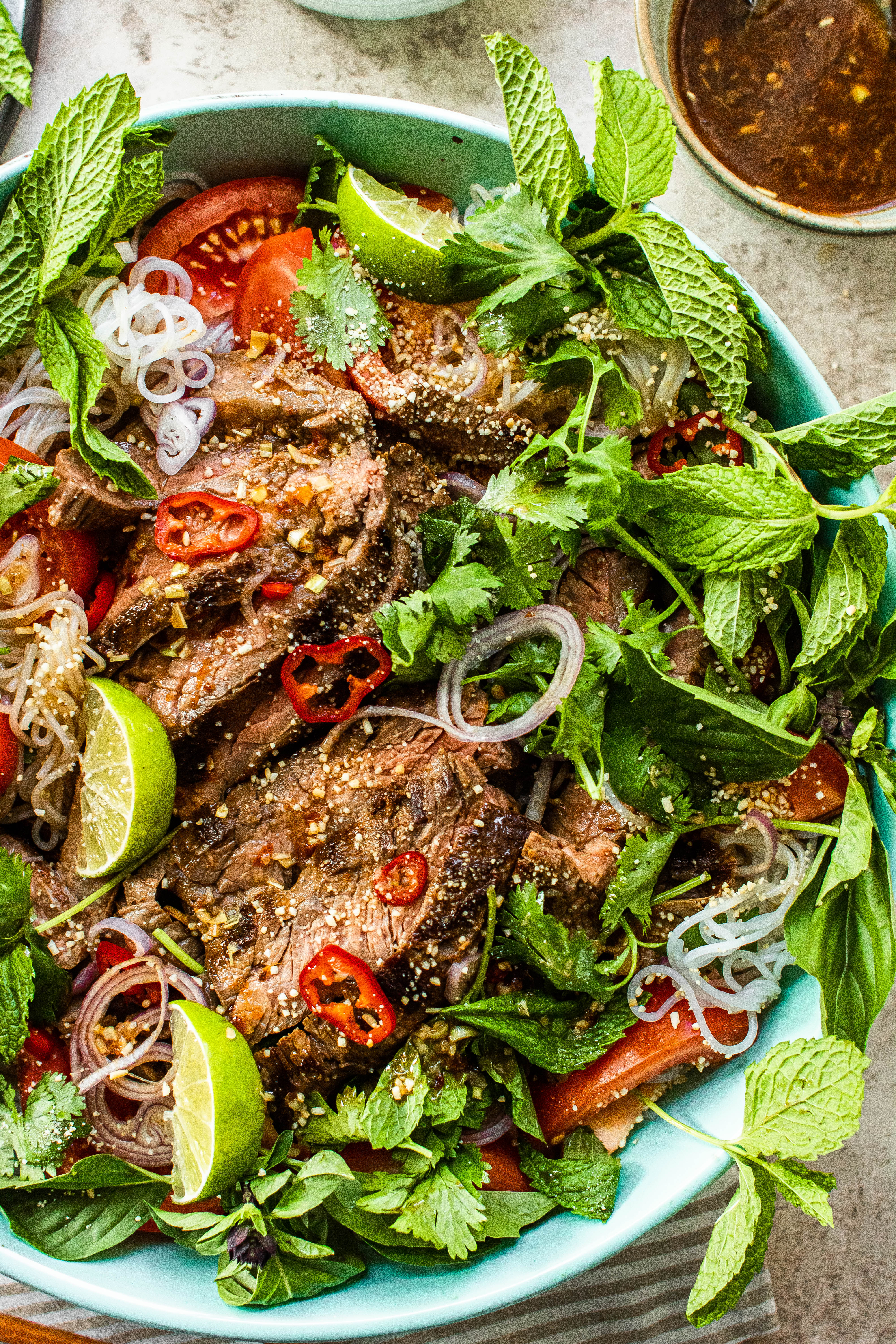 How to make toasted rice powder
Toasted rice powder adds a beautiful texture and nuttiness to this Thai beef and Noodle salad, I highly recommend using it. Because I wasn't able to find any at the store, I made my own! Take 1/3 cup of uncooked jasmine rice (that's what I had on hand) and add it to a nonstick skillet over medium-low heat.
Toast the rice for about 10 minutes, stirring occasionally until it's golden brown. Let it cool and then blitz it in a spice grinder or use a mortar and pestle to grind it up. Store it in an airtight container until you're ready to use it.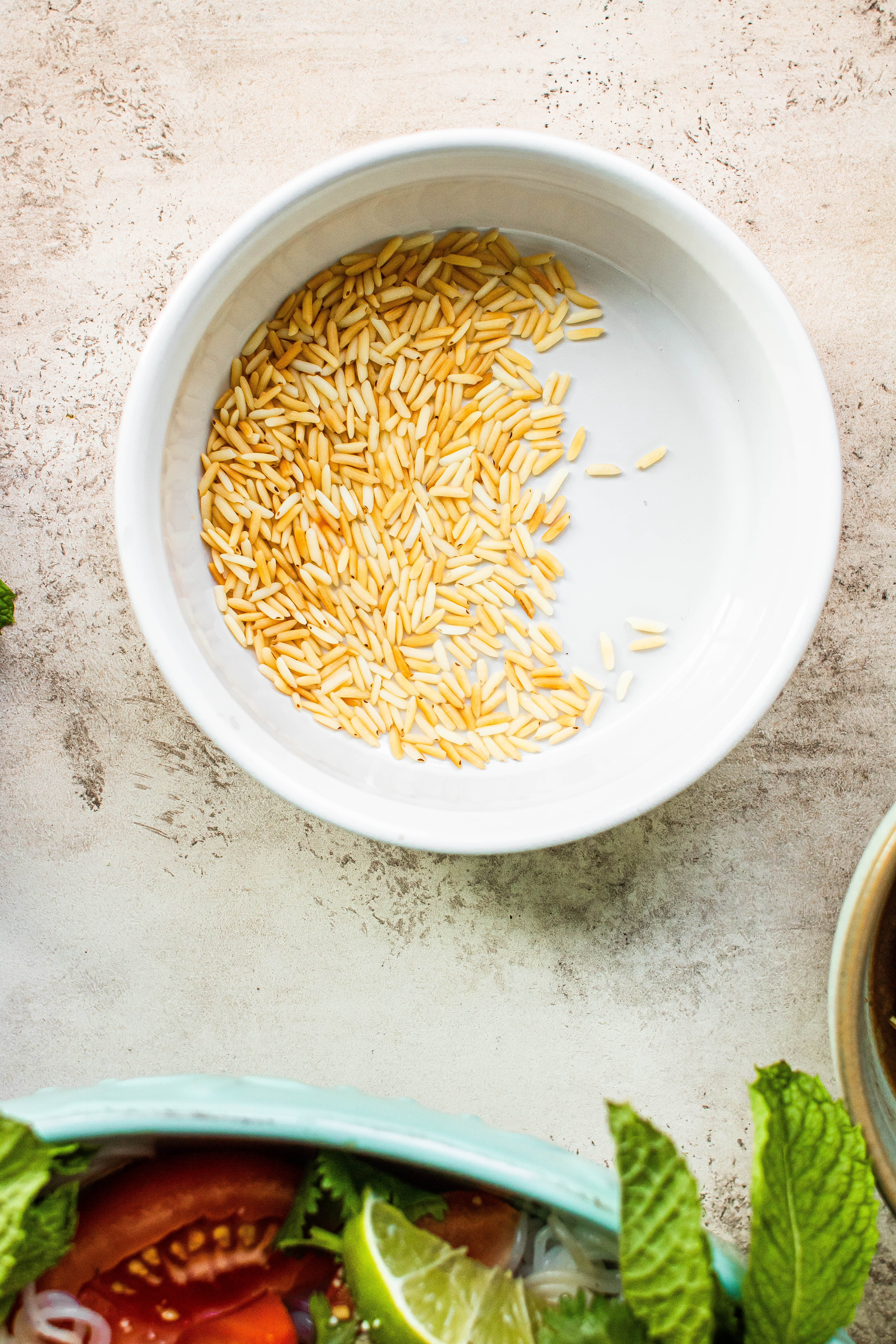 Is Thai beef and noodle salad gluten-free?
You can easily make this recipe gluten-free! Because this is such a simple recipe, it's really easy to customize. You'd simply swap in Tamari or coconut aminos for the soy sauce and make sure you're using a gluten-free fish sauce and you're ready to go.
How to prepare Thai beef and noodle salad
I really love this recipe because it can easily be thrown together on a weeknight. You only need to marinate the steak for 30 minutes, but you can also marinate it in the morning and throw it in the fridge. You can even chop the veggies ahead of time!
It's as simple as whisking together the dressing, quickly cooking the steak, and throwing it over some rice noodles with your veggies, dressing, and fresh herbs. Voila! A fresh and healthy dinner on the table in about 30 minutes.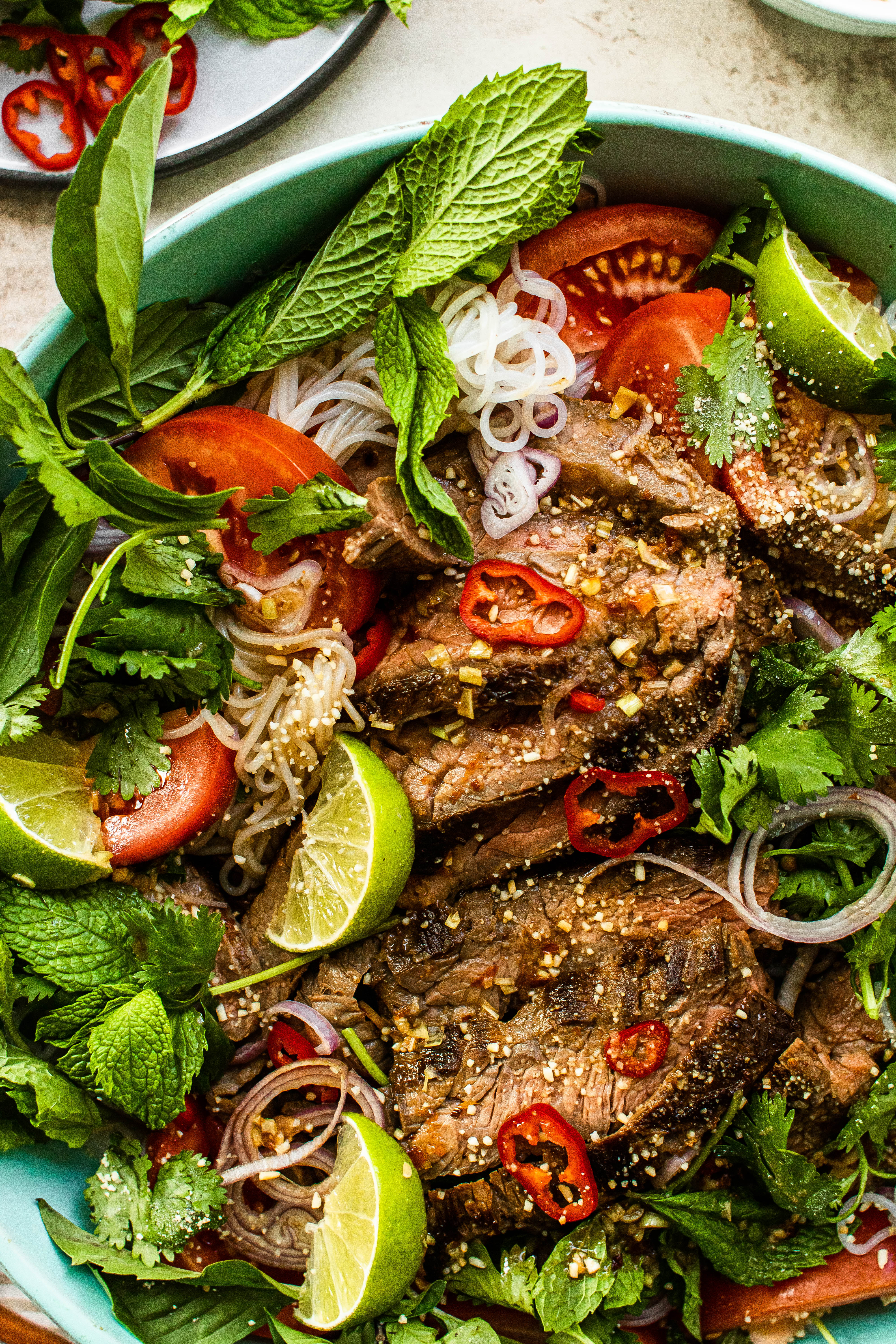 Storing Thai Beef and Noodle Salad
This recipe can be a great option for meal prep, but I do recommend keeping all the ingredients separate during storage.
If you have leftover steak, leave it whole when you store it. Once it's cool, store in an airtight container in the fridge for up to 5 days. You can keep the dressing in an airtight container for up to 1 week in the fridge.
If you have leftover rice noodles, make sure to toss them with a bit of oil before storing in a large ziplock bag, this keeps the noodles from sticking together.
RECIPES from AAPI Creators
It's important to me to show great respect to the cultures from whence the inspiration for a lot of my cooking comes. While I don't claim for this recipe to be authentic, I am drawing inspiration and flavors from a dish (and a country!) with a lot of history.
Here are some related recipes from my favorite AAPI creators.
Classic Thai Beef Salad from Beyond Kimchee by Hyegyoung (Holly) Ford
Easy Thai Beef Salad from Omnivore's Cookbook by Maggie Zhu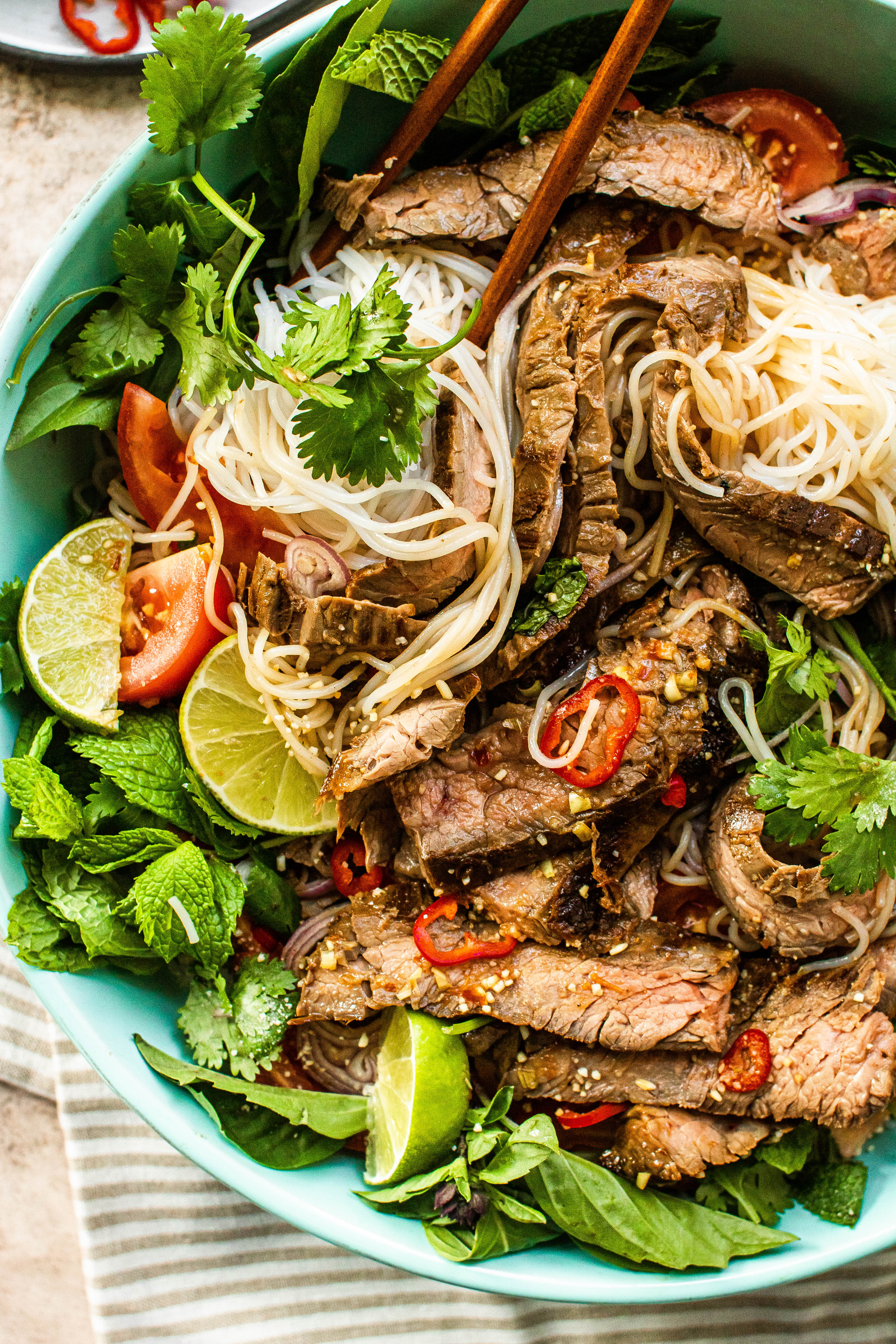 More Recipes to Try
This post contains affiliate links from which I receive a small commission at no additional cost to you. Affiliate links allow me to keep providing great recipes for free and I never recommend products that I don't love and personally own.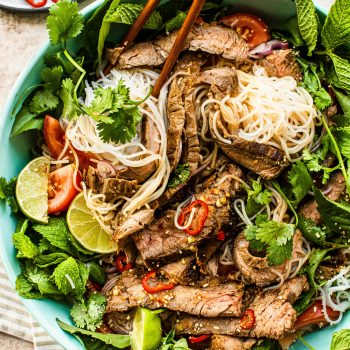 Thai Beef + Noodle Salad
Thai Beef and Noodle Salad is a favorite in our household during the summer. Tender pieces of skirt steak nestled in a bed of rice noodles with fresh veggies, herbs, and an addicting dressing!
Ingredients
Steak:
1 1/2

lbs.

skirt steak

trimmed of silverskin and excess fat

1

tablespoon

chili garlic sauce or sambal

3

tablespoons

soy sauce

1

tablespoon

fish sauce

1

tablespoon

very thinly sliced lemongrass

tender inner leaves only
Dressing:
1

tablespoon

very finely minced lemongrass

tender inner leaves only

1

garlic clove

grated

2

Thai chili

finely minced (1 if you're sensitive to spice)

2

limes

juiced

1

tablespoon

fish sauce

1

teaspoon

chili garlic paste or sambal

1

tablespoon

dark brown sugar
Remaining ingredients:
8

oz

thin rice noodles

2

beefsteak tomatoes

cut into wedges

2

shallots

thinly sliced

mint leaves

Thai basil

cilantro leaves

2

tablespoons

toasted rice powder

see above

lime wedges

for serving
Instructions
Marinate the steak: combine all the marinade ingredients and whisk together. Place steak in a zip-top bag and pour the marinade on top. Seal and marinate at room temperature for 30 minutes or in the fridge for up to 8 hours.

Make the dressing: Whisk together all the ingredients until the sugar dissolves. Set aside.

Cook the rice noodles according to package instructions. Drain and rinse thoroughly with cold water. Transfer them to a large serving bowl.

Heat a cast-iron skillet over medium-high heat. Remove the steak from the marinade and shake off any excess. Sear the steak for 3-4 minutes per side, transfer to a cutting board, and rest for 10 minutes. Slice against the grain. Alternately, the steak can be grilled on a hot grill for the same amount of time.

Assemble: Arrange the sliced steak on top of the noodles and nestle in the tomatoes and sliced shallots. Drizzle the dressing evenly over everything and top with toasted rice powder and all the fresh herbs. Serve with lime wedges.
You might also like...