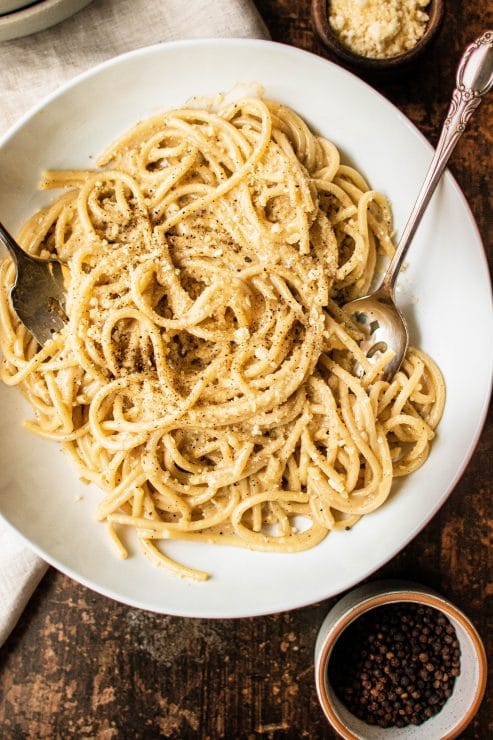 Cacio e Pepe for Two
Cacio e Pepe for Two
This Cacio e Pepe recipe might be one of the easiest that I have ever posted. There's nothing wrong with a simple meal when you don't have a lot of ingredients on hand. Pair the cacio e pepe with a nice salad and you're in business! Cacio e pepe only requires a handful of ingredients, 20 minutes, and it comes together in one pot. It feels like an upscale recipe but, in reality, it couldn't be easier.
If you haven't made this dish before and you're nervous about trying something new, this recipe was this week's recipe of the week on my Instagram and I made it start to finish in my Instagram stories, now saved to my highlights. You can head here to watch it step-by-step if you're more of a visual learner. I hope you enjoy this recipe as much as I do!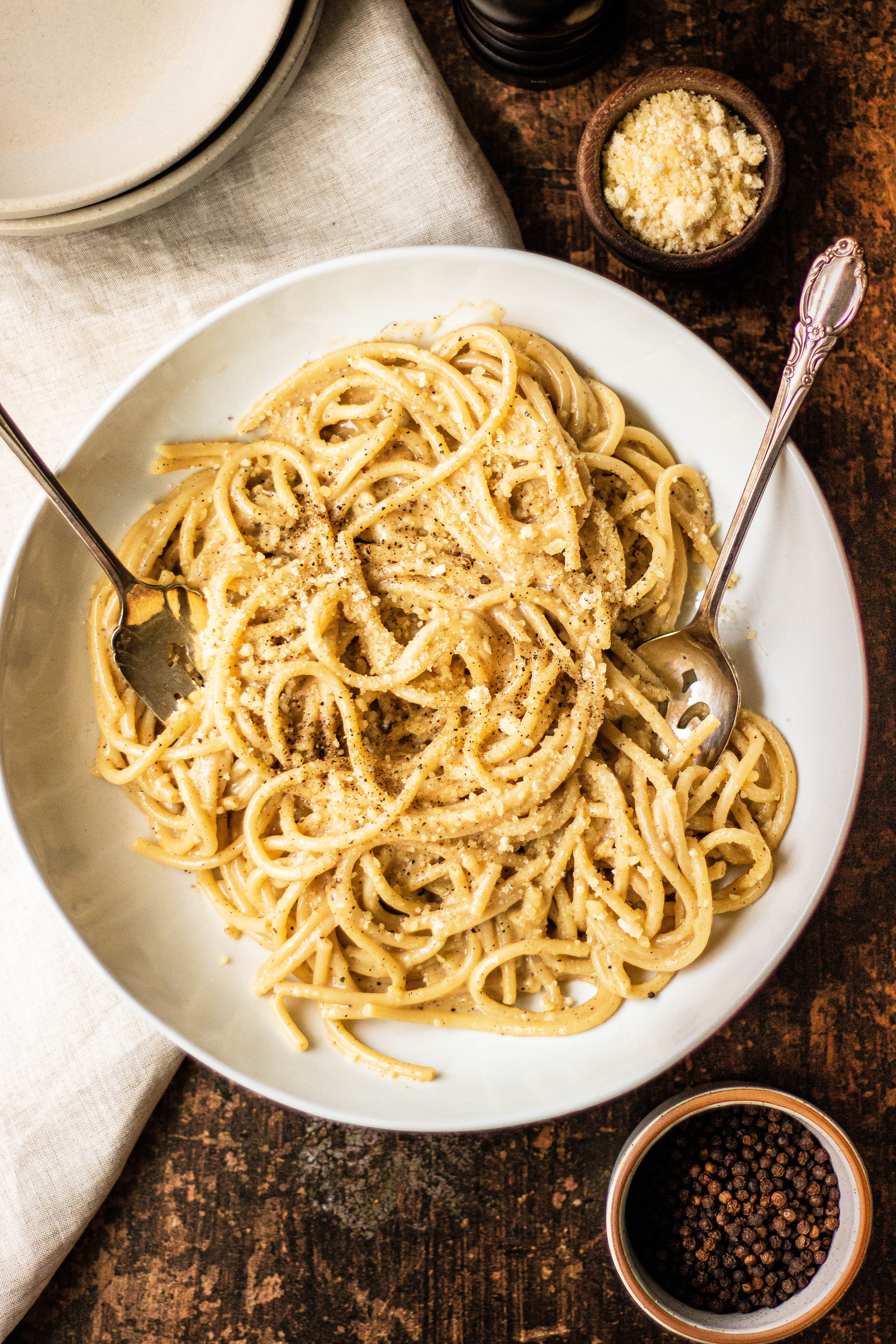 What is Cacio e Pepe?
Literally translated, cacio e pepe means "cheese and pepper" in Italian. It has been a staple in Roman cuisine for centuries and for good reason! It's beautifully simple and delicious and relies on quality of ingredients since there are so few in the recipe.
Cacio e pepe is comprised of freshly ground black pepper, pecorino cheese, thick spaghetti (or bucatini), and starchy pasta water to bring the sauce together. My recipe is not particularly traditional in that I like to add some butter and olive oil for extra oomph and (gasp!) and egg yolk for richness.
Cacio e pepe ingredients
pasta. Traditionally, this recipe is made using thick spaghetti or bucatini, which is like spaghetti but with a small hole through the middle, making it perfect for trapping sauce. You can substitute regular spaghetti or any pasta that you may have on hand, though long strand noodles work best.
cheese. Cacio e pepe is traditionally made using a nice, aged pecorino romano cheese but I honestly prefer it with a good quality aged parmesan. Use whichever you like more!
freshly-cracked black pepper. For the love of god, do not use pre-ground pepper. Please, just don't. It has no flavor and sits on a shelf for months. Invest in a pepper mill (or an inexpensive spice grinder) and buy whole peppercorns! Good pepper is an imperative in this recipe, go for the good stuff!
butter. I like to use butter to add extra flavor and richness to the sauce. Again, this isn't particularly traditional, so feel free to omit.
egg yolk. Again, very untraditional, but I love it. The egg yolk adds richness and depth and don't worry, it cooks from the heat of the pasta and water so there are no raw eggs in this recipe. Feel free to omit if you like.
Tools Needed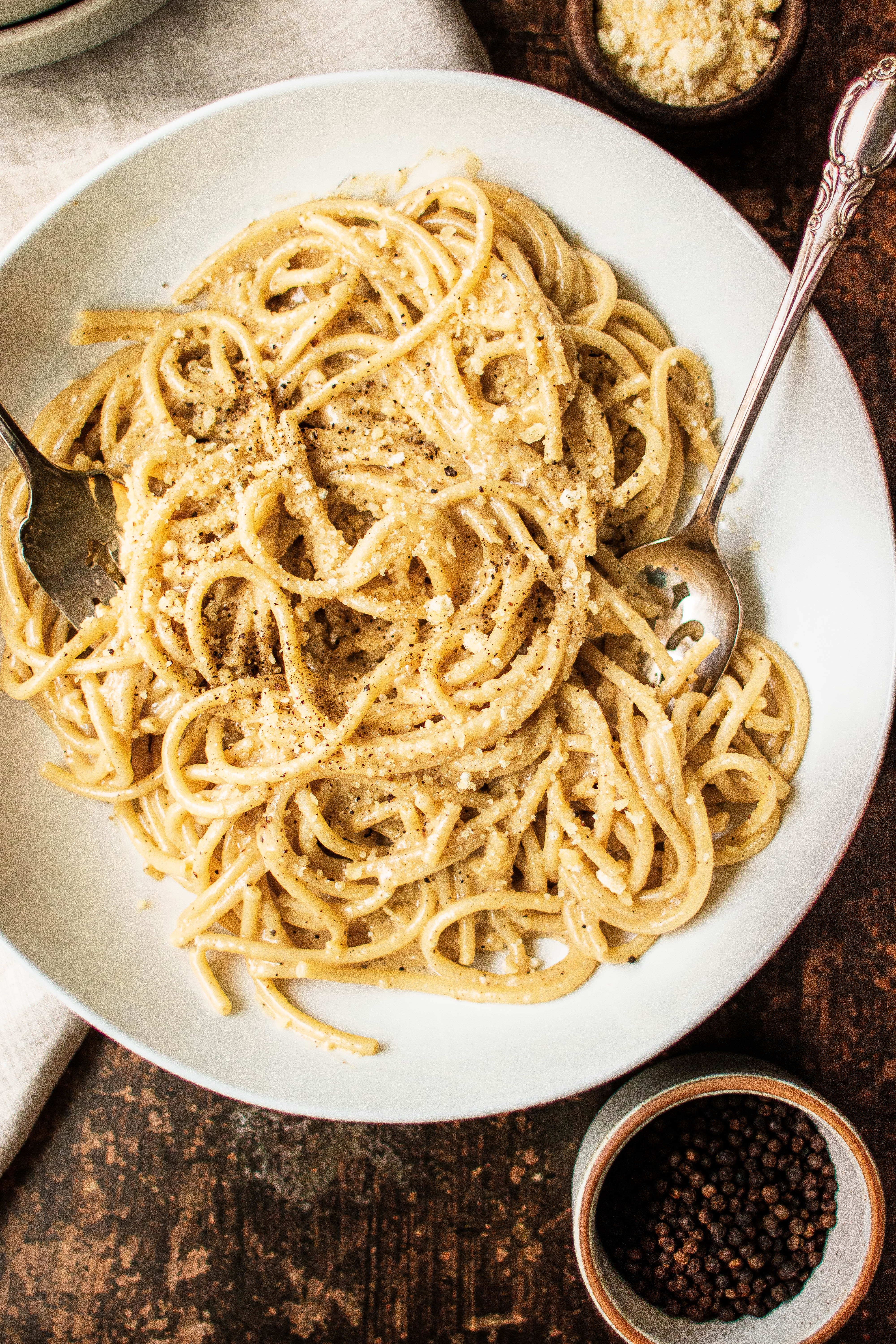 Can you use canned parmesan cheese?
Again, DEAR GOD PLEASE NO. Cheese is arguably the most important ingredient in this recipe, do not use pre-grated or the infamous green can of "parmesan." Go to the cheese section of about any grocery store (I am partial to Trader Joe's) and buy a little wedge of parmesan or pecorino romano cheese.
Cut it into chunks, and throw it in the food processor for a couple of minutes. This is how we do it in the restaurant industry and I love the way it melts.
How to make Cacio e Pepe
Cook the pasta. Fill a pasta halfway full with water, add kosher salt, and bring to a boil. Cook your pasta just to al dente, usually a minute or two shy of the time on the package. You want the pasta to have a little bite, but still be cooked through. It shouldn't get stuck in your teeth when you chew, but it should not be soft mush.
Reserve pasta water. Reserve 1 1/2 cups of your pasta water and then drain your pasta in a colander.
Make the sauce. In a skillet, melt the butter and olive oil together over medium heat. Add the freshly cracked pepper and allow it to warm in the butter for about a minute. You'll then Add 2/3 cup of pasta water and allow it to reduce and thicken a bit (keep the rest of the pasta water nearby). Add the pasta to the pot with the cheese and egg yolk. Turn off the heat and stir quickly, adding pasta water as necessary to thin the sauce so that it's creamy. It should not be clumpy at all. Season to taste with salt and pepper.
Serve and enjoy! Cacio e pepe is best served right away warm. This recipe serves two hungry people, but you can double the recipe to serve 4.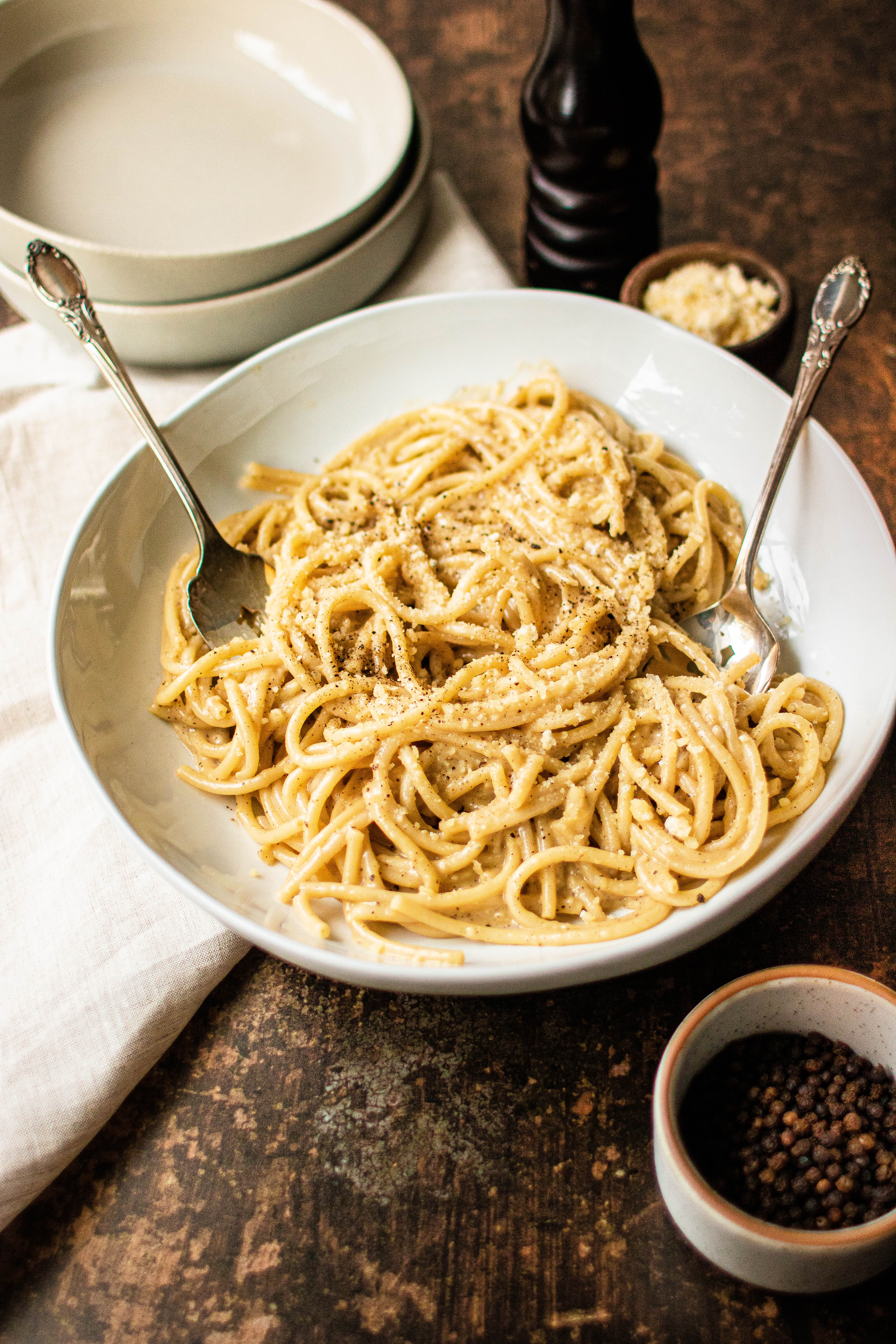 More Pasta Recipes to Try
This post contains affiliate links from which I receive a small commission at no additional cost to you. Affiliate links allow me to keep providing great recipes for free and I never recommend products that I don't love and personally own.
Cacio e Pepe for Two
I love a simple weeknight pasta for dinner and cacio e pepe is the perfect dinner for two! Loaded with cheese and pepper, this pasta recipe couldn't be simpler or more perfect.
Ingredients
4

tablespoons

unsalted butter

diced

1

tablespoon

olive oil

8

oz

spaghetti or bucatini

1 1/2

cups

reserved pasta water

1 1/2

teaspoons

freshly ground black pepper

2/3

cup

freshly grated parmesan

1

egg yolk

1 1/2

teaspoons

kosher salt
Instructions
Fill a pasta pot halfway full with water, season with the kosher salt, and bring to a boil. Cook the pasta to al dente, usually a couple of minutes shy of what the box says. You want the pasta to have a little bite, but be cooked all the way through. Reserve 1 1/2 cups of the pasta water in a measuring cup and then drain the pasta in a colander.

In a large skillet, melt the butter and olive oil over medium heat. Once the butter is melted, add the pepper and cook for 1 minute (this helps to wake up the flavors). Add 2/3 cup of the pasta water to the pan and simmer for 2 minutes or so to reduce slightly. When you drag your spoon across the bottom of the pan, you should see the pan exposed and the water shouldn't run immediately back together.

Add the pasta to the pan and stir to coat, if the pan is dry add a little more water. Add the parmesan and egg yolk and stir really well to melt the cheese and disperse the egg. If the pasta is dry, add a little more pasta water. The sauce should be very creamy at this point.

Add salt to your taste, if necessary but there is lots of salt in the parmesan and the pasta water so keep that in mind before adding more. Serve topped with more parmesan and pepper if desired.
Notes
Freshly grinding the pepper is very important for the flavor of the dish.
You can double or even triple the recipe to feed more people.
Pro tip for grating parmesan: throw chunks of the parmesan in the food processor and pulse until it's finely ground. I love the texture and it melts better and saves you time.
You might also like...