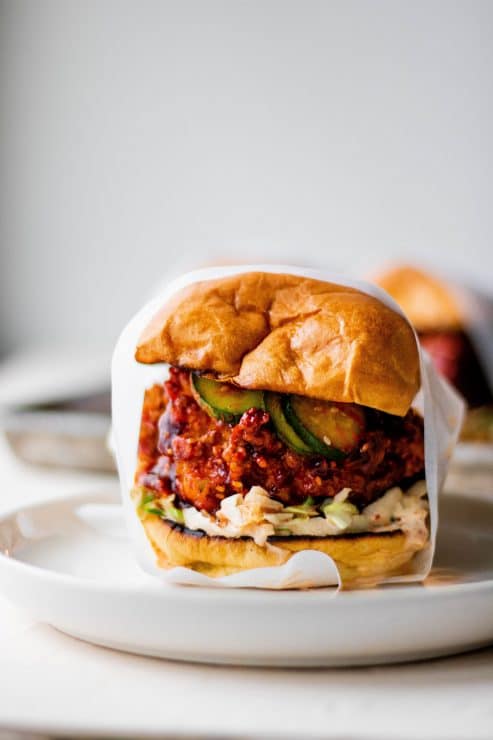 Spicy Korean Fried Chicken Sandwiches
Spicy Korean Fried Chicken Sandwiches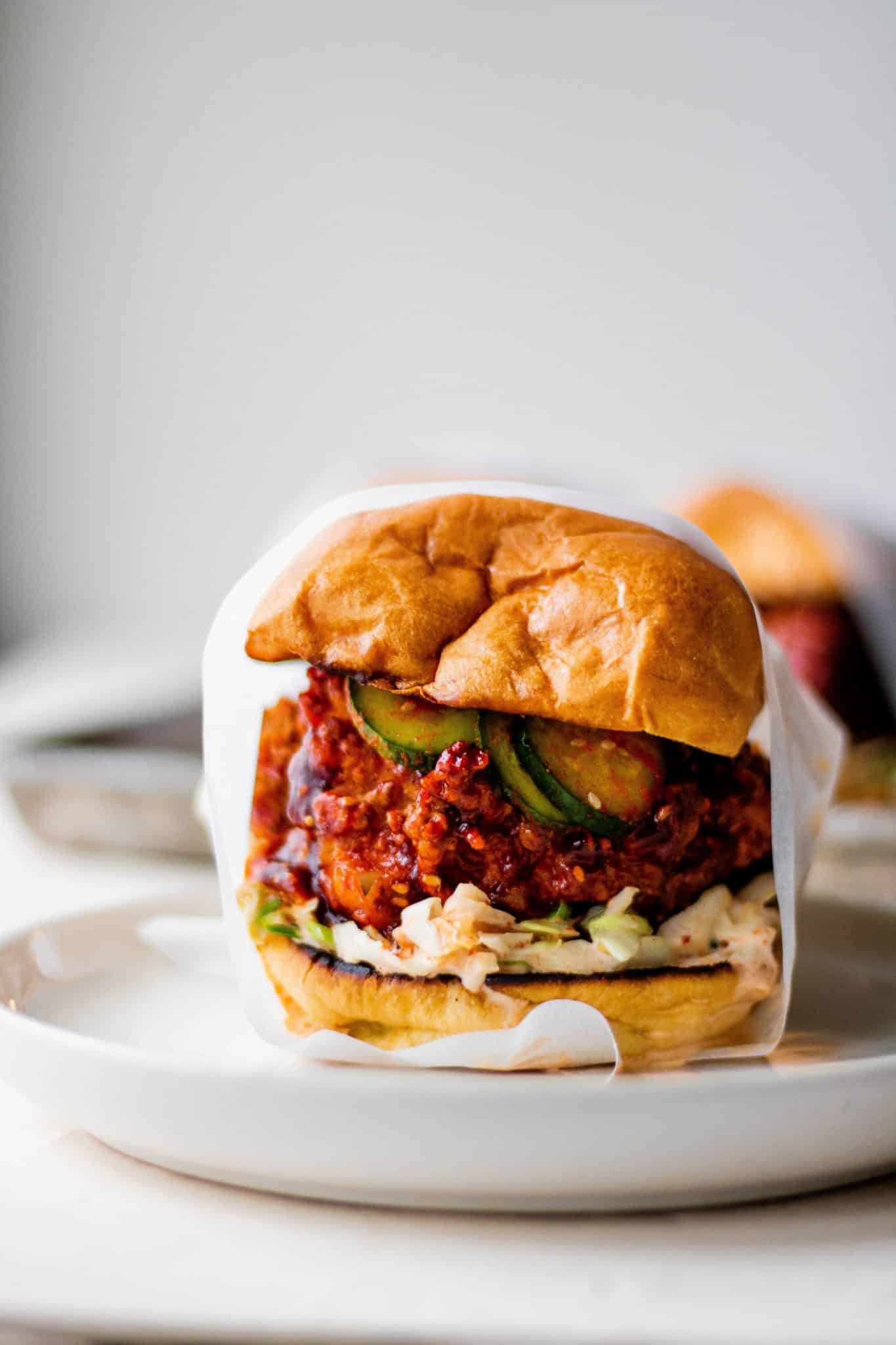 Updated 09/23/2021
Spicy Korean fried chicken sandwiches are one of my favorite recipes ever. Marrying crispy fried chicken with the most addicting spicy and sticky glaze and an outrageous kimchi slaw is a no-brainer. It honestly hits all the flavor wickets: spicy, salty, sweet, crunchy. Everything you could ever want in a sandwich.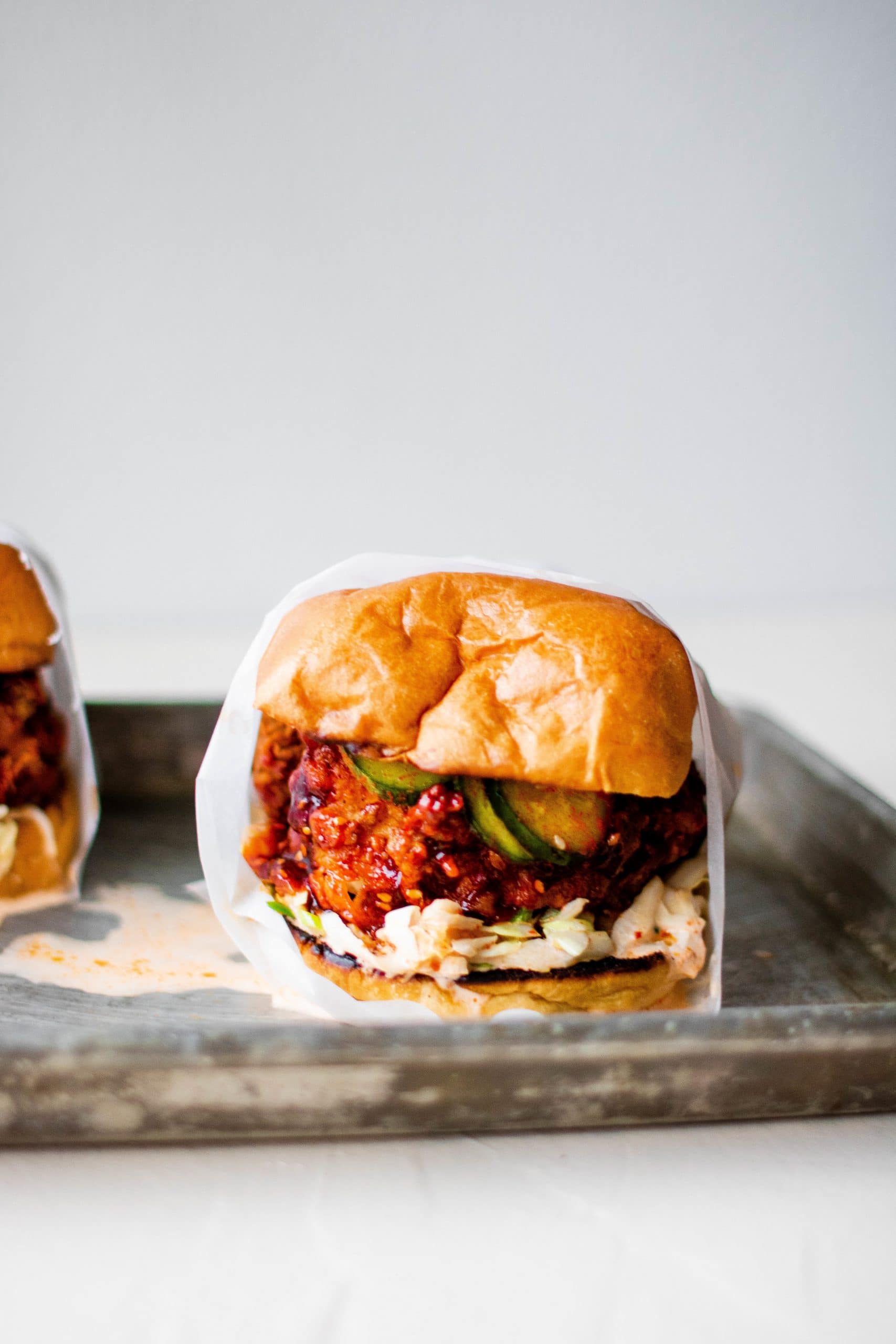 WHAT IS KOREAN FRIED CHICKEN?
In South Korea, fried chicken is consumed as a meal, an appetizer, Anju (food that is served and eaten with drinks), or as an after-meal snack. The crust is crispy and crackly and after frying, the chicken is usually hand-painted with a sauce using a brush in order to evenly coat the chicken with a thin layer. Koreans have been frying chicken for centuries, but the fried chicken was popularized in the 1970s and 1980s after fried chicken restaurants were established emulating KFC. I don't claim for this recipe to be authentic in any way and think of it as a fusion of Korean flavors with a delicious chicken sandwich.
How to make Spicy Korean Fried Chicken sandwiches
There are definitely a couple of steps to making this glorious spicy Korean fried chicken sandwich, but it's all worth it in the end! Both the slaw and quick pickles can be made in advance.
TOOLS NEEDED:
Ingredients you'll need
Chicken. I think that the best chicken sandwiches come from using chicken breast, but you can swap in chicken thighs if that's your preference.
Gochugaru. Gochugaru is a Korean chili powder. It's not super spicy, but it does have tons of flavor. You can find it at most Asian markets or on Amazon here.
Potato starch. Potato starch is the secret ingredient to a super crispy crust.
Gochujang paste. Gochujang paste is a paste used in Korean cooking made from red chili peppers, fermented soybeans, rice, and salt. It adds tons of umami flavor! Find it at your local Asian market, well-stocked grocery store, or on Amazon here.
Kewpie. Kewpie is a Japanese mayo that I absolutely love! You can swap in regular mayonnaise, but I do think the kewpie gives it a great flavor.
Fish sauce. Fish sauce adds a ton of umami flavor to the buttermilk marinade, but you can omit it if you'd prefer not to use it.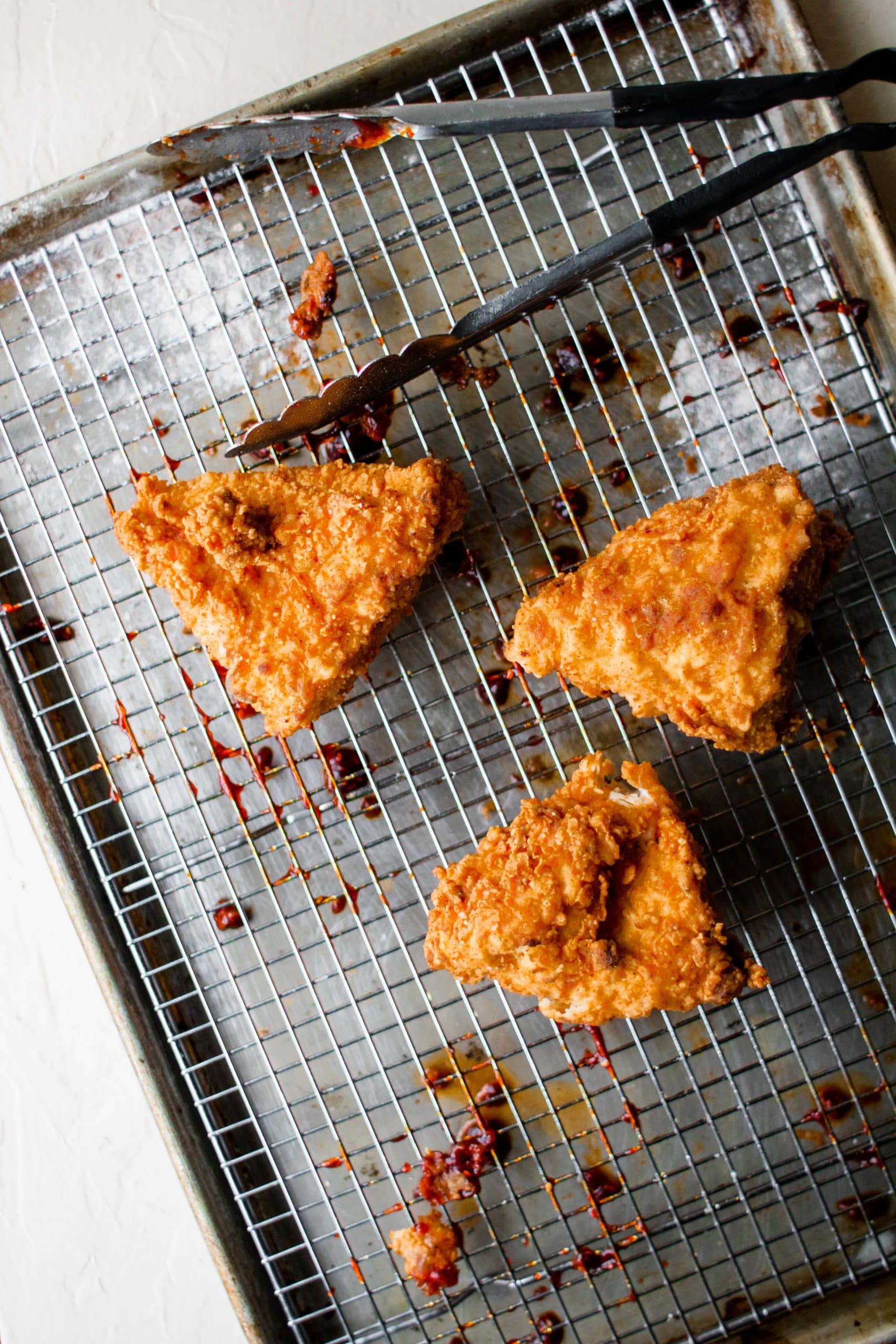 Spicy Korean Fried Chicken Sandwich FAQs
What's the secret to crispy Korean fried chicken?
To get really crispy Korean fried chicken, the secret lies in the buttermilk marinade! It really helps the crust adhere to the chicken and gives it lots of flavor and moisture so the chicken doesn't dry out while frying. The potato starch in the flour mixture also helps achieve a crispy crust.
What does potato starch do in frying?
The potato starch gives the chicken a crispy, golden coating.
Can Korean fried chicken sandwiches be made in advance?
Unfortunately, no. You always want to serve fried chicken right away. However, the glaze, kimchi slaw, and pickled cucumbers can be made in advance!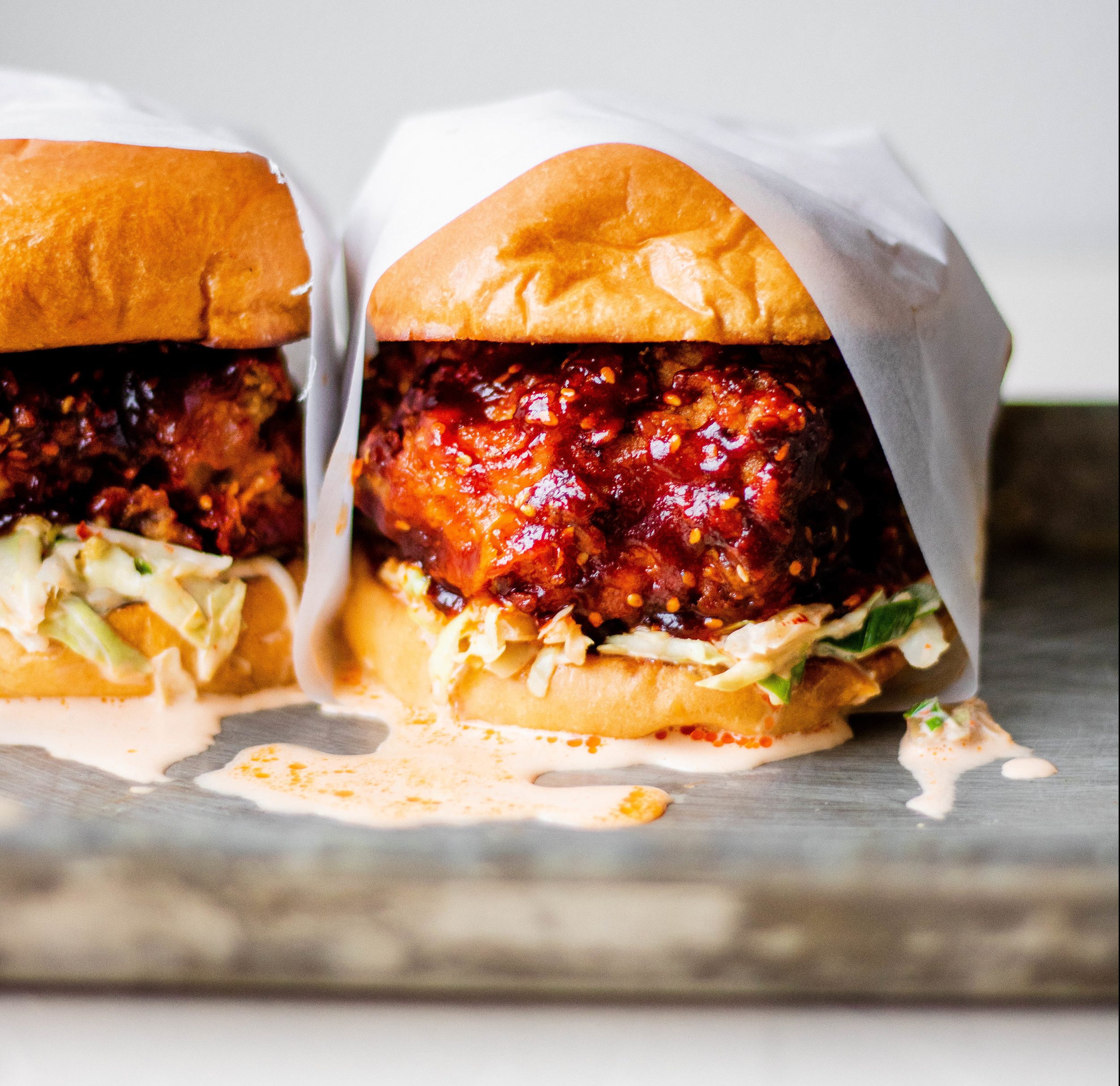 OTHER RECIPES TO TRY: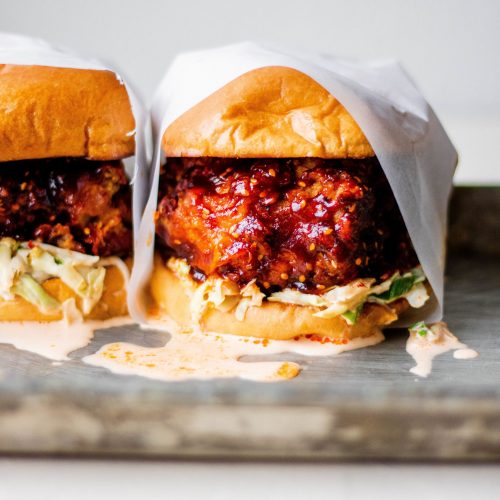 spicy Korean fried chicken sandwiches
If you love fried chicken sandwiches as much as I do, you are going to love this Korean twist!
Ingredients
Korean Fried Chicken
2

large boneless skinless chicken breasts

1

cup

buttermilk

1

egg

2

tablespoons

fish sauce

1

tablespoon

grated ginger

2

tablespoons

sriracha

1

cup

flour

1/4

cup

potato starch

1

tablespoon

gochugaru

2

teaspoon

garlic powder

1

teaspoon

ground ginger

2

teaspoons

kosher salt

canola oil

for frying

4

brioche burger buns

toasted with butter
Korean Chicken Sauce
1/2

cup

soy sauce

1/4

cup

honey

2

tablespoons

gochujang paste

1

tablespoon

gochugaru

1

tablespoon

grated ginger

2

tablespoons

rice wine vinegar

2

teaspoons

sesame oil

1

teaspoon

sesame seeds

1/3

cup

hot water
Kimchi Slaw
4

cups

shredded green cabbage

1

jalapeño

sliced

1

cup

kimchi

chopped

3

scallions

sliced

1/2

cup

mayo

kewpie if you have it

2

tablespoons

rice wine vinegar

1/2

teaspoon

kosher salt
Quick Pickles
2

Persian cucumbers sliced

1/3

cup

rice wine vinegar

2

teaspoons

sugar

1/2

teaspoon

salt

2

teaspoons

gochugaru

1/2

teaspoon

sesame oil
Instructions
For the fried chicken: Using a flat meat tenderizer, gently pound the fatter part of the chicken out so that the breast is uniform thickness. Cut the chicken in half. Repeat with the other breast. Whisk together the buttermilk, egg, fish sauce, sriracha and ginger together and pour the mixture into a gallon ziplock bag with the chicken. Marinate for 2-8 hours.

In a separate gallon ziplock bag, add the flour, potato starch, gochugaru, ginger, garlic and salt. Shake to mix the ingredients together well. After the chicken is done marinating, transfer the chicken pieces to the flour, allowing any excess buttermilk to drain off. Seal the bag and shake really well to coat all the chicken pieces in flour.

Heat at least 2-3" of canola oil in a heavy bottomed pot or dutch oven to 360 degrees F. Gently lower 2 pieces of chicken into the oil and fry for about 7 minutes, flipping once, until deeply golden brown and a probe thermometer registers 165 degrees F. Transfer chicken to a wire rack set over a baking sheet. Repeat with the other two pieces. While the chicken is still warm, drizzle or brush the sauce liberally all over the chicken.

For the sauce: Combine all the ingredients in a nonstick skillet and simmer until thickened slightly to the consistency of a glaze. Set aside.

Prepare the slaw: Combine all the ingredients, cover, and chill until ready to use. Can be made 1 day in advance.

For the pickles: Combine all the ingredients, cover, and chill until ready to use, Can be made 1 day in advance.

To assemble: Lay slaw on the bottom bun of a toasted brioche burger bun. Top with chicken and pickles and top bun. Serve immediately.
Notes
Gochugaru is a korean chili powder and gochujang is a korean chili paste, both are essential to the recipe and can be found at most Asian grocery stores or on amazon (I've linked the products above).
You might also like...