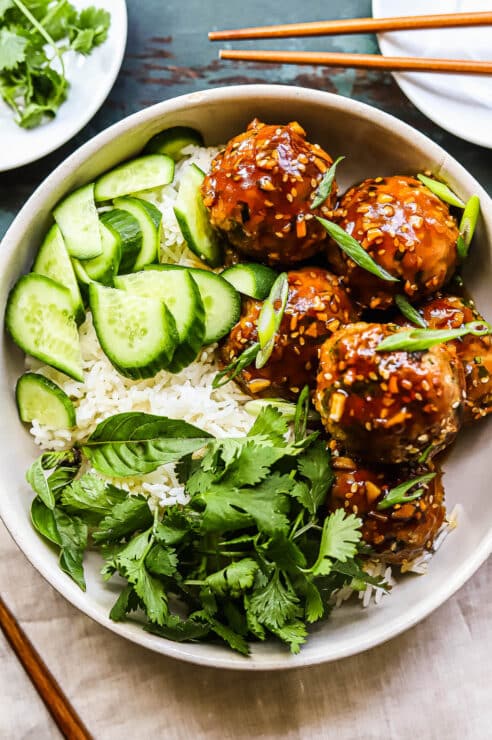 Sesame-Ginger Meatballs
Sesame-Ginger Meatballs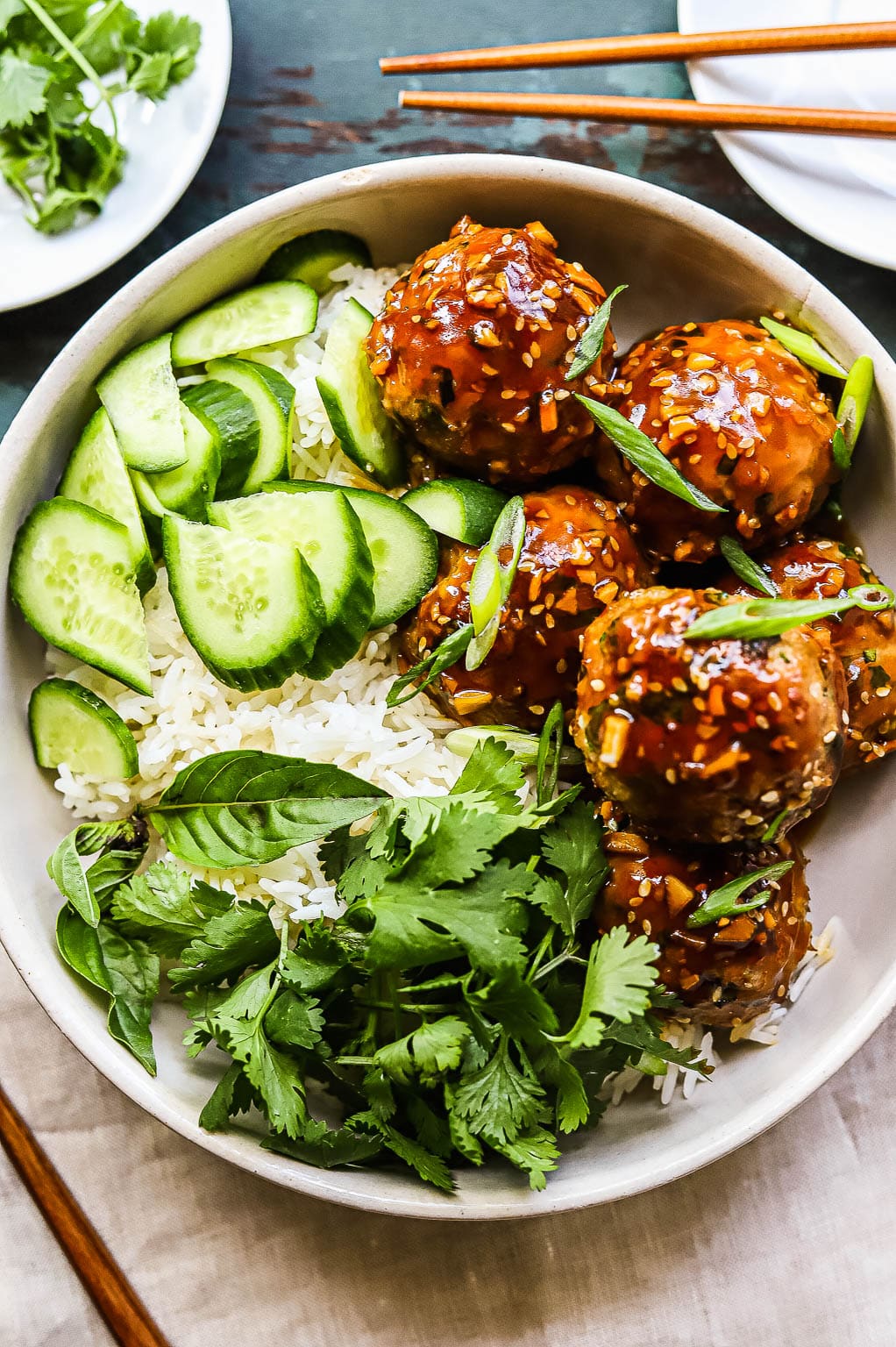 Sesame-ginger meatballs made with a mix of pork and chicken are so tender and perfect for any weeknight dinner. These meatballs are bursting with fresh ginger and garlic flavor! They're swimming in a sticky honey-soy sauce with ginger, garlic, and sesame.
I love an easy meatball dinner that doesn't make a huge mess. It's honestly my favorite go-to weeknight dinner hack! These sesame-ginger meatballs are hearty but light and all you need is some steamed rice and veggies for a complete meal.
Meatballs: The Best Weeknight Dinner
If you've been here for a while, you know that we are busy on-the-go folks! I always want a home-cooked meal, but I love when there's minimal prep and work involved.
The best part about these sesame-ginger meatballs is that you cook them under the broiler and then in the sauce! There's no fussing with searing the meatballs (which always makes a mess!). Cooking meatballs under the broiler is my favorite trick–you don't have to deal with messy oil splatter. I use this technique in my best ever spaghetti and meatballs and my Thai curry meatballs.
Cooking meatballs under the broiler is a great way to keep them from overcooking and it's much easier when cooking leaner meats that tend to stick to the skillet.
These sesame-ginger meatballs are crisp on the outside, super tender on the inside and packed with flavor! They also freeze like a dream and are perfect for weekly meal prep.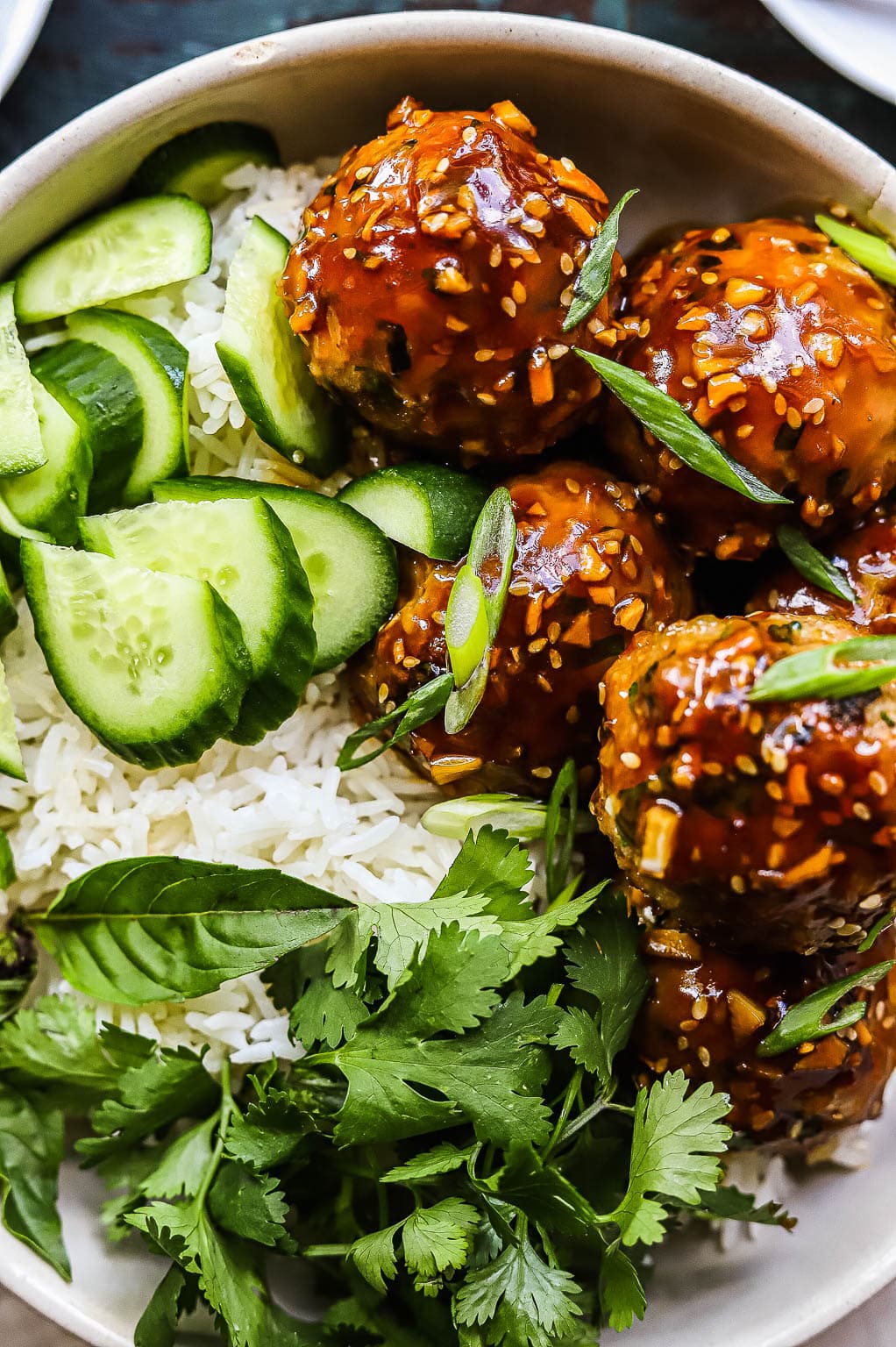 How to Make Sesame-Ginger Meatballs
These sesame-ginger meatballs are easy to whip up in under 30 minutes!
Tools Needed
Ingredients You'll Need
Ground pork/chicken. Love the combo of lean ground pork and ground dark meat chicken–so much flavor! You could easily use all pork or all chicken.
Fresh ginger. Finely minced ginger in the meatballs and the sauce.
Garlic. Minced garlic in the meatballs and sauce.
Panko. Panko is my usual go-to for meatballs, but you can use any breadcrumbs.
Egg. One egg helps bind the meatballs together.
Green onion and cilantro. Fresh minced cilantro and green onion add freshness.
Soy sauce. Soy sauce is the base of the ginger-garlic sauce. You can use low sodium, tamari, or coconut aminos.
Mirin. Mirin is a Japanese cooking wine.
Honey. Honey helps balance the sauce out and keep it from being too salty.
Sesame seeds and oil. For flavor and texture.
Cornstarch. Cornstarch helps thicken the sauce.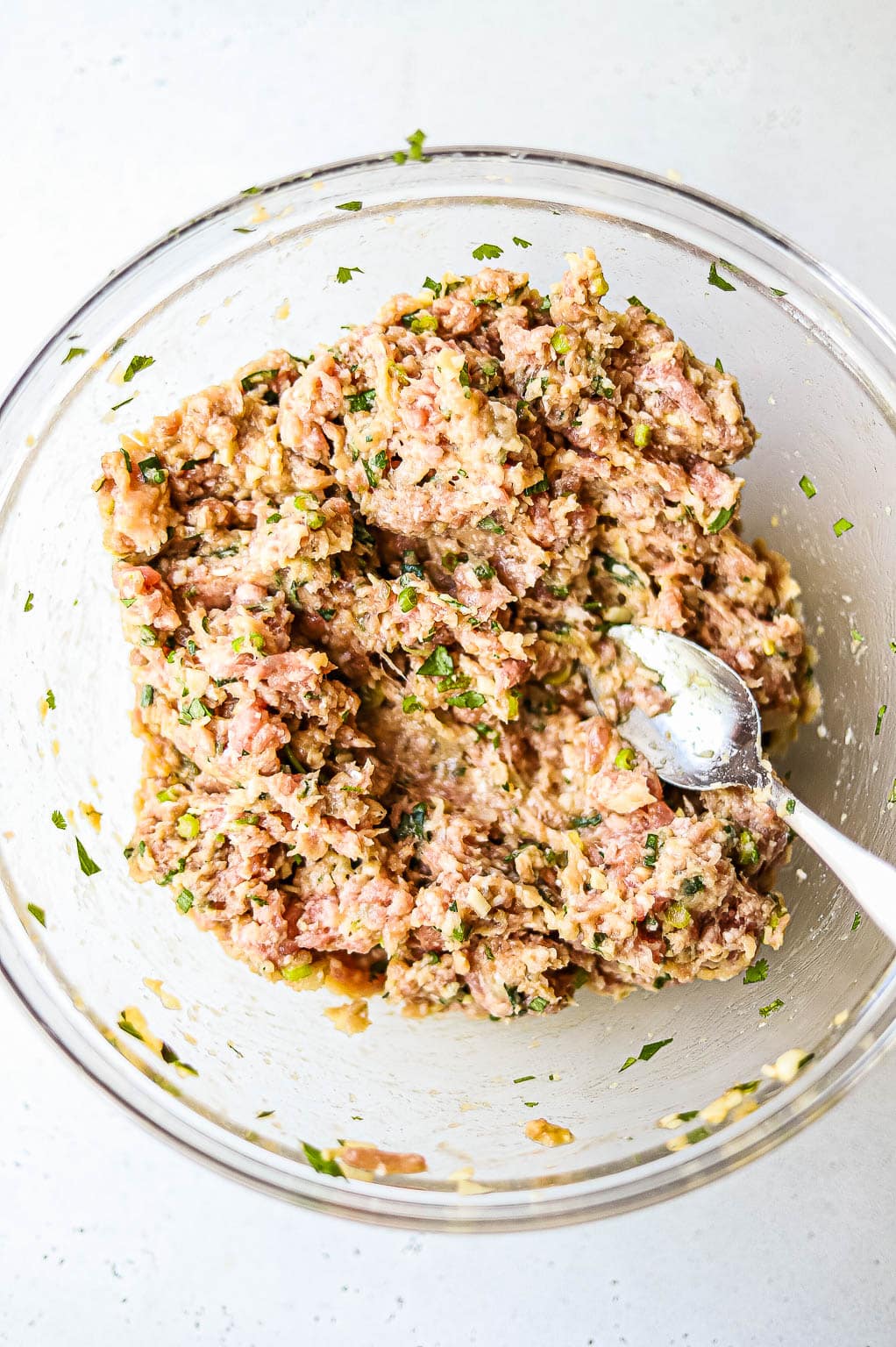 The Process
Step one: Mix together all the ingredients for the meatballs. Make sure not to overmix!
Step two: Using a cookie scoop, portion the meatballs into even-sized balls and place them on a parchment lined baking sheet.
Step three: Adjust the racks in your oven so that one is close to the broiler. Set the broiler to high and broil the meatballs for 8 minutes, rotating halfway through.
Step four: While the meatballs cook, mix together the sauce ingredients. Add the sauce to a large skillet and bring to a low simmer. Simmer until the sauce is thickened, about 5 minutes.
Step five: Add the meatballs to the sauce and simmer for another 6-8 minutes, coating the meatballs in the sauce. Serve over rice with cilantro and cucumber and enjoy.
Tips for Perfect Meatballs Every Time
I have a couple of tips for making the perfect sesame-ginger meatballs. They're perfectly tender without ever drying out.
Mix well, but don't over work the meatballs. Over-mixing meatballs can make them tough and chewy. Mix the ground meat gently with the other ingredients and the beaten egg just until everything holds together.
Use a scoop for even cooking. I love using a 3 tablespoon cookie scoop so that I can ensure the meatballs are all the same size and that they cook evenly.
Use damp hands to roll the meatballs. Using damp hands keeps the meat from sticking and keeps them nice and smooth.
Broil the meatballs. Broiling your meatballs instead of browning them in the pan makes for way less mess! You get the nice browning without all the messy work.
Storing, Freezing, and Re-Heating Sesame-Ginger Meatballs
We do a lot of meat prep in our household and this recipe is perfect for planning out my weekday meals and lunches.
If you plan to freeze these meatballs, freeze the meatballs and sauce separately. After broiling the meatballs, let them cool to room temperature. Lay them on a baking sheet lined with parchment and freeze for 1 hour. Transfer to an airtight container or ziplock bag and label. You can keep them for up to 6 months.
To freeze the sauce, simmer the sauce until thick. Let it cool to room temperature, transfer to a freezer-safe ziplock bag and store flat.
To defrost the meatballs and sauce, transfer them to the fridge overnight and let them defrost. You can also defrost them under cold water while in their respective bags.
To reheat, bring the sauce to a simmer and then add the meatballs. Simmer until warmed through.
These sesame-ginger meatballs can be stored after cooking as leftovers for 1 week.
Sesame-Ginger Meatballs FAQs
Can I make sesame-ginger meatballs gluten free?
Yes! Just make sure to use a gluten-free breadcrumb and swap in tamari or coconut aminos for the soy sauce.
Can I use different ground meat for the meatballs?
You can use either all pork or all ground chicken! This recipe would also be great with ground turkey or even ground beef.
What should I serve with sesame-ginger meatballs?
I always serve sesame-ginger meatballs with steamed rice (brown or white!). I like to add some fresh sliced cucumbers on the side, fresh herbs, lime wedges, and I like to add a veggie like steamed broccoli, green beans, or snap peas.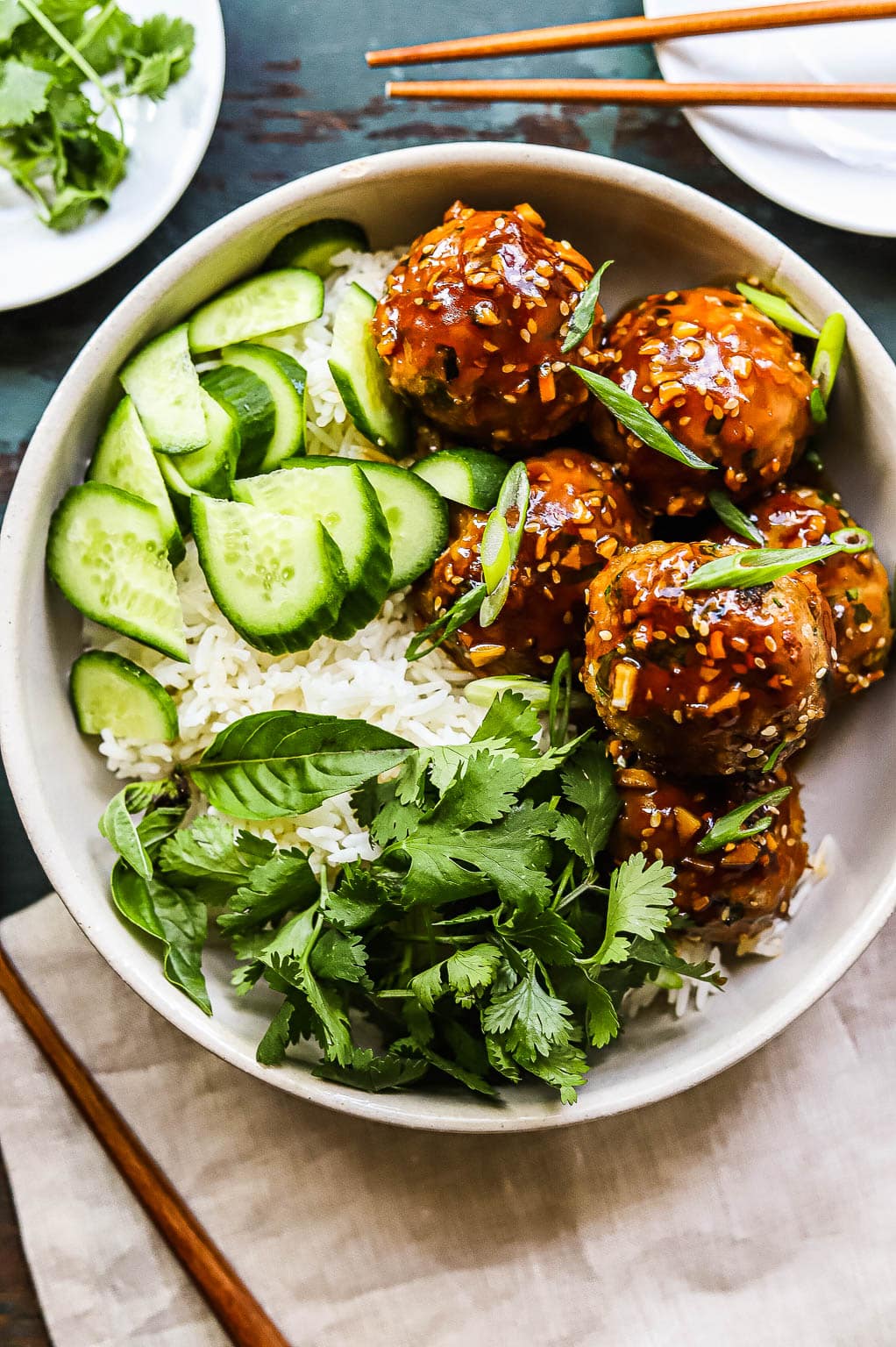 More 30-Minute Meal Recipes to Try Now
This post contains affiliate links from which I receive a small commission at no additional cost to you. Affiliate links allow me to keep providing great recipes for free and I never recommend products that I don't love and personally own.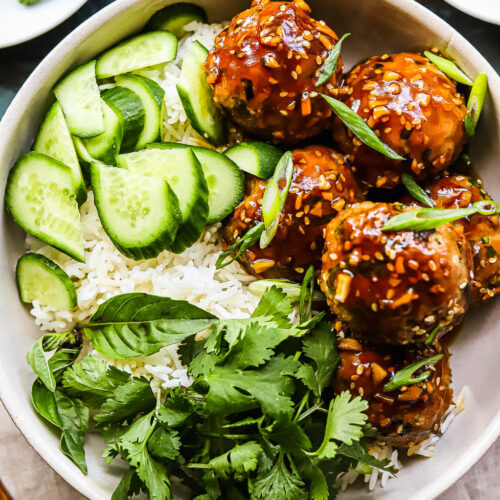 Sesame-Ginger Meatballs
These ultra-tender sesame-ginger meatballs are made with a combination of ground pork and chicken, fresh garlic, ginger, and herbs in a sticky ginger-garlic-sesame sauce. They're perfect for a weeknight dinner or meal prep.
Ingredients
Meatballs
1

lb

lean ground pork (90/10)

1

lb

ground chicken (93/7)

1/2

cup

panko bread crumbs

1

egg, lightly beaten

5

garlic cloves, minced

1

tablespoon

minced fresh ginger

4

scallion stalks, thinly sliced

1/4

cup

chopped cilantro

1/2

teaspoon

white pepper

1

teaspoon

kosher salt
Sauce
1/3

cup

soy sauce

2/3

cup

water

1/4

cup

mirin

1/3

cup

honey

4

garlic cloves, minced

2

tablespoons

minced fresh ginger

1

tablespoon

sesame seeds

2

teaspsoons

sesame oil

1

tablespoon

corn starch
Instructions
Combine all the meatball ingredients together in a mixing bowl and mix gently by hand until well-mixed.

Use a cookie scoop to portion the meatballs evenly and then use roll by hand into smooth balls. Place the meatballs on a baking sheet lined with parchment paper.

Adjust the oven racks so that one rack is closer to the broiler. Set the broiler on high and place the meatballs under the broiler. Broil for 8 minutes, rotating halfway through.

While the meatballs cook, combine the sauce ingredients in a bowl and whisk until smooth. Pour them into a large nonstick skillet and bring to a simmer. Simmer for 5 minutes, until thick.

Add the meatballs to the sauce and simmer another 6-8 minutes, tossing to coat the meatballs in the sauce. Serve over steamed rice.
You might also like...