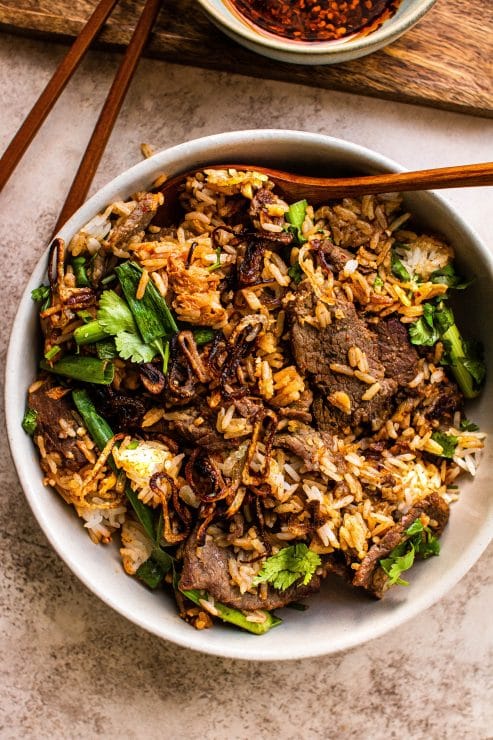 Bulgogi-Style Beef Fried Rice
Bulgogi-Style Beef Fried Rice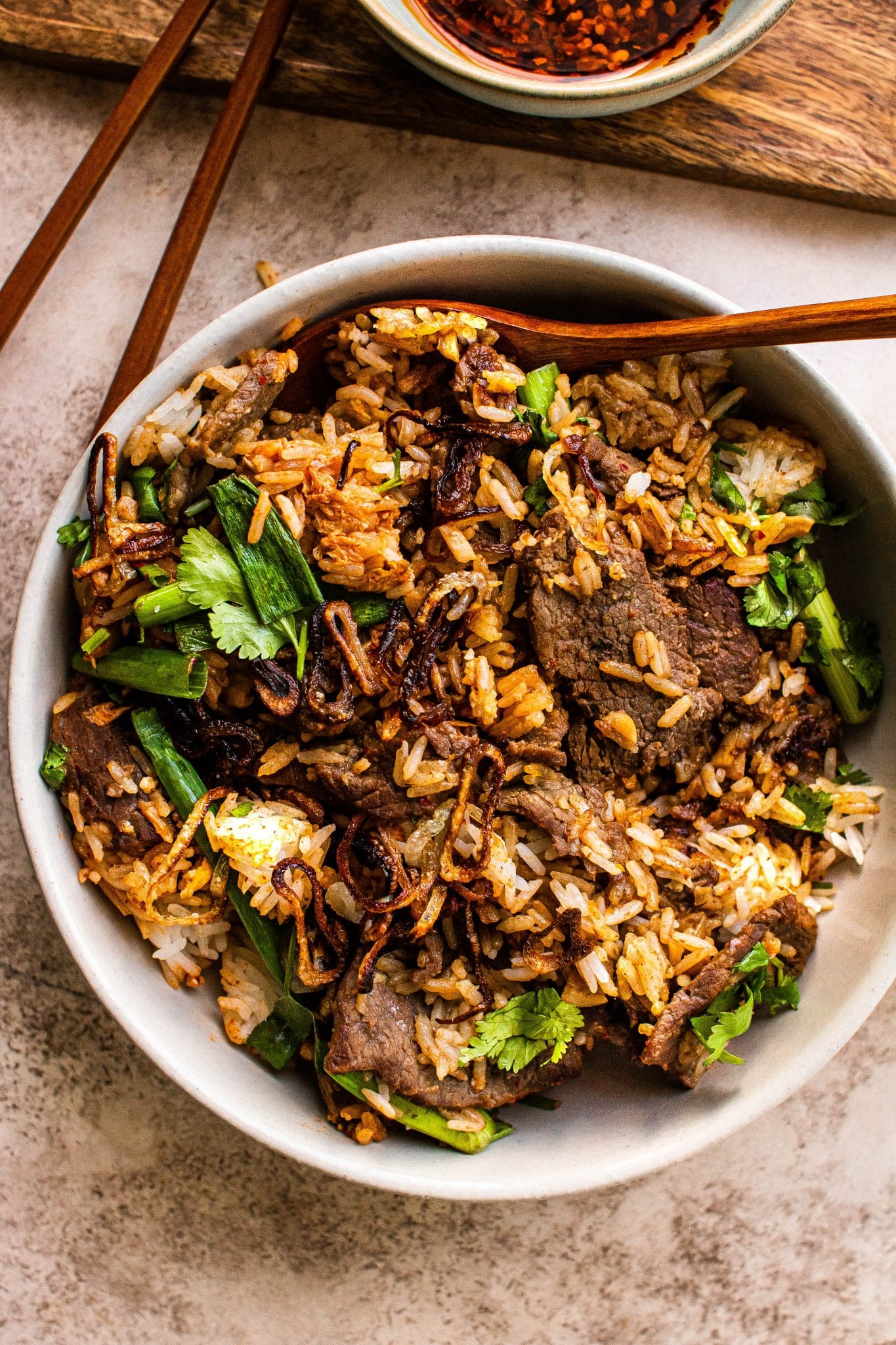 Everyone needs that back-pocket recipe that gets pulled out in a pinch for a weeknight dinner. For me, it's this bulgogi-style beef fried rice.
Fried rice is the perfect opportunity to clear out some veggie scraps and still end up with a delicious and hearty meal. Plus, it has all my favorite things in one dish! Strips of tender beef marinated briefly in a sweet and savory bulgogi marinade, kimchi, jasmine rice, plus aromatics like garlic, ginger, green onion, a little cilantro, crispy shallots, and farm-fresh eggs.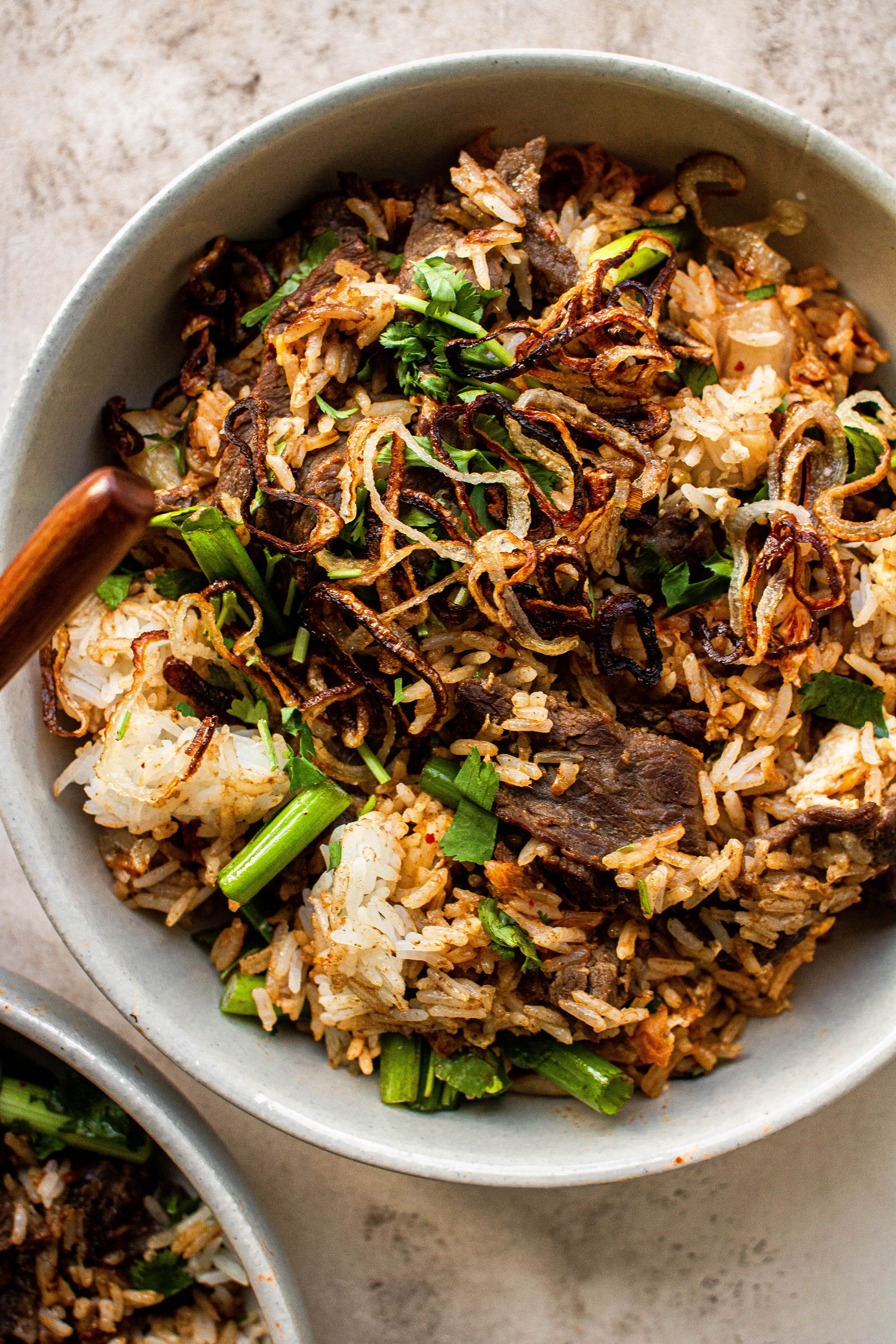 What is bulgogi?
Literally translated from Korean, bulgogi means "fire-meat." Traditionally, it's thin slices of tender cuts of beef, chicken, or pork, cooked over an open flame, grill, or griddle. In home cooking, it's often stir-fried. The dish itself is a delicacy of Pyongan Province, North Korea.
After the liberation of the Korean Peninsula from Japanese forced occupation in 1945, the dish became popular in Seoul and other parts of South Korea, by refugees from Pyongan. It was then listed in the 1947 edition of the Dictionary of the Korean Language, as meat grilled directly over a charcoal fire. In this instance, we are using thinly sliced ribeye steak marinated in a pureed mix of Asian pear (for tenderness!), soy, ginger, garlic, and shallot.
Sharing the history of this dish is important because I am not native to the culture and I want to make sure that I do the origins justice. While I don't claim for this dish to be authentic, it is inspired by Korean cuisine and dishes and that needs to be noted. Before the recipe, I will link to some authentic recipes from AAPI creators for your reference!
what kind of rice is used in fried rice?
For this recipe, I'm using long-grain jasmine rice. The flavor and aroma are absolutely heavenly! Jasmine is the fastest-growing rice variety in the United States right now, appearing on 26 percent more restaurant menus and 108 percent more fast food menus over the last four years.
Nearly 85% of the rice that we eat in the US is grown by US farmers! Each year, 18 billion pounds of rice are grown and harvested by local farmers in Arkansas, California, Louisiana, Mississippi, Missouri, and Texas. Check out USA Rice for help finding US-grown jasmine rice near you.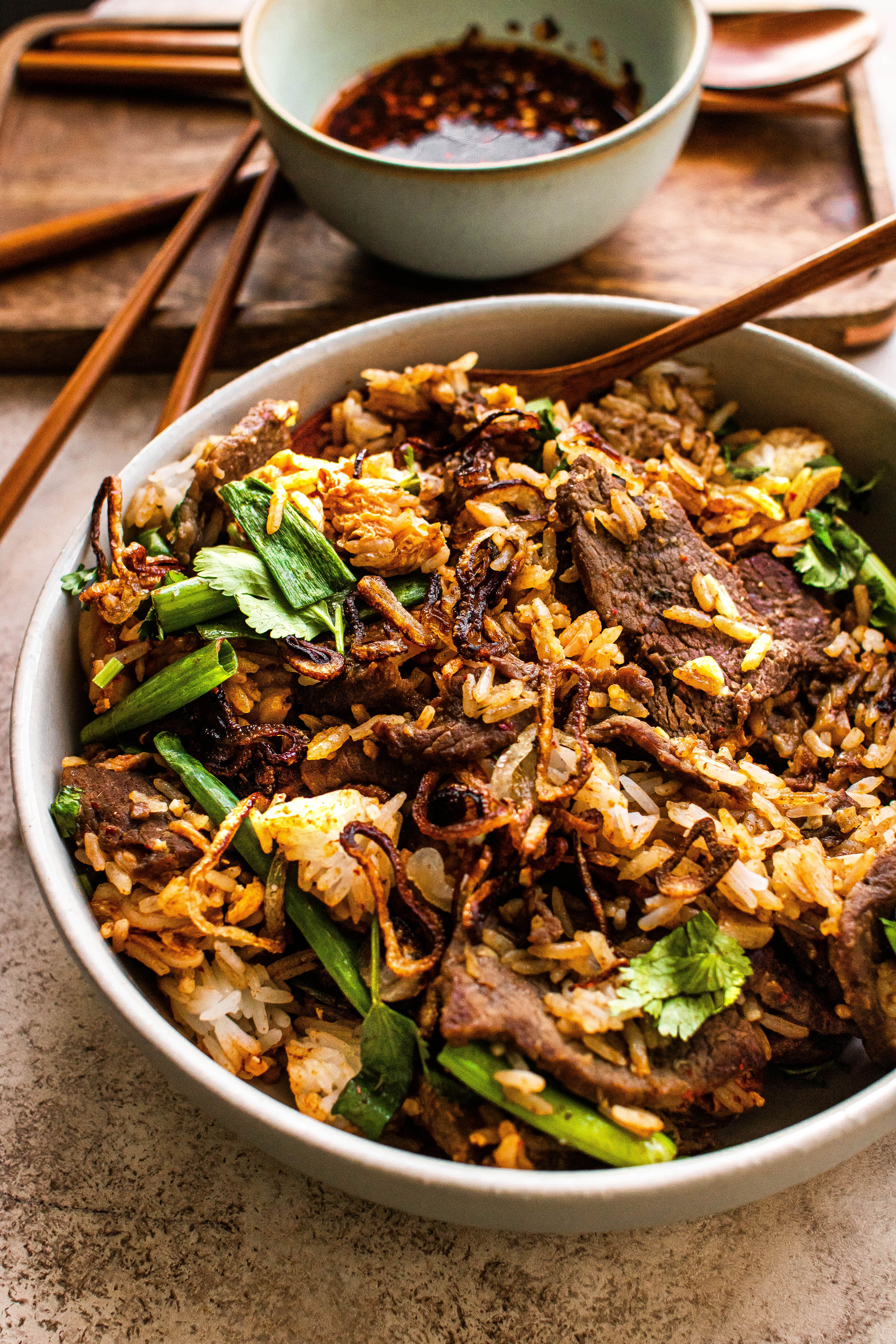 what tools are needed to make bulgogi-style beef fried rice?
Fried rice is a breeze to make at home! It's my kitchen sink meal where I can use up any random bits of veggies or meats to bring together a cohesive meal and you don't need much to do it!
1. A large wok with good surface area. A large wok is so helpful for making fried rice. First, the metal is thinner, so it gets very hot which is essential for getting a good sear on the beef. Second, it is able to hold lots of volume which is important for getting all our rice and veggies in without making a mess!
That's it! A good wok is all you need to make bulgogi-style beef fried rice!
What is Kimchi?
Kimchi is a staple in Korean cuisine! A traditional side dish of salted and fermented vegetables, such as napa cabbage and Korean radish, made with a widely varying selection of seasonings including gochugaru (chili powder), spring onions, garlic, ginger.
It has a wonderfully salty/spicy flavor and adds so much to this dish. It's such a great side dish for pairing with fatty meats (you'll often see it served as a side in Korean BBQ restaurants) because the slight acidity really balances out the unctuousness of the meat.
My friend Julie over at Table for Two blog has a great recipe for it here!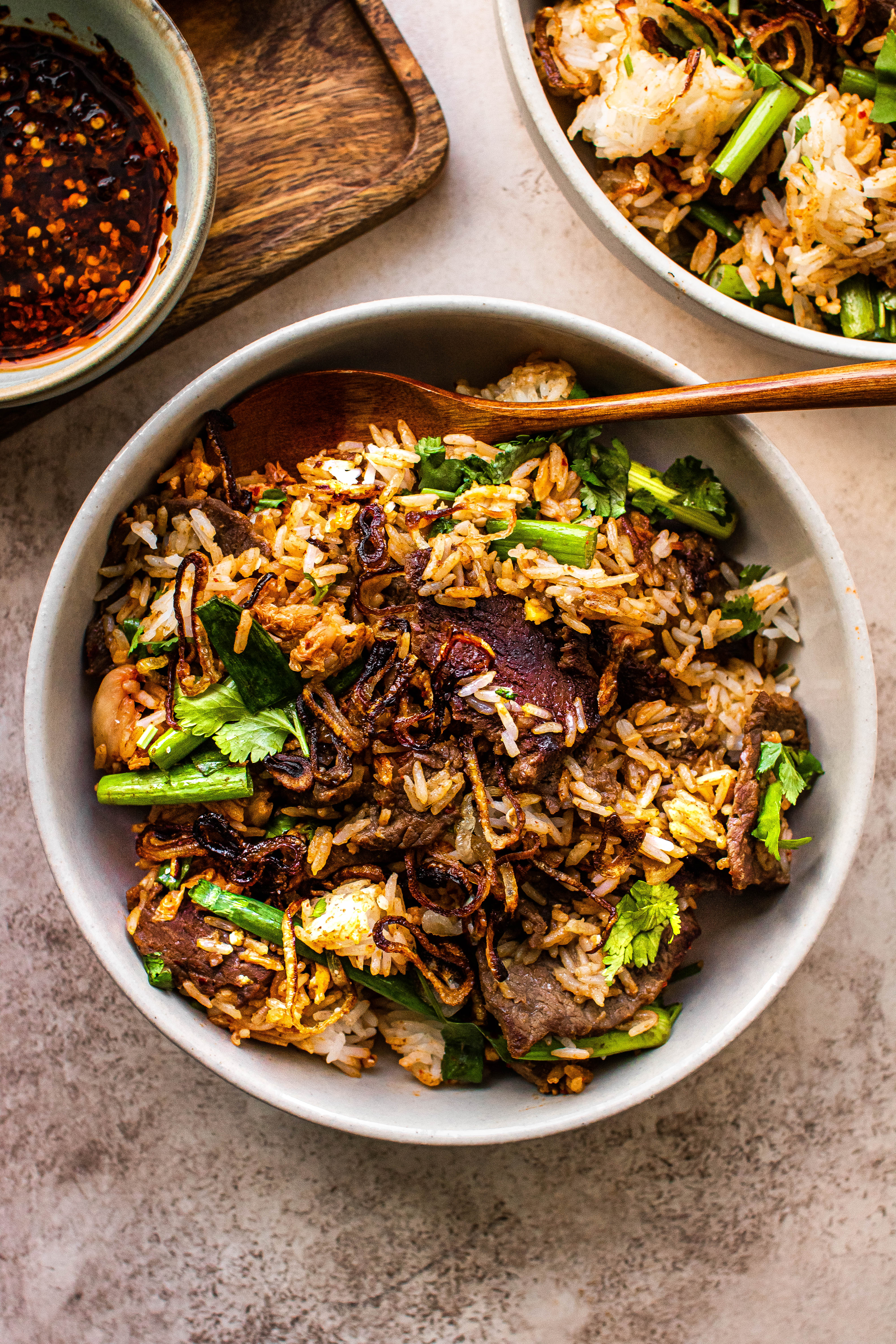 What cut of meat is best for bulgogi?
Bulgogi requires a really tender cut of meat (beef in this instance) because it's not getting cooked for a long period of time. I recommend steering clear of cuts like chuck roast or brisket. While they have a good amount of fat and flavor, they'll end up very chewy in a stir-fry like this because they need more time to break down the tough muscle tissue.
You want a cut that has some fat in it (flavor and tenderness!), so I opted for ribeye steaks that I then thinly sliced. Other great cuts could include flat iron, strip steak, picanha, or coulotte. If you aren't comfortable thinly slicing it at home, ask your butcher to slice it between 1/8″ and 1/4″ thick. Make sure you're using at least "choice" grade beef.
why use 'day-old' rice for fried rice?
It's important to use leftover or day-old rice for fried rice because it's had a chance to dry out a bit and therefore will cook and absorb sauce without becoming overcooked and mushy. If you use fresh rice for fried rice, it will still taste great but the texture will be too soft to really be enjoyable.
If you don't have leftover rice, steam your rice according to your rice cooker's instructions and then spread it out on a baking sheet in the fridge for an hour or two to dry it out a bit.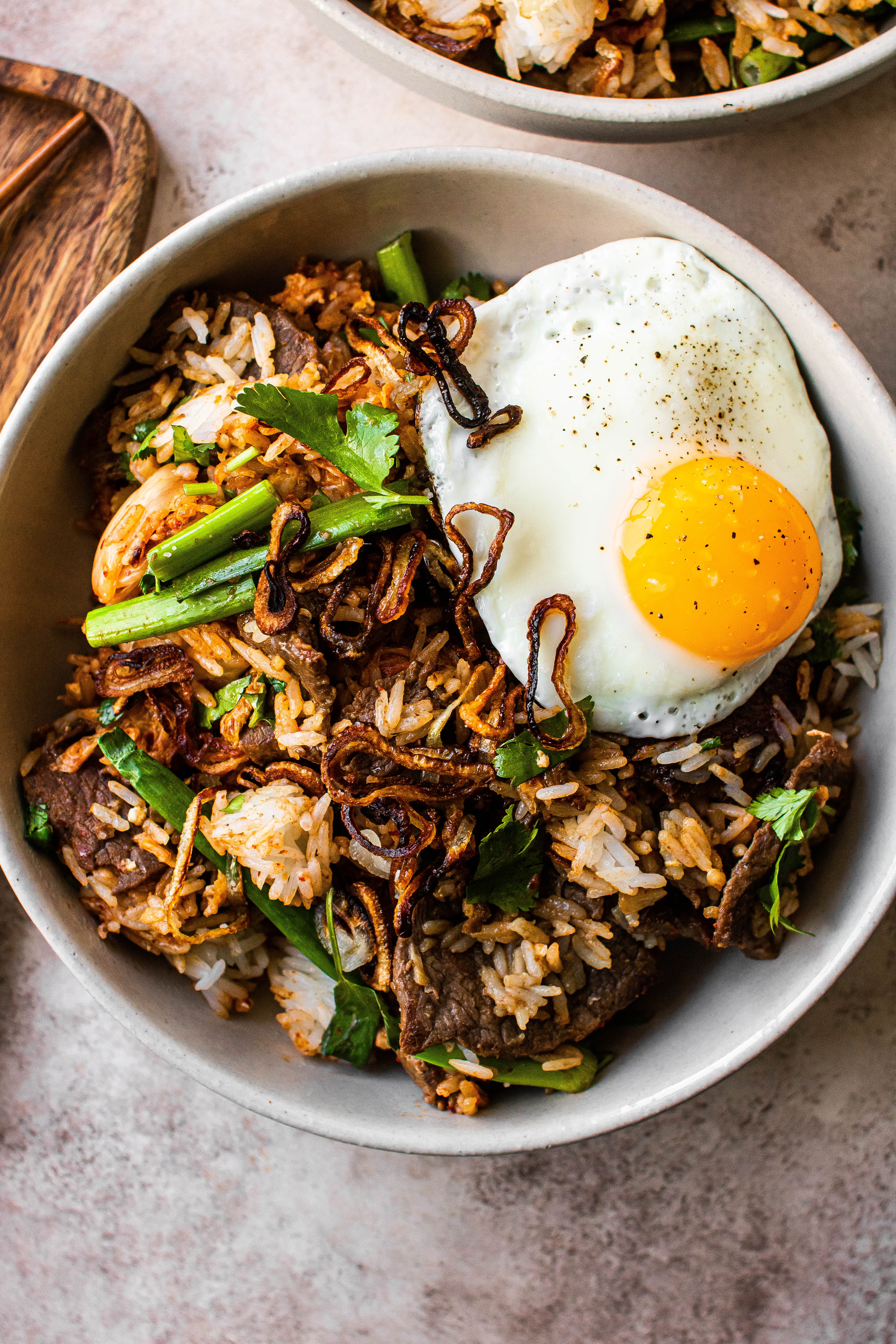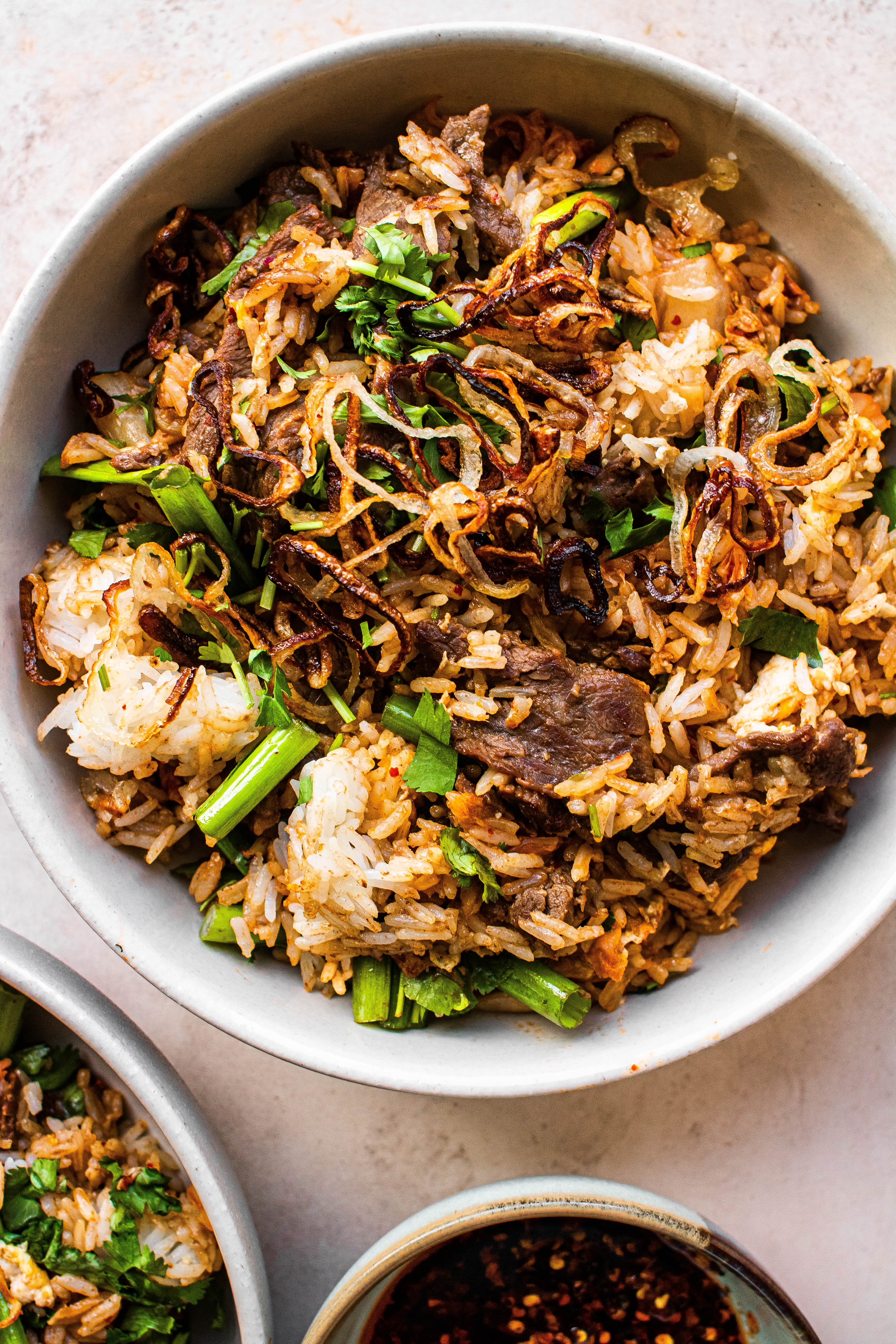 Bulgogi-related recipes from AAPI creators
It's important to me to show great respect to the cultures from whence the inspiration for a lot of my cooking comes. I'm profiting off this recipe through a partnership with The Feed Feed and Think Rice and using Korean recipe inspiration to bolster the flavor of my dishes. Here are some recipes from a few of my favorite AAPI creators!
Koren Beef Bulgogi from Damn Delicious by Chungah Rhee
This recipe is part of a sponsored campaign with the Feed Feed and Think Rice. Sponsored posts and brand partnerships (with brands that align with my values and commitment to quality) allow me to keep providing quality recipes at no cost to you! All opinions are my own in regards to any products or brand that I may highlight.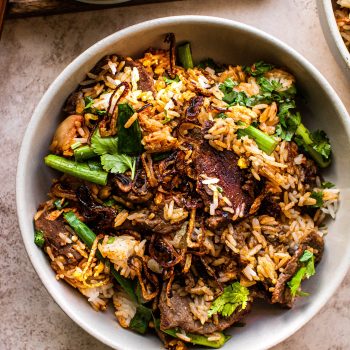 Bulgogi-Style Beef Fried Rice
Bulgogi-style marinated beef is stir-fried with shallots, rice, green onions, egg, and soy for a delicious weeknight meal.
Ingredients
Beef and Marinade:
1 1/2

pounds

ribeye steak

sliced between 1/8"-1/4" thick

2/3

cup

soy sauce

1/4

cup

mirin

1/2

Asian pear

1

bunch green onions

white and light green parts only, reserve tops for later

4

cloves

garlic

1

tablespoon

freshly grated ginger

1

tablespoon

brown sugar

1

teaspoon

dark sesame oil
Fried Rice:
1/4

cup

soy sauce

1

tablespoon

oyster sauce

1

teaspoon

freshly grated ginger

3

tablespoons

neutral oil

1

medium shallot

peeled and thinly sliced

2

carrots

peeled and finely diced

3

garlic cloves

minced

5

cups

day-old U.S Grown jasmine rice

see notes above

2

eggs

lightly beaten

1 1/4

cups

kimchi

chopped

1

bunch green onion tops

sliced (see note above)

Chopped cilantro

Salt and pepper

to taste
Instructions
Place sliced beef in a large gallon-sized zip-top bag. Add the remaining ingredients for the marinade to the carafe of a blender and blend on high until smooth. Pour the marinade over the beef and marinate in the fridge for at least 1 hour, up to 8 hours.

In a small bowl, whisk together the soy sauce, oyster sauce, and teaspoon of grated ginger. Set aside.

Heat a wok over medium-high heat and add neutral oil. Once the oil is hot and shimmering, add shallot. Cook for 4-5 minutes, stirring occasionally, until shallots are golden brown (take care to not burn them!) Using a slotted spoon or fork, transfer to a paper towel-lined plate and set aside.

Increase wok to high heat (the oil from the fried shallots should still be in the pan). Remove beef from marinade, shaking off any excess, and add to the wok in a single layer. Cook for 2 minutes on one side until golden brown, then flip. Add carrots and garlic to the pan and stir to combine. Cook for another 2-3 minutes, stirring often so the garlic doesn't burn, until the carrots are softened.

One the carrots are softened, add the rice and stir so the grains are coated with oil. Lower heat to medium and push the rice mixture to one side of wok. Pour the lightly beaten eggs onto the other side of wok and cook for 2-3 minutes until the eggs are cooked through. Using a wooden spoon, break up the egg into pieces, then stir all the ingredients so that the egg is incorporated into the rice. Add kimchi and soy sauce mixture to the pan and cook, stirring constantly, until all the sauce has been absorbed. Add green onion tops, season to taste with salt and pepper.

Serve topped with the crispy shallots and sprinkled with cilantro, if desired.
You might also like...