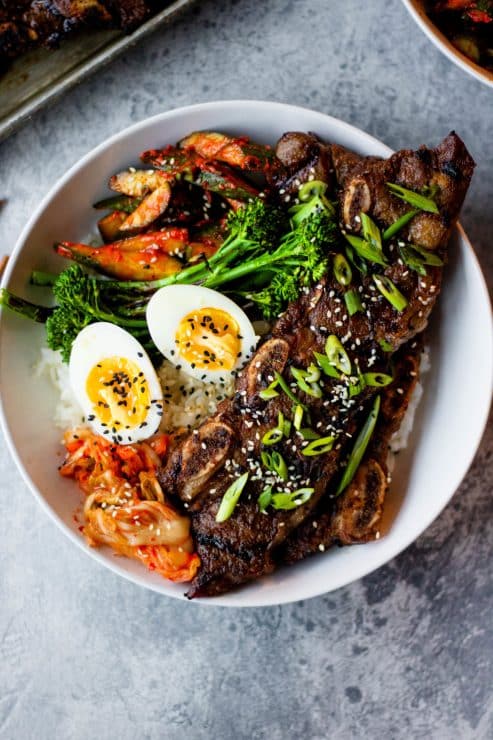 korean bbq short rib (kalbi) bowls
korean bbq short rib (kalbi) bowls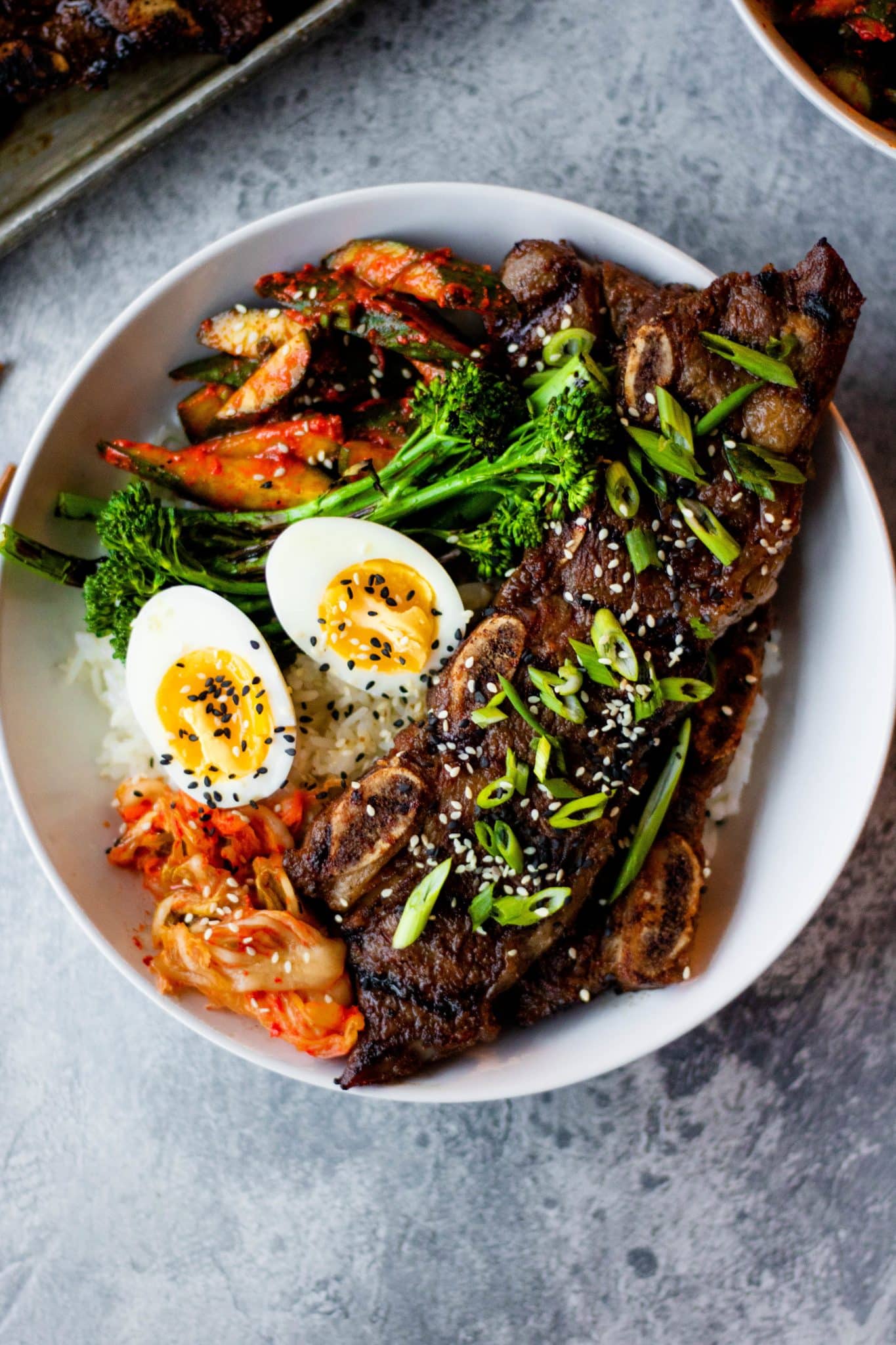 One of my favorite dining experiences is going to a Korean bbq restaurant and my favorite is always the Korean bbq short rib, or kalbi. I love any food experience that is interactive. Naturally, I man the little grill on the table. If you have never been, the food is served family style and they bring out plates of uncooked meat (beef, pork chicken, shrimp, etc.) that you get to cook yourself at a little grill in the middle of your table. As much as I love meat, it's the little side dishes ("banchan") and condiments that I LOVE. Braised potatoes, pickled daikon, kimchi, spicy cucumbers, quail eggs, marinated bean sprouts. The list goes on and on because they really bring you out UNLIMITED bowls of banchan to go with your meal.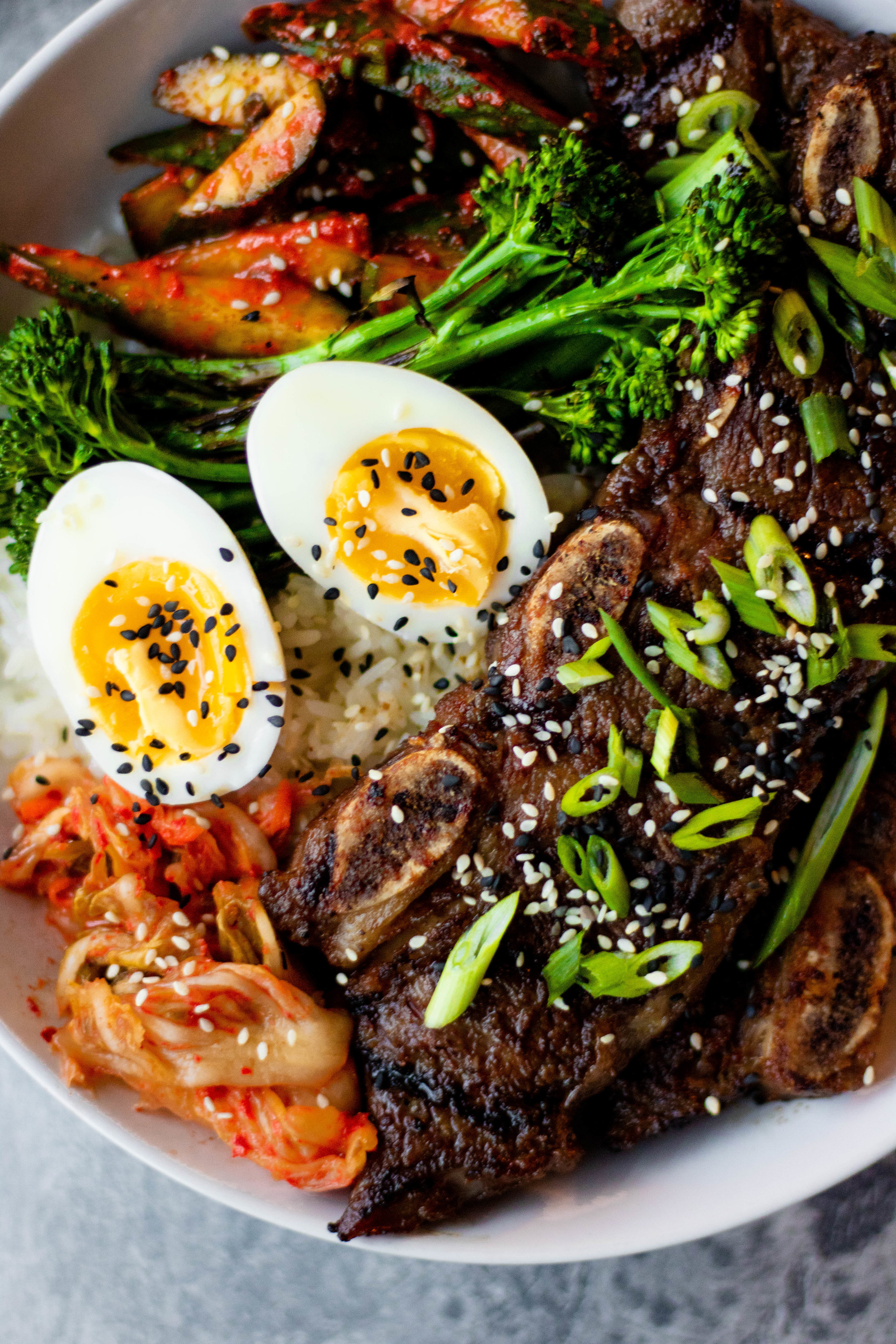 While there are tons of Korean bbq restaurants to choose from in San Diego, San Antonio is slightly lacking. We've been to one that was great but it can get expensive for just two people (it's really best to go as a group of 4). So rather than go out and eat more than we should when it's just the two of us, I created a recipe for korean bbq bowls at home with all of my favorite things.
If you are unfamiliar with korean short ribs, they are simply cross sections of the English beef short ribs that you most commonly see. Meaning, rather than cut the ribs along the bones so that it's one piece of meat per bone, they are cutting the ribs and meat crosswise to have thinner strips of beef with small bits of the rib bone in each slice. The short rib is actually a fairly tough cut of meat that usually does best with braising, which is why you see so many recipes with that particular application. This is why the marinating process is so important. Both the pear and the soy sauce help to tenderize the meat as it sits, making it nice to eat once it's grilled.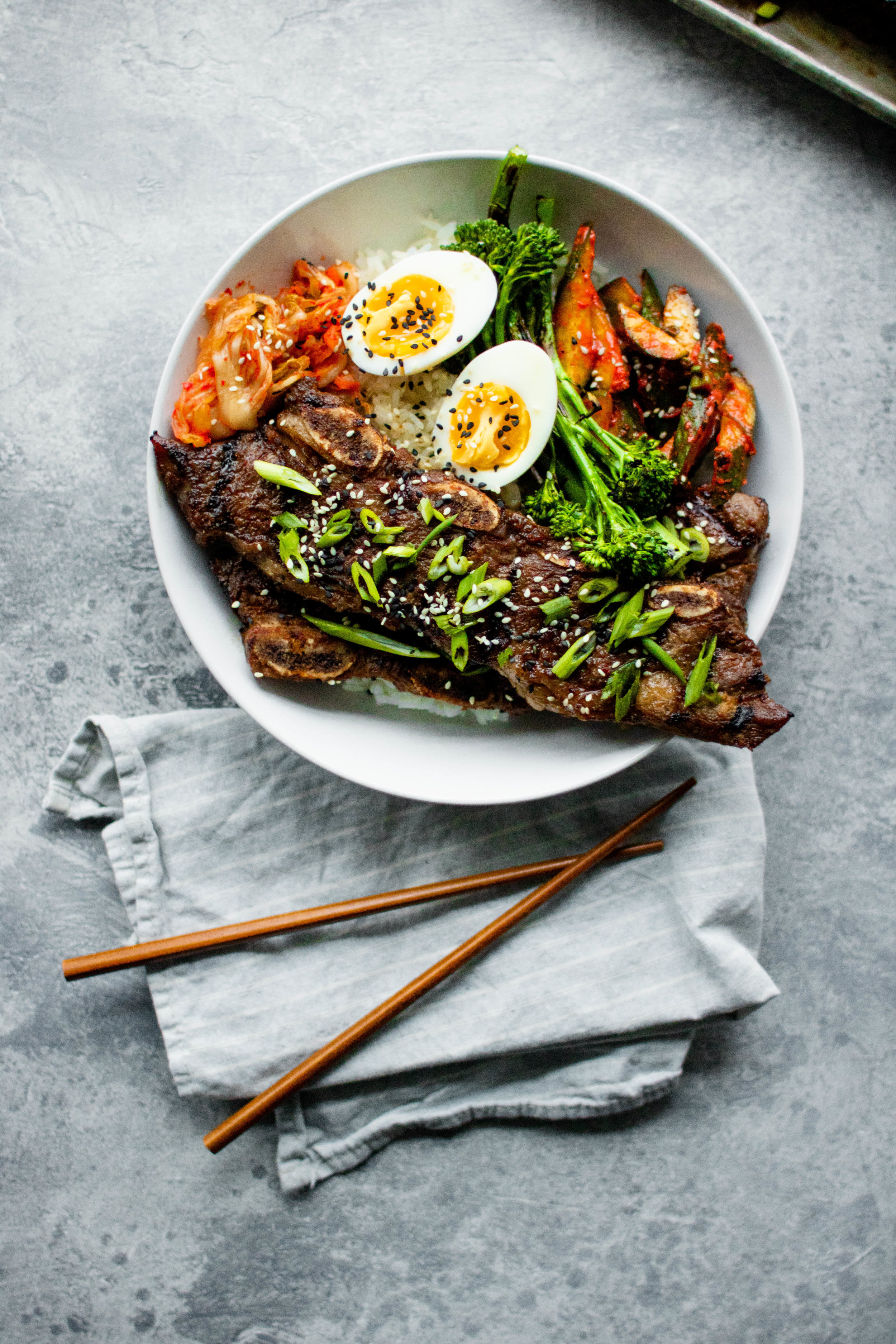 What you throw in your bowl is totally up to you! I added some grilled broccolini because I love broccolini, it's my favorite veggie! Plus, kimchi, spicy cucumber salad, soft boiled eggs, green onions and some steamed jasmine rice. All the things I love to eat at a Korean restaurant, all in one bowl! I've started sharing a step by step process in my instagram stories which I've been saving to my highlights. Head to my Instagram if you want to watch the recipe made step by step! I hope this recipe makes your weeknight meals fun and exciting!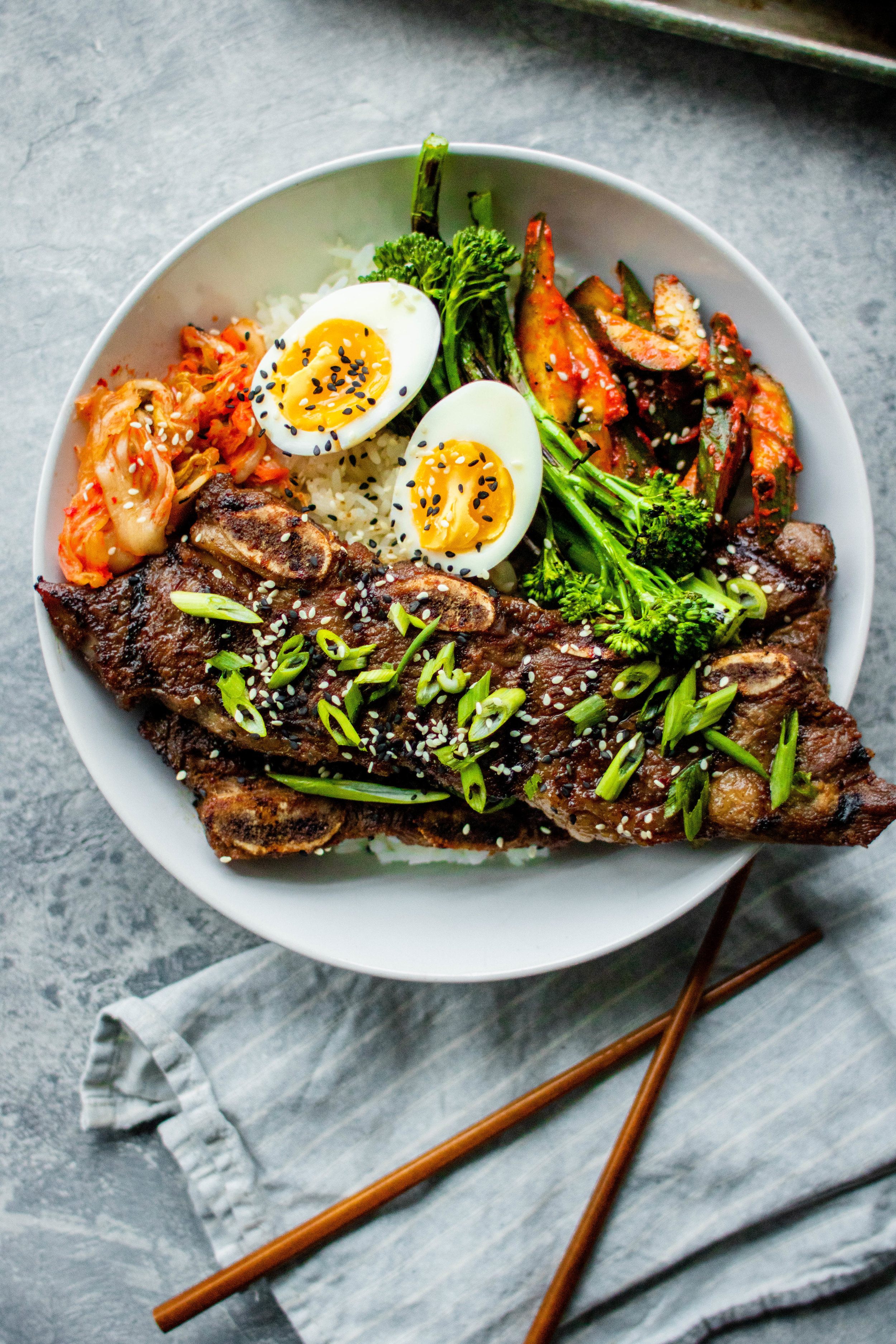 Products I used in this recipe: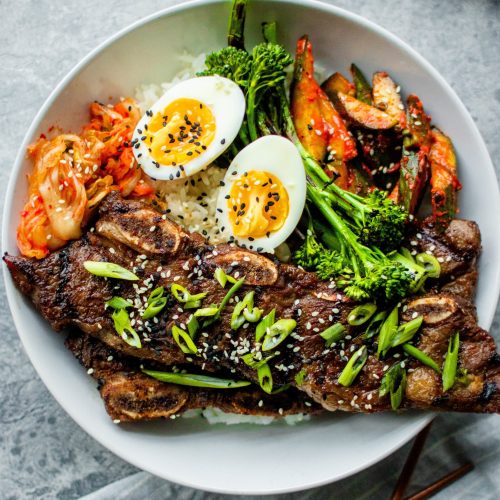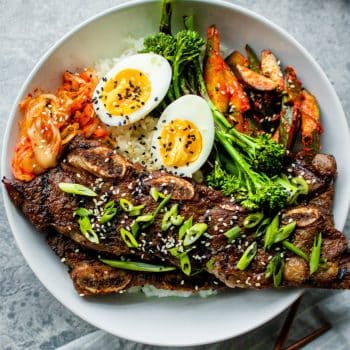 korean bbq short rib (kalbi) bowls
If you love going out for Korean bbq, you are going to love these Korean bbq short rib bowls!
Ingredients
Korean Bbq Ribs

5

lbs

cross cut short ribs

korean beef ribs

1

asian pear

peeled and chopped

1

cup

soy sauce

1/3

cup

mirin

2

tablespoons

brown sugar

4

cloves

garlic

2

tablespoons

grated ginger

1

bunch green onions

1

teaspoon

dark sesame oil

1/2

teaspoon

crushed red pepper flakes

optional

Korean Cucumber Salad

Oi Muchim

5

persian cucumbers

or 1 small english cucumber, sliced

1

teaspoon

kosher salt

2

tablespoons

sliced green onions

1

teaspoon

grated ginger

1

tablespoon

korean chili powder

gochugaru

1

tablespoons

rice wine vinegar

1

teaspoon

dark sesame oil

Remaining Bowl Ingredients

4

cups

steamed jasmine rice

4

eggs

kimchi

for topping

1

bunch broccolini

optional

black sesame seeds

for topping

white sesame seeds

for topping
Instructions
To make the korean bbq marinade: Place ribs in two gallon ziploc bags (all 5lbs will not fit in one bag, trust me). Cut the roots off of the scallions and separate the white/light green part from the green tops. Slice the green tops and set them aside. In the carafe of a blender combine the pear, soy sauce, mirin, brown sugar, ginger, garlic, sesame oil, pepper flakes and the white/light green parts of the green onion. Blend until smooth and pour evenly over ribs. Seal bags and marinate for at least 4 hours (8 hours is best).

To make cucumber salad: place sliced cucumbers in a colander and sprinkle with kosher salt. Let sit for 15 minutes. Rinse excess salt off cucumbers with cold water and drain. Toss with remaining ingredients plus a pinch of salt (to taste). Refrigerate until ready to use.

To make perfectly jammy eggs: Bring a medium saucepan of water to a boil. Gently lower eggs into water. Boil for 7 minutes for runny yolks, 9-10 minutes for a more cooked yolk. Cool in a bowl of ice water and peel. Set aside.

To cook ribs: Preheat a grill (or grill pan) over medium high heat. Once the grill is hot, cook the ribs 3-4 minutes per side. Do not move them once they're on the grill except to flip them once. Toss the broccolini with 1 tablespoon of olive oil and a sprinkling of salt and pepper. Grill until charred after the meat is done (if using).

To assemble: Divide steamed rice between bowls. Top with beef ribs, green onion, eggs, cucumber salad, kimchi, and broccolini. Sprinkle with sesame seeds if desired.
Notes
If you wanted to make this recipe vegetarian/vegan you could substitute firm tofu or portobello caps in place of beef ribs!
You might also like...