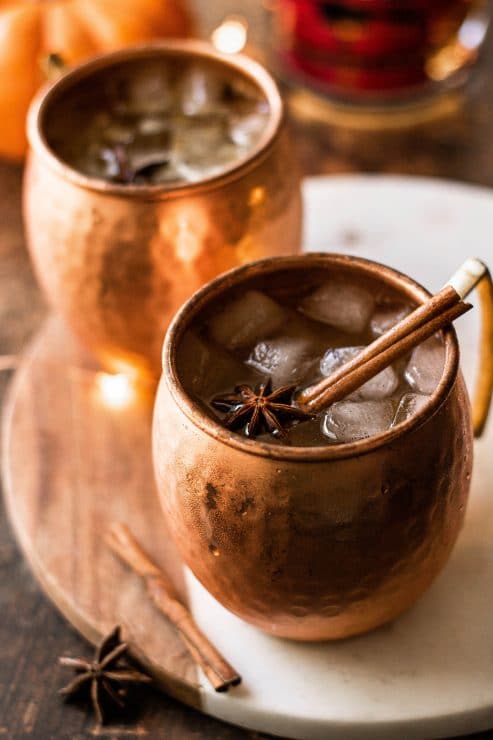 Pumpkin Spice Kentucky Mule
Pumpkin Spice Kentucky Mule
I may not be sharing a lot of recipes for pumpkin sweets, but I am always here for a great cocktail! This pumpkin spice kentucky mule is the perfect holiday cocktail recipe to enjoy from now until Christmas.
It's an easy cocktail to make and you can double or triple the pumpkin butter recipe. Trust me, it's that good! All you need is homemade pumpkin butter (or store-bought!), some bourbon, fresh lemon juice, ginger beer, and bitters and you're in business. You'll never go back to a boring moscow mule after this! Cheers!
What is a mule cocktail?
The most common type of mule cocktail you'll find out there is most likely the Moscow mule. A Moscow mule is vodka, fresh lime juice, bitters, and spicy ginger beer. So, why do they call it a mule? It's actually a subset of a "Buck" which is any cocktail made with a spirit, fresh citrus juice, and ginger ale or beer.
They say that the Moscow mule originated in the 1940s during a time when no Americans were drinking Vodka. A vodka distributor took a leap and brought vodka to the US but couldn't get anyone to buy it. He met a bartender in L.A. similarly struggling with selling ginger beer. They mixed the two together, served it in a copper mug and the Moscow mule was born.
What is ginger beer?
Contrary to what you may think, ginger beer isn't actually beer. In the same way that rootbeer is a spiced soda, ginger beer is a ginger soda. So, what the difference between ginger ale and ginger beer?
Ginger beer is much more flavorful as it's brewed with real ginger, whereas ginger ale is just soda water with ginger syrup. You can sub ginger ale in a pinch, but finding ginger beer is always going to be the best option. My favorite brands are Gosling's and Bundaberg.
Why is it called a Kentucky mule?
Great question! In the same way that a Moscow mule is named after our association with Russia and vodka, Kentucky refers to the bourbon in the drink. Most of the bourbon produced in the US comes from Kentucky and thus we have a Kentucky Mule.
Why is a mule cocktail served in a copper cup?
I love this question! I wondered this myself for many years. The copper is actually supposed to enhance the flavor of the drink! Unfortunately, most of the "copper" mugs you'll find at the store are just stainless steel with copper plating. However, I have one pure copper mug that I got in San Diego and the mule truly does taste better when I drink it out of that.
What is bourbon?
We really are going down a rabbit hole now, aren't we? There's a saying: All bourbon is whiskey, but not all whiskey is bourbon. Bourbon is a type of American Whiskey, but it has specific criteria to meet to be referred to as 'bourbon'. First, it has to be comprised of at least 51% corn.
This is why most bourbon comes from Kentucky, they have extremely fertile soil which is perfect for growing corn. It also has to be produced in the US to be recognized as bourbon, and aged in charred new oak barrels. It can only be distilled to 160 proof (80% alcohol content). There are no minimum aging requirements, but if it's called a 'straight bourbon' then you know it's been aged for at least 2 years. Obviously, the longer, the better when it comes to flavor!
How to make a Pumpkin Spice Kentucky Mule
The 'how' here is so simple! This is honestly one of my favorite holiday cocktails to make. You can buy pre-made pumpkin butter, but I find that my homemade version is just so much better. Plus, during the holidays I always find that I have a small amount of pumpkin puree that I need to use up.
To make this pumpkin spice Kentucky mule, you'll need some pumpkin butter, bourbon, fresh lemon juice, bitters, and ginger beer. You'll combine the bourbon, pumpkin butter, lemon juice, and bitters in a cocktail shaker with a little ice, and then shake well for about 15 seconds. Then, you'll strain that into a copper mug filled with ice, and top with ginger beer. I like to garnish with a cinnamon stick too!
Variations of mule cocktails
There are all kinds of variations to the mule cocktail, try and couple out and see what your favorite is!
Kentucky Mule: a moscow mule made with bourbon.
Mexican Mule: a moscow mule made with tequila.
Dark n' Stormy or Jamaican Mule: a moscow mule made with dark or spiced rum.
Gin Buck or Gin Gin Mule: a moscow mule made with gin.
Irish Mule: a moscow mule made with Irish whiskey.
Oaxacan Mule: a moscow mule made with mezcal.
There are lots of fun options to try!
Tools to make a Pumpkin Spice Kentucky mule
Cocktail set: If you don't have one yet, grab one here!
Copper mugs: Not necessary, but makes for a great presentation. Here are some!
More Cocktail Recipes to Try
This post may contain affiliate links from which I receive a small commission at no additional cost to you. Affiliate links allow me to keep providing great recipes for free and I never recommend products that I don't love and personally own.
Pumpkin Spice Kentucky Mule
A pumpkin spice Kentucky mule is a fun twist on a classic that's perfect for the holiday season!
Ingredients
Pumpkin Butter
4

tablespoons

pumpkin puree

3

tablespoons

pure maple syrup

1/3

cup

dark brown sugar

1/2

cup

water

1

teaspoon

vanilla bean paste

1/2

teaspoon

pumpkin spice

pinch

of kosher salt
Pumpkin Spice Kentucky Mule
2

tablespoons

pumpkin butter

2 1/2

oz

Bourbon

1

oz

freshly squeezed lemon juice

2-3

dashes of bitters

I used Angostura

ginger beer

ice

cinnamon sticks

for garnish
Instructions
Make the pumpkin butter by combining all the ingredients in a small saucepan. Bring to a simmer over low heat and cook for 5 minutes. Remove from the heat and allow to cool completely. Store in an airtight container in the fridge until ready to use. Will last for 2 weeks in the fridge.

Make the pumpkin spice kentucky mule by combining the bourbon, pumpkin butter, lemon juice and bitter in a cocktail shaker with some ice. Put the lid on and shake vigorously for about 15 seconds. Strain into a copper mug filled with ice and top with ginger beer. Garnish with a cinnamon stick.
You might also like...