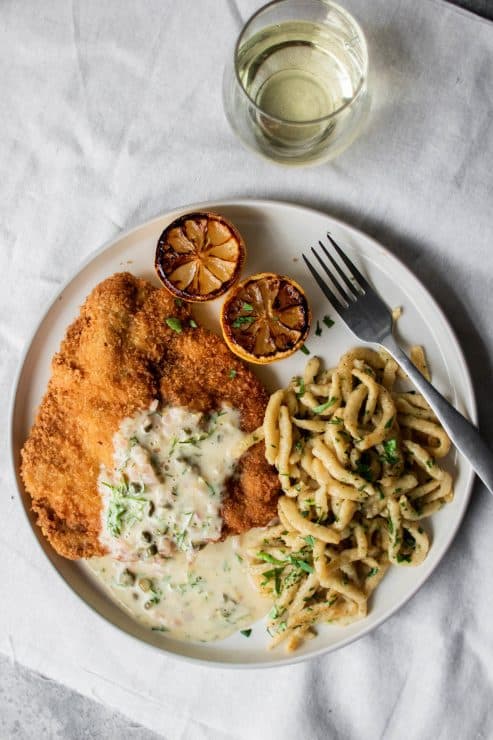 Pork Schnitzel with Spaetzle
Pork Schnitzel with Spaetzle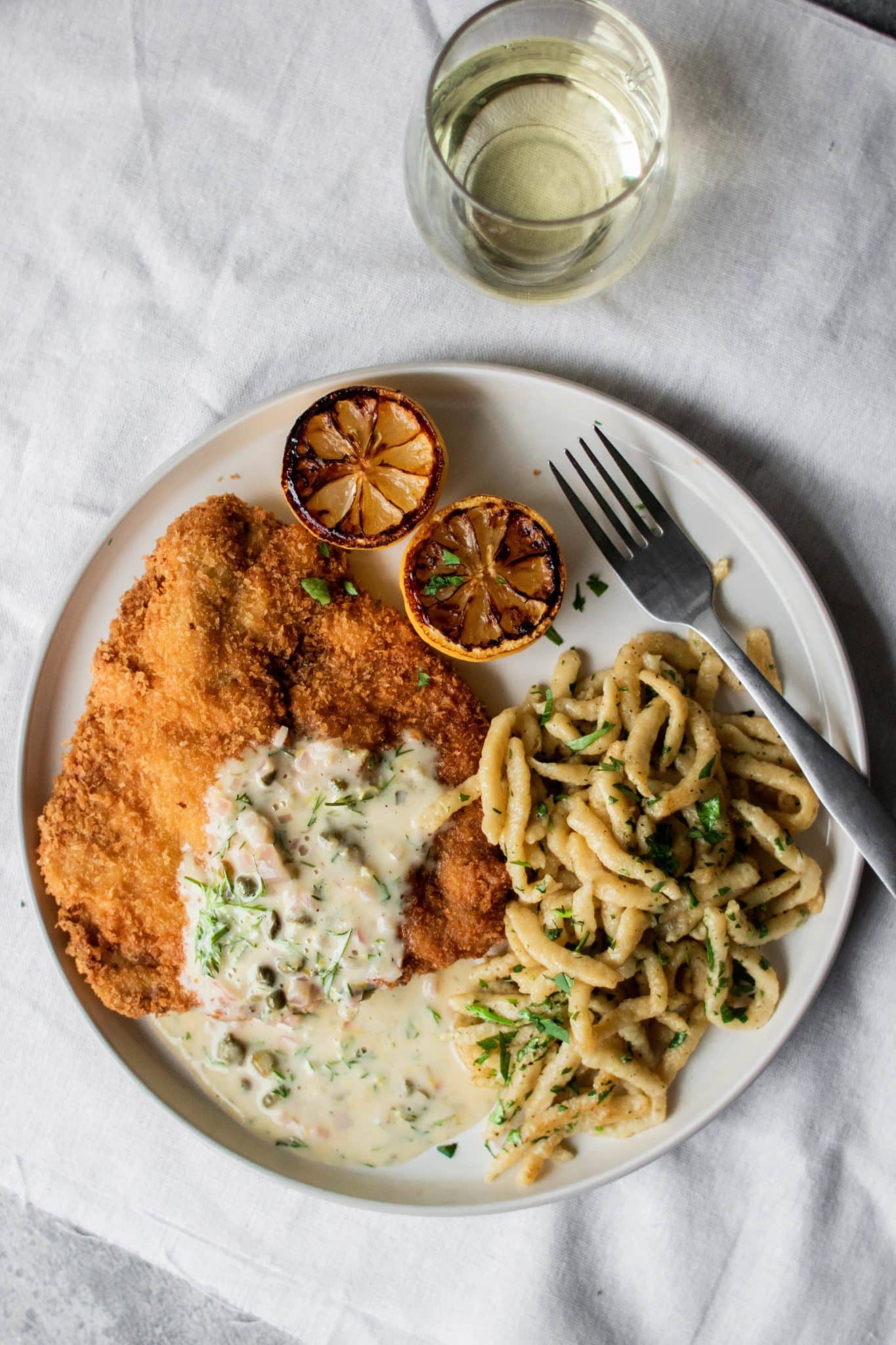 Updated 10/04/2021
Surprisingly, the best pork schnitzel or schweineschnitzel I've had was not in Germany. We were more about the pork shank or schweinshaxe in our dining endeavors. However, I had great pork schnitzel and spaetzle at a restaurant here in San Antonio called Maverick. Perfectly crispy with a tart lemon caper sauce and the schnitzel was almost the size of the plate. It was incredible and so I set out to recreate it. This is also another dish I would serve for Valentine's Day at home. It's comforting, but elegant and will be so impressive to whoever has the pleasure of dining with you.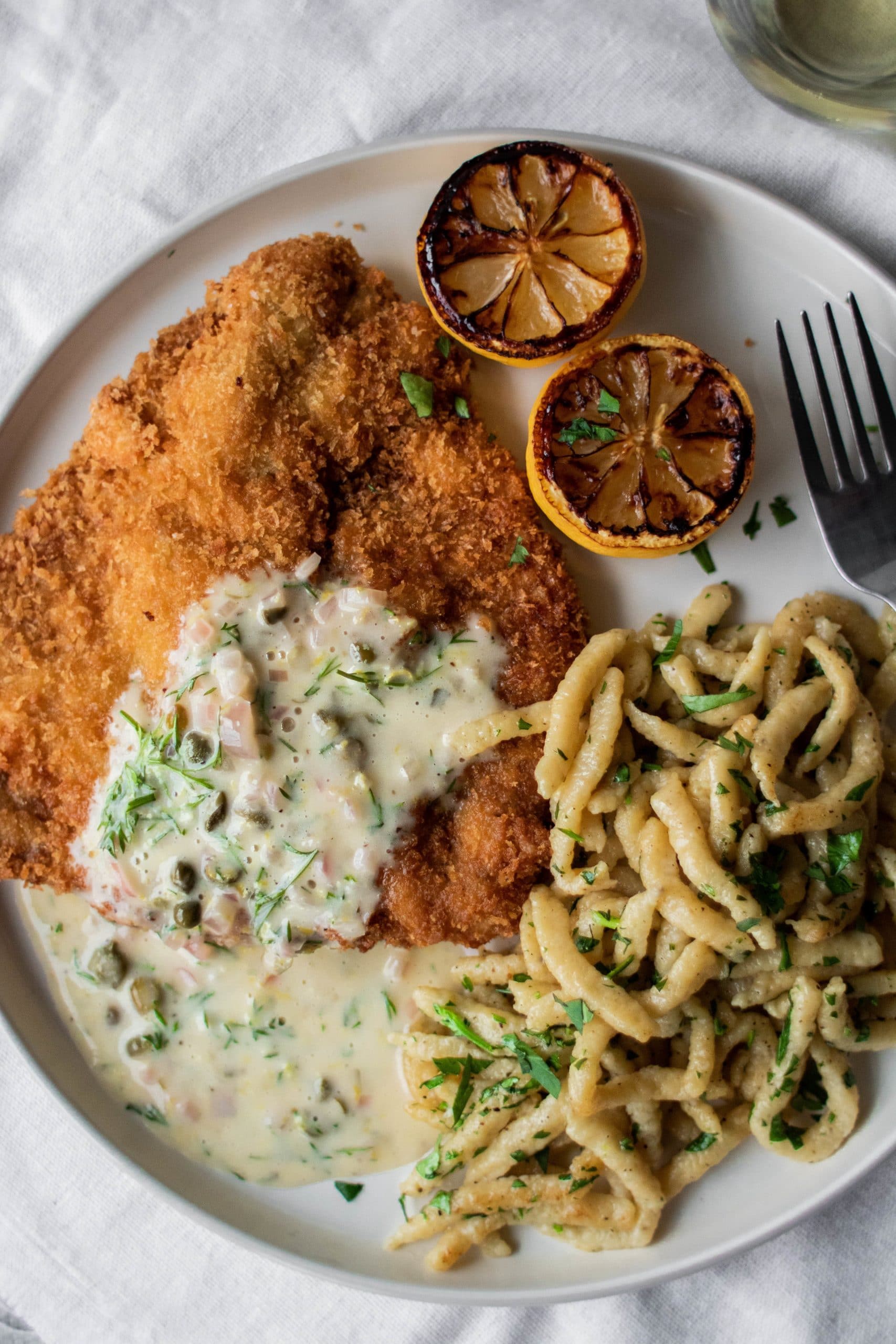 History of Pork Schnitzel
Schnitzel is a popular German (and really all over Europe) dish comprised of a breaded and fried meat cutlet. You often see it with veal or pork, but chicken is also popular and it's my preference for summer. The meat is pounded thin and breaded in a mix of breadcrumbs or panko and quickly fried. Schnitzel is popular in Germany, Austria, and Italy as well as other areas of Europe.
How to Make pork schnitzel and Spaetzle
This recipe looks like a lot of work, but I promise, it's easier than it looks and you will be so impressed with the flavors.
Tools Needed
Ingredients you'll need
Pork. I'm using a pork ribeye here because it has a little more fat and flavor. I highly recommend this cut if you haven't tried it before. You can also swap in boneless pork chops or pork loin but it will be leaner.
Breadcrumbs. Panko breadcrumbs are really the best here for crunch and texture. You can use regular unseasoned breadcrumbs if that's what you have.
Flour and eggs. Instead of dipping the cutlets into flour, egg, and then panko, I like to whisk together the eggs and flour. The breadcrumbs stick better and it's one less dish I have to dirty.
Lemon. I'm using lemon in the sauce as well as serving with lemon to squeeze on the pork. It's traditional and the acid complements the meat so well!
Dijon. Dijon is also a traditional ingredient in pork schnitzel and I'm using it in the batter for the pork before breading it.
Buttermilk. Buttermilk gives the spaetzle a nice tang, but you can use regular milk if that's what you have.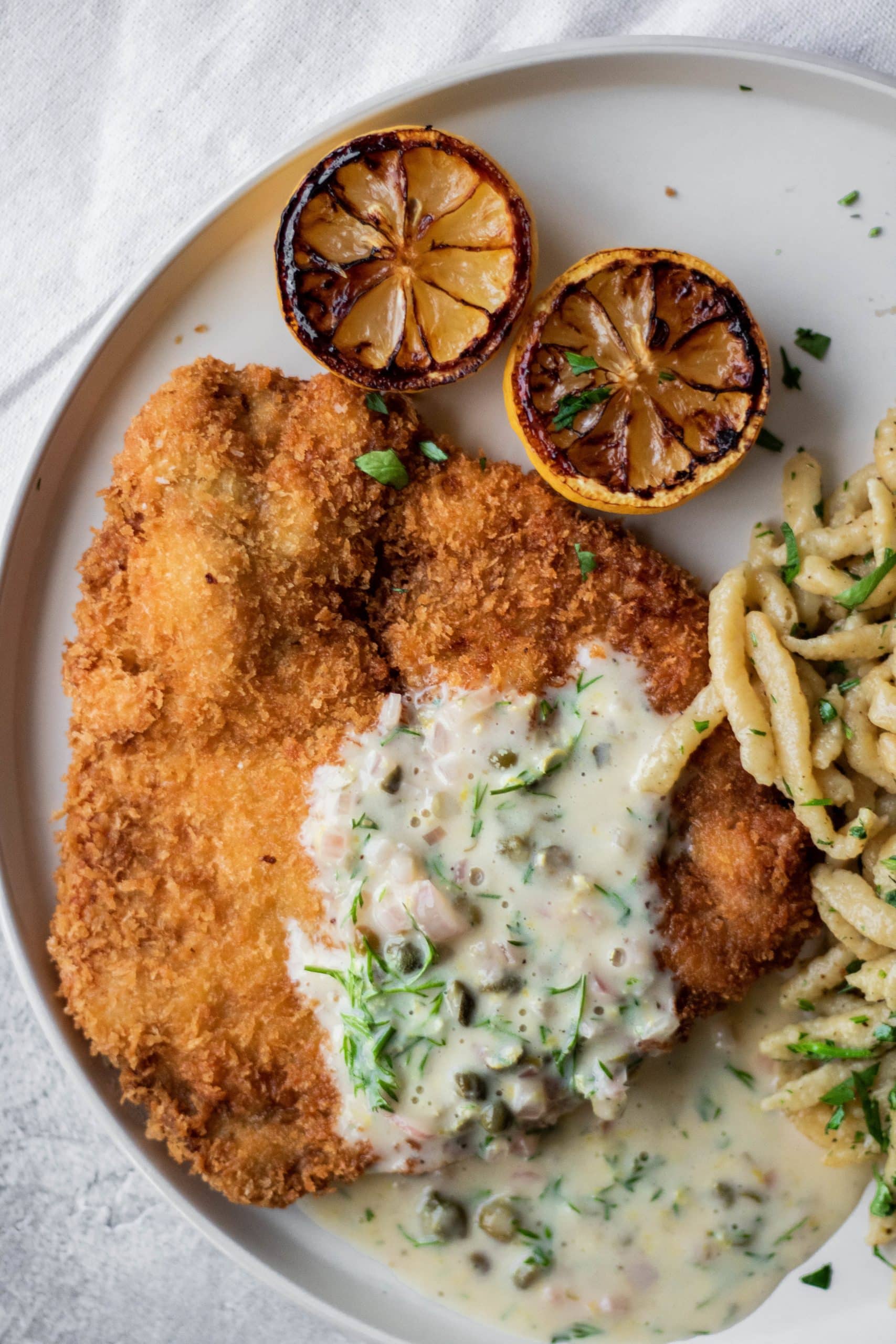 How to butterfly Pork
Butterflying pork is so easy and makes less mess than trying to pound it out. Put your pork ribeye on a clean cutting board and, with your hand flat on top of it, use a sharp knife to slice into one side of the meat. Be careful not to cut all the way through to the other side. Open the ribeye like a butterfly, you should now have one larger piece of pork that is much thinner than it was before. If you find that one side is thicker than the other, you can gently pound it out to the same thickness.
Making pork schnitzel and spaetzle ahead of time
I know this may seem like a labor-intensive meal, but here are some do-ahead tips so you can still get this on the table on a weeknight.
Freeze your breaded pork. You can easily butterfly your pork ahead of time to make the process easier. Even further than that, batter and bread your pork ahead of time and freeze them on a baking sheet lined with parchment paper. You can fry your pork from frozen, just crank the heat up to 400 degrees F and cook for a few extra minutes.
Make your spaetzle and refrigerate. Your spaetzle can be made ahead of time! Just toss with oil so that the pieces don't stick together and keep them in a large ziplock bag in the fridge. When it's time for dinner, you can melt your butter, toss the spaetzle in it and then add parsley and lemon. Boom, done!
If you're still feeling lost with the recipe, check out my Instagram highlights where I make the recipe from start to finish!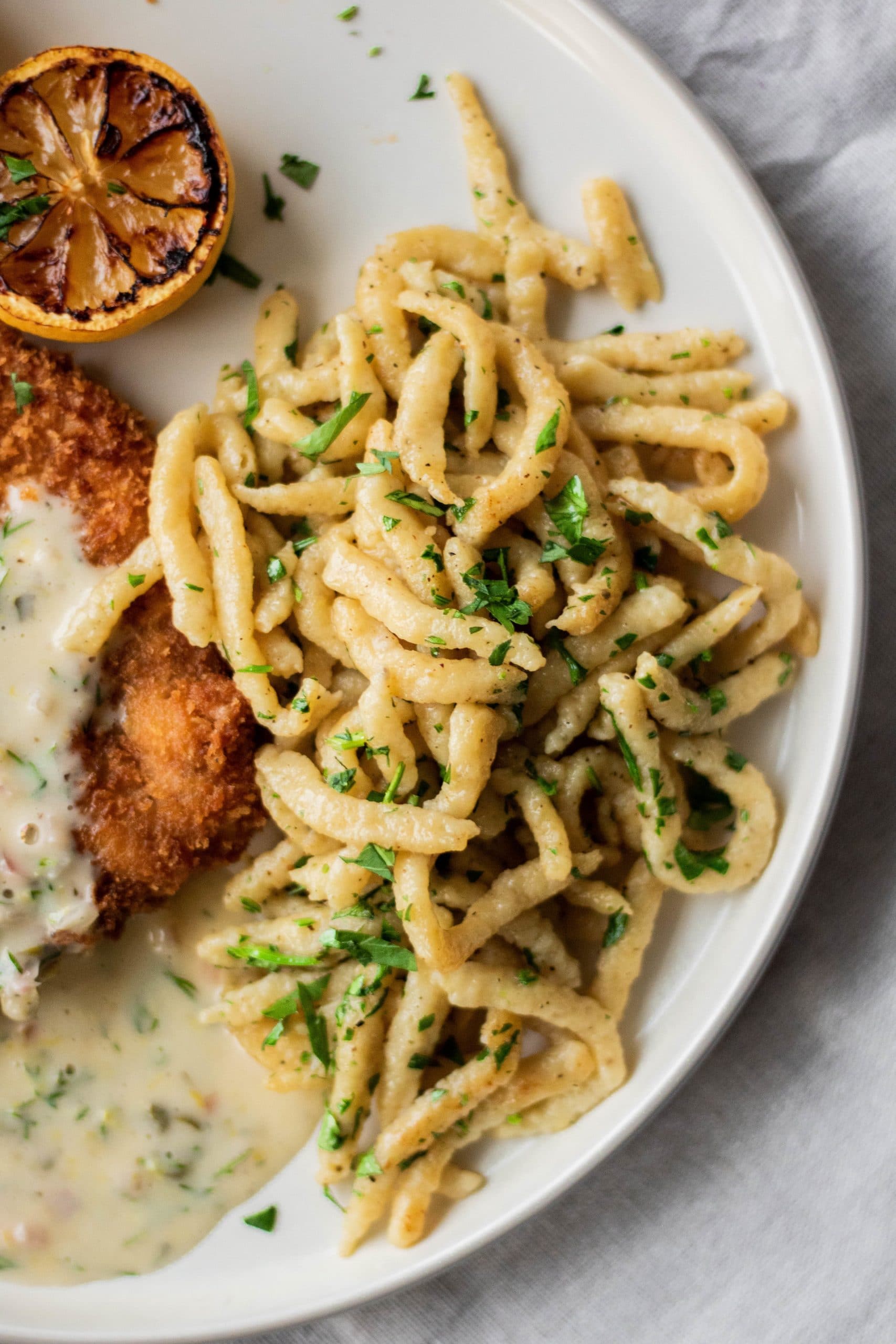 Pork Schnitzel and Spaetzle FAQs
What's the difference between schnitzel and milanese?
Schnitzel is usually made with pork or veal and Milanese is usually made with chicken. Milanese also has parmesan mixed into the breading.
Is schnitzel pork or chicken?
It can be both! I've got recipes for both and I love them equally.
OTHER RECIPES TO TRY
This post contains affiliate links from which I receive a small commission at no additional cost to you. Affiliate links allow me to keep providing great recipes for free and I never recommend products that I don't love and personally own.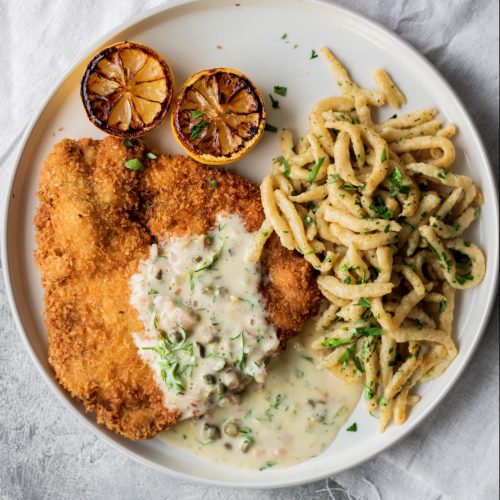 Pork Schnitzel with Spaetzle
Crispy pork schnitzel with spaetzle is the impressive dish I break out for company. It's easy to do some of the work in advance and it's always delicious!
Ingredients
Pork Schnitzel

4

pork ribeye steaks

about 1 inch thick, butterflied (see above notes)

1/2

cup

flour

2

eggs

1

tablespoon

dijon mustard

3

tablespoons

water

1

teaspoon

salt

3

cups

panko bread crumbs

Canola oil

for frying

Lemon slices

for serving

Buttermilk Spaetzle

1 1/4

cups

flour

2

eggs

1/2

cup

buttermilk

2

teaspoons

dijon mustard

1

teaspoon

salt

1/2

teaspoon

freshly ground pepper

3

tablespoons

unsalted butter

1

tablespoon

chopped parsley

Lemon

Caper and Dill Sauce

1

small shallot

minced

4

oz

1 stick unsalted butter, diced and divided

1/3

cup

dry white wine

1

lemon

zested and juiced

2

tablespoons

heavy cream

1

tablespoon

chopped capers

1

teaspoon

chopped fresh dill

Salt and freshly ground pepper
Instructions
To make the pork:  Pat the pork steaks very dry with paper towels. In a medium bowl, mix together the flour, eggs, water, Dijon, and salt until very smooth. The batter should be the texture of pancake batter. Pour the panko crumbs into a shallow pan. Season the pork steaks with salt and pepper. Dip the pork into the batter, shaking off any excess, and then coat it well in the panko crumbs. Repeat with the other three steaks.

Heat one inch of canola oil in a wide-bottomed, high-sided pot (reduces splatter, a dutch oven works well) to 360 degrees F. Fry the steaks, one or two at a time, for 3-4 minutes per side until deeply golden brown. Transfer the fried steaks to a wire rack set over a baking sheet and into a 200-degree F oven to keep them crispy (they'll stay crispy for well over an hour).

To make the spaetzle: mix the flour, eggs, buttermilk, dijon, salt, and pepper together until a thick batter forms. Transfer the batter to a piping bag or a large ziplock bag. Bring 3 quarts of water to a boil and season with 1 teaspoon of salt. Cut a small hole at the end of the piping bag and pipe small pieces into the water (about an inch and a half long). Cook for 1 minute and then transfer the spaetzle to a baking sheet coated with a little olive oil. Repeat until all the batter has been used up.

To serve the spaetzle: Melt butter in a skillet and just when the butter is turning golden brown, add the spaetzle to the pan. Cook for 1 minute per side, until slightly golden brown. Add the chopped parsley to the pan and season to taste with salt and pepper.

For the sauce: In a small saucepan, melt 1 tablespoon of butter. Add the chopped shallot and cook until soft. Add the wine and lemon juice and bring to a simmer. Simmer until most of the liquid is evaporated. Reduce the heat to very low and whisk in the remaining butter, a few cubes at a time, until smooth and melted. Remove from heat and whisk in the heavy cream, lemon zest, dill, and capers. Season to taste with salt and pepper and serve over the pork.
Notes
I know this seems like a lot of work, but the pork can be butterflied in advance and the spaetzle can be cooked in advance, just make sure to toss it with oil so that they don't stick together. Once you're ready to prepare the spaetzle, melt the butter, like the recipe says, and rewarm the spaetzle in the pan.
You can actually butterfly and bread the pork ahead of time if you freeze it on a sheet tray. It can be cooked directly from frozen, just adjust the oil temperature to 400 to compensate for the frozen pork cooling it down and maybe add an extra minute per side in cooking.
You can substitute thinly pounded out pork chops or pork loin cutlets in this recipe, or even thinly pounded chicken breast.
You can substitute regular milk for the buttermilk.
You can cut this recipe in half, for just two people instead of four.
You might also like...