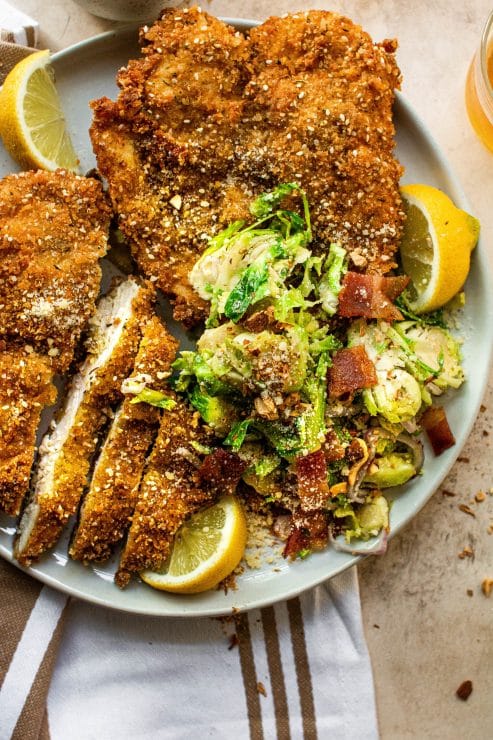 Crispy Chicken Schnitzel
Crispy Chicken Schnitzel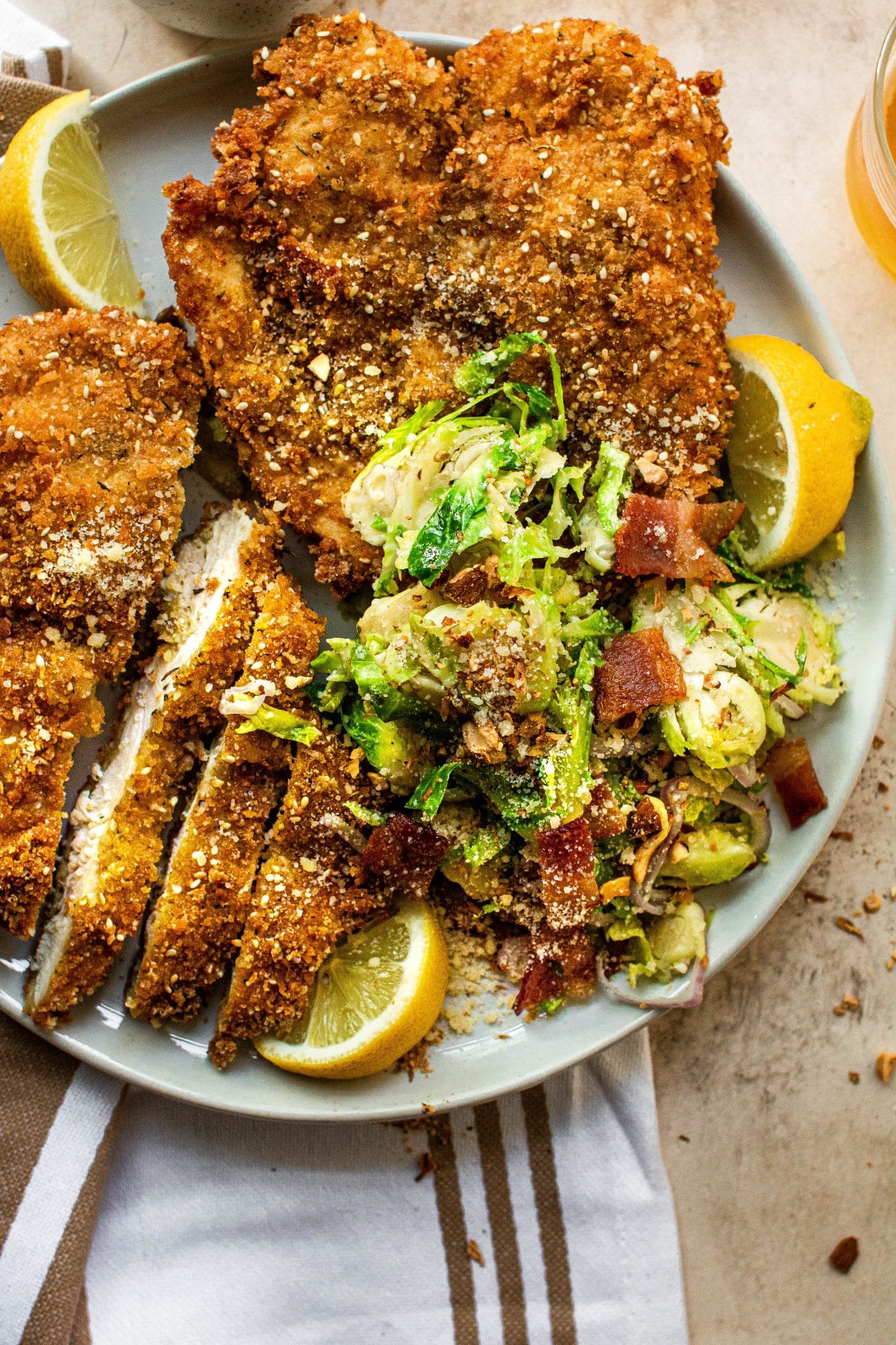 Crispy chicken schnitzel is a light and delicious dinner. Even though the chicken schnitzel is pan-fried, it's served with lots of lemon wedges and a bright brussels salad. We honestly had the best schnitzel traveling through Germany and Prague and I can't lie, this version is better! You end up with the crispiest chicken schnitzel that is still so, so juicy. It doesn't feel like a heavy meal in the slightest!
The addition of sesame seeds and za'atar to the panko coating is GAME CHANGING so don't skip it! I served the schnitzel with a lightly charred bacon and Brussels sprouts salad with lots of lemon zest and toasted almonds–that in itself is an amazing side, but it's perfect with the crispy chicken. Chicken schnitzel is summer on a plate and definitely needs a place at your table!
What is Schnitzel?
Schnitzel is a popular German (and really all over Europe) dish comprised of a breaded and fried meat cutlet. You often see it with veal or pork, but chicken is also popular and it's my preference for summer. The meat is pounded thin and breaded in a mix of breadcrumbs or panko and quickly fried.
Schnitzel doesn't take long to cook because the meat is nice and thin! If you are looking for a pork schnitzel version, check out my recipe here served with buttermilk spaetzle!
Schnitzel is traditionally served with lots of lemon and dijon–in this recipe, I incorporate the dijon in the batter and serve with lots of lemon wedges on the side.
How to keep Chicken Schnitzel Juicy
The true key to keeping our Chicken Schnitzel juicy is two things: 1) don't pound the chicken, and 2) don't overcook it! If you pound out your chicken super thin, the moisture in the meat will evaporate as it cooks. Because we are using chicken breast, it already doesn't have much fat so we really need that moisture.
The key is to use a thermometer to monitor the oil temperature–then you're guaranteed a consistent fry without overcooking!
Rather than using a mallet to pound out the chicken, I use a sharp knife to butterfly each breast. Pounding out chicken can cause the meat to tear (BAD) and makes a mess.
How to Butterfly a Chicken Breast
Butterflying a chicken breast is so easy and makes less mess than trying to pound it out. Put your chicken breast on a clean cutting board and, with your hand flat on top of it, use a sharp knife to slice into one side of the breast, starting at the thicker end and ending at the thin point.
Be careful not to cut all the way through to the other side. Open the breast like a butterfly. If you find that one side is thicker than the other, you can gently pound it out to the same thickness.
What kind of chicken is used for chicken schnitzel?
I use boneless, skinless chicken breasts. Make sure to use the best quality you can find! This recipe makes two large chicken schnitzels and can be doubled to feed a larger family.
How to prepare chicken schnitzel
As I mentioned above, the first step is to butterfly your chicken breast. Normally, schnitzel recipes require a traditional dredging process (chicken dipped in flour, egg, and then bread crumbs), but not my recipe! Instead, I whisk the flour and egg together with some dijon and Worcestershire to make a thick batter. I dip the chicken in the seasoned batter and then bread it in the panko! So much less messy and adds so much flavor!
Then, I shallow fry the chicken in a deep skillet. I prefer using a cast-iron skillet or something similar (at least 3-4 inches deep!) and I fill the pan with about 1 1/2″ of oil. Then, I bring that oil up to 350 degrees F and then fry the chicken for about 3-4 minutes per side until it's deeply golden brown. I place the chicken on a wire rack set over a baking sheet and then transfer it to a 200-degree F oven while I fry the remaining chicken. Keeping the chicken in a warm oven guarantees that it won't get cold and soggy!
Then, I serve the chicken with lots of lemon wedges for squeezing and a to-die-for bacon and Brussels sprout salad with a crisp Pilsner beer on the side. Cheers!
More Recipes to Try
This post contains affiliate links from which I receive a small commission at no additional cost to you. Affiliate links allow me to keep providing great recipes for free and I never recommend products that I don't love and personally own.
Crispy Chicken Schnitzel
Crispy chicken schnitzel is the perfect comforting and fresh chicken recipe. It's easy enough to be made on a weeknight, too!
Ingredients
Chicken schnitzel:
2

large boneless

skinless chicken breasts, butterflied to 1/2" thickness (see notes above)

1/2

cup

flour

2

eggs

1

tablespoon

dijon mustard

1

tablespoon

Worcestershire sauce

2

tablespoons

water

2 1/2

cups

panko bread crumbs

1

tablespoon

sesame seeds

2

teaspoons

za'atar seasoning

salt and pepper

canola oil

for frying

lemon wedges

for serving
Brussels Sprouts Salad:
10

oz

shaved brussels sprouts

4

pieces

cooked

crispy bacon, chopped (1 tablespoon of bacon fat reserved)

1

small shallot

thinly sliced

2

teaspoons

olive oil

1

teaspoon

lemon zest

juice of 1 lemon

1/3

cup

toasted almonds

roughly chopped

1/3

cup

freshly grated parmesan cheese

salt and pepper to taste
Instructions
To make the chicken schnitzel: Using a sharp knife, butterfly the chicken breasts. If you are unfamiliar with this technique, you'll want to cut it almost all the way in half through the middle leaving you with a larger, much thinner steak (see notes in the blog post). Pat the chicken dry with paper towels and season lightly with salt and pepper.

In a medium bowl, whisk together the flour, eggs, dijon, Worcestershire, water, 1 teaspoon of kosher salt, and 1/2 teaspoon of freshly ground pepper until smooth. In a separate, shallow dish or pie plate, combine the panko with the sesame seeds and za'atar until well-mixed.

Heat about 1 1/2 inches of canola oil in a wide-bottomed, high-sided pot (reduces splatter, a dutch oven works well, or a large cast-iron skillet) to 350 degrees F.

Dip the chicken into the batter and coat it well. Shake off any excess as you lift it from the bowl and then transfer it to the panko crumbs and coat it really well. Repeat with the second chicken breast.

One a time, gently ease the chicken into the oil and fry for 3-4 minutes per side, until deeply golden brown. Transfer to a wire rack set over a baking sheet and into a 200-degree F oven. This keeps the chicken warm and crispy while you fry the second piece.

To make the brussels sprout salad: heat a large skillet or cast-iron skillet over medium-high heat. Add the bacon fat and when the fat starts to shimmer, add the shaved brussels sprouts to the pan. Cook for about 2 minutes, stirring frequently until the sprouts are lightly charred. Transfer to a bowl and toss with the remaining ingredients. Season to taste with salt and pepper.

Serve immediately with lots of lemon wedges for squeezing.
You might also like...