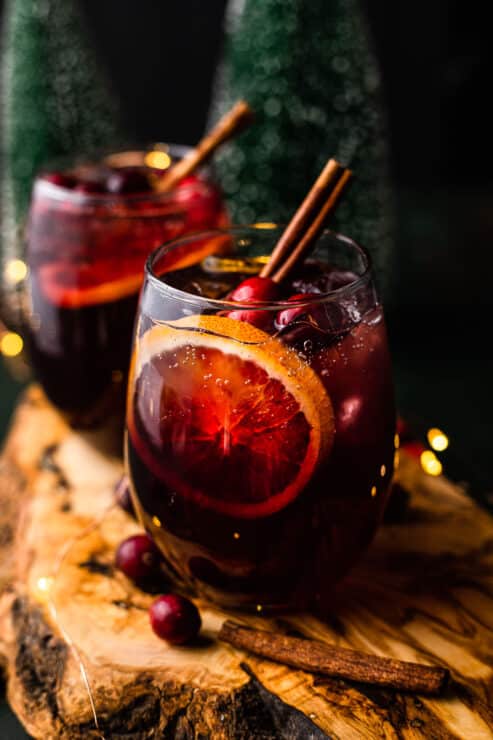 Holiday Sangria
Holiday Sangria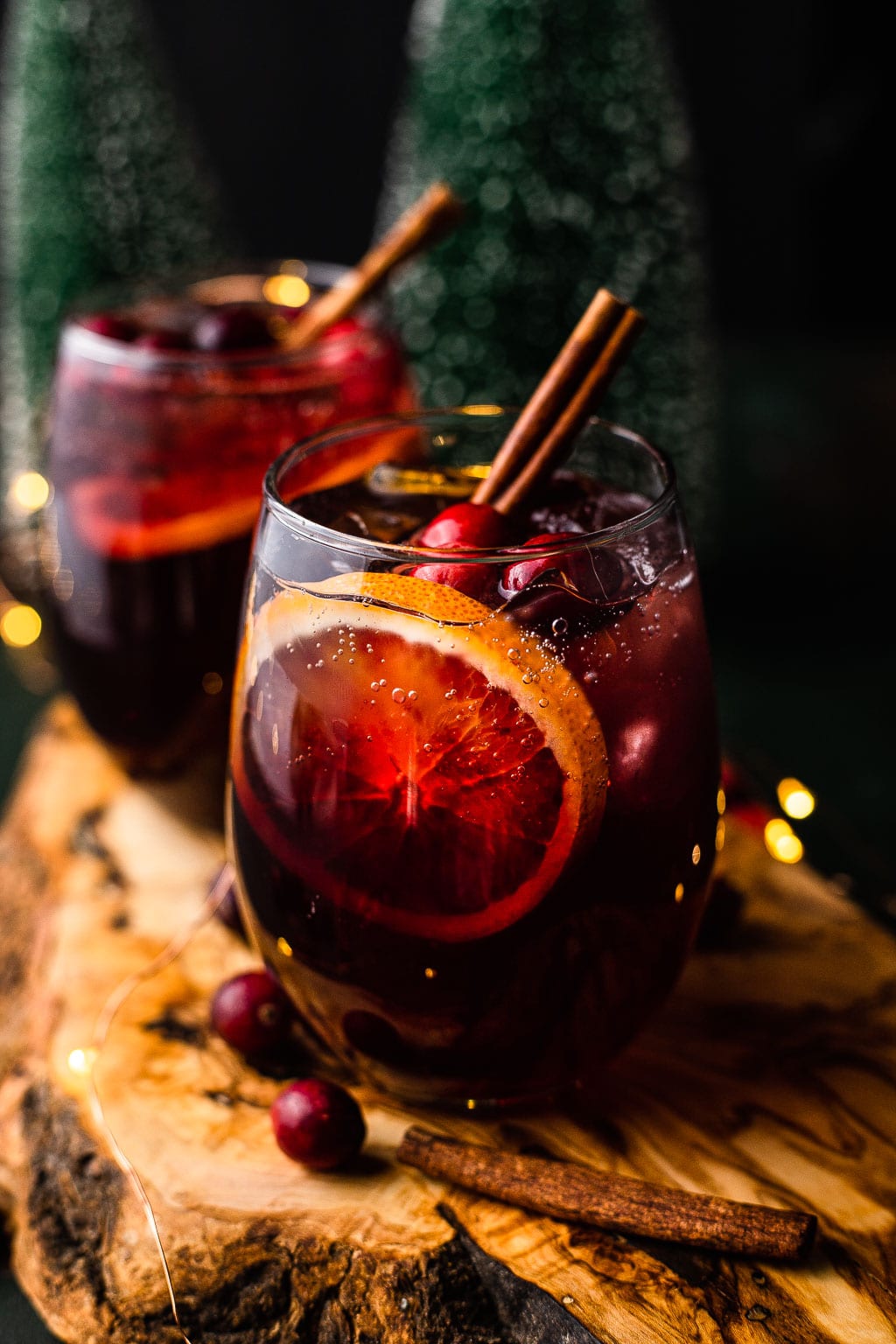 This easy Holiday Sangria recipe will be the star of any holiday party! This citrus-spiked sangria recipe is bursting with holiday flavors. I know you didn't think I'd leave you without tasty libations this year and this Holiday Sangria recipe is the ultimate sangria. This is such an easy cocktail punch to throw together ahead of time and wow all your guests when the time comes!
If you are looking for a low-effort and party-ready libation, this Holiday Sangria recipe is definitely for you!
The Ultimate Holiday Sangria Recipe
This Holiday Sangria recipe is bursting with holiday cheer! Juicy red wine spiked with apple brandy and grand marnier plus cranberry juice, fresh fruit, spices, and sparkling cider makes for the best sangria recipe ever. This recipe is so great because it's easily adaptable to your tastes!
You can make Holiday Sangria with red or white wine, different fruits, and different spirits. While I love this recipe as it is, you can adjust the recipe to accommodate what you have on hand. Sangria is best when you let it chill for 24 hours to really let the flavors meld. This means you can get your holiday libations knocked out ahead of time, making prep even easier on the big day.
You don't need any fancy cocktail equipment to make the ultimate Holiday Sangria recipe, just a sharp knife, cutting board, and a pitcher!
What is Sangria?
The earliest versions of sangria are believed to have originated more than 2,000 years ago when Romans, making their way through the Iberian Peninsula, planted vineyards along the way. And because drinking water was unsafe, it was often fortified with wine, spices, and herbs. Now, Sangria is a mixed wine punch enjoyed in Spain and Portugal.
Sangria must be made with wine and fruit. Beyond that, it's a flexible and forgiving party drink that you can really play around with! In that spirit, think of this holiday sangria recipe as a formula that you can easily adjust to suit your own tastes.
Why You'll Love this Recipe
Easy – When you're busy making a holiday feast, you want an easy cocktail that knocks it out of the park! This Holiday Sangria recipe is easy to prep in advance and will have your guests in festive spirits.
Make-ahead friendly – Sangria has the best flavor when you can make it in advance. Mix your Holiday Sangria the day before you plan to enjoy it so that all the flavors can meld. Less prep work for you on the big day is a win!
Customizable – Sangria is inherently customizable! You can swap in different fruit, wine, and spirits. Make this Holiday Sangria according to your personal tastes!
How to Make Holiday Sangria
This recipe is so easy to make, it'll be a go-to recipe for holiday gatherings.
Tools Needed
Ingredients and Substitutions
You make red wine sangria simply by combining:
Wine. Red wine sangria is the most traditional, and I love how festive it looks. Selecting a wine for your homemade holiday sangria doesn't have to be stressful, but there are a few things to keep in mind when making your selection. See below!
Fruit. Citrus fruits, particularly oranges, are traditional and ideal for a holiday sangria, since citrus season peaks in winter. I used blood orange for this Holiday Sangria recipe because it's delicious and in season! Add in some fresh or frozen cranberries and pomegranate seeds and you're in business!
Brandy or Spirit. It's the holidays—break out the booze! Brandy is a traditional sangria ingredient, and gives this sangria recipe a little extra. I used apple brandy, but you can use whatever you like! I've also made this recipe with vodka and white rum, so use whatever you have on hand.
Spices. Cinnamon is traditional and gives the sangria a holiday-like flavor. I also added some allspice berries.
Fruit juice. This Holiday Sangria recipe contains cranberry-apple juice which gives the sangria a beautiful red hue. You could swap in different juices like cherry or different cranberry juice blends.
Sugar. Simple syrup is my go-to here because it mixes easily and you don't have to dissolve it. Simply combine equal parts sugar and hot water and stir until the sugar dissolves. Store in the fridge for up to 2 weeks and use it in tons of different cocktails.
Best Wines to Use for Holiday Sangria
The most important principle of making Holiday Sangria is to only use wine that you would drink on its own! No amount of fruit, juice, and spice can cover up a wine that's not worth drinking. This doesn't mean that you've got to spend a mint, but choose something quality. Trader Joe's has excellent and diverse wines at a very affordable price point. Here are some of my favorite wines:
Red Wine: Red wine is traditional for sangria! Tempranillo is classic choice and a full-bodied red wine. If you want to go with Spanish wines, Grenache and Rioja are also great options. If you want a lighter bodied and fruiter red wine, opt for a flavorful Pinot Noir.
White/Rose Wine: While red wine is traditional, you can definitely make this Holiday Sangria with white or rose wine! If you want a lighter sangria, try a Spanish white wine like Albariño. You could also opt for a Sauvignon Blanc or a Chenin Blanc for a light and citrusy flavor. A rose would also be great, just choose your favorite!
More Festive Cocktail Recipes to Try Now
This post may contain affiliate links from which I receive a small commission at no additional cost to you. Affiliate links allow me to keep providing great recipes for free and I never recommend products that I don't love and personally own.
The Ultimate Holiday Sangria
This easy Holiday Sangria recipe will be the star of any holiday party! This citrus-spiked sangria recipe is bursting with holiday flavors.
Ingredients
1 –

750 ml Bottle Red Wine

1 1/4

cup

Apple Brandy

1/2

cup

Grand Marnier or Orange Liqueur

2 1/2

cups

Cranberry-Apple Juice

1/3

cup

Simple Syrup

2

Blood Oranges, sliced

1 1/2

cups

Fresh or Frozen Cranberries

1/2

cup

Pomegranate Seeds

3

Cinnamon Sticks

10

Allspice Berries

Sparkling Water or Cider, for topping
Instructions
Combine all the ingredients except the sparkling water/cider in a large pitcher or mason jar. Stir well to combine. Refrigerate for 24 hours.

To serve, pour the sangria into glasses over ice and top as desired with sparkling water or cider.
You might also like...