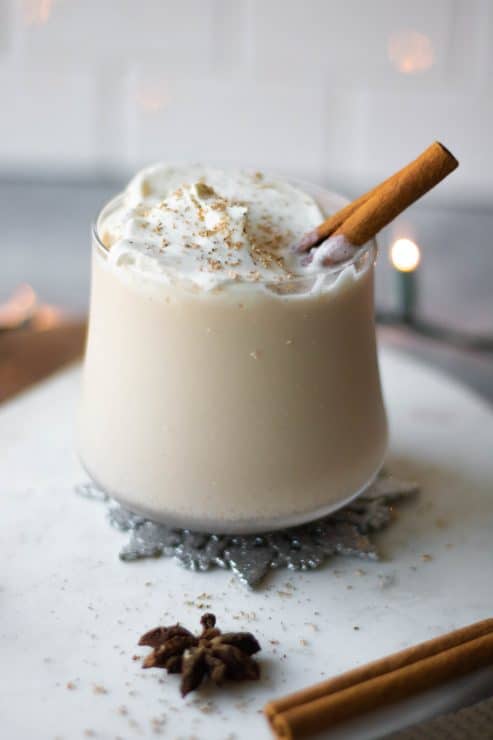 homemade boozy eggnog
homemade boozy eggnog
I have a confession. I freaking love eggnog, specifically homemade eggnog. I grew up with quarts of it in the fridge every year. I put it in my coffee. I drink it by the glass. I incorporate it into desserts. Hi, my name is Jenny and I'm an eggnogaholic (but only at Christmastime). All you eggnog haters out there, can just move along. Or maybe don't, because this recipe might just convert you. It's that good and so much better than the store bought stuff. And it's boozy. It's really hard to go wrong, here.
The traditional way of making eggnog is to blend the raw yolks with milk/cream, sugar, spices and to then fold in whipped egg whites to help thicken the nog. The booze is what keeps the bacteria at bay in raw eggnogs. I really don't have a problem consuming raw eggs. Truth be told, most eggs are pasteurized anyway. But for the sake of making the recipe inclusive, I've decided to gently cook the eggnog so that it's safe for everyone.
This way, if alcohol isn't your thing, you can still enjoy sans booze. Making homemade boozy eggnog really brings out the best, freshest flavors possible. Especially since the recipe calls for fresh nutmeg and cinnamon and vanilla bean or paste. You won't ever want to go back to store bought after you taste this version!
Products I used in this recipe:
homemade boozy eggnog
If you love store bought eggnog, you will love this homemade version!
Ingredients
3

cups

whole milk

1 1/2

cups

heavy cream

2

cinnamon sticks

1/4

teaspoon

ground cinnamon

1/4

teaspoon

ground cloves

2

star anise

2

teaspoons

vanilla bean paste

or 2 vanilla beans

1/2

nutmeg

freshly grated, plus more for topping

3/4

cup

sugar

8

egg yolks

1

cup

brandy

1/4

cup

dark rum

Whipped Cream

1

cup

heavy cream

1 1/2

tablespoons

powdered sugar

1/4

teaspoon

vanilla bean paste or extract
Instructions
In a medium saucepan, combine the milk, cream, vanilla paste or beans, cinnamon sticks, cinnamon, cloves, anise and half of the ground nutmeg. Bring to a gentle simmer, remove from the heat, and allow to steep for 30 minutes.

After 30 minutes, warm the milk mixture back up over medium heat. In a separate bowl, whisk together egg yolks and sugar until thick and pale yellow in color.

Ladle a small amount of the warm milk into the egg yolks and sugar while whisking constantly. Repeat 3-4 times until the egg mixture is warm. The goal is to temper the eggs so that they don't scramble when they're added to the remaining milk. Whisk the egg mixture into the remaining milk while whisking constantly. Cook for 4-5 minutes over medium heat while whisking constantly until the eggnog has barely thickened. Remove from the heat, whisk in the brandy, rum and remaining nutmeg. Strain through a fine mesh strainer into a heat proof container and transfer to the fridge until cold. The eggnog gets better with age, so it's best served the next day.

To make the whipped cream: whisk cream with powdered sugar and vanilla until thick. Top eggnog with whipped cream and more freshly grated nutmeg.
You might also like...