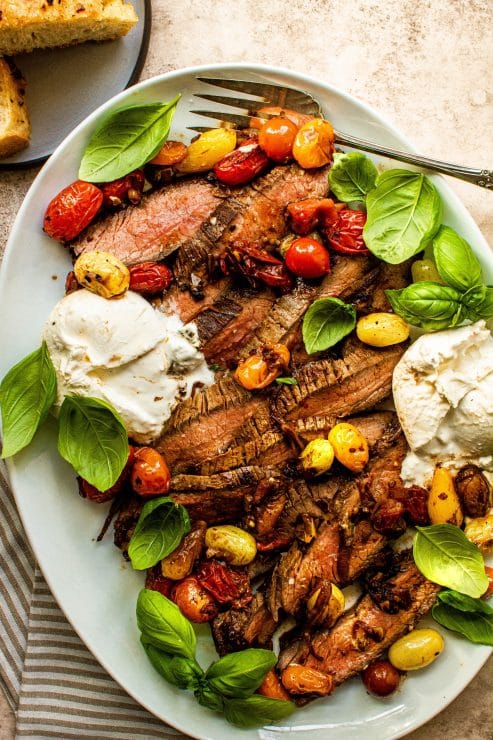 Flank Steak with Burrata
Flank Steak with Burrata
Is there anything more perfect than a medium-rare slab of steak in the summer? Actually, there is. Flank steak with burrata and burst tomatoes will be your new summer go-to recipe!
Quickly marinate flank steak in olive oil, Calabrian chilies, and Worcestershire sauce, then sear in a hot pan until perfectly cooked. While the steak rests, tomatoes, shallots, and garlic get blistered in the same skillet. Slice the flank steak and top with the blistered tomatoes, flaky sea salt, burrata, and fresh basil. Serve flank steak with burrata as a serious flex–it's the easiest and most impressive summer meal, ever.
Flank steak vs Skirt steak
I love a good skirt steak, but there's something so impressive about a nice piece of flank steak. Both are relatively lean cuts of beef, both are great on the grill (or seared in a hot skillet). So, what's the difference? Well, skirt steak is quite a bit thinner than flank steak and they come from different parts of the cow.
Skirt steak comes from near the diaphragm, right under the ribs; Flank steak comes from the very back of the abdominal muscles of the cow. Flank steak is a bit more expensive, so skirt steak can be a great budget-friendly substitute.
Why is Flank Steak Expensive?
There's a preconceived notion about flank steak being expensive, but it's actually really affordable! People usually overlook flank steak in favor of ribeyes and NY strips, but flank steak is a fantastic and flavorful cut. Flank steak is more expensive than skirt steak because its the go-to cut for restaurants for fajitas. That being said, flank steak will never run you more than $11/lb and you can find a great deal on steak at places like Costco.
Making Perfectly Tender Steak
Although flank steak is known for being a somewhat tough cut, it's easy to achieve a tender steak. The key to tender flank steak lies in a couple of easy steps. Follow these tips and you'll have tender flank steak every single time.
Ingredients for cooking flank steak with burrata
What is burrata?
Burrata is an Italian cheese made from mozzarella and cream. The outer casing is solid while the inside contains stracciatella and cream. Burrata is soft in texture and so flavorful. Serve it with crusty bread and olive oil for a simple appetizer. Burrata pairs so well with steak because it balances out the fat and meatiness, so good!
How to cook flank steak
Whether you're grilling or searing, cooking flank steak is a simple affair!
Pat the steak dry and season it well with kosher salt and freshly cracked pepper.
Whisk together the marinade ingredients–olive oil, Worcestershire, Calabrian chilies, red wine vinegar. Coat the steak in the marinade and place it in a zip-top bag. Marinate at room temperature for 30 minutes.
Preheat your grill or cast iron over high heat. You want it hot, HOT. Remove the steak from the marinade and throw it on your hot grill or in your cast iron pan. Grill/sear for 2-3 minutes on each side without moving it (we want that crust!). Flank steak cooks quickly, so don't go much longer than that.
Transfer the flank steak to a plate and loosely tent with foil. Rest for 10 minutes before slicing.
Recipes to Serve with Flank Steak and Burrata
More Steak Recipes to Try
This post contains affiliate links from which I receive a small commission at no additional cost to you. Affiliate links allow me to keep providing great recipes for free and I never recommend products that I don't love and personally own.
Flank Steak with Burrata
This is my favorite flank steak recipe ever. Tender, marinated flank steak topped with burst cherry tomatoes, burrata, and fresh basil--so stunning!
Ingredients
2

lbs

flank steak

kosher salt

freshly cracked pepper

olive oil

1

tablespoon

chopped Calabrian chilies

1

tablespoon

Worcestershire sauce

2

tablespoons

red wine vinegar

1

shallot

thinly sliced

3

garlic cloves

thinly sliced

1

pint

ripe cherry tomatoes

4

oz

burrata

fresh basil leaves

flaky sea salt
Instructions
Pat your flank steak dry with a paper towel and season with kosher salt and freshly cracked pepper on both sides.

Whisk together 2 tablespoons of olive oil, the Calabrian chilies, Worcestershire sauce, and red wine vinegar. Coat the steak in the marinade and transfer it to a zip-top bag. Marinate at room temperature for 30 minutes.

Heat a cast-iron skillet over medium-high heat. Once the skillet is hot, sear the steak for 2-3 minutes per side without moving (we want that crust!). For medium-rare, the temperature should read between 130-135 on an instant-read thermometer. Transfer the steak to a place and loosely tent with foil. Rest for 10 minutes.

While the steak rests, lower the heat on your cast iron skillet to medium. Add 2 tablespoons of olive oil to the skillet and add the tomatoes and sliced shallot. Cook for 2-3 minutes, stirring frequently, until the tomatoes start to burst. Add the garlic to the skillet and season with salt and pepper. Cook for 2-3 more minutes until the shallots and garlic are soft and the tomatoes are blistered.

Slice steak against the grain and transfer to a serving platter. Sprinkle with flaky sea salt and top with the blistered tomatoes. Top with torn burrata and fresh basil leaves. Serve immediately.
You might also like...