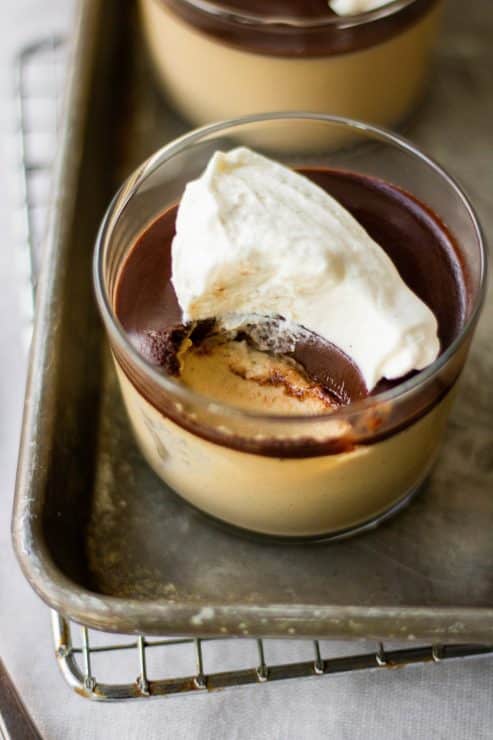 Coffee Panna Cotta
Coffee Panna Cotta
Get your coffee fix in dessert form with this easy, dreamy coffee panna cotta. Panna cotta is a rich and creamy dessert that feels impressive, but is actually so simple to make!
You don't know this about me (but you've probably guessed), but I love to entertain. We didn't do it much growing up, but as soon as I got to college my roommates and I, with our neighbors, would have weekly dinners in a potluck sort of fashion.
Since then I have always loved welcoming friends and family into my home for a meal. I'm always looking for new ideas to roll out when we have company. I love a dessert that I can make ahead and serve as an individual portion and this coffee panna cotta is perfect. It saves me time and keeps me from having to run around and serve folks, which means more time for conversation and laughs.
My Favorite Dessert for Entertaining
If you're looking for a dessert that packs a ton of flavor, but is light and delicate, you're right where you need to be. This coffee panna cotta feels delicate, but it's bursting with espresso and chocolate flavors topped with the best mascarpone whipped cream.
Any dessert that I can prep ahead of time is a win in my book! Panna cotta needs time to chill and set up, making it perfect for a party dessert. It's a low-stress dessert that you'll turn to again and again.
Panna cotta is one of those desserts that's light and refreshing, just what you'll crave after a heavy meal. This no-bake dessert is perfect to make the day before a fancy meal, since it needs several hours to set in the refrigerator.
What is Panna Cotta?
The best way to describe panna cotta would be to say that it's a lightly sweetened milk custard set with gelatin. Imagine a mix between pudding or cheesecake and jello. This coffee panna cotta is closer to a budino (Italian pudding) thanks to the egg yolks in the custard. It's so much creamier and richer than your classic panna cotta.
The trick to perfect panna cotta is to use the right amount of gelatin! If you use too much gelatin, the texture is too firm and not creamy enough. The gelatin is just enough to set the custard making it easy to slice.
Panna cotta originates in Italy and is a classic Italian dessert enjoyed all year round. While this dessert may seem fancy, it couldn't be easier to make!
How to Make Coffee Panna Cotta
You don't need any fancy tools or equipment to make this coffee panna cotta–you're going to love its simplicity.
Tools Needed
Ingredients and Substitutions
Half and half/ heavy cream. The combo of half and half and heavy cream makes this panna cotta so rich. You could use all half and half to make it a bit lighter.
Egg yolks. Egg yolks make this dessert rich and creamy.
Sugar. I love the mix of white and brown sugar, but you could use all white or all brown.
Gelatin. Gelatin sets the texture of the panna cotta, there isn't really a substitution here. I opt for powdered gelatin because it's easy to find.
Espresso powder. You can swap in high-quality instant coffee, but use 2 tablespoons instead of 1.
Vanilla bean paste. Vanilla bean paste has real vanilla bean seeds and gives a ton of flavor, but you can swap vanilla extract if that's what you have.
Semi-sweet chocolate. You can also use bittersweet here–the chocolate helps balance out the rich flavor of the coffee panna cotta. Don't go with chocolate chips, opt for bars that you chop by hand.
Butter. A bit of butter in the ganache makes it so smooth.
Mascarpone. I love folding in a bit of mascarpone into whipped cream for extra elegance.
The Process
Step one: Combine the half & half, heavy cream, espresso powder, and vanilla bean paste in a saucepan over low heat. Bring to a very gentle simmer while stirring often.
Step two: Whisk together the egg yolks and both sugars in a mixing bowl until they're pale in color and doubled in volume.
Step three: In a small bowl, sprinkle the gelatin over 1/4 cup of cold water and let it sit for about 5 minutes.
Step four: While the gelatin is blooming, whisk some of the warm cream into the egg and sugar mixture while whisking. This is called tempering and it brings the eggs up to a working temperature so they don't scramble. Pour the egg mixture back into the cream mixture on the stove while whisking.
Step five: Continue to cook over low heat while whisking, until the mixture is slightly thickened, about 5 min. Pour the custard through a fine mesh strainer into a large measuring cup. Whisk in the bloomed gelatin until smooth and then divide the panna cotta between glasses. Refrigerate for at least 4 hours, up to 24 hours.
Step six: Make the ganache and whipped cream. Cool the ganache slightly and then pour over the coffee panna cottas. Refrigerate for another hour. Top with the whipped cream before serving.
Making Coffee Ganache Ahead of Time
I love this dessert because it's so easy to make ahead of time. You can make the coffee panna cotta up to 3 days in advance. Just keep them covered in the fridge.
You can top the coffee panna cotta with ganache up to 24 hours in advance. If you top them with ganache any earlier, the chocolate starts to weep.
Top with the whipped cream right before serving.
More Dessert Recipes to Try Now
This post contains affiliate links from which I receive a small commission at no additional cost to you. Affiliate links allow me to keep providing great recipes for free and I never recommend products that I don't love and personally own.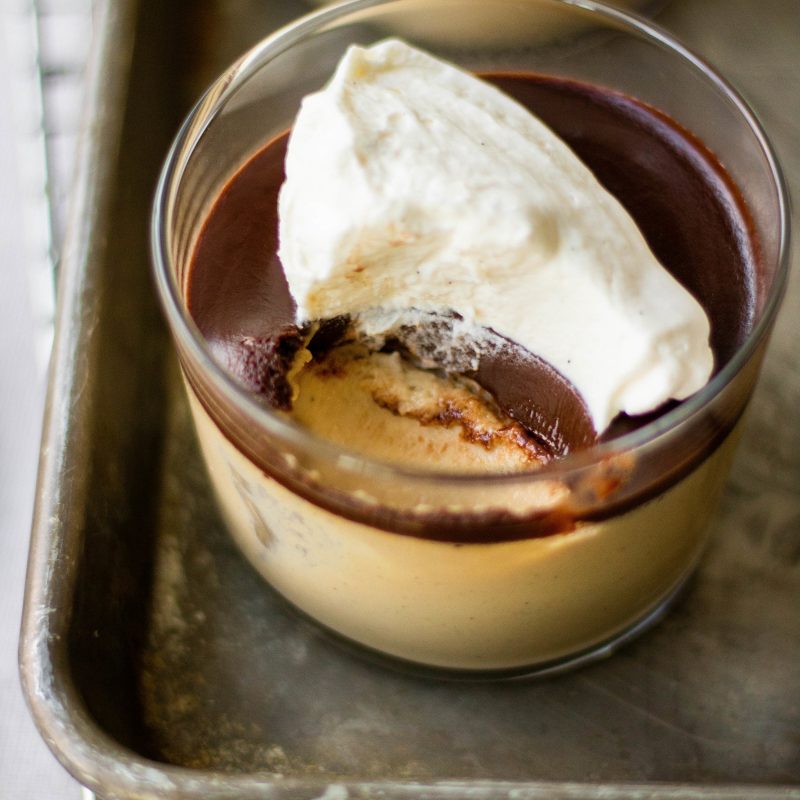 coffee panna cotta
This is such an elegant individual dessert, but so easy to make!
Ingredients
Panna Cotta
1 1/2

cups

heavy cream

2

cups

half & half

2

tablespoons

espresso powder

2/3

cup

granulated sugar

1/4

cup

brown sugar

4

egg yolks

1

teaspoon

vanilla bean paste

1

packet gelatin powder
Ganache
2

oz

semi-sweet chocolate

chopped

1/2

cup

heavy cream

1

teaspoon

vanilla extract

2

tablespoons

unsalted butter

1/4

teaspoon

kosher salt
Mascarpone Whipped Cream
1/2

cup

cold heavy cream

3

tablespoons

mascarpone

at room temp

1

tablespoon

powdered sugar

1/2

teaspoon

vanilla bean paste
Instructions
To make the panna cotta: combine the heavy cream, half & half, vanilla bean paste and espresso powder in a medium saucepan over low heat and bring to a gentle simmer.

In a separate bowl, whisk together the egg yolks and both sugars until pale in color. In another small bowl, pour the packet of gelatin over 1/4 cup cold water and allow to sit.

While whisking the eggs, pour some of the warm heavy cream mixture to bring the eggs up to a working temperature. Continue to whisk more of the warm cream into the eggs until the sugar is dissolved. While whisking, whisk the egg mixture back into the heavy cream on the stove. Cook over medium heat while whisking constantly until the mixture has just thickened slightly.

Remove from the heat and strain through a fine mesh strainer into a large measuring cup. Whisk in the bloomed gelatin until smooth. Pour into individual cups or ramekins (mine were 7oz cups) leaving a little room at the top for the ganache. Chill for 4 hours or overnight.

To make the ganache: add the chocolate and heavy cream to a small saucepan over medium-low heat. Whisk until the chocolate is melted and warm. Remove from the heat and whisk in the butter, vanilla and salt. Allow to cool slightly. Transfer to a piping bag or a heavy duty ziplock bag and cut a small hole in the tip or corner. Top each panna cotta with a layer of ganache and return to the fridge for 10 minutes to set.

To make the mascarpone whipped cream: In a medium mixing bowl, whisk the cream vigorously until slightly thickened. Add the mascarpone, powdered sugar and vanilla and whisk until soft peaks form. Top the panna cottas with whipped cream and serve.
You might also like...