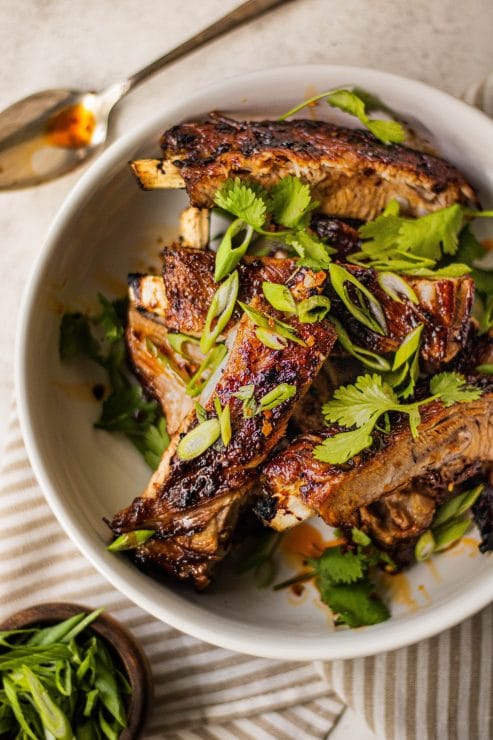 Instant Pot Asian Sticky Ribs
Instant Pot Asian Sticky Ribs
These Instant Pot Asian sticky ribs are a new favorite in our house. They're fall-apart tender and come together so quickly thanks to the Instant Pot.
And the glaze is so perfectly spicy, sweet and salty that I want to put it on absolutely everything. The good new is: you can! It's great on grilled chicken, pork or beef. I honestly adore this recipe, and I hope you love it too!
Ingredients in Asian Sticky Ribs
If you're unfamiliar with some of these ingredients, most can be readily found at well-stocked supermarkets or your local Asian market.
Fish sauce: made from fish or krill that have been coated in salt and fermented for 2 years. I love the salty/umami flavor that fish sauce adds to this dish without tasting "fishy". Fish sauce has become much more popular over the years as fusion cuisine has gained traction and can be found at most well-stocked grocery stores.
Sambal: Sambal is an Indonesian chili sauce made with garlic, ginger, shrimp paste, and scallion that is so great in marinades and sauces.
St. Louis Ribs: If you're familiar with baby back ribs, St. Louis ribs are their meatier relative. They are flatter, making them easier to brown, and have a little more fat which means more flavor. Plus, they're cheaper and have more meat on the bones. Stop with the baby back, and get on the St. Louis train!
Hoisin sauce: A thick, sweet and salty sauce often used in Chinese cuisine. It's a great base for glazes and marinades since it's very thick.
Tools Needed
How to prepare Instant Pot Asian Sticky Ribs
Normally, ribs can be a little tough and require long periods of cooking to make them tender. No more! These ribs are steamed for a bit in the instant pot, and then finished on the grill or under the broiler to really bake the glaze into the meat.
The trick to creating even more flavor while in the instant pot is to use a bit of beer in the bottom. You could alternately use water, but it won't add any flavor. If you don't want to use beer, use some flavorful chicken stock! You'll place the trivet in the bottom of the instant pot, add about 12 oz of beer in, and then place the ribs in the pot upright, wrapping them in a circle. They'll cook for about 30 minutes with an instant pressure release after 5 minutes, and then they're laid flat on a baking sheet.
Once they're on the baking sheet, the ribs get brushed liberally with the glaze and then they're finished under the broiler or on the grill (my preferred method) and then topped with sliced green onions and chili oil. This recipe honestly couldn't be easier and you are going to be blown away by how flavorful and tender they are!
More Recipes to Try
This post contains affiliate links from which I receive a small commission at no additional cost to you. Affiliate links allow me to keep providing great recipes for free and I never recommend products that I don't love and personally own.
Instant Pot Asian Sticky Ribs
These Instant Pot Asian sticky ribs are fall-apart tender with a totally addictive sauce!
Ingredients
Ribs:
4

lbs.

St. Louis style spare ribs

2

tablespoons

brown sugar

1

tablespoon

sambal paste

1

tablespoon

hoisin sauce

1

teaspoon

ground ginger powder

1

teaspoon

dried garlic

2

teaspoons

fish sauce

1

teaspoon

sesame oil

1

teaspoon

kosher salt

12

oz

malty beer

something that is not hoppy
Glaze:
1/2

cup

soy sauce

1/4

cup

water

1

tablespoon

fish sauce

3

tablespoons

brown sugar

2

teaspoons

freshly grated ginger

1

tablespoon

sambal paste

3

garlic cloves

finely minced

Juice of 1 lime

Green onions

sliced (for serving)

Chili oil

optional (for serving)
Instructions
In a small bowl, mix together the marinade ingredients minus the beer. It should feel like a thick paste.

Remove the membrane from the underside of the ribs, pulling it down the entire length. Season ribs with marinade paste, rubbing in thoroughly on both sides. Transfer the ribs to a baking sheet and allow them to sit at room temperature for 30 minutes.

To make the glaze: place all the ingredients in a small saucepan and bring to a gentle simmer, stirring often. Allow the glaze to reduce until thick and syrupy. Cool to room temperature and set aside until ready to use.

Add the beer to a

6-qt Instant Pot®

. Place metal trivet into the pot. Place ribs upright on top of the trivet, wrapping in a circle.

Select manual setting; adjust pressure to high, and set time for 30 minutes. When finished cooking, wait 5 minutes and then quick-release pressure according to manufacturer's directions.

Remove the ribs from the instant pot and lay them flat on a baking sheet. Brush them liberally on both sides with the glaze.

Preheat an outdoor grill or your oven's broiler to high.

Place the ribs on the grill, meat side down, and grill for 3 minutes per side, brushing with more glaze as needed. If you are broiling, make sure the ribs are meat side up on the baking sheet and broil for 4-6 minutes until caramelized and browned.

Serve immediately topped with green onions and chili oil, if desired.
You might also like...