Grilled Lemongrass Chicken
Grilled Lemongrass Chicken
Lemongrass grilled chicken is one of my new favorite meals–it's quick, flavorful, and light. Perfect for nights spent grilling! Don't forget to serve it alongside steamed rice with some butter lettuce leaves and ALL the fresh herbs for a meal that's going to make it into your regular rotation.
What is Lemongrass?
Cymbopogon, or lemongrass, is a genus of Asian, African, Australian, and tropical island plants in the grass family. The lemongrass grown in Southeast Asia is most suitable for cooking and has lots of health benefits like reduction of inflammation and antibacterial properties.
It's most often found in Thai cuisine and lends a citrus-zing to many recipes. I used fresh lemongrass in the chicken marinade which results in fresh and flavorful chicken.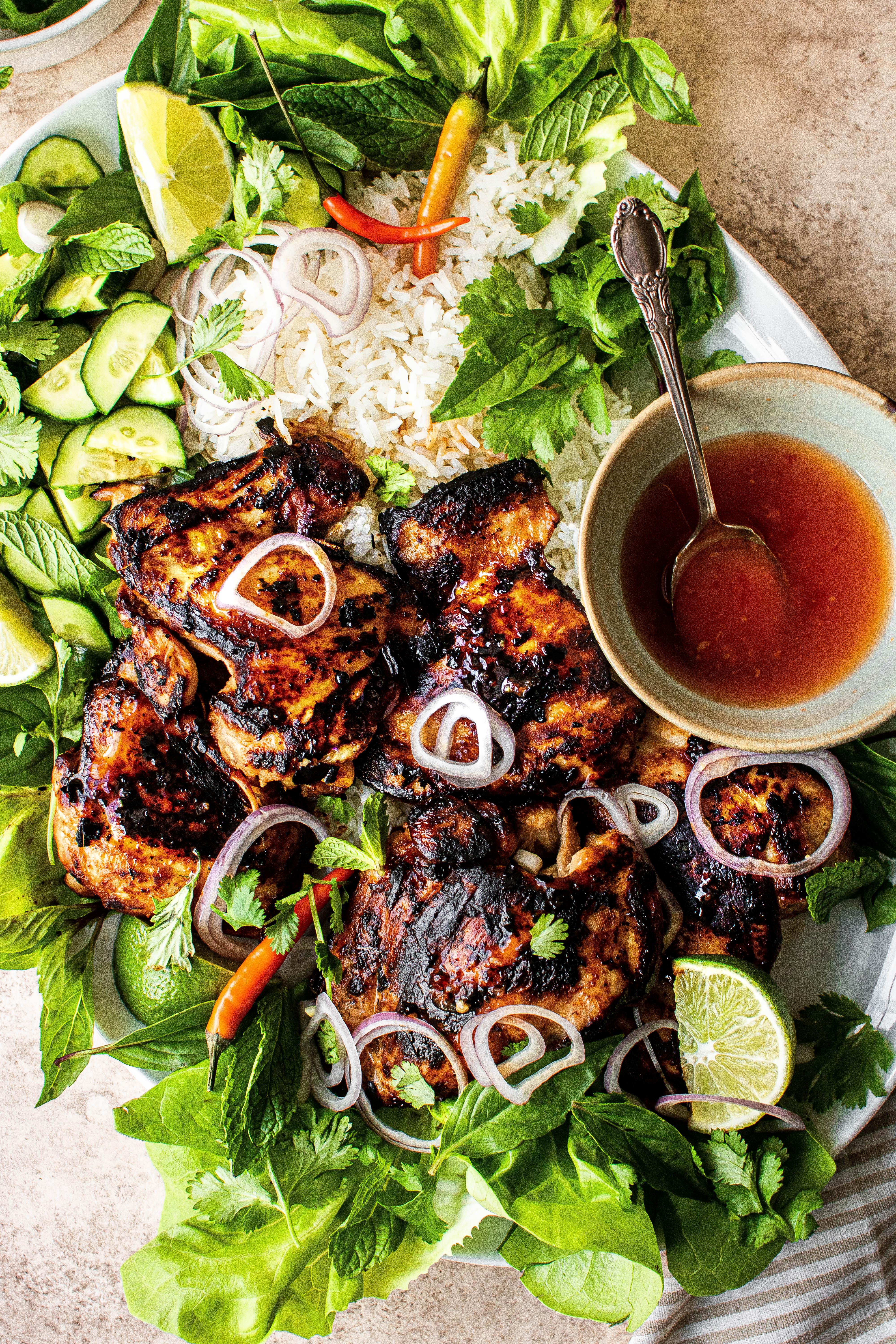 What does Lemongrass taste like?
Lemongrass has a flavor somewhere between lemon and ginger and adds so much freshness to so many dishes and recipes. It has the same essential oil as lemons and is often used in herbal teas to give a lemon flavor. Fresh lemongrass can have floral and minty notes as well.
How to cook with lemongrass
To use fresh lemongrass in your cooking, always cut off the lower bulb and remove tough outer leaves. The main stalk (the yellow section) is what is used in Thai cooking. From here, you can cut it into inch-long sections and smash the pieces to add to sauces or soups.
Try this with my Tom Kha Gai soup! In this instance, I added chopped pieces of lemongrass to the blender with the marinade ingredients for a smooth sauce. Lemongrass is extremely fibrous and stringy, so be sure to keep the pieces small if it's staying in the finished dish, or easy to fish out of a soup or curry!
Where to buy lemongrass
Lemongrass grilled chicken obviously requires lemongrass, so where can you find it? Just about every Asian market with a produce section will have lemongrass readily available.
Some well-stocked grocery stores will also have it near the fresh herbs. It's a bit hard to find in San Antonio, so I stock up on lemongrass when I can find it and then freeze it until it's needed.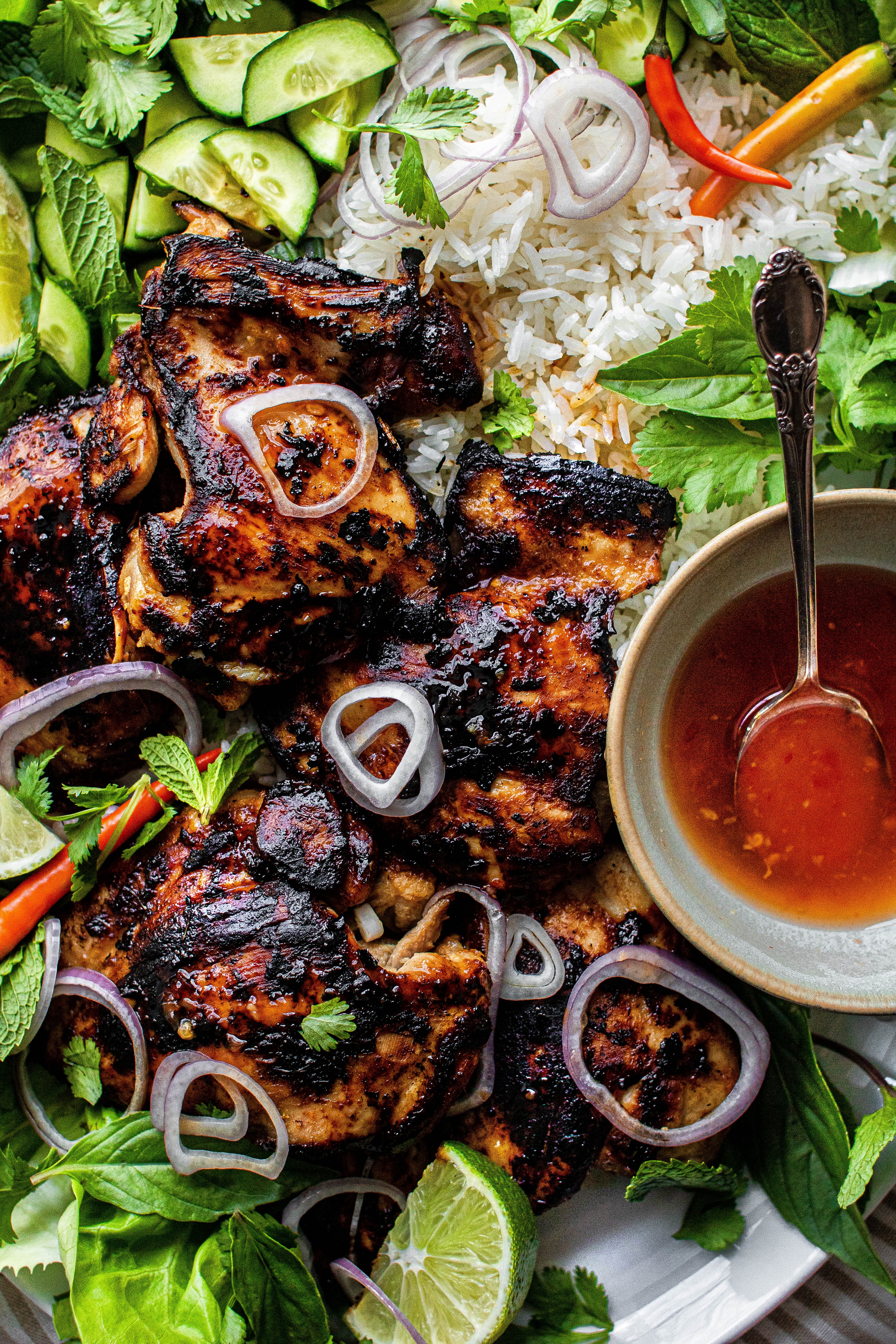 How to make Lemongrass Grilled Chicken
One of the things I love about this lemongrass grilled chicken recipe is how easy it is! All the marinade ingredients get thrown into a blender until smooth and then I let the chicken marinate in it for up to 8 hours.
Then, I grill the chicken for 4-5 minutes per side (maybe a little more for bigger pieces), and that's IT! I serve it with jasmine rice, lettuce cups, fresh herbs, sliced shallots and cucumber, and a super simple dipping sauce. I can't think of an easier or more flavorful summer meal!
Can I substitute different meats?
Absolutely! If you don't like chicken thighs, chicken breast would be another great option. I've also used this recipe on thinly sliced pork shoulder for grilling or beef cuts like skirt steak. It's a super flavorful marinade that would be perfect for most meat cuts! If you're vegetarian, try swapping in tofu or portabello mushrooms.
Can Lemongrass grilled chicken be gluten-free?
Yes! Try substituting the soy sauce with tamari or coconut-aminos or another gluten-free option.
Can this recipe be cut in half?
If you're only cooking for two, this lemongrass grilled chicken recipe can definitely be cut in half. That being said, I love making this recipe for meal prep because it's easy to make a ton and it lasts really well in the fridge.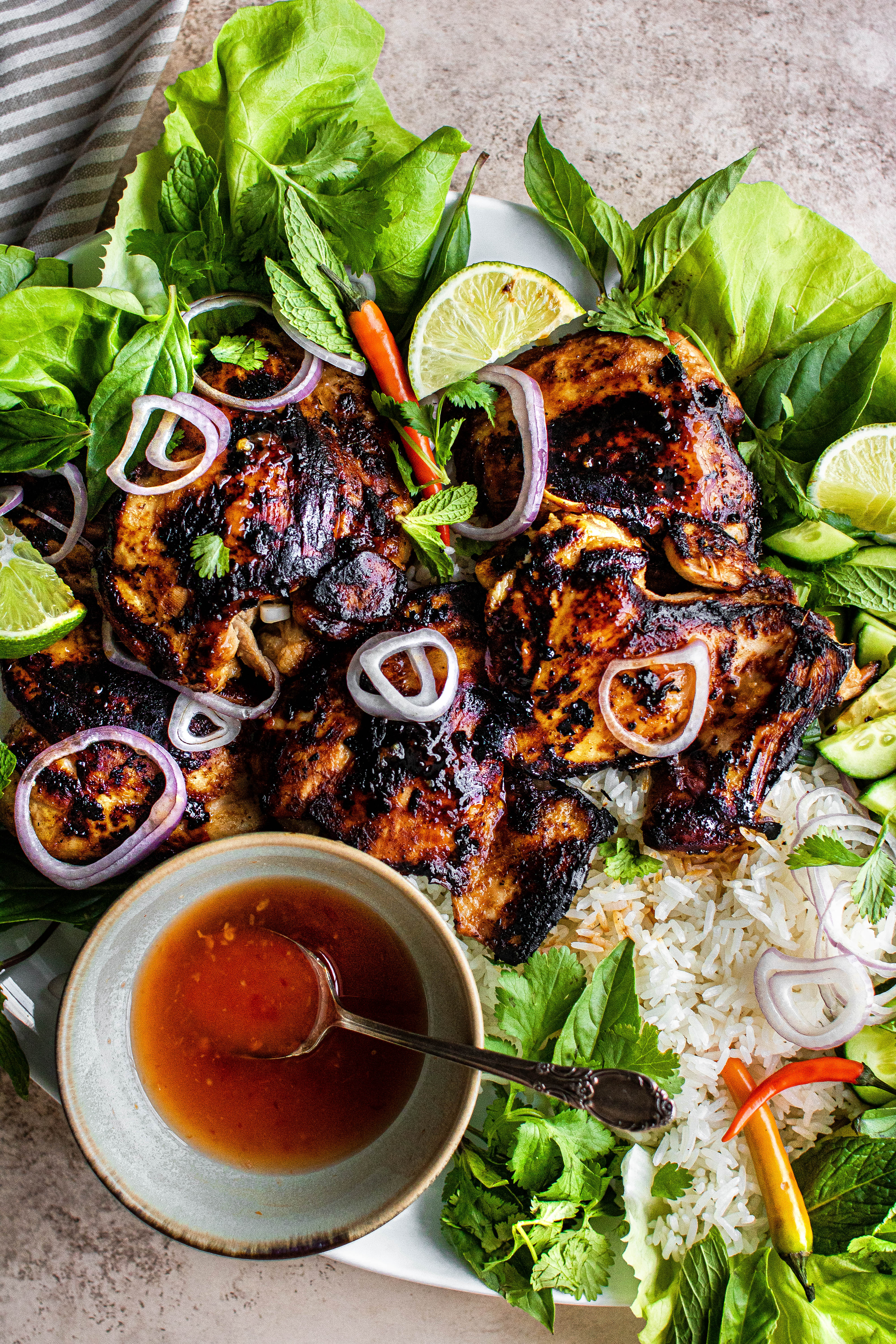 More Chicken Recipes to Try
This post contains affiliate links from which I receive a small commission at no additional cost to you. Affiliate links allow me to keep providing great recipes for free and I never recommend products that I don't love and personally own.
Grilled Lemongrass Chicken
Grilled lemongrass chicken is so tender and flavorful, I make it all summer long!
Ingredients
Chicken:
3

lbs

boneless

skinless chicken thighs, trimmed of excess fat

1/2

cup

soy sauce

1/4

cup

mirin

2

thai chilies

optional

1

lemongrass stalk

end removed and tough outer leaves removed, roughly chopped

1/2

shallot

thinly sliced (reserve rest for garnish)

4

cloves

garlic

1

tablespoon

freshly grated ginger

2

tablespoons

brown sugar

1

tablespoon

fish sauce

Juice of 1 lime

1/2

teaspoon

kosher salt
Dipping sauce:
1/3

cup

sweet chili sauce

like Mae Ploy

1

tablespoon

soy sauce

2

teaspoons

fish sauce

1

tablespoon

fresh lime juice
For serving:
Steamed jasmine rice

Sliced baby cucumbers

Sliced shallots

Butter lettuce leaves

Mint leaves

Cilantro

Thai basil

Lime wedges
Instructions
To make the marinade: place all the ingredients (except the chicken) in a blender and blend on high until smooth. Place the chicken in a large zip-top bag and pour the marinade on top. Seal the bag and place in the refrigerator for at least 2 hours, up to 8, turning the bag occasionally.

Combine the ingredients for the dipping sauce and set aside.

Preheat a grill over medium-high heat. Once the grill is hot, remove the chicken from the marinade, shaking any excess off. Grill 4-5 minutes per side until lightly charred and the internal temperature reaches 165 degrees F. Remove the chicken from the grill and rest for 5 minutes.

Serve grilled chicken with steamed rice, lettuce cups, fresh herbs, limes, and sliced cucumbers and shallots.
You might also like...