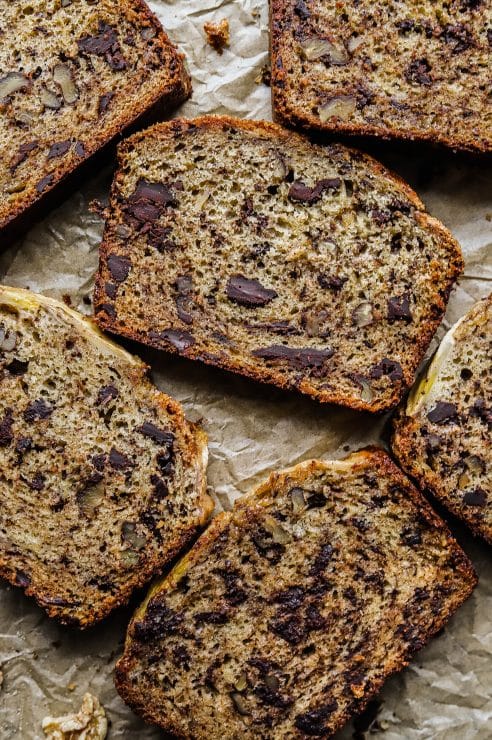 Yogurt Banana Bread with Chocolate and Walnuts
Yogurt Banana Bread with Chocolate and Walnuts
This yogurt banana bread recipe is extra-moist and loaded with brown butter, chocolate chunks, and toasted walnuts. Do you fall into the same frustration that I do? You buy bananas and 30 seconds after they're home – they're brown and mushy. Well, have no fear – this yogurt banana bread is perfect for using those ripe bananas. Baking with yogurt, and in this case skyr, delivers extra-moist and tender banana bread every time.
What is Skyr?
If you're unfamiliar with skyr, get ready to have your life changed! It's an amazingly creamy, rich, and nourishing yogurt-like product from Iceland. Skyr has been enjoyed in Iceland for thousands of years and makes the perfect addition to desserts, breakfasts, and sauces. This recipe uses Skyr from Icelandic Provisions–the creamiest skyr on the market to make our banana bread extra moist and tender. Not sure where to find skyr? Check out this helpful product locator here.
Why Bake with Yogurt or Skyr?
Yogurt/skyr is a great ingredient for adding to banana bread and other baked goods. It keeps the bread moist, tender, and super delicious without using a ton of butter or oil. I used vanilla skyr here to really add that extra punch of vanilla flavor. Icelandic Provisions uses real vanilla beans in their skyr!
How to Make Yogurt Banana Bread
This recipe couldn't be easier to make! It comes together in one bowl with zero fancy equipment in about 10 minutes!
Tools Needed
Ingredients you'll need
Bananas. Make sure your bananas are spotty and ripe, almost black. That's when they're sweetest and most flavorful.
Flour. Good old all-purpose flour is the play here!
Sugar. A mix of brown and granulated sugar gives this banana bread the best flavor.
Eggs. Make sure your eggs are room temperature.
Skyr or yogurt. You can use plain, if that's what you have, but vanilla is the best!
Butter. We go the extra step here with browning our butter for an extra-nutty flavor.
Baking soda. Baking soda reacts with the acid in the skyr to help leaven the yogurt banana bread.
Mix ins. I love chocolate and walnuts, so that's what I used but you can swap in your favorites.
How to brown butter
Making brown butter is so easy and it's the perfect way to level up your baking.
Melt the butter. Start with a shallow saucepan and melt your butter over low heat.
Bubbling. After the butter is melted, it'll start to bubble a bit. You'll notice the color will change and the butter will get much clearer.
Foaming. Next, your butter will start to get foamy. I like to swirl the pan every minute or so while this is happening. The butter will start to brown and you'll smell the change.
Browning. Keep a close eye at this stage because it's easy to burn! You want the butter to just be golden brown at this point.
Once the butter is golden brown, remove it from the heat immediately. Transfer it to a heat-proof bowl and let it cool to room temperature. From here, it's ready to use in a variety of baked goods! Don't leave the little browned bits behind, that's where all the flavor is.
Use the right sized loaf pan
This recipe calls for a 9×5 loaf pan but I would measure yours just in case. The pan I used by USA bakeware is actually 8.5 x 4.5 making it a bit deeper and so I had to adjust the baking time to be about 10 minutes longer.
Getting Bananas to ripen faster
Do you have bananas but they aren't quite ripe enough to bake with yet? No problem! Here are two tips for getting your bananas to ripen a bit faster.
Put your bananas in a paper bag. If they're attached at the stem, break them apart and put them in a paper bag. Make sure to seal the top because bananas release ethylene gas which helps them ripen faster.
Freeze and defrost your bananas. Freezing your bananas will turn them black and once you defrost them, they'll be ready to bake with!
How to Store Yogurt Banana Bread
After baking the banana bread, let it cool completely to room temperature, then transfer it to a gallon-sized zip top bag and store in the refrigerator. It will last in the refrigerator for about five days. I like to slice mine before refrigerating, so I can just take one slice out at a time to have with my coffee. About 15 seconds in the microwave and it's warm and delicious, just like fresh baked!
To freeze: Wrap the banana bread really well in plastic wrap or store in a freezer-safe ziplock bag. Freeze for up to 6 months and defrost in the fridge overnight. Microwave for 20 seconds before serving.
Baking Yogurt Banana Bread as Muffins
Can you bake this yogurt banana bread as muffins? Absolutely! Grease and line a standard muffin tray and this should make enough for 10-12 muffins. Bake for 20-25 minutes, or until a cake tester comes out clean.
Other Easy Baking Recipes to Try
This post contains affiliate links from which I receive a small commission at no additional cost to you. Affiliate links allow me to keep providing great recipes for free and I never recommend products that I don't love and personally own.
Yogurt Banana Bread with Chocolate and Walnuts
This yogurt banana bread is extra-moist with a nutty flavor from brown butter. It's loaded with chocolate chunks and toasted walnuts!
Total Time:
1

hour
10

minutes
Ingredients
8

tablespoons

(4 oz or 1 stick) unsalted butter

1

cup

mashed ripe banana, about 10 oz or 3 bananas

3/4

cup

brown sugar

1/4

cup

granulated sugar

2

eggs

2/3

cup

Icelandic Provisions vanilla skyr or plain whole milk yogurt

1

teaspoon

vanilla extract

2

cups

all-purpose flour

1

teaspoon

baking soda

1/4

teaspoon

fine sea salt

6

oz

bittersweet chocolate, chopped

3/4

cup

chopped toasted walnuts

Turbinado sugar, for sprinkling
Instructions
Preheat an oven to 350 F. Line a 9x5 loaf pan with parchment paper so that the paper hangs over the edges and spray with nonstick spray.

Melt the butter in a small saucepan over low heat and cook, swirling regularly, until light brown and nutty smelling. Remove from the heat and cool slightly.

In a small bowl, whisk together the flour, baking soda, and salt. Set aside.

Combine the mashed banana and sugars together in a medium mixing bowl. Add the eggs and skyr/yogurt and whisk together until smooth. Pour in the flour and fold together. Add the browned butter and fold until no streaks of flour or butter remain. Fold in the chocolate and walnuts (if using) and pour the batter into the prepared baking pan. Top with banana slices and turbinado sugar, if desired.

Bake for 60-65 minutes, or until a cake tester comes out clean. Cool in the pan for 5 minutes, then use he parchment paper to lift the banana bread from the pan. Cool before slicing.
Nutrition
Serving:
1
slice
Calories:
250
kcal
Carbohydrates:
39
g
Protein:
3
g
Fat:
10
g
Saturated Fat:
2
g
Cholesterol:
10
mg
Sodium:
370
mg
Fiber:
1
g
Sugar:
25
g
You might also like...