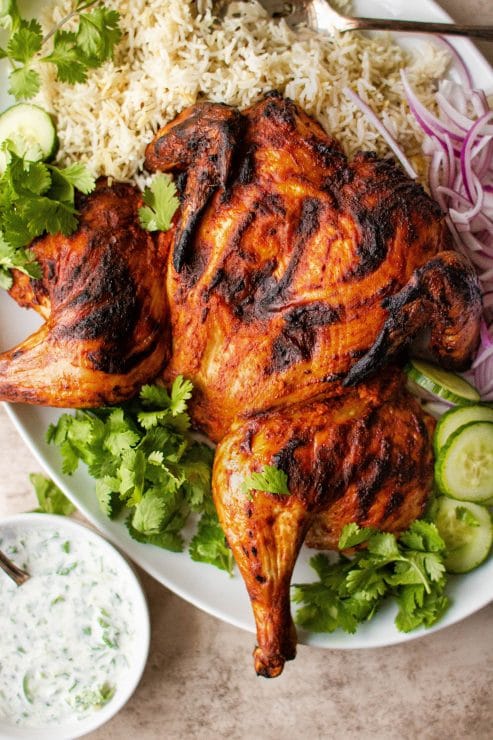 Roasted Tandoori-Style Chicken
Roasted Tandoori-Style Chicken
This whole roasted tandoori-style chicken is so easy and delicious! It may not be authentic, but it's a delicious and simple weeknight meal packed with flavor. I love serving it with raita (yogurt sauce), steamed basmati rice, naan bread, cilantro, sliced onions, and cucumber!
What is Tandoori Chicken?
Tandoori chicken is a dish that originates in India where a chicken is marinated in yogurt and spices and roasted in a cylindrical clay oven known as a tandoor. It originated in the Punjab region of India (Northern India/Eastern Pakistan) way before the partition of India in 1947.
In 1947, after the dissolution of British India, the Punjab region was divided into two territories where one side is part of Pakistan and the other part of India. It is now its own state, the Punjab State in northern India.
It's important for me to share this information because I am not a person who is Indian. I draw inspiration from the culture and traditional dish, but this is simply my version adapted for the American home cook and don't claim for it to be authentic.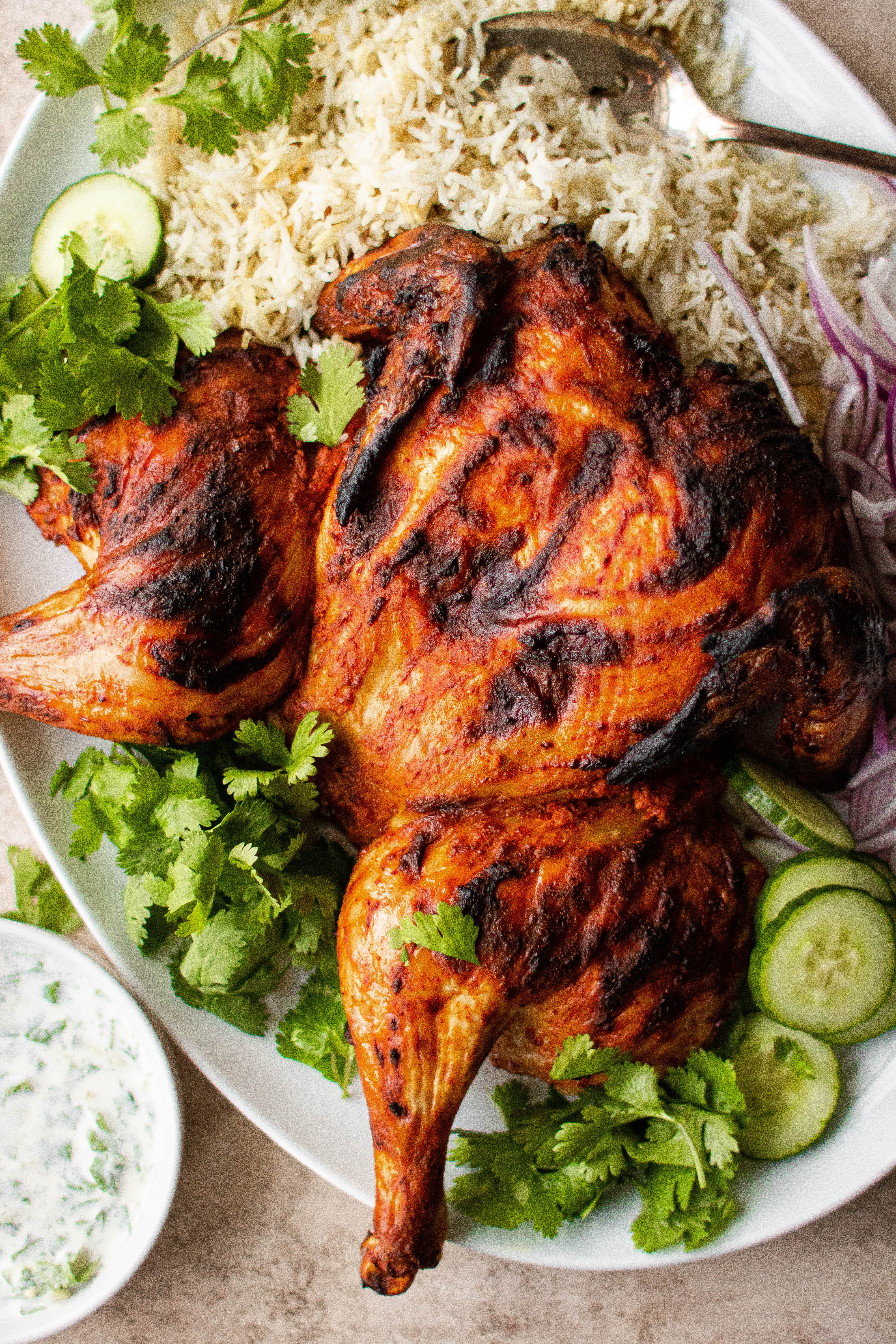 What is spatchcock chicken?
A spatchcock chicken is a chicken where the backbone has been removed prior to cooking. Doing so causes the bird to lay flat and thus everything cooks at the same rate! Aka, no more dry white meat! Cooking in this manner also reduces the cooking time drastically and helps you get dinner on the table faster with less effort.
What tools do you need to spatchcock a chicken?
Just one! A good pair of KITCHEN SHEARS. This is the pair of poultry shears I have and I love them! They cut through skin and bone with no issues and don't slip in my hands when I'm trying to make tough cuts. Do you need to use shears? No, but your life will be much easier if you do. You can use a sharp chef's knife, but I find it to be much more dangerous.
Where can I find the spices listed in the recipe?
Most grocery stores will carry these spices! Check the bulk-spice section of your grocery store if it has one–you'll be able to purchase a small amount of each spice vs. buying a whole bottle that will sit in your pantry.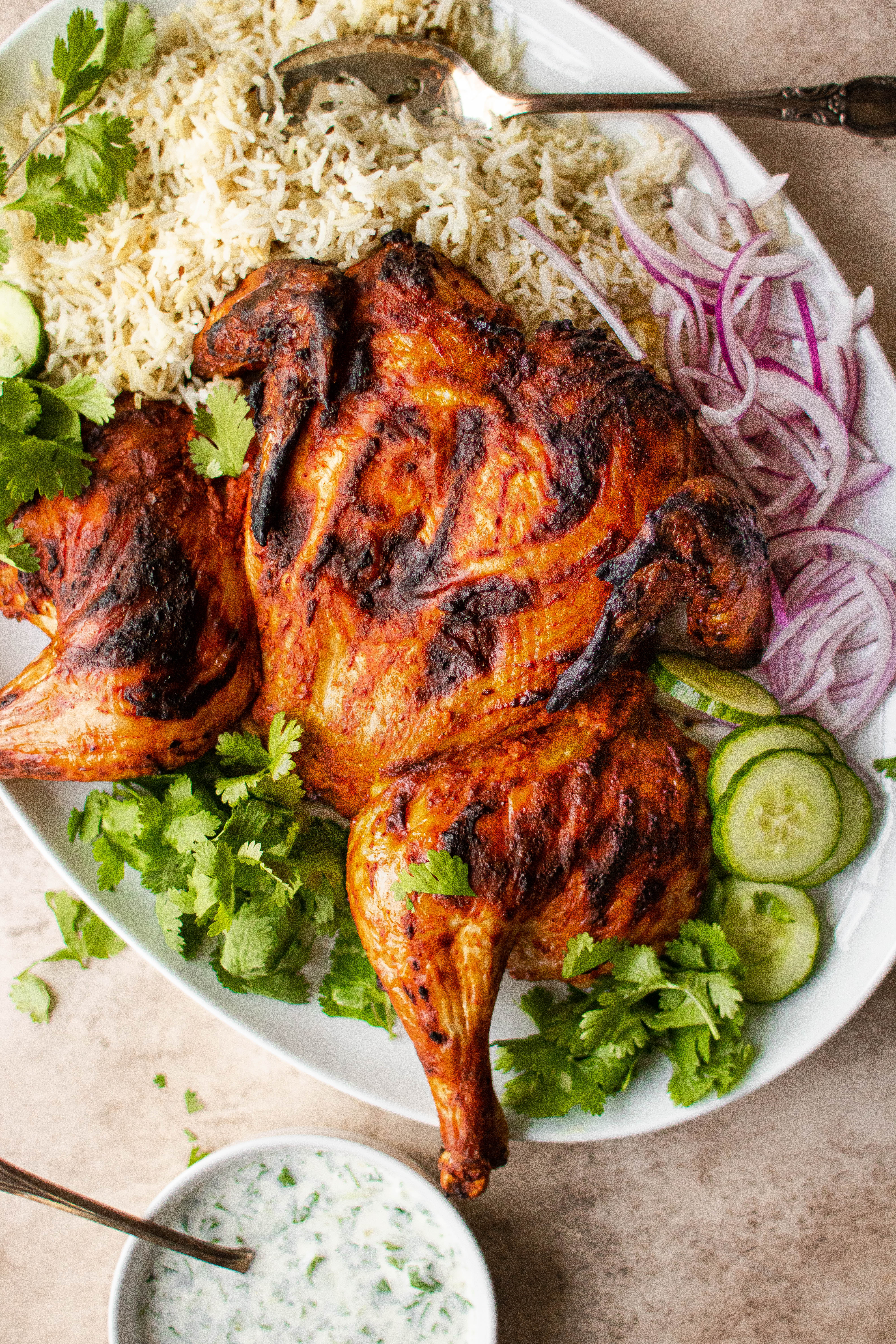 Why is tandoori chicken red?
When you order tandoori chicken at a restaurant, it's usually bright red. A lot of restaurants use red food coloring to give it that color, but when you use high-quality Indian chili powder, you'll be able to achieve that color without artificial means.
The chili powder is called Kashmiri chili powder and it has a super brilliant red hue. It's made with dried Kashmiri chilies which are mildly spiced but packed with flavor. You can see how red my tandoori chicken turned out and no food coloring was used! You can find it at Asian markets, Indian markets, Middle Eastern markets, or Amazon here.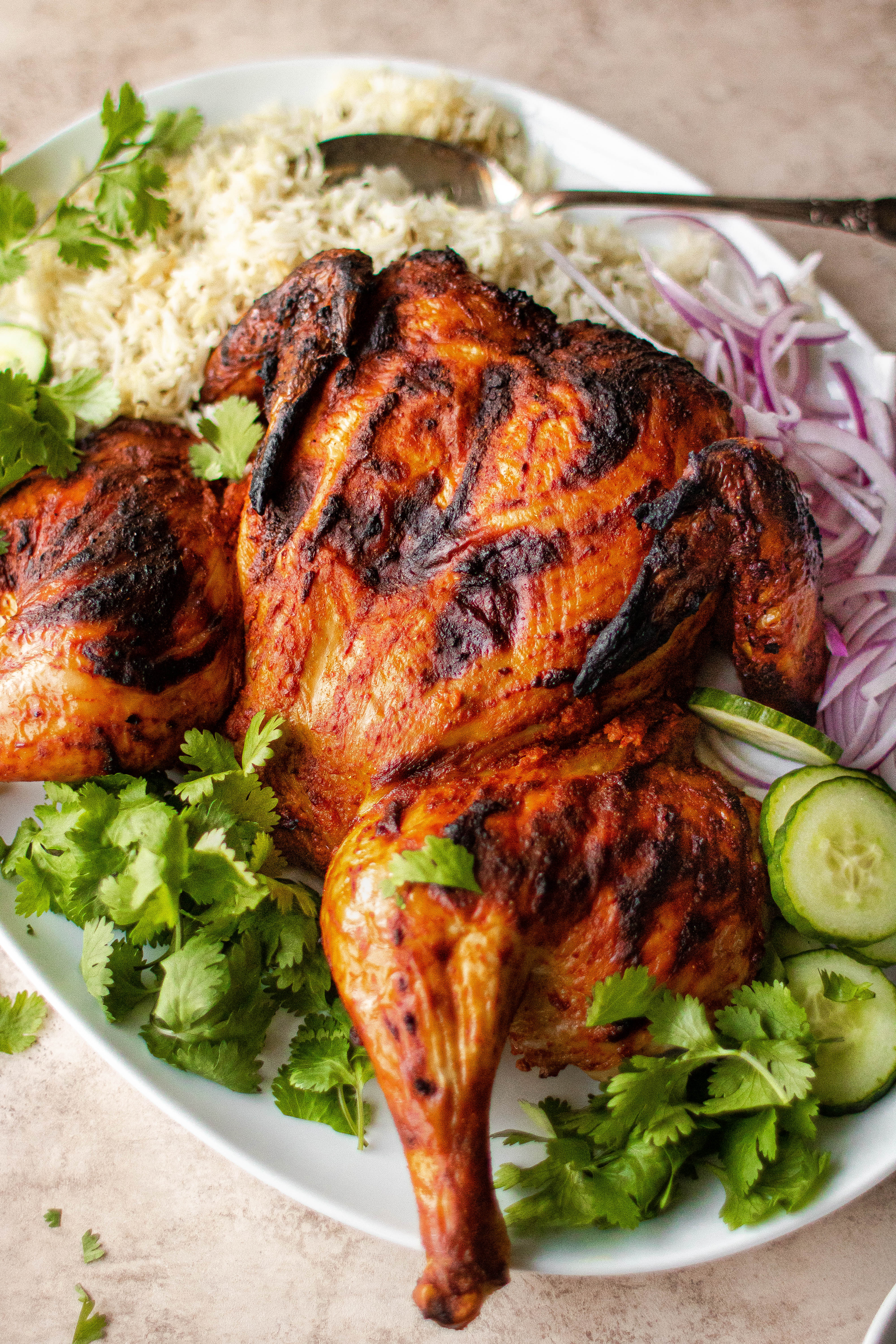 What can I substitute Kashmiri chili powder with?
I don't recommend substituting it. It's part of what makes this recipe tandoori chicken and adds a lot to it. That being said, you can use brilliant colored paprika with a bit of cayenne pepper. Aka, find a paprika with lots of pigmentation (not McCormicks).
What's Raita?
Raita is a yogurt-based sauce common in South Asian cuisine. Recipes vary between regions and families, but the base is always the same. It's a delicious, cooling condiment and is so good with the tandoori chicken.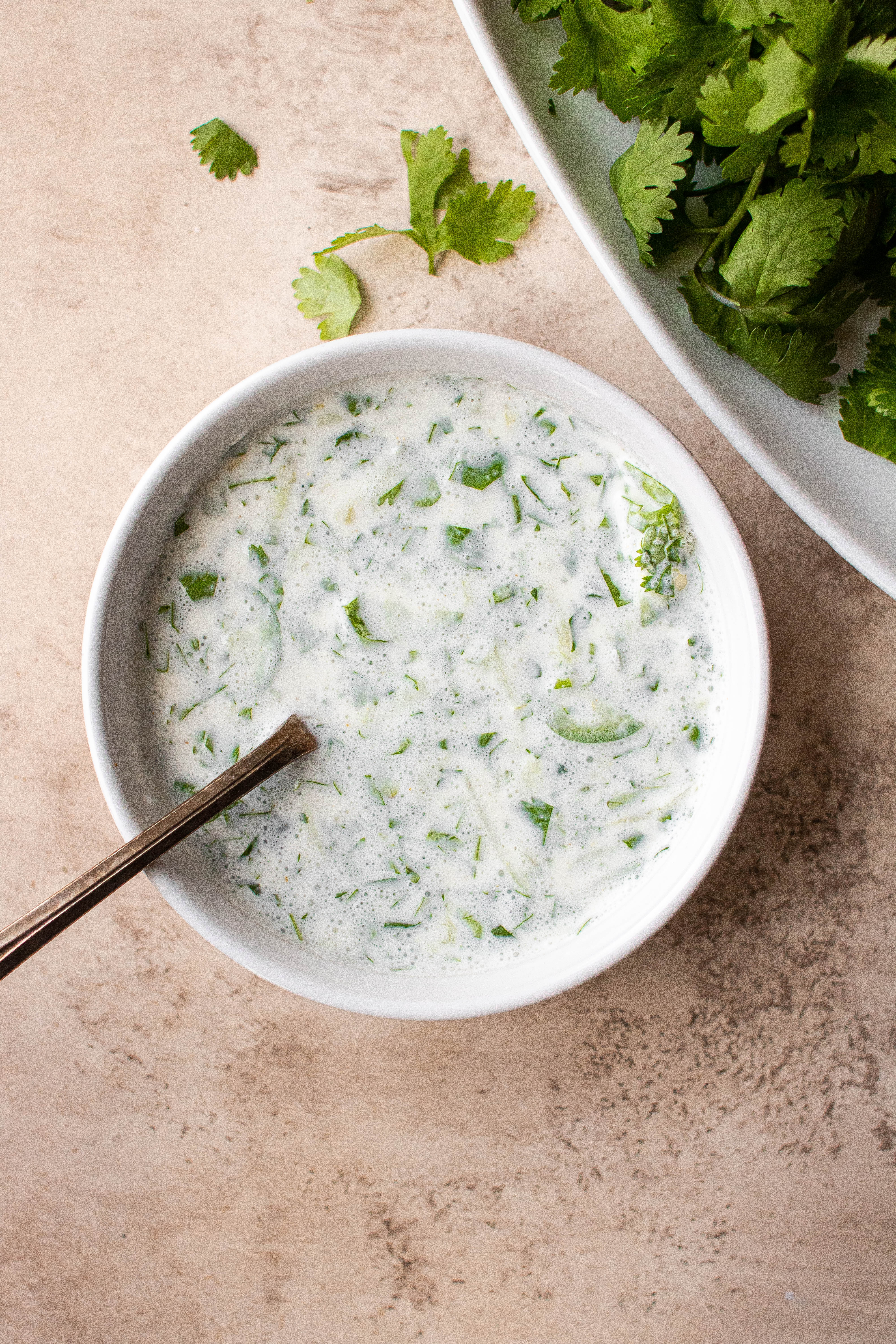 More Recipes to Try
This post contains affiliate links. All opinions are honest and not swayed through compensation.
Roasted Tandoori-Style Chicken
Roasted tandoori-style chicken is a flavorful and delicious way to prepare a whole chicken!
Ingredients
Tandoori Chicken:
1 3-4

lb

whole chicken

spatchcocked, innards discarded

3/4

cup

full-fat yogurt or greek yogurt

3

cloves

garlic

chopped

1

tablespoon

freshly grated ginger root

1/2

serrano pepper

sliced

1

tablespoon

tomato paste

2

tablespoons

Indian chili powder

see above

2

teaspoons

garam masala

1

teaspoon

ground coriander

2

teaspoon

ground cumin

1

teaspoon

ground turmeric

1

lemon

juiced

2

teaspoons

kosher salt
Raita:
1

cup

full-fat yogurt

1/3

cup

whole milk

1

Persian cucumber

grated

1/2

serrano pepper

thinly sliced

1/2

teaspoon

ground cumin

1/4

cup

chopped cilantro

1/4

teaspoon

dried mint

1/2

teaspoon

kosher salt

1

tablespoon

lime juice
For Serving:
Steamed basmati rice

Cilantro

Sliced red onion

Sliced cucumber

Naan bread
Instructions
Using a paper towel, pat your chicken very dry all over and set it on a wire rack set over a rimmed baking sheet.

In a food processor or blender, combine the remaining ingredients for the tandoori chicken and pulse until the mixture is smooth and well-combined. Spread the mixture all over the chicken (on both sides) until it's completely coated. Place in the refrigerator (on the baking sheet) uncovered for 4-8 hours.

Preheat an oven to 425 degrees F. Remove the chicken from the fridge and place it in the oven. Roast for 50 minutes or until a thermometer inserted into the thickest part of the thigh registers 165 degrees F on a probe thermometer. Allow the chicken to rest for 10 minutes before cutting up and serving.

To make the raita: combine all the ingredients in a small bowl and stir until well combined. Store in an airtight container in the fridge until ready to use.
You might also like...