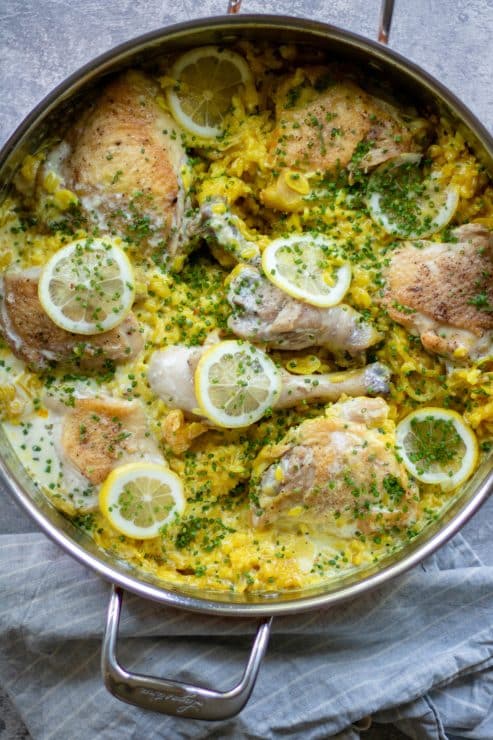 crispy chicken + creamy lemon-turmeric rice
crispy chicken + creamy lemon-turmeric rice
I am at times, I confess, a lazy cook. Working throughout the week and trying to squeeze in cooking 3-4 recipes a weekend plus photographing, editing and writing makes for an exorbitant amount of work. Especially with the washing dishes portion. There are times when I want to eat well but I want to eat simply, beautifully and quickly. A fast, one-pot meal doesn't mean that the meal can't also be elegant and impressive. I rarely give myself the proverbial pat-on-the-back post meal, but I couldn't help but be impressed with this one. From the crispy chicken to the flavorful and amazing rice that reminds me of risotto without all the stress and stirring, this recipe checked all my boxes. I would happily whip this meal out during a dinner party and people would likely be impressed when very little work went into it in the first place. I'm all about minimal work for maximum payoff.
The truly magical part is the crispy chicken and the rendered fat that comes from the skin. Also referred to as schmaltz, rendered chicken fat is liquid gold and thus becomes the base for our rice. Starting our chicken skin side down in a pan over medium heat for 10-15 minutes will yield gloriously golden brown, crispy skin. Resist the urge to flip your chicken as it needs as much contact with the surface of the pan as possible. The pan is important as well! Be sure to select a higher-sided pan that will be able to accommodate the chicken and the expanding rice. I'm fortunate because my mom just happened to get me my birthday gift early in the form of a Lagostina 5qt braising pan (with a lid, this is important!) and I freaking love it.
It was perfect for this recipe and it'll be a pan that I find myself using often. Once the chicken is crispy, it's removed from the pan and fragrant shallots, sliced garlic and ginger are sautéed in the remaining chicken fat until soft. Medium-grain rice (the rice traditionally used for risotto) allows for a plump texture that is soft and creamy and perfect for absorbing flavor. Truly the best part is the heavy cream/pecorino romano reduction that gets poured over the rice after it comes out of the oven. The residual heat allows the rice to absorb the cream and cheese and creates a risotto-like texture without about 1/10 of the work. I am so freaking happy with the way this dish turned out and I hope you will be too. –xx Jenny
CRISPY CHICKEN + CREAMY LEMON-TURMERIC RICE:
serves 6
2 lbs. bone-in, skin-on chicken thighs (and drumsticks too, if you like!)
salt and pepper
2 shallots, thinly sliced
6 cloves garlic, thinly sliced
1 tablespoon freshly grated ginger
2 cups medium grain rice
1 lemon, first zested and then half cut into very thin slices with the remaining half left for juicing
1 teaspoon ground turmeric
1/2 teaspoon hungarian paprika
1 1/2 cups dry white wine
1 1/2 cups chicken broth (homemade is preferable, store bought is fine)
1 cup heavy cream
1/3 cup freshly grated pecorino romano cheese
salt + pepper
chopped chives, for garnish
Heat a 4-5qt high sided pan over medium heat. Pat chicken pieces dry with a paper towel (especially the skin) and season both sides liberally with salt and pepper. Place the chicken skin side down in the pan and resist the urge to move them around. To render fat and become golden brown and crispy, they will need as much contact with the surface area of the pan as possible. This will take around 10 minutes or so to achieve. Once skin is golden brown, flip chicken and cook for 2 more minutes. Remove chicken from the pan and set aside.
Add shallots, garlic and ginger to the pan and cook until softened. Add rice to the pan and toast for 2 minutes. Add turmeric and paprika, stir, and cook 1 more minute. Add the white wine and let the liquid reduce by half, using the wine to help pull up any browned bits from the bottom of the pan (this is super important! those brown bits are all flavor). Add lemon zest and chicken broth and bring to a simmer. Reduce heat to low, return chicken to the pan, skin side up, and cover. Cook for roughly 15-18 minutes without removing the lid. After that time has elapsed, the rice should have absorbed most of the liquid. Arrange sliced lemons over the chicken and rice, re-cover and cook for 2 more minutes. In a small sauce pan, heat heavy cream and cheese with a good pinch of salt and freshly cracked pepper. Bring to a simmer, stirring often, and reduce slightly. Once rice and chicken are done, pour the cream and cheese mixture over the rice and gently stir (you can also remove the chicken from the pan to make this easier). Top everything with chopped chives and serve immediately.
You might also like...