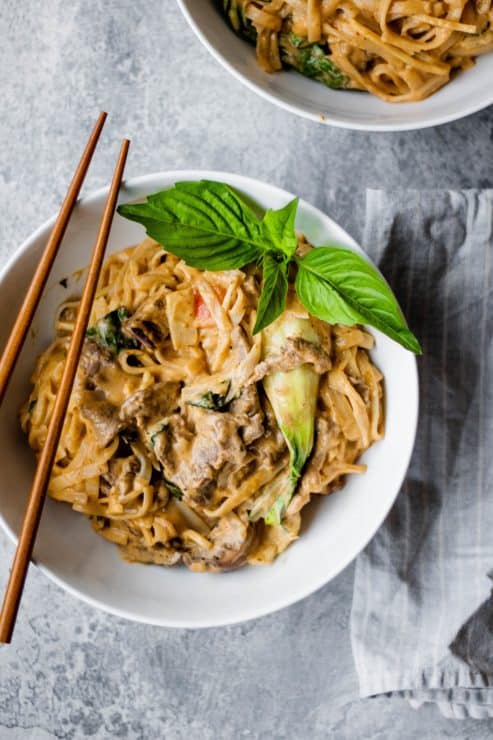 red curry beef noodles
red curry beef noodles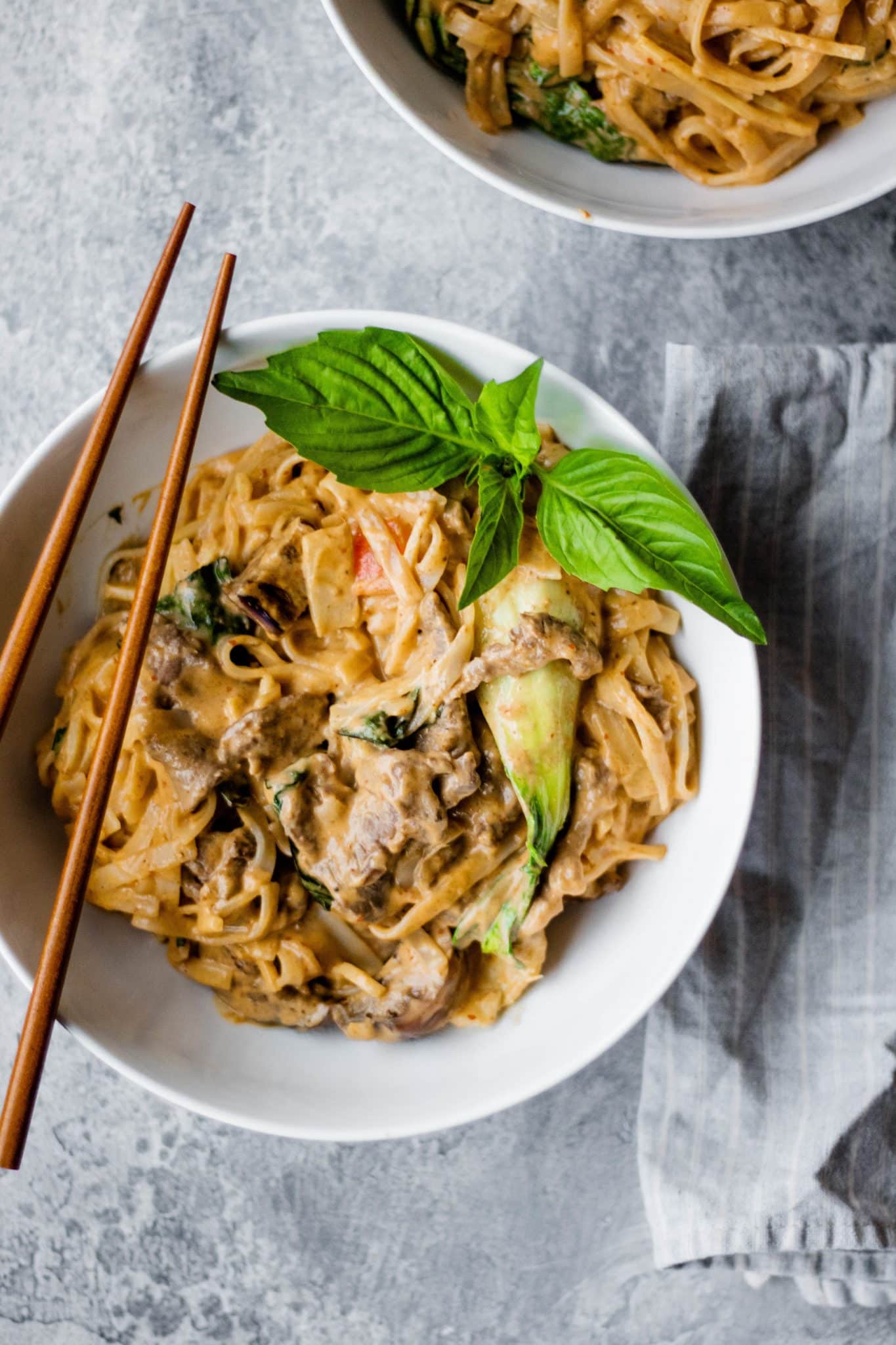 On a cold and rainy night there are few things that are more comforting to me than Thai food. I've been missing my favorite take out spot in San Diego lately and making these red curry beef noodles reminded me of home. I used to love getting any of their noodle dishes with a side of curry sauce and mixing it all together. I have yet to find a place in San Antonio that I love as much so I wanted to recreate one of my favorite comfort food meals. A quick trip to my favorite local asian market yielded all the things I needed: curry paste, rice noodles, lemongrass, ginger, kaffir lime leaves, thai basil and coconut milk.
This dish is amazing with just veggies, but I wanted some extra heartiness so I had to go with beef! I picked a coulotte cut (also known as the top sirloin cap and picanha cut) because it's got great flavor, it's tender, not too fatty and has a great price point. This is specifically a great cut for stir fry because it's tender enough to not require a long cooking period. A quick fry to add some flavor and then into the sauce for a few minutes.
The whole recipe came together in about 30 minutes and was just what I was looking for. This was also my recipe of the week that I made start to finish on my instagram stories! If you want a visual tutorial, you can check the recipe out here. If you love thai food as much as I do, this recipe is a must make! I threw in my favorite veggies, but you can choose whatever veggies you like! This recipe is really fun and adaptable and great for cleaning out the fridge when you have meat and veggies you need to use up. You could also substitute chicken, pork or even tofu in this recipe and it would be equally delicious. Happy cooking!
Products I used in this recipe:
red curry beef noodles
If you love Thai takeout, you are going to love these red curry beef noodles which are so much better!
Ingredients
3

tablespoons

of neutral oil

3

tablespoons

red curry paste

mae ploy is my preferred brand

2

in

fresh ginger

sliced

2

stalks lemongrass

cut into large pieces

3-4

cups

chicken broth

homemade is best

2

cans full fat coconut milk

chaokoh is my favorite brand

5

kaffir lime leaves

optional

1

oz

palm sugar

2 tablespoons brown sugar can be substituted

8

oz

rice noodles

1.5

lbs

top sirloin

picanha or coulotte cut beef, sliced thinly against the grain

2

tablespoons

cornstarch

1/2

yellow onion

chopped

1

red bell pepper

chopped

1

japanese eggplant

chopped

2

baby bok choy

chopped

5

oz

can bamboo shoots

drained

1

cup

thai basil leaves

you can sub italian basil

salt and pepper to taste
Instructions
In a large dutch oven or pot, heat 1 tablespoon of neutral oil over medium heat. Add the curry paste, ginger and lemongrass and cook for 2-3 minutes while stirring, until the curry paste is fragrant. Add 3 cups of the chicken broth and bring to a simmer. Stir so that all of the curry paste is dissolved and there are no lumps. Add coconut milk, palm sugar (or brown sugar) and kaffir lime leaves. Stir until the palm sugar has dissolved and reduce the heat to low. Simmer for 15 minutes uncovered. After 15 minutes, use a slotted spoon to remove the ginger, lemongrass and lime leaves and discard. Add onions, peppers and noodles, stir and cover for 8 minutes.

While the sauce is simmering, prepare the beef. Toss the sliced beef in a small bowl with cornstarch and a sprinkling of salt and pepper. In a nonstick skillet, heat the remaining oil over medium high. Add the beef to the pan in a single layer and brown on both sides. Stir the beef into the noodles and add the bok choy and cover for 2 more minutes. In the pan you cooked the beef in, add the eggplant and brown. Add the cooked eggplant, bamboo shoots and thai basil to the pasta and stir until combined. Season to taste with salt and pepper. If the sauce is a little thick, add some more chicken stock or coconut milk at the end.
Notes
You can substitute any flavor of curry paste that you like for this dish, green would also work really well!
This dish can be made vegetarian by substituting tofu or simply omitting the meat. The curry paste has shrimp paste in it, but if you use yellow curry paste the recipe will be vegan.
You might also like...