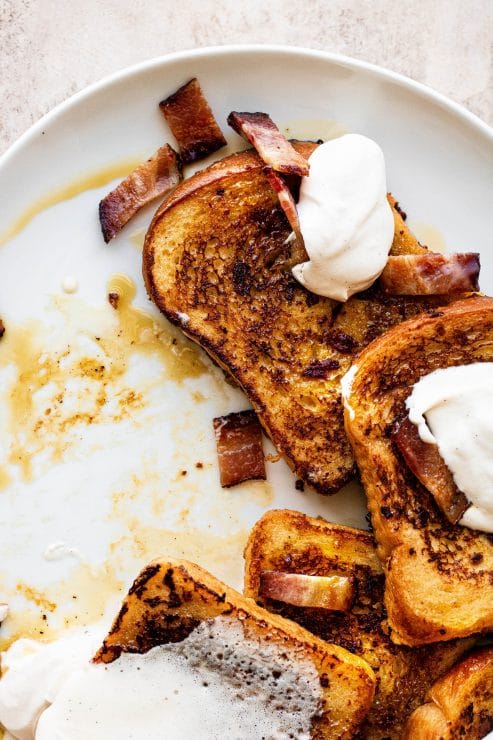 Maple-Bacon French Toast
Maple-Bacon French Toast
Maple bacon french toast is a revelation. I have personally never really been a sweet breakfast or brunch person. When I'm dreaming up recipes for brunch, I'm always trying to figure out how to put a savory spin on them.
What makes this recipe special is the marriage of salty and sweet! Rather than a breakfast or brunch dish that's going to give you a toothache, the smokey and salty bacon adds something so special.
The tiny bits of bacon cling to the bread and make maple bacon french toast the brunch that you've been dreaming of. Don't sleep on the whipped cream, it makes the dish!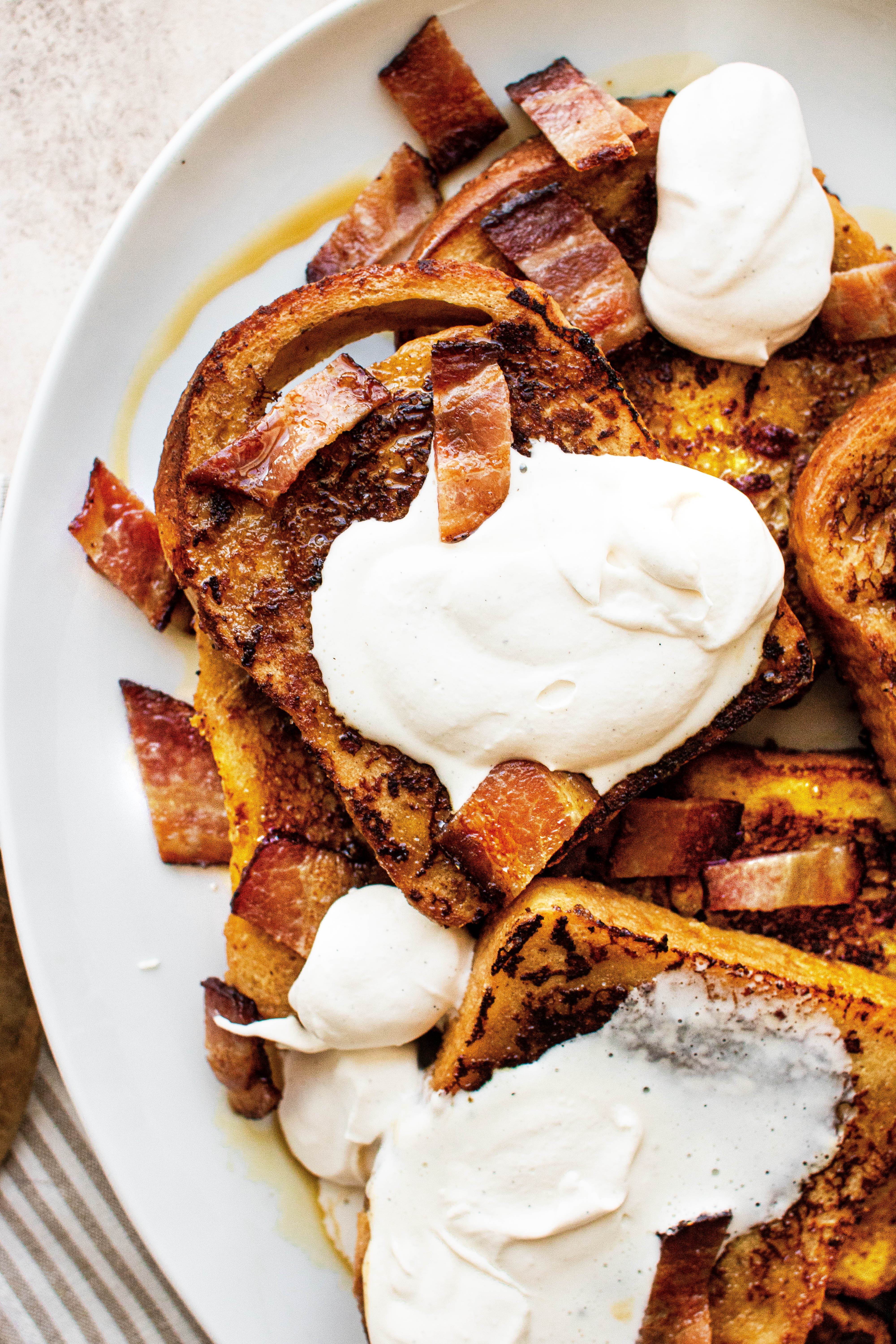 What's the best way to cook bacon?
If you're still cooking bacon in a pan, you are doing it wrong and making a mess! Line a rimmed baking sheet with foil (make sure the foil goes up and over the rimmed edge). Preheat an oven to 400 degrees F and line your tray with strips of bacon, giving them a bit of room between each strip. Bake for 15-17 minutes, rotating the tray once during baking until you've reached your desired level of crispiness.
I don't care for super crispy bacon, I like mine to be a balance of chewy and crispy. Transfer the bacon to a paper towel-lined plate and let them drain. Now you have easy clean-up and an easy way to save all that bacon fat!
What's the best bread for maple bacon french toast?
I'm always going to say that brioche bread is best for french toast! I love the richness that the egg and butter give it. I am also partial to challah, but any thick, sturdy piece of bread will work. Even Texas toast will work in a pinch. I've also used sliced french or sourdough bread. If you do use crustier bread, be sure to let the bread soak just a bit longer to help soften it.
Why is there flour in the batter?
The flour helps thicken the batter and keep the bacon from falling immediately to the bottom of the shallow dish. It also helps the batter cling more readily to the bread. If your french toast batter is too thin, you're going to end up with soggy french toast and NO ONE wants that.
Can maple bacon french toast be made gluten-free?
I am personally not a person that intentionally eats gluten-free, but I don't see why not! Swap in 1 tablespoon of corn starch for the flour in the batter and use your favorite gluten-free bread. If you do make a gluten-free version, I'd love to hear about it!
How do I keep my maple bacon french toast warm while the other slices cook?
I set my oven to 200 degrees F. and as soon as I'm done cooking a slice, I place it on a baking sheet, lightly covered with foil, into the oven while I cook the other slices. I just add to the pile on the baking sheet as I go along. This ensures that everyone gets warm french toast when it's time to eat! Make sure to lightly cover them so that they don't dry out.
Why does this recipe call for turbinado sugar?
Turbinado sugar, or raw sugar, is one of my favorite things to use in french toast! I actually sprinkle a bit on each side before cooking it which really gives it a brûléed texture on the outside that is OUT OF THIS WORLD. I highly recommend giving it a whirl if you have turbinado sugar on hand.
What's the best pan to cook french toast in?
I have personally found that a good non-stick pan is the way to go. I actually tested this recipe in my cast iron which is gorgeously well-seasoned and it turned into a mess. Either the pan was getting too hot, or the bread was sticking to it. I got the best results from using my tried-and-true nonstick.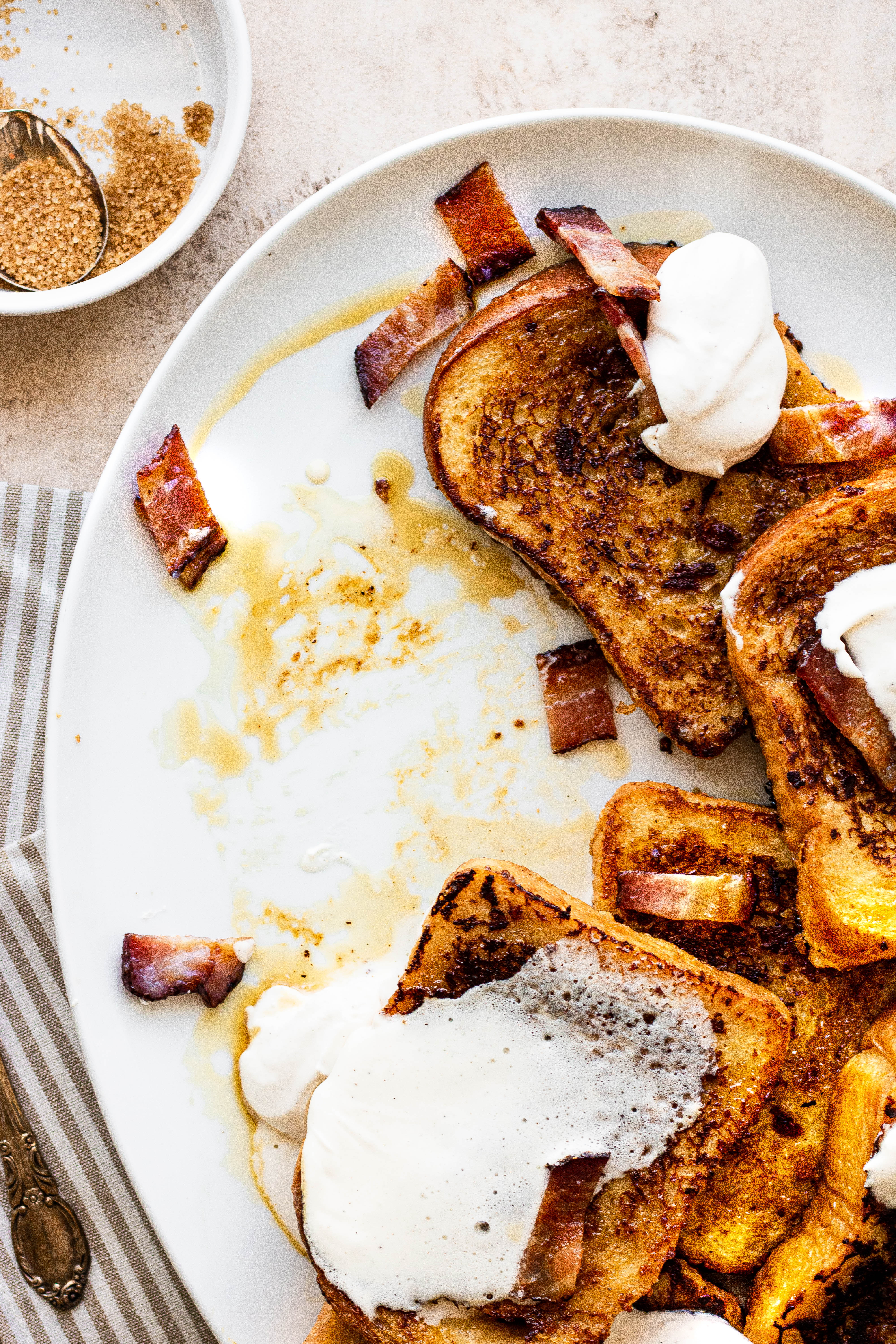 More Recipes to Try
This post contains affiliate links from which I receive a small commission at no additional cost to you. Affiliate links allow me to keep providing great recipes for free and I never recommend products that I don't love and personally own.
Maple-Bacon French Toast
Maple-bacon french toast is the perfect sweet and savory marriage!
Ingredients
French Toast:
1 1/4

cup

half and half

3

tablespoons

brown sugar

4

eggs

1

tablespoon

pure maple syrup

2

teaspoons

vanilla extract

1

tablespoon

dark rum

2

strips cooked bacon

crispy

2

tablespoons

all-purpose flour

1/4

teaspoon

kosher salt

8

thick slices brioche

challah, or thick-cut bread

4

tablespoons

unsalted butter

turbinado sugar

optional

warm pure maple syrup

for serving

chopped crispy bacon

for serving
Whipped Cream:
1

cup

heavy cream

1

tablespoon

pure maple syrup

1

teaspoon

vanilla bean paste or vanilla extract
Instructions
Make the whipped cream: In a medium bowl, whisk together the cream, maple syrup, and vanilla until medium-stiff peaks form. Refrigerate until ready to use.

Make the french toast batter: In the carafe of a blender combine the half and half, eggs, brown sugar, maple syrup, vanilla, rum, bacon, salt, and flour. Blend until mostly smooth and only small bits of bacon remain. Pour into a shallow dish, like a pie pan, and set aside.

Heat a large non-stick pan over medium heat. Once the pan is hot, add a tablespoon of butter to the pan, swirling the pan so that the butter melts all over. Dip a piece of bread into the batter, soaking for 10-15 seconds per side (make sure some of the little bacon bits cling to the surface). This part is optional, but I sprinkle both sides with some turbinado sugar which makes almost a brûléed crust on the outside. Place the piece of toast into the pan and cook for about 2 minutes per side, until golden brown. Take care not to burn the french toast, and lower the heat a bit if the french toast is getting too dark.

Repeat with the remaining pieces of bread. Pile the french toast on a serving platter and top with more crispy bacon, drizzles of pure maple syrup, and dollops of the whipped cream. Serve warm.
You might also like...