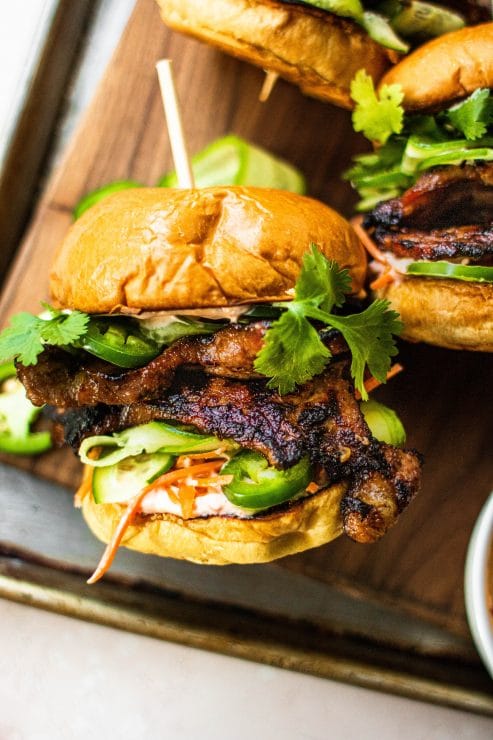 Grilled Pork Banh Mi Sandwiches
Grilled Pork Banh Mi Sandwiches
These grilled pork banh mi sandwiches are the perfect grilling recipe for summer. They're one of my favorite sandwiches ever and they are so easy to make! Other than marinating the pork for a couple of hours, the whole thing comes together in 30 minutes so they're perfect for a weeknight dinner.
They check all the boxes of what makes a perfect sandwich: grilled, slightly fatty meat, a spicy element, a cool crunchy element, and a creamy element. They're also perfect for serving a crowd!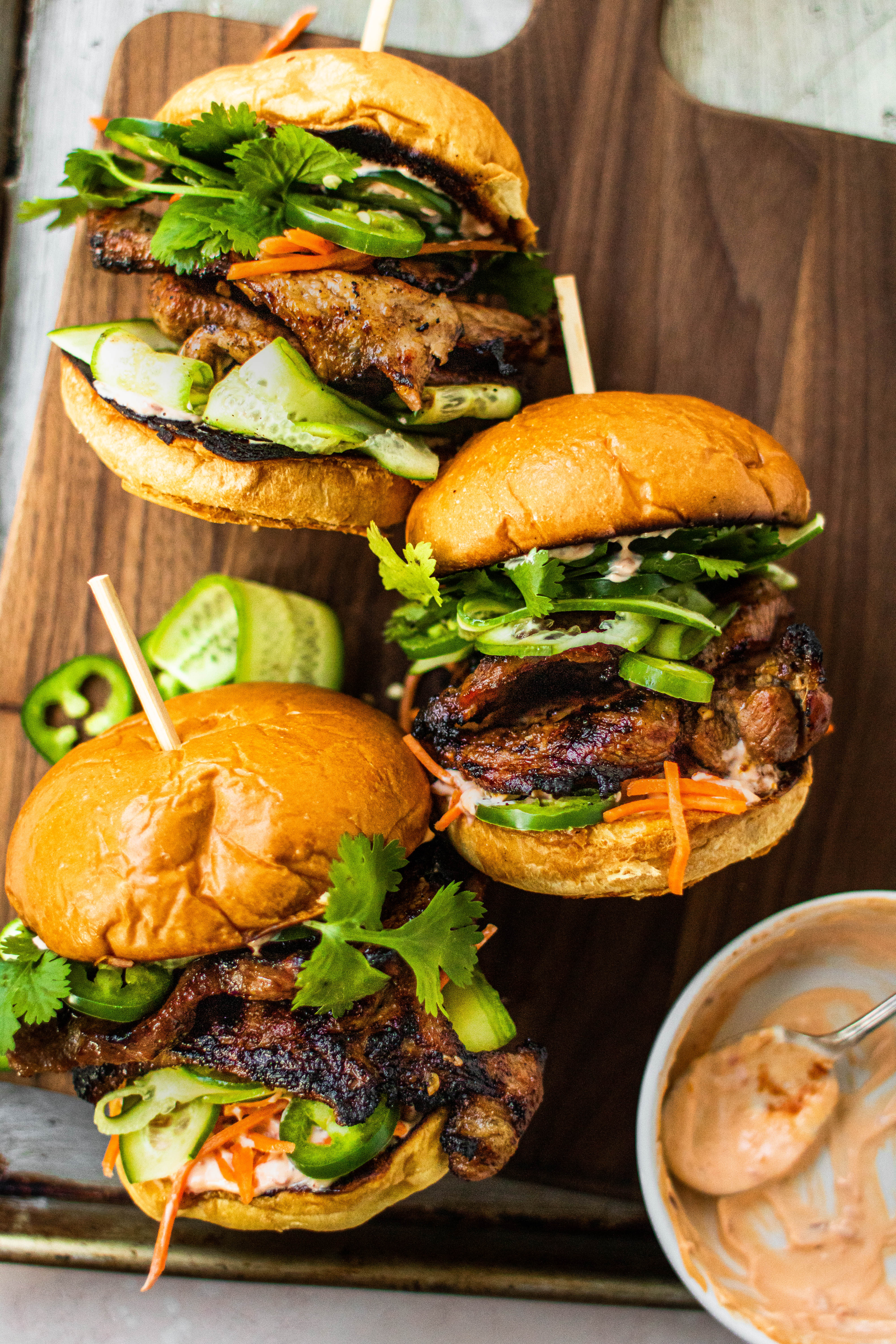 What is a Banh Mi Sandwich?
If you have never had a banh mi, it's a Vietnamese sandwich with French influence. Banh mi is actually the Vietnamese word for "bread." The sandwich is traditionally served on a small baguette with a crisp exterior, and soft interior. Over time, the banh mi sandwich developed into a really popular street food filled with various meats, cilantro, cucumber, pickled carrots and daikon, chile, mayo, and sometimes even pâté.
While it's traditional to serve on a baguette, I really prefer it on a brioche bun. The baguettes that we find in the US are a little too tough for comfortable sandwich eating and the brioche buns are so soft and flavorful.
How to make Grilled Pork Banh Mi Sandwiches
This banh mi sandwich recipe really is a cinch to throw together and a lot of the components can be made ahead for easy assembly.
Marinate the pork. Get your pork marinated ahead of time, it's best if it marinates for 8 hours.
Pickle the carrots. Pickled carrots can be made even a couple of days in advance and they last for a while in the fridge.
Prep veggies. All the veggies can be sliced ahead of time! Slice up your cucumbers, jalapeños, and cilantro.
Grill. Grill your pork until it's nice and browned and cooked through.
Assemble. Put all your sandwich components together and dig in!
Tools Needed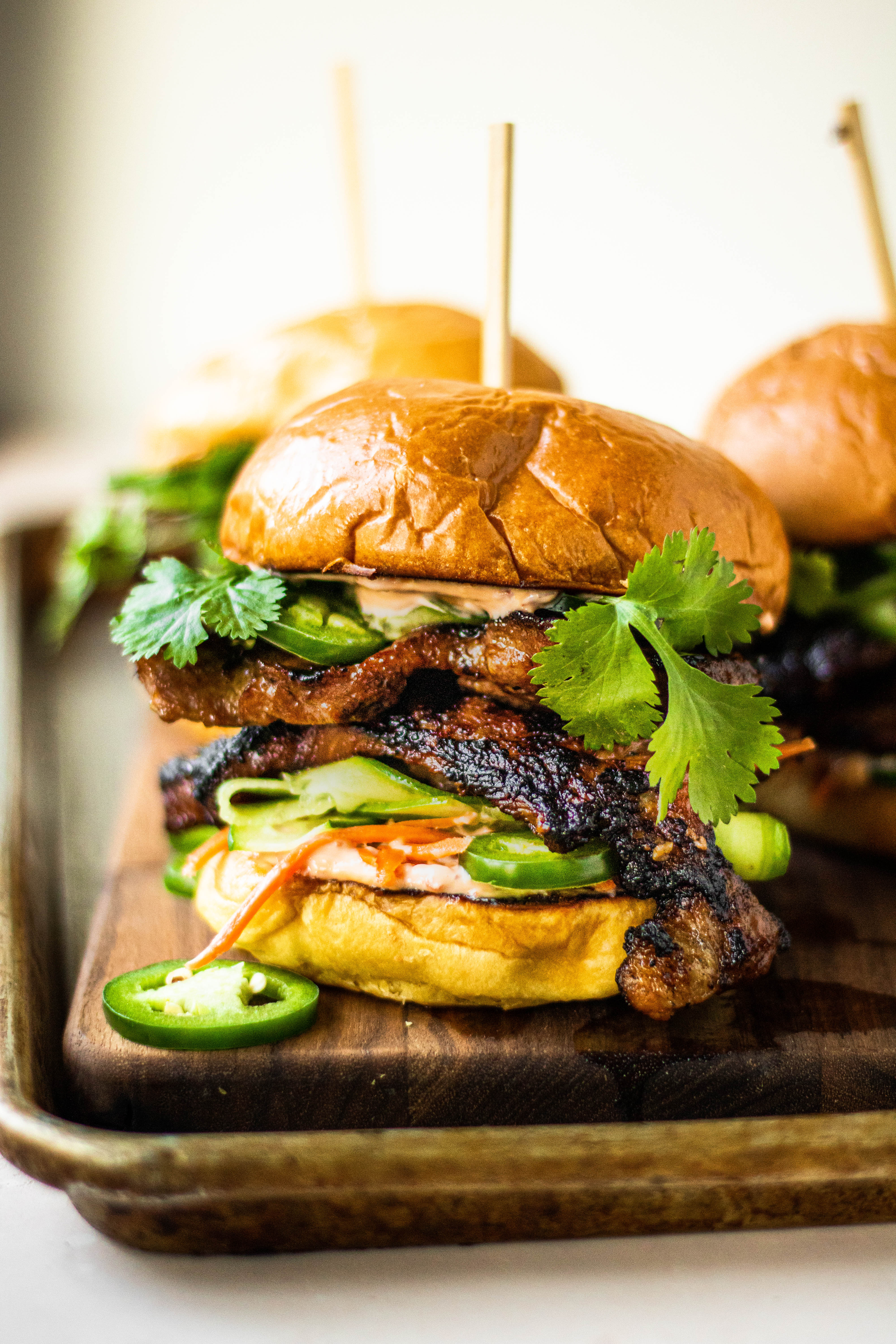 Tips for making Grilled Pork Banh Mi Sandwiches
Meat. You're going to want to use a nice, fatty cut of pork for this sandwich like pork butt or shoulder. These are considered tougher cuts, so it's important to make sure the pork is really thinly sliced.
If your knife skills leave a little something to be desired, I recommend freezing the pork for a little bit before slicing. You can also always ask your butcher to do the slicing for you! You're aiming for about 1/4″ in thickness. The pork should be marinated for at least 4 hours and up to 24 hours.
Bread. If you're a die hard purist, find your favorite French sandwich roll. I prefer brioche for this sandwich, but to each their own! Just make sure the bread is hearty enough to hold up to all the meat and fillings.
Toppings. Traditionally the pickled element in the sandwich is daikon radish and carrot, but daikon can be tough to find so I opted for carrots. I like to use Persian or baby cucumbers because they don't have as many seeds as a garden cucumber. You can also use English hothouse cucumbers.
If you aren't a fan of spice, you can omit the sliced jalapeños, but they really do add a lot to the sandwich. Also, sorry folks, the cilantro here is non-negotiable! It adds so much fresh flavor to the sandwich.
Can I make this sandwich ahead of time?
You can absolutely slice your topping ingredients, make your spicy mayo, pickle your carrots, grill the pork (it reheats really well), but I don't recommend assembling until you're ready to serve!
More Recipes to Try
This post contains affiliate links from which I receive a small commission at no additional cost to you. Affiliate links allow me to keep providing great recipes for free and I never recommend products that I don't love and personally own.
Grilled Pork Banh Mi Sandwiches
Grilled pork banh mi sandwiches are a French-Vietnamese hybrid and they are so good! Tender pork on a brioche bun topped with crisp veggies and cilantro.
Ingredients
Grilled Pork:
2

lbs.

pork butt or shoulder

sliced 1/4" thick

1/2

cup

soy sauce

1

tablespoon

dark soy sauce

2

teaspoons

fish sauce

1

tablespoon

freshly grated ginger or ginger paste

5

cloves

garlic

minced

1/4

cup

brown sugar

1

lime

juiced

1

tablespoon

sambal paste or sriracha
Remaining Ingredients:
2

baby or persian cucumbers

thinly sliced

1

jalapeño

thinly sliced

1

small bunch cilantro

with the bottom 3" of stem removed

1 1/2

cups

shredded carrots

1

cup

seasoned rice wine vinegar

1/2

cup

mayonnaise

2

teaspoons

freshly grated ginger or ginger paste

1

tablespoon

sambal or sriracha

4

brioche sandwich buns

2

tablespoons

softened salted butter
Instructions
To make the pork: In a small bowl, whisk together the marinade ingredients (everything but the pork) until well combined. Place the sliced pork into a large ziplock bag, and pour the marinade over the pork. Seal the bag, while removing most of the air, and massage the bag so that all the pork is coated in the marinade. Refrigerate for at least 4 hours, and up to 24 hours.

Preheat your grill to 400 degrees F. Place the pork slices on the hot grill and cook for 4-5 minutes per side, until the outside is caramelized and the pork is cooked all the way through. Set aside.

To make the spicy mayo: In a small bowl combine the mayo, grated ginger, and sambal or sriracha and set aside until ready to use.

To make the pickled carrots: Place the vinegar in a microwave safe container, and microwave for 45-60 seconds until warm. Place the carrots in a heat safe container and pour the warm vinegar over them. Refrigerate until ready to use.

To assemble: Spread the softened butter on the brioche buns, and toast them lightly on the grill or in a skillet. Spread both sides with the spicy mayo, and layer in slices of the pork with the pickled carrots, sliced cucumbers, sliced jalapeño, and cilantro. Serve immediately.
You might also like...