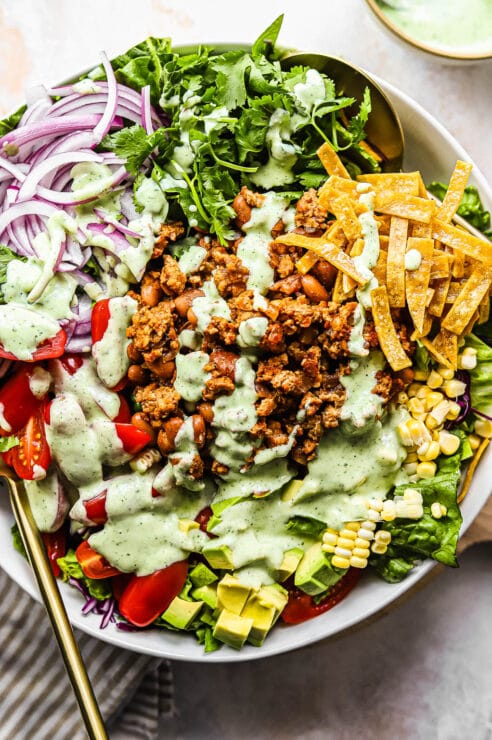 Turkey Taco Salad
Turkey Taco Salad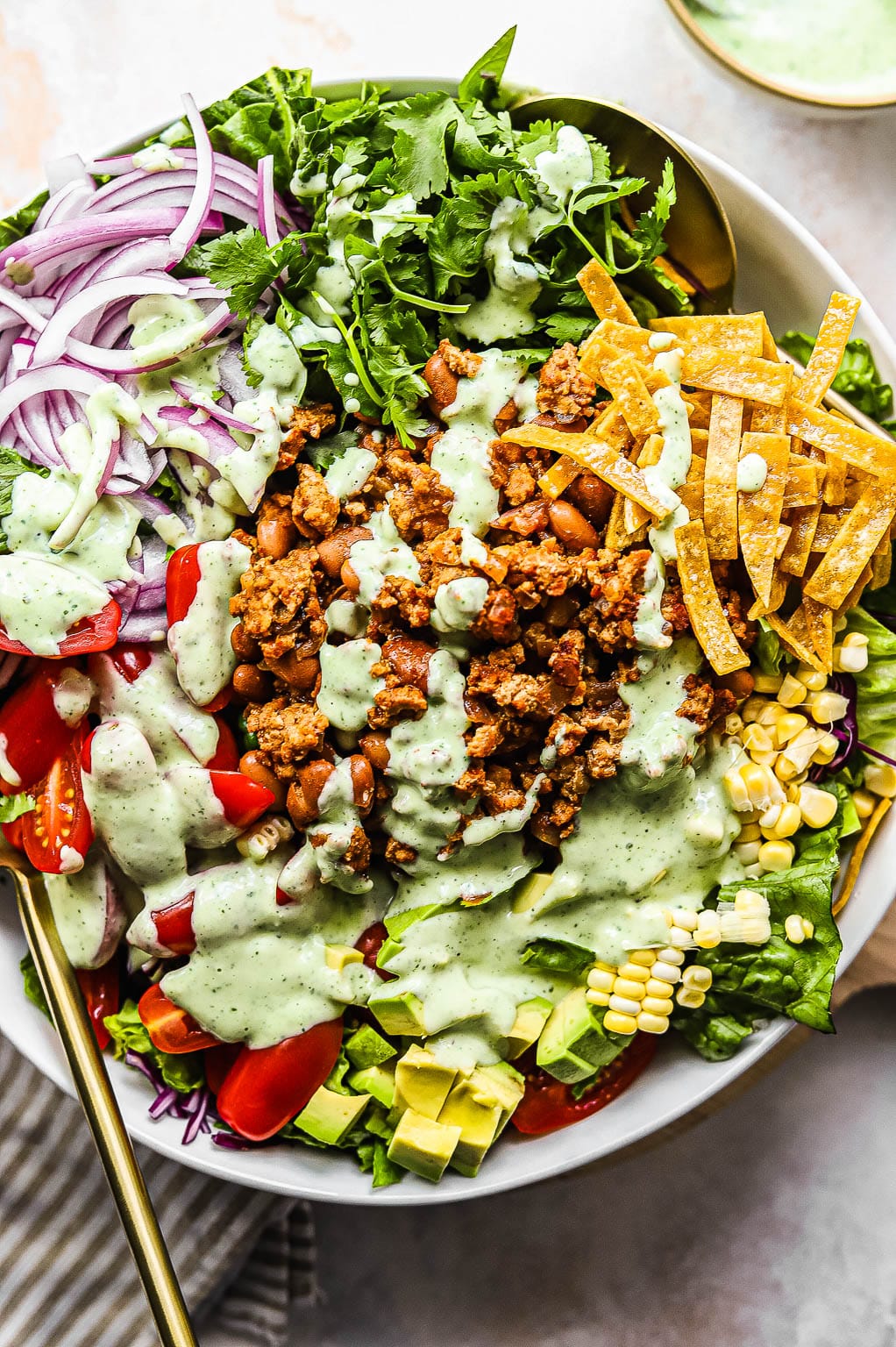 This healthy turkey taco salad recipe is everything you love about tacos, in a lighter and fresher package! You already know I'm all about toppings and this salad delivers. Summers in Texas are about 1000 degrees, so I love a light and fresh dinner that leaves me feeling full and sated.
Turkey taco salad is perfect for those nights when it's too hot to cook, but you still want something super tasty. It's filling with lots of texture and so easy to customize. You can set up a little taco salad bar and dinner is done!
This turkey taco salad recipe is also a great recipe for meal prep! You can keep all the ingredients separate and assemble with dressing on the side for easy lunches. This recipe is so adaptable with different toppings, meat, dressing, etc. that you'll love turning to it on busy weeknights!
A Dinner-Worthy Salad Recipe
I love a salad for dinner, but I'm only into hearty and interesting salads! Salads with texture and full of flavor. I love this turkey taco salad because you can really load on the toppings here.
If you think that a salad for dinner won't be filling or satisfying enough, I urge you to give this recipe a try! All the crunchy cabbage and veggies are very filling and it's loaded with flavorful taco-seasoned turkey and pinto beans for extra protein.
Using cabbage with leafy greens makes this salad so hearty and crunchy. It's also incredibly fresh and light for being so hearty. You'll feel full and satisfied without realizing how healthy this salad recipe is.
The creamy avocado ranch is an easy dressing recipe to keep on hand for topping salads, bowls, or tacos.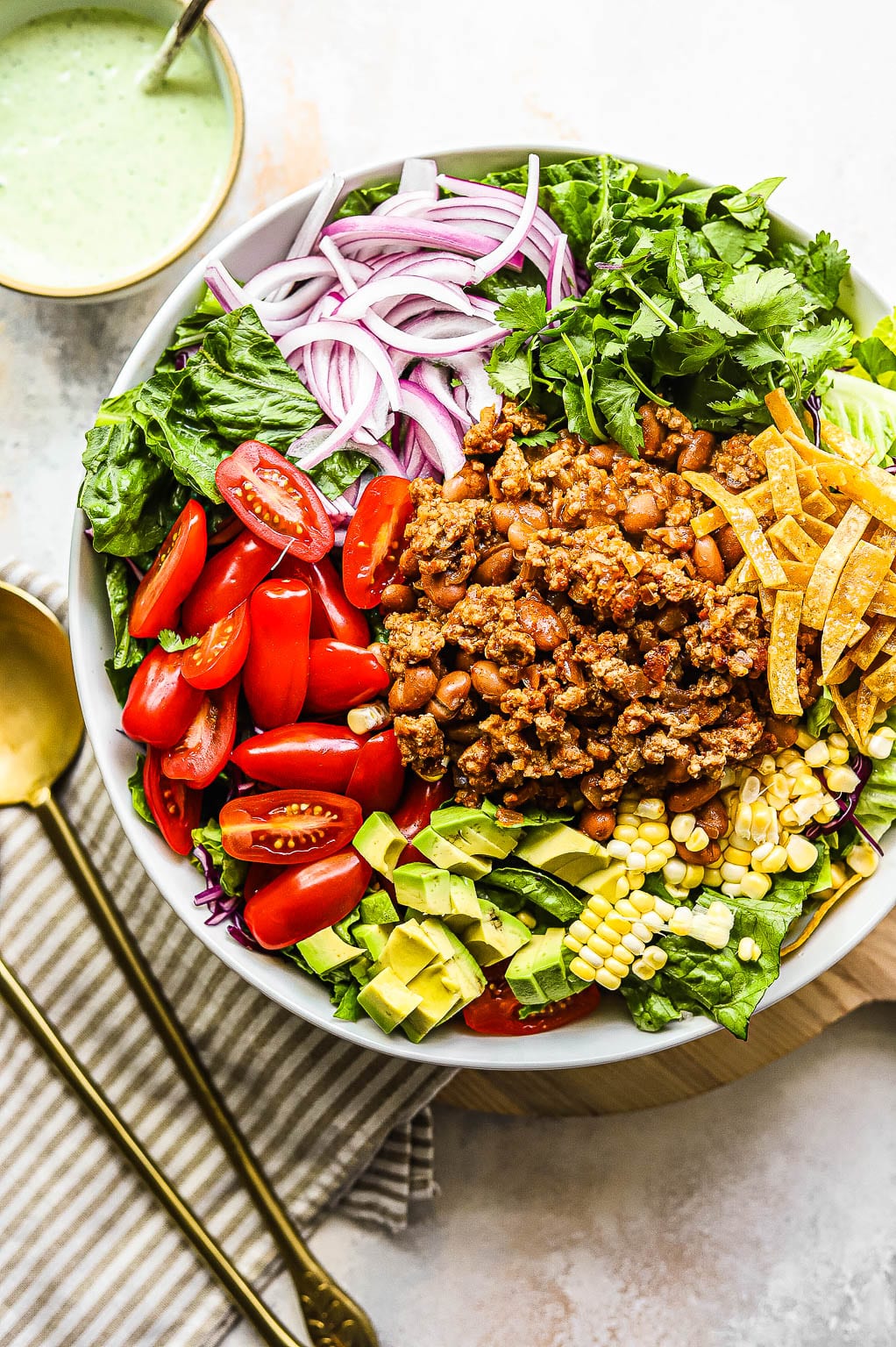 Why You'll Love this Turkey Taco Salad Recipe
Easy – this recipe is so easy to throw together any night of the week! You only need a handful of ingredients and can make substitutions for most ingredients. You can even use store-bought taco seasoning!
Great for meal prep – This recipe is easy to double or triple and re-heats like a dream. I love prepping all the ingredients for turkey taco salad and enjoying them throughout the week for lunch. You can also serve this bowl-style with Mexican rice as a base. Chipotle, who?
Healthy – We try and live by the 80/20 rule at home. 80% whole and healthy foods and 20% indulgence. Lean (but so juicy!) turkey is full of protein which keeps us full longer. Adding beans adds fiber and more protein! The chopped tomatoes have antioxidants, and the dressing is made with greek yogurt. This is a balanced and delicious dinner that you'll turn to over and over again!
How to Make Turkey Taco Salad
You only need about 30 minutes to make this recipe! It does require a bit of chopping, but once that's out of the way dinner is a cinch. You can also chop all your veggies ahead of time to make serving dinner even easier.
Tools Needed
Ingredients and Substitutions
Ground turkey. I always shop for ground turkey that has a little fat in it (either 90/10 or 93/7)–the fat keeps the turkey moist while cooking. You can easily swap in ground chicken or ground beef or even meatless crumbles.
Pinto beans. Adding pinto beans to the ground turkey adds extra protein and fiber. Swap in whatever beans you have on hand or omit them altogether.
Onion. I use diced red onion in the taco meat as well as thinly sliced red onion in the salad.
Taco seasoning. I always make my own because I like to control the salt and quality of ingredients. Read on for my taco seasoning recipe, or use your favorite store-bought.
Greens. I love romaine for the crunch, but I also always mix in shredded cabbage for extra crunch and fiber.
Veggies. This is where you can go wild! I used chopped tomatoes, corn, and avocado but you can really add in any veggies you like to bulk this salad up.
Dressing. I always prefer to make my own dressing for the same reason that I like to make my own seasoning. This creamy avocado ranch is a mix of avocado, greek yogurt, buttermilk, cilantro, serrano, and a couple of spices. It's so good! You can always use your favorite dressing or use store bought.
Toppings. I went for cilantro, cotija cheese, and tortilla strips for crunch.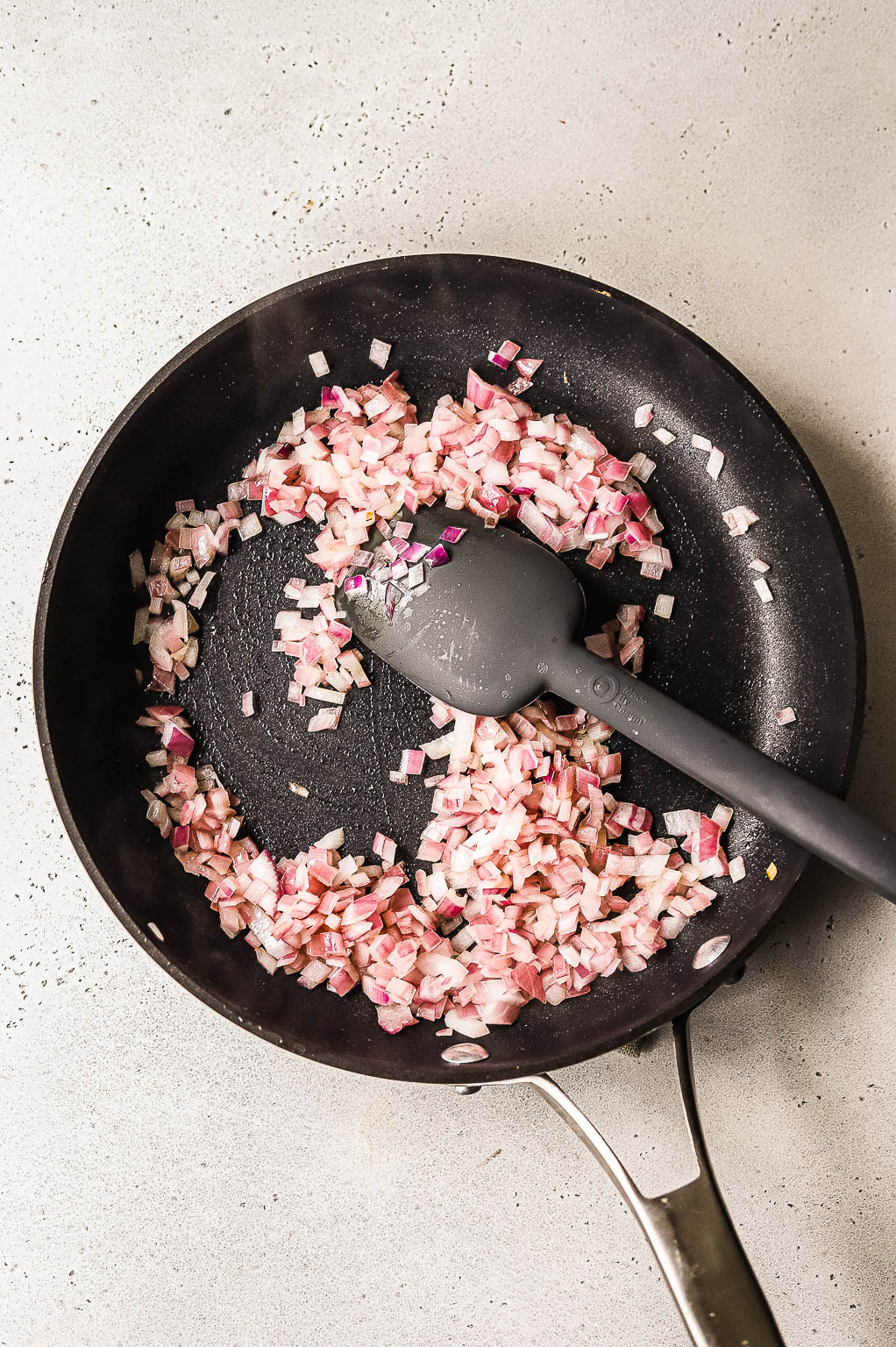 The Process
Step one: Start by heating a bit of neutral oil in a large skillet over medium heat. Add the diced onion and saute for 3-4 minutes, until softened. Add the turkey and taco seasoning and cook until browned and cooked through, breaking the meat up as it cooks. Add the pinto beans and cook for another few minutes. Season to taste with salt and pepper.
Step two: Combine all the dressing ingredients in a blender and blend until smooth. Season to taste with salt and pepper.
Step three: Get all your veggies and greens chopped up. You can do this ahead of time and just store in separate containers in the fridge to speed up dinner.
Step four: Assemble! Layer greens with all your chopped veggies. Add your taco meat on top and top with everything from cheese to avocado to tortilla strips. Drizzle on your desired amount of dressing and serve.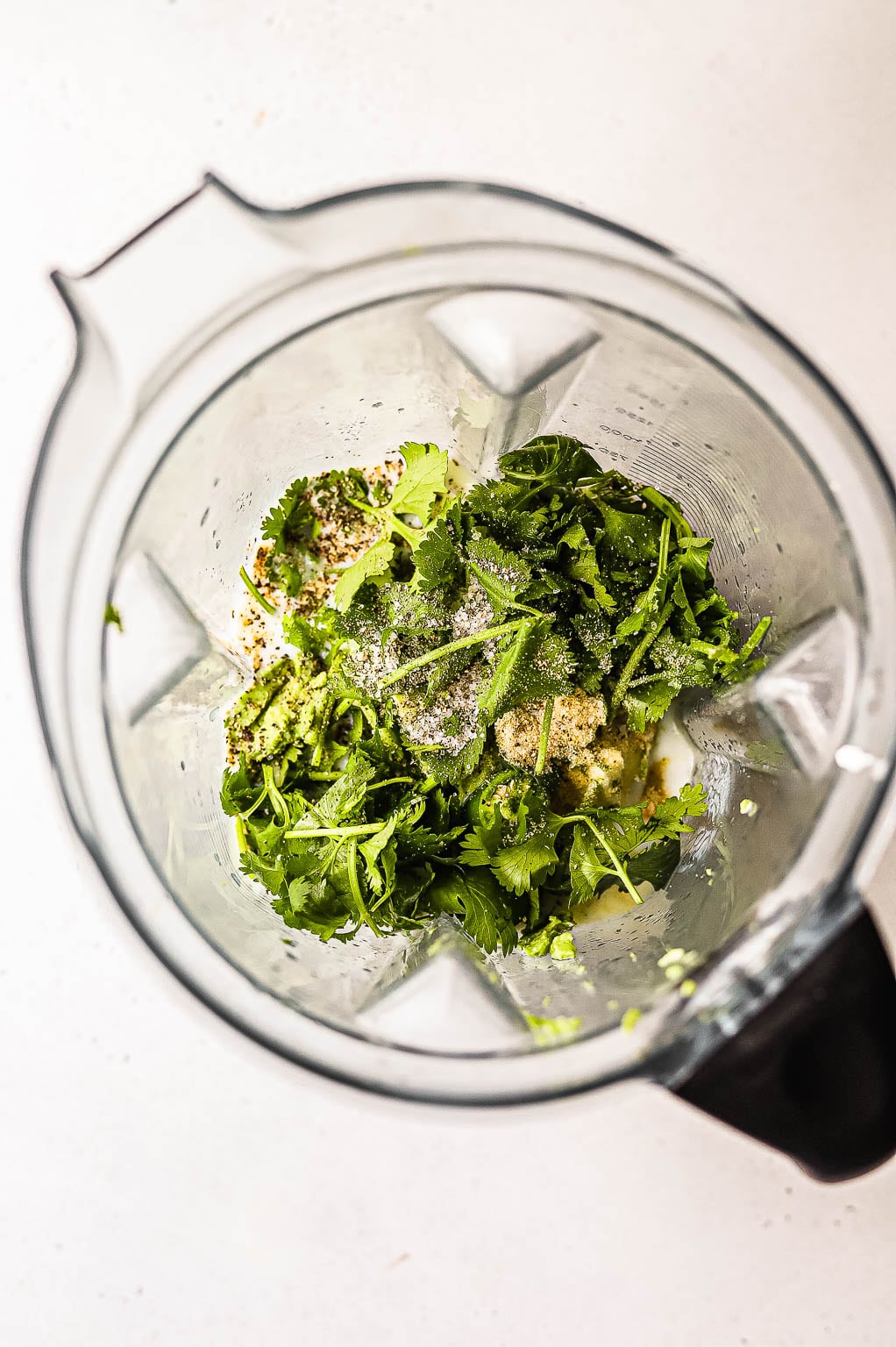 Making Your Own Taco Seasoning
As I mentioned above, I always prefer to make my own taco seasoning. Usually what you buy in the store is loaded with sodium and preservatives so I like to make a large batch and store it in an airtight container in my fridge.
If you'd like to make your own taco seasoning too, here's my recipe!
In an airtight container, combine 1/4 cup ancho chile powder, 1 tablespoon paprika, 1 1/2 tablespoons ground cumin, 1 tablespoon onion powder, 2 teaspoons garlic powder, and 2 teaspoons dried oregano. Give your spice mixture a shake and store in a cool, dark place. You can keep this taco seasoning for up to 3 months.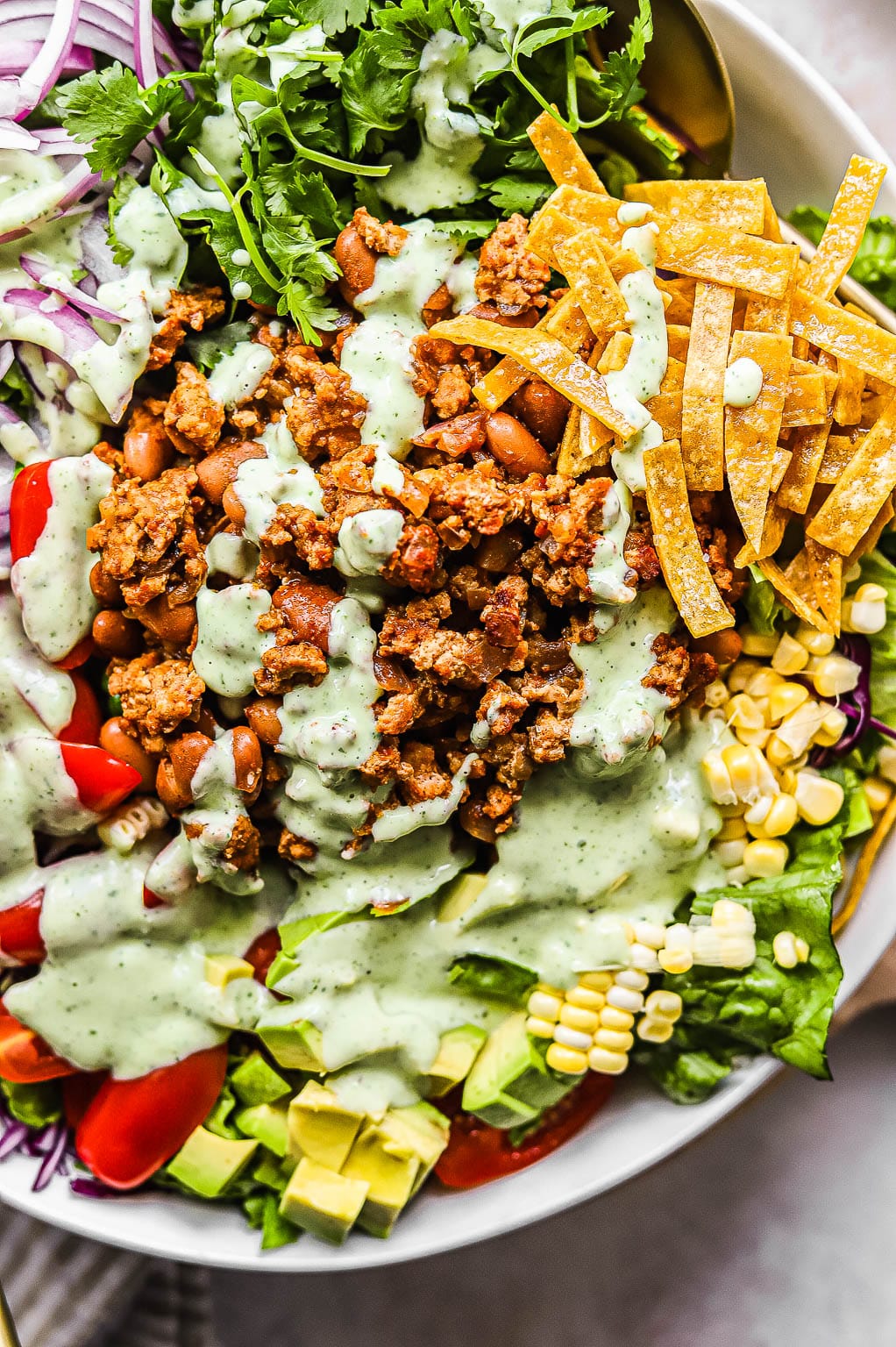 Storing, Freezing, and Re-Heating Turkey Taco Salad
To store turkey taco salad: Once assembled and dressed, the turkey taco salad is best eaten within a few hours of serving. However, the deconstructed elements of this salad may be stored separately in airtight containers for 4-6 days in the fridge.
Freezing turkey taco salad: You can very easily freeze the turkey and bean taco meat! Let the meat cool to room temperature and then store in a freezer-safe ziplock bag. Try to press most of the air out of the bag while sealing, this helps prevent freezer burn. Label and freeze for up to 3 months. I don't recommend freezing the dressing.
Reheating turkey taco salad: Leftovers of the seasoned ground turkey may be warmed in the microwave, in a covered container, until steaming.
Meal prep tips: If you're making this recipe for meal prep, I recommend that you store the ingredients in divided meal prep containers and assemble/toss with dressing right before eating.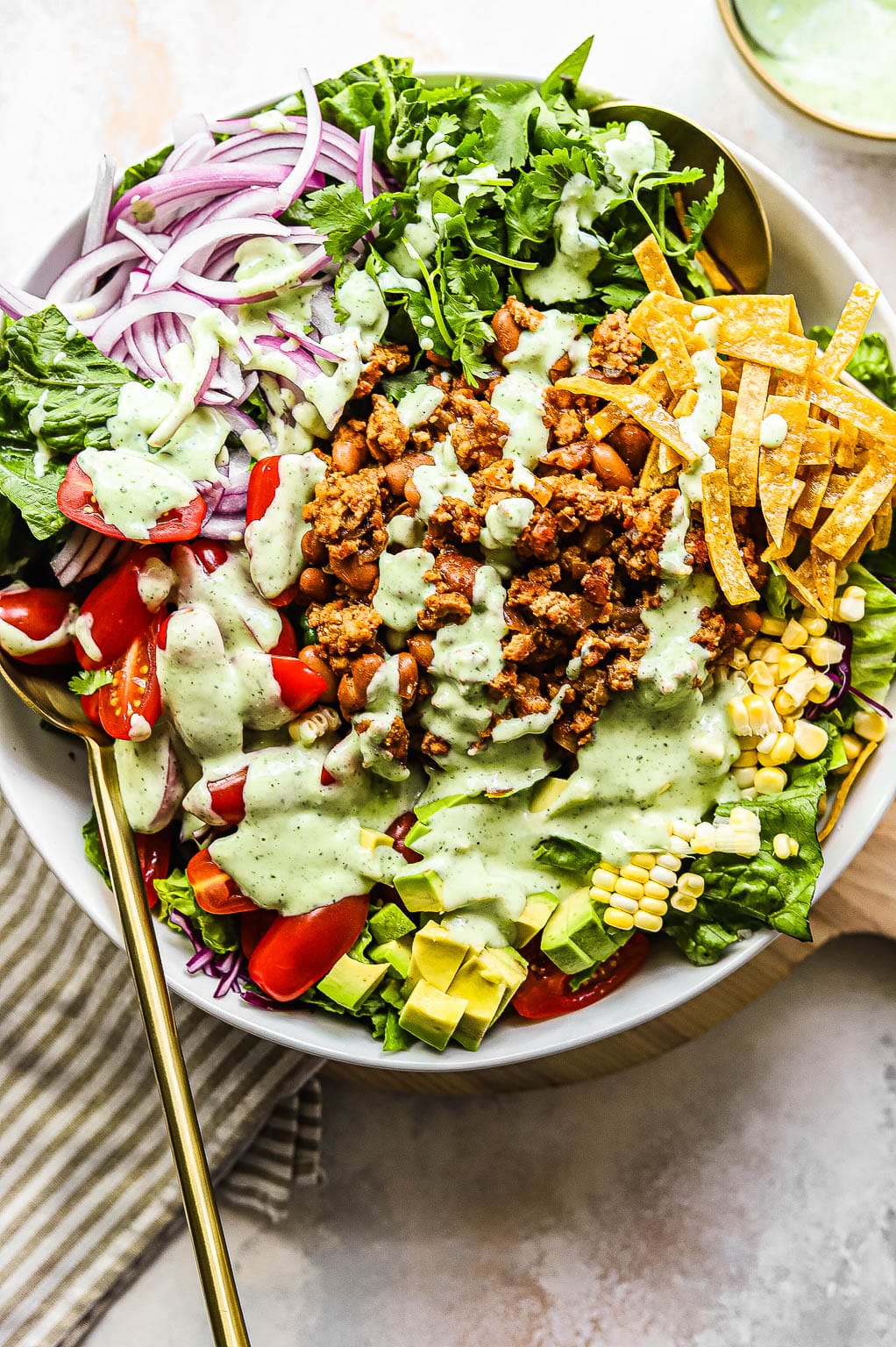 More Salad Recipes to Try Now
This post contains affiliate links from which I receive a small commission at no additional cost to you. Affiliate links allow me to keep providing great recipes for free and I never recommend products that I don't love and personally own.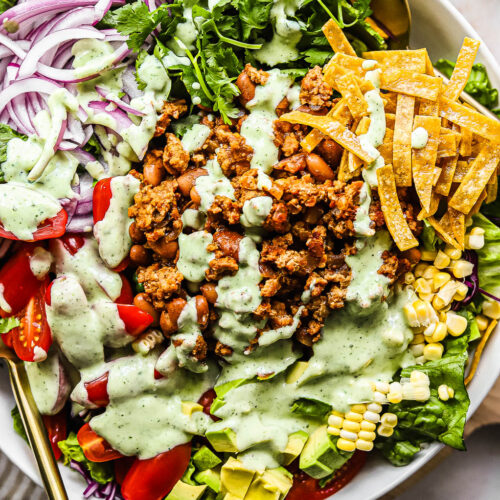 Turkey Taco Salad
This turkey taco salad is a healthy and fresh dinner-worthy salad for when you're craving tacos, but lighter! It's got all the flavor and things you love about tacos in a light and fresh package. This recipe is great for weekly meal prep, too!
Ingredients
Creamy Avocado Dressing
1/2

ripe avocado

1/3

cup

greek yogurt

2

tablespoons

mayonnaise

1 1/2

cups

buttermilk

1 1/2

teaspoons

onion powder

1

teaspoon

garlic powder

1

serrano or jalapeno, sliced

1/3

cup

chopped cilantro
Turkey Taco Meat
1

tablespoon

olive oil

1/2

red onion, diced

1

lb

ground turkey (93/7)

1 –

15 oz

can pinto beans, drained and rinsed

1 1/2

tablespoons

taco seasoning*

kosher salt

freshly cracked pepper
Taco Salad Ingredients
1

large head romaine, washed and chopped

2

cups

shredded cabbage

1/2

red onion, thinly sliced

1

pint

cherry tomatoes, halved

1 1/2

cups

corn kernels

1

avocado, diced

1/2

cup

chopped cilantro

1

cup

tortilla strips

1/2

cup

shredded cheese, or feta, or crumbled cotija
Instructions
Creamy Avocado Dressing
Combine all the ingredients in a blender and blend until smooth. Season to taste with salt and pepper.
Turkey Taco Meat
Heat the olive oil in a large skillet over medium heat. Add the diced onion and cook for 2-3 minutes, until softened. Add the turkey and taco seasoning and cook until browned and cook through, breaking the meat up as it cooks. Add the beans and cook for another few minutes. Season to taste with salt and pepper.
Salad
Assemble the salads by layering romaine and cabbage in bowls. Add the red onion, diced tomatoes, and corn. Top with the turkey taco meat. Top with the tortilla strips, avocado, cilantro, and cheese. Drizzle your desired amount of dressing over the top and and serve.
You might also like...