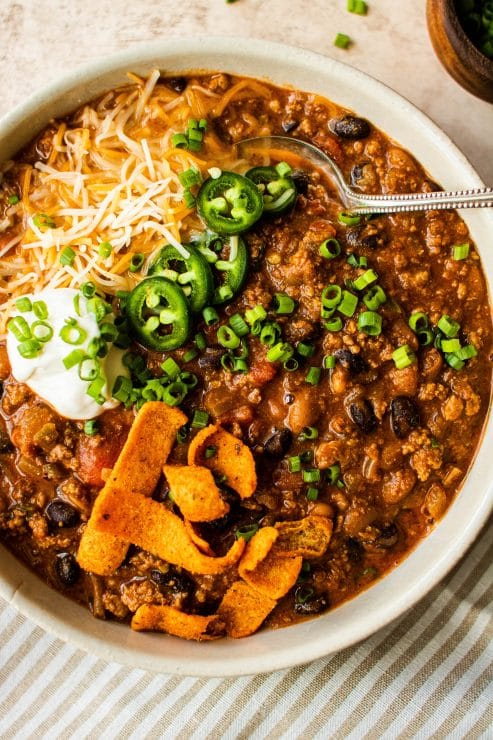 30-Minute Turkey Chili
30-Minute Turkey Chili
It's finally my time of year: chili season! And this 30-minute turkey chili is always on rotation in our house.  I have won first place in multiple chili cook-offs over the years. I don't want to brag or anything, but it really is that good! We always make a large batch so we can enjoy turkey chili for lunch throughout the week. This recipe serves at least 6 big bowls, but you can feel free to cut it half to make a smaller batch. Happy cooking!
Beans or no beans in chili?
I am decidedly pro-bean, and that is a non-negotiable for me. I love beans so much! We will sometimes even make vegetarian 5-bean chili if we're really trying to clean out the pantry of canned goods.
This recipe calls for canned pinto beans, black beans and refried beans.
Personally, I like my turkey chili to be really thick, so the refried beans help give it a much better texture. It's a totally optional add though, so if you prefer a soupier chili, leave it out!
I love to make instant pot refried beans, so if I have homemade refried beans on hand I'm always using that but canned works just fine. If you don't love black or pinto beans, feel free to substitute your favorites!
Types of chili powder
This recipe specifically called for ancho chile powder, which can be found pretty readily in most well-stocked grocery stores. So, what's the difference between ancho chile powder and the stuff labeled "chili powder"?
Well, the latter is more of an all purpose chili seasoning that often contains cumin, onion, garlic, and salt. Ancho chile powder is actual dried ancho chilies that have been toasted and ground into a powder.
If I am feeling really extra, I'll toast my own ancho chiles and grind them in my vitamix to make my own chile powder. However, using ancho chile powder from the store works just fine!
Ingredients in Turkey Chili
Turkey chili is so easy to make and the ingredients can be found at most grocery stores.
turkey. This is an obvious one! I try to select ground turkey that is at least 93/7 (referring to the fat content). Turkey is a super lean meat and having a little fat in it really helps with flavor and keeping the meat from drying out.
green chilies. I love adding chopped green chilies to my turkey chili for a tiny bit of heat and lots of flavor. If I can find canned hatch green chilies, that's my preference but any chopped canned green chili will do. They'll usually be found in the 'Hispanic' section of any grocery store.
tomatoes. I always add tomatoes to my chili. If I have fresh tomatoes on hand, I'll chop two up and add them in, otherwise I use canned diced tomatoes.
seasonings. I always make my own chili seasoning vs. using the packets. The packets of chili seasoning are super high in sodium and I prefer to control salt to my taste when I cook. I use a mix of ancho chile powder, paprika, cumin, garlic powder, onion powder, Mexican oregano, and a touch of brown sugar. You can make a large batch of the seasoning and keep it in an airtight container in your pantry for future use.
beans. As I mentioned above, I am pro-bean! I have made chili with all kinds of beans but my favorites are black and pinto. I also use some refried beans to help thicken the chili. This is an optional step that you can skip if you like a soupier chili.
yellow mustard. I know that you think that adding yellow mustard to chili is nuts, but it's my secret ingredient! As a result, it adds a savory-ness and some acidity to the chili that just makes the flavor so, so good. You can skip it, but I recommend trying it before you knock it!
worcestershire. This adds lots of savory notes to the chili and I never skip it!
Toppings for turkey chili
I am 100% a toppings person! The more toppings, the better. Some of my favorites include: sour cream, shredded cheese, jalapeños, green onions, diced onion, chopped avocado, and always some kind of chip for crunch (usually Fritos which were honestly made for chili).
However, these are just my personal favorites, try some out and see which ones are yours!
Can turkey chili be made vegetarian/vegan?
Of course! Firstly, You would obviously omit the turkey. In doing so, the recipe is already vegetarian depending on your brand of Worcestershire.
Secondly, you could substitute any vegan or vegetarian ground meat substitute and just follow the same method of cooking.
Thirdly, you could add more varieties of beans for a hearty bean-heavy version. Similarly, I also love adding diced sweet potato to a vegetarian chili. Just make sure to find a vegetarian/vegan Worcestershire sauce and you're in business!
Can you freeze turkey chili?
Yes! All you need to do is make sure you cool the chili down to room temperature before freezing. It can be stored in freezer-safe ziplock bags or in an airtight freezer-safe container.
The chili will keep in the refrigerator for about a week and in the freezer for 3 months.
More Recipes to Try
This post may contain affiliate links from which I receive a small commission at no additional cost to you. Affiliate links allow me to keep providing great recipes for free and I never recommend products that I don't love and personally own.
30-Minute Turkey Chili
This 30-minute turkey chili recipe might not take hours to make, but it's packed with flavor and perfect for a weeknight meal.
Ingredients
2

tablespoons

neutral oil

1

yellow onion

diced

1

jalapeño

minced (seeds removed for less spice)

2

lbs.

ground turkey 93/7

8

oz

canned green chilies

1

tablespoon

ancho chile powder

1

tablespoon

paprika

2

teaspoons

ground cumin

2

teaspoons

onion powder

1

teaspoon

garlic powder

1/2

teaspoon

dried Mexican Oregano

1

tablespoon

brown sugar

15

oz

can diced tomatoes

or two medium fresh tomatoes diced

1/4

cup

yellow mustard

1

tablespoon

Worcestershire

2

tablespoons

vinegar-based hot sauce

like Frank's or Crystal hot sauce

15

oz

canned black beans

with juices

15

oz

canned pinto beans

with juices

1 1/2

cups

water or broth

15

oz

canned refried beans

optional

Salt and pepper to taste

Sour cream

for topping

Shredded cheese

for topping

Sliced green onions

for topping
Instructions
In a small bowl, combine the ancho chile powder, paprika, cumin, onion powder, garlic powder, oregano, and brown sugar and stir to combine. You can double or triple this seasoning recipe and keep in an airtight container for future use.

In a larger dutch oven or pot, heat the oil over medium-high heat. Once the oil is hot, add the onions and jalapeno and cook for 2-3 minutes until the onions are softened. Add the ground turkey to the pot and cook until no pink remains, about 5 minutes or so, breaking the meat up into small pieces as it cooks. Next, add the green chilies and seasoning blend and stir well to make sure the seasonings are evenly distributed. Add the diced tomatoes, mustard, worcestershire and hot sauce and bring to a simmer. Then, add the black beans, pinto beans, and water, cover the pot, lower the heat and simmer for 20 minutes.

Remove the lid, stir in the refried beans (if using), and simmer for 5 minutes more, stirring to make sure the refried beans are evenly distributed. Season to taste with salt and pepper.

Ladle the chili into bowls and top with desired toppings. Enjoy!
You might also like...