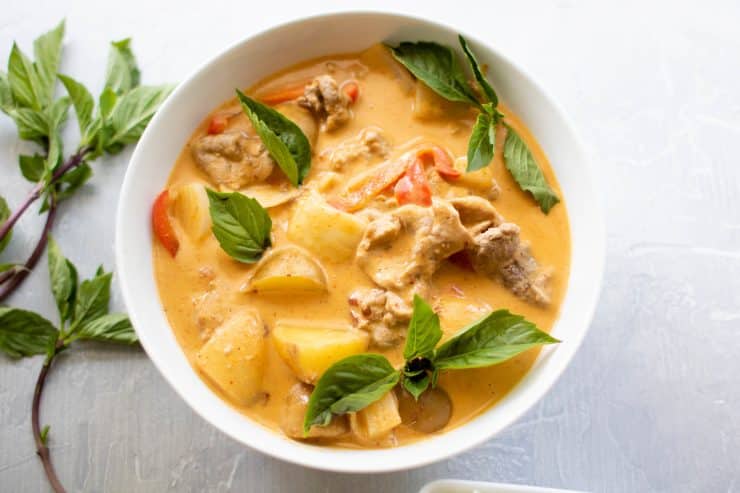 thai panang curry with pork
thai panang curry with pork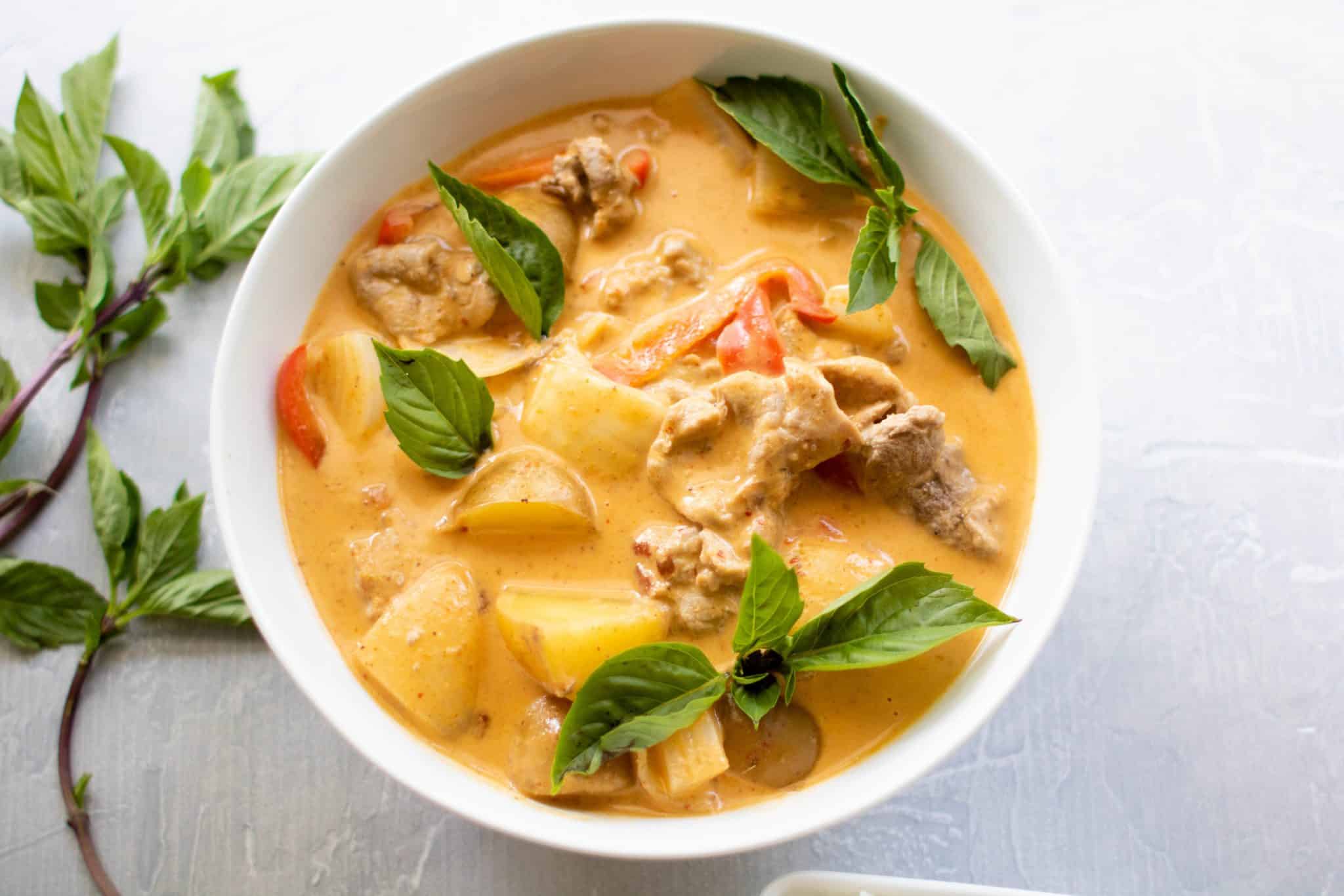 I can say with zero proof to strengthen this argument: I am a thai food connoisseur. Please be clear, by no means do I claim that I have any idea what I am doing. I generally fumble around in the dark looking for a light switch and every now and then I can flip it. Hey, even a blind squirrel can find a nut, or whatever, right? I have made a study of as many thai restaurants as I can find(and by study, I mean I have eaten as much thai food as my pants will allow). I always order the same dishes so as to compare and contrast between each restaurant. I have even gone so far as to beg my favorite neighborhood Thai joint in San Diego to allow me to observe the kitchen (they did in fact allow this, kind and amazing folks that they are).
I love thai noodle dishes and stir fries and all that, but nothing is quite as comforting to me as thai curry. I've worked over the years to create a recipe that embodies all the things I love in a Thai curry: the right amount of flavor and spice; the correct ratio of coconut milk; thick, rich texture; and all the fresh aromatics. I cannot claim that my Thai curry is 100 percent authentic, but I draw from as many authentic ingredients as I can find. I make this dish to my own taste, and that might not be for everyone and that's okay! I do hope you enjoy my version though.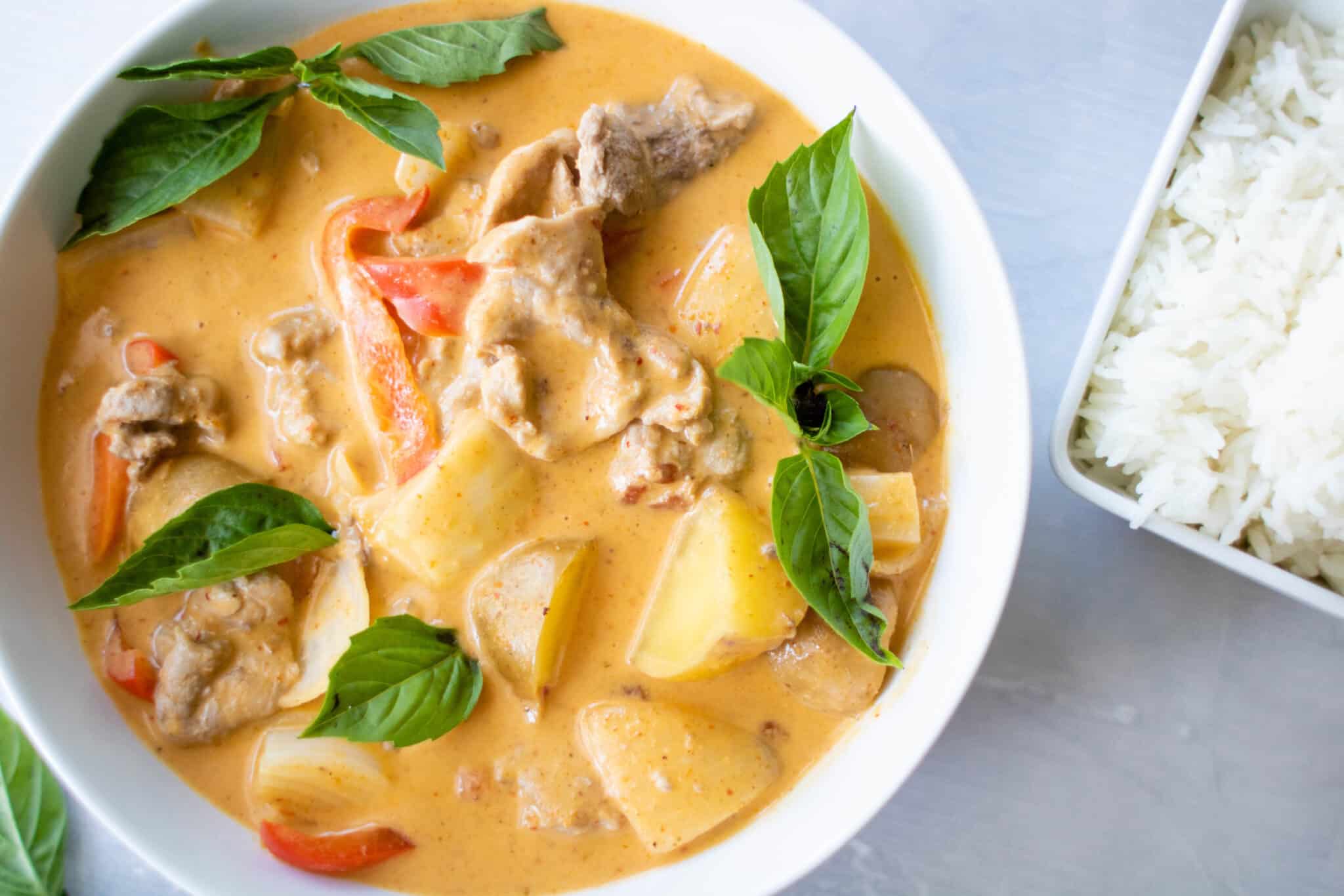 You're going to want to take a trip to your local asian market to find all the necessary ingredients. The most important part of any curry is going to be the curry paste as the base of the sauce. There are countless recipes out there to make your own–however, I find that I like to just leave it up to the professionals on that front unless I'm making green curry, then I like to make my own. For panang curry, a sweet and savory thai curry, I like to use the brand Mae Ploy. IMHO, theirs has the best flavor and spice. I'm also incredibly picky about the coconut milk that I use. Please, for the love of all that is good, do not use some low-fat coconut milk garbage. My preferred brand is Chaokoh coconut milk, pretty much readily available in any asian market, some well-stocked grocery stores, and as always, AMAZON. The bringer of all specialty goods that keeps me sane and annoys the hell out of my husband for all the boxes we receive. All of the aromatics that I like to use are optional, but they do a lot for the dish. I do, however, realize that not everyone has access to well-stocked asian markets with produce so work with what you can find! If you can't find kaffir lime leaves, a couple of shavings of lime rind help to bring a similar flavor. Italian basil can also be substituted for Thai basil in a pinch.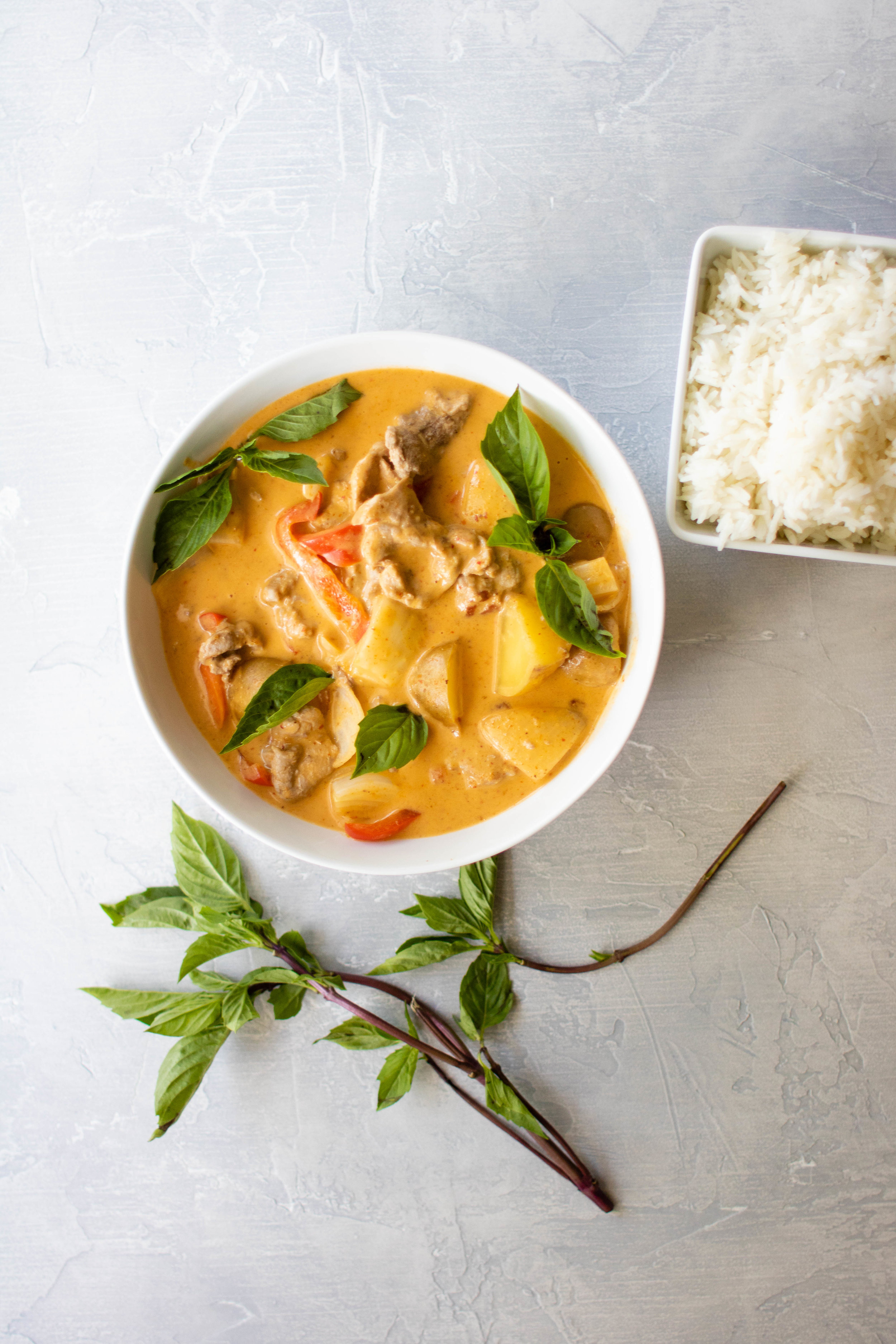 Now, for the meat. Because the meat isn't going to stew for an extended period of time, it's important to choose a tender cut. I happened to have a pork tenderloin in the freezer that I wanted to use so that worked for me. Chicken thighs are also a great option as well as some tender cuts of beef. The trick is to slice it thin, toss with cornstarch and gently fry in a separate pan before topping with curry sauce and veggies. This helps to give texture and caramelization to the meat. It also creates an attractive golden brown color on the meat, rather than just a blah, grey-ish cooked color. This is known as the Maillard Reaction which is a chemical reaction between amino acids and reducing sugars that gives browned foods its distinct flavors. So basically, browned meats and veggies= good flavor and that's all the science you need to know. So, get in your sweats, make pretty-damn-close-to restaurant quality thai food, netflix, and eat until your sweats are tight. 'Cause I know that's what I'll be doing. –xx Jenny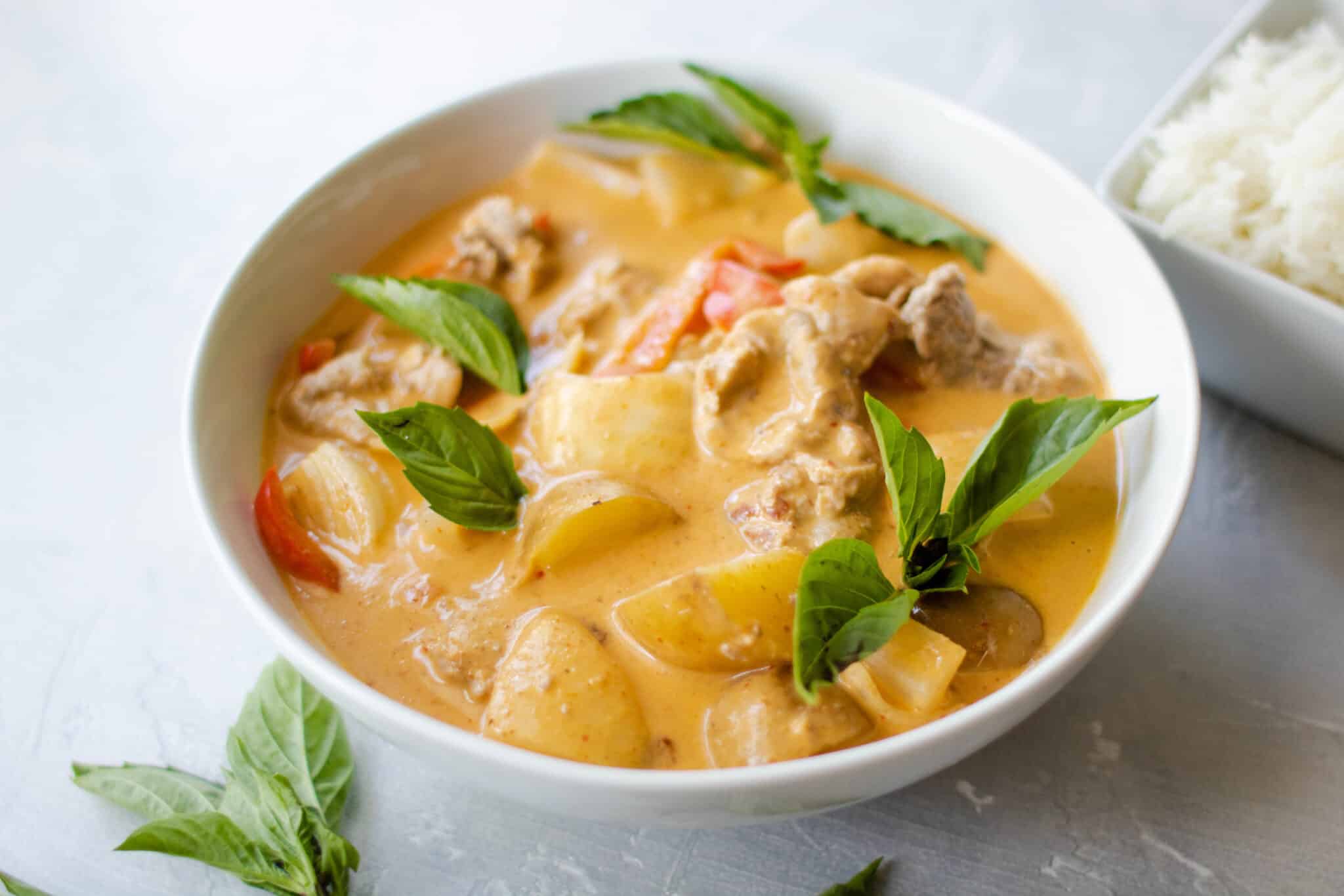 THAI PANANG CURRY WITH PORK:
serves 4-6
1 tablespoon neutral oil (canola or similar)
1/4 cup Mae Ploy panang curry paste (use a bit less for a milder flavor)
2 stalks lemongrass, tough outer leaves removed and cut into 3″ pieces
1 inch fresh ginger (or galangal if you can find it), sliced thick
4-6 kaffir lime leaves (6 if they are very small, 4 if they are larger)
1/2 cup water
2 13.5 oz cans Chaokoh coconut milk, shaken
2 oz palm sugar (do not buy a jar because it's so hard to get out of the jar, buy the little discs, you can substitute brown sugar or raw sugar in a pinch)
1 tablespoon fish sauce
salt to taste (usually about 2 teaspoons, but everyone's preference is different)
1 tablespoon corn starch, mixed with 1/4 cup water until totally dissolved with no clumps
1 lb. pork tenderloin, trimmed of silver skin and sliced thin
1 tablespoon corn starch
neutral oil for frying
3-4 medium sized yukon gold potatoes, cubed
1 yellow onion, cut into 1″ diced pieces
3 carrots, peeled and sliced on the bias
1 red bell pepper, cored and sliced
Thai basil, for garnish
steamed jasmine rice, for serving
Mix sliced pork with 1 tablespoon of cornstarch, working the cornstarch well into the meat, set aside. In a heavy bottomed pot or dutch oven (I use a 4qt le creuset), heat 1 tablespoon neutral oil. Add curry paste, lemongrass and ginger/galangal and kaffir lime leaves. Using a wooden spoon, sauté the paste and aromatics for about 3-4 minutes until the paste starts to brown. Add the water and use that to help scrape any paste that has stuck to the bottom of the pan. Add coconut milk, palm sugar and fish sauce and cook until sugar has completely dissolved. Taste sauce and add salt as necessary. Add water and cornstarch mixture and continue to simmer until sauce is very thick.
Using a slotted spoon, fish out the lime leaves, ginger/galangal and lemongrass and discard. Add potatoes to sauce and simmer until almost cooked. Add onion, bell pepper and carrot and simmer for 5-7 minutes more. In a separate pan, nonstick or stainless, heat a thin layer of neutral oil until it's very hot. Add pork in a single layer (for even cooking/browning) and cook until browned. Remove pork from the oil and add to the curry sauce. Taste for any additional seasoning. Serve topped with thai basil over steamed jasmine rice.
You might also like...