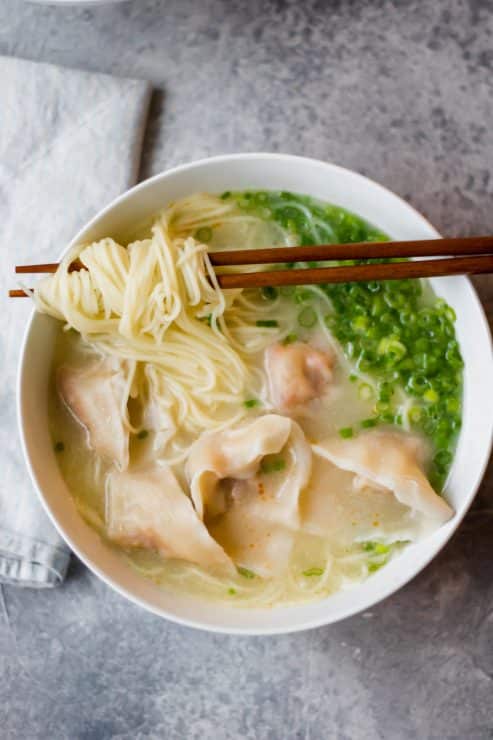 wonton noodle soup
wonton noodle soup
Do you have those comforting dishes that you like to bust out when you're sick or just looking for a comforting meal? Wonton noodle soup is that meal for me. If I'm sick, I add lots of extra ginger and chili oil to the broth and I swear it fixes me right up. It's been the rainiest month ever in Texas (weird, I know), and even though it's still 85 degrees out, I still reach for my wonton soup.
I love the recipe because even though it takes a bit of time to make the broth and wontons, I usually make a large batch and store everything in the freezer and then I can have wonton soup at my fingertips whenever I want.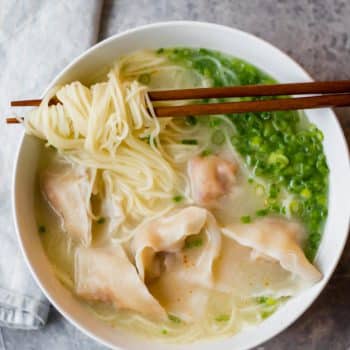 wonton noodle soup
Makes:
4
servings plus wontons for the freezer
Ingredients
Broth

1

whole chicken

gizzards removed (you can also opt to use just a bunch of chicken bones)

1

lb

pork bones or pork trotters

1/2

yellow onion

skin on

1

bunch green onions

2

inches

of fresh ginger

sliced

Spicy Pork Wontons

1

package of square wonton wrappers

usually around 40-50

1

lb.

ground pork

1

egg

1

tablespoon

soy sauce

1

tablespoon

oyster sauce

2

tablespoons

chili paste

3

cloves

garlic

minced

1

tablespoon

freshly grated ginger

3

stalks green onion

thinly sliced

1/2

teaspoon

sea salt

Soup Ingredients

1

package thin canton style egg noodles

1

bunch green onions

thinly sliced

soy sauce

for dressing the soup

spicy chili oil

optional
Instructions
To make the broth: Place the chicken, or chicken bones, and pork bones in a large stock pot. Cover with cool water and bring to a simmer. Drain all the liquid and scum that comes to the top of the water. This is an important part to having a really great, clean tasting broth. Fill the pot with cool water again and add the onion, green onion and ginger. Bring to a rolling boil and allow to boil for 6-8 hours, adding water as necessary so that the level doesn't get too low. Strain the broth and reserve at least 8 cups of broth for the soup, any additional can be frozen. You can use storebought but I promise it won't taste as good.

To make the wontons: mix the pork together with all the remaining ingredients. I like to set up a little assembly line station when I make wontons. I'll have a sheet tray nearby dusted with flour and a small bowl filled with cool water, for brushing the wonton skins. I like to lay out 5-6 skins, fill them, and then fold each one and then start over. I feel like this method helps the process go a bit faster. Lay each wonton wrapper so that they are in a diamond shape, with one point at the top and another point at the bottom. Fill skins with 1 teaspoon filling. Use your fingertips to brush all the edges of the wonton wrapper with water. Fold the bottom up to meet the top so that it's now a triangle shape. Press all the edges together to seal and try to push out any air bubbles around the filling. Bring the left and right sides of the triangle together around the filling, slightly overlapping, and use a little water to press them together. Repeat until all the filling has been used, this makes about 45-50 wontons. I saved about 24 for the soup and froze the rest.

To assemble soup: warm broth in a saucepan and season to taste with salt. In a separate pot, bring 4 quarts of water to a boil. Cook egg noodles or pasta according to package instructions. Drain and rinse, set aside. Fill the pot again with water and bring to a simmer. Add wontons, about 12 at a time, and cook for 8-10 minutes. While the wontons are cooking, evenly distribute the noodles between 4 bowls. Top noodles with 2 cups (or more depending on your preference) broth and sliced green onions. When wontons are done cooking, remove from the water with a slotted spoon and add them to the bowls of noodles and broth. Add soy and chili oil to your liking.
Notes
Notes: You can absolutely use storebought broth in this recipe to cut down on time, but I will always prefer homemade broth to store bought.
Both the broth and extra wontons can be frozen. I find that if I'm going to make wontons, I might as well make a large batch and freeze what I don't use. Wontons can be cooked directly from frozen in boiling water.
The noodles that I used are called Canton Style Egg Noodles and can be found at most asian grocery stores. Angel hair pasta can be substituted if necessary.
You might also like...