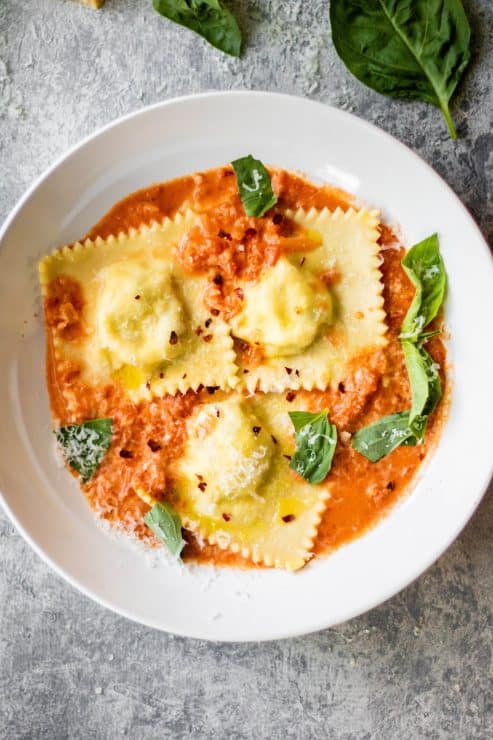 mushroom ravioli with tomato vodka sauce
mushroom ravioli with tomato vodka sauce
I'm kind of a sucker for Italian-American cuisine. There are so many dishes that I love that probably make most Italians facepalm hardcore. I love true traditional classics too, like carbonara and arrabiata, but I've got a special place in my heart for spaghetti and meatballs and classic tomato vodka sauce. This mushroom ravioli with tomato vodka sauce is one of my favorite comfort foods. If you didn't know this about me, I've been on Cutthroat Kitchen on the Food Network three times (you can watch my episodes on YouTube or Amazon). On my first ever episode, I had to make penne alla vodka (under duress, of course) so this sauce in particular has a special place in my heart.
It's simple, a little spicy, creamy, and super comforting. If I'm unsure of what kind of sauce to make for my pasta, I almost always have the ingredients on hand for tomato vodka sauce. The science behind the sauce is pretty interesting, actually! The main concept behind the sauce is the addition of vodka brings out flavors in the tomatoes that are alcohol soluble, and with vodka being a rather neutral liquor, it cooks off somewhat flavorless and leaves behind a changed tomato sauce. Vodka is also an emulsifier which keeps the cream from separating due to the high acidity of the tomatoes. Science is so fun, y'all.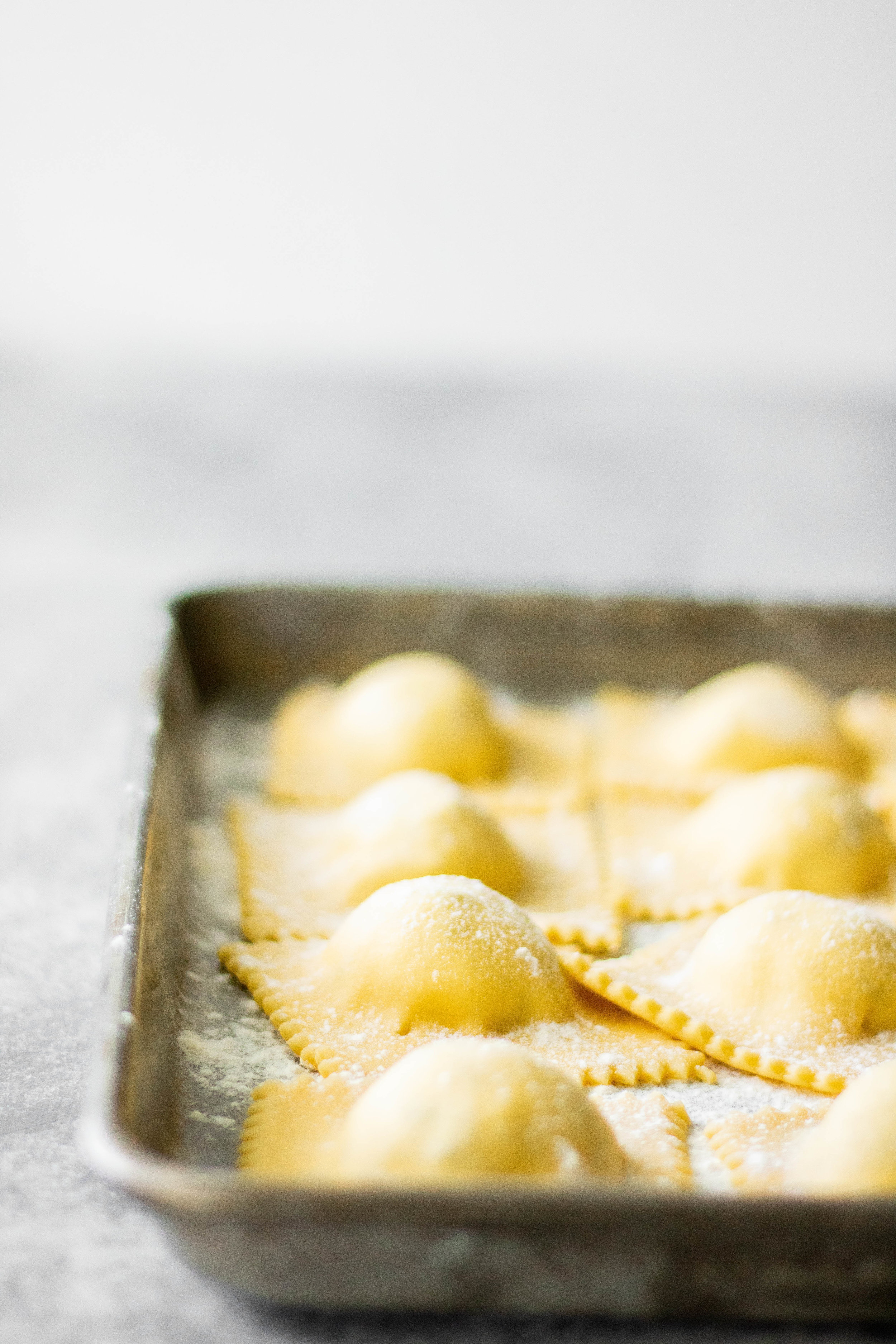 Because I love a homemade pasta, I opted to make giant ravioli from scratch especially since I have a new pasta cutter and I love it so damn much (link to cutter here) and I can't wait to use it on some pie lattices this holiday season. You can buy the fresh store bought ravioli if making pasta isn't your jam, but I can guarantee that the homemade stuff is infinitely better (and freezable for quick weeknight meals) and more satisfying to make. So if you guys feel like challenging yourself, the recipe and method for the ravioli will be below.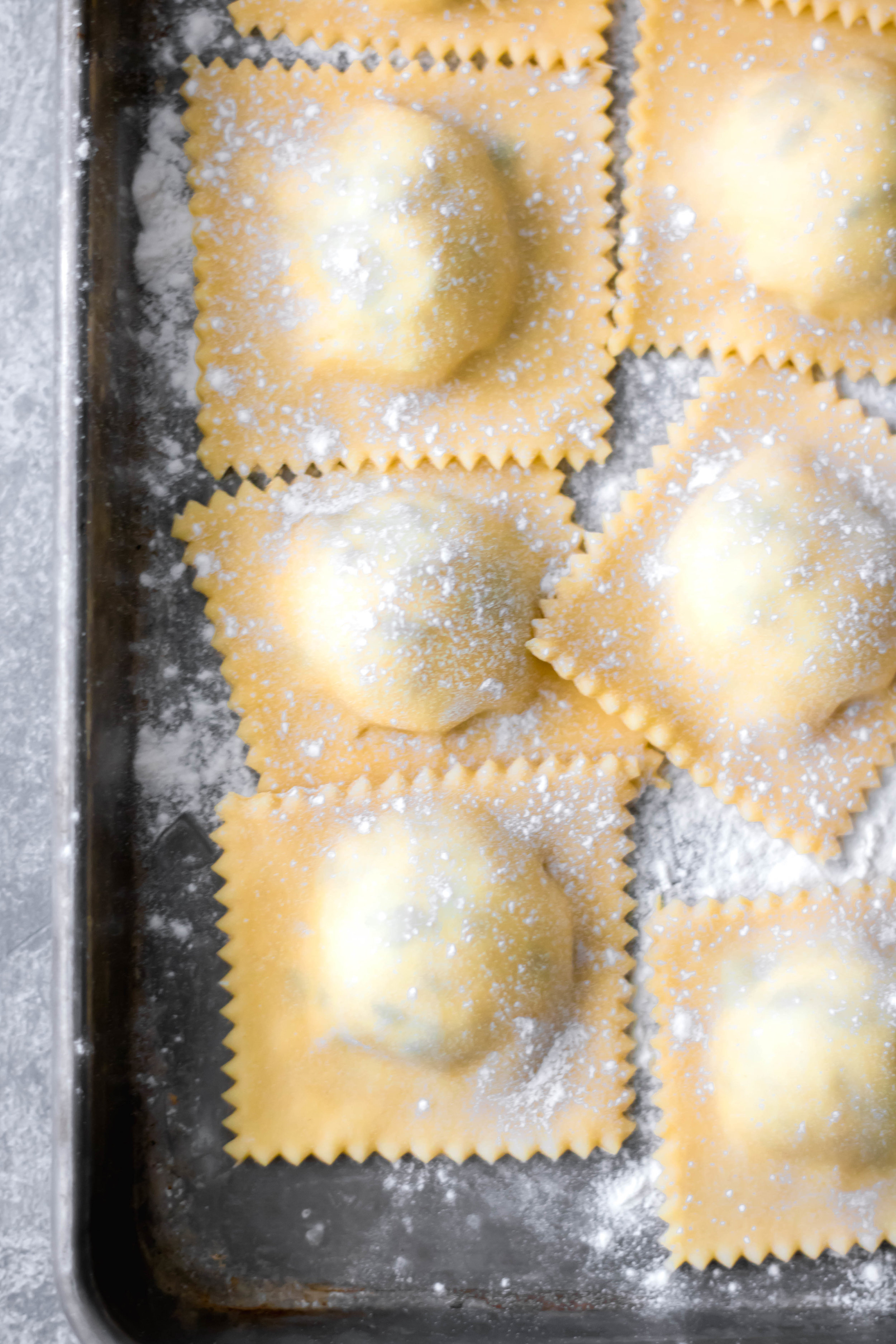 So if you are looking for a comforting meal for any night, mushroom ravioli with tomato vodkas sauce is your ticket. I highly recommend just making a lot of ravioli on a weekend day, freezing and saving for a really quick and easy weeknight meal. The ravioli turned out giant (like palm-sized), and 4 was enough to make me feel satisfied! As always, leave any questions or comments in the comment section below! Have fun!
TIPS FOR HOMEMADE RAVIOLI:
The secret to remarkable ravioli dough is stretch. You need a forgiving dough to pull over your fillings, one that will bend and expand with out cracking or ripping. This dough is perfect for that.

Thickness is another huge factor here. If you ravioli dough is too thick, the corners (where the two layers of dough come together) will be much thicker than the rest of the ravioli. This leaves you with undercooked dough, which will give you an unpleasantly chewy and crunchy texture. The solution? Make sure your dough is thin. Whether you're rolling by hand or using a pasta machine, you want to be able to see the shadow of your hand move behind the dough when you hold it up to the light.

Not all pasta dough can be ravioli dough, but this ravioli dough is great for basically any pasta. The secret is the use of both egg and oil in the dough, which allow for a bit more flexibility than a traditional egg and wheat pasta dough.

You will need some water to get the pasta sheets to stick together when covering the filling. I like to have a small water mister or spray bottle on hand for just this. Before I cover the filling with more dough, I mist the pasta lightly which allows everything to stick together easily and saves me time from using my fingers.

I don't use a ravioli mold, I like to kick it old school. If you have one and that makes it easier for you, go for it!

The fastest method is to make about 10 ravioli at a time. This requires a little time and patience to smooth the dough around the filling. You can absolutely cut out individual squares, fill them, and cover them if you feel uncomfortable with the method below.
MUSHROOM RAVIOLI RECIPE:
Pasta Dough
3 cups all purpose flour

4 eggs

4 yolks

1 1/2 teaspoons kosher salt

3 tablespoons olive oil
16 oz. cremini mushrooms, finely chopped
1 tablespoon olive oil
16 oz whole milk ricotta, drained of excess liquid
1 egg
1/2 cup freshly grated parmesan cheese
1 teaspoon salt
1/2 teaspoon freshly ground pepper
Instructions
To make the dough: add all ingredients to the bowl of a stand mixer fitted with the dough hook. Mix on low until dough is smooth. Wrap in plastic and let rest for 20 minutes. Alternately, you can mix the dough by hand. Measure flour out onto a work surface and create a well in the center. Add the eggs, yolks, olive oil and salt.

With a fork, whisk the egg yolks & gradually pull in flour from the sides. Continue doing so until the dough sticks to the fork and becomes hard to whisk. Using your hands, continue to work the dough, kneading it, until smooth. Cover with plastic wrap and rest for 20 min.

While the dough is resting, heat olive oil in a large skillet. Once hot, add chopped mushrooms and cook, stirring occaisionally, until browned. Season lightly with salt and pepper and remove from heat. Set aside until cool.

Mix mushrooms with other filling ingredients until smooth and refrigerate until ready to use.

Cut dough into 6 pieces and

roll one piece at a time, keeping the remaining dough covered until ready to use. Liberally dust the dough and the pasta machine. Roll the dough out starting from the thicket setting to the third thinnest setting. This will also depend on your pasta machine. I have the kitchenaid attachment which has 8 settings and I have a hand crank machine that only has 6. In general on both, I roll out to setting 5. The pasta should be thin enough that you can see your hand's shadow beyond the dough. You also want to roll your dough out so that it reaches across the entire pasta machine. Most rollers are 6 inches wide, so this is what we are shooting for.

Once you have one sheet rolled, dust both sides with flour and trim it so that its 6×14″. Using a tablespoon, evenly space 10 dollops of filling across the pasta, five rows of 2 dollops. (see above image) Roll another sheet of pasta out to the same measurement. Lightly mist the first sheet (with the filling) with water. Place the second sheet over the first sheet, and gently stretch it to cover reach over the filling. Use your fingers to press the dough together around the filling, trying to release any air bubbles. Using a pasta cutter or even a pizza cutter, cut between the dollops of filling so that you have 10 ravioli. Lay them on a sheet pan dusted with flour. Repeat steps until all the filling or dough is gone. Wait 30 min before cooking ravioli.
To cook pasta immediately, bring a pot of salted water to a boil. Cook ravioli for about 5 minutes. Drain and serve with sauce. Pasta can be frozen and kept for 6 months. To cook from frozen: Bring a pot of salted water to a boil and cook ravioli for 7-9 minutes. Drain and serve.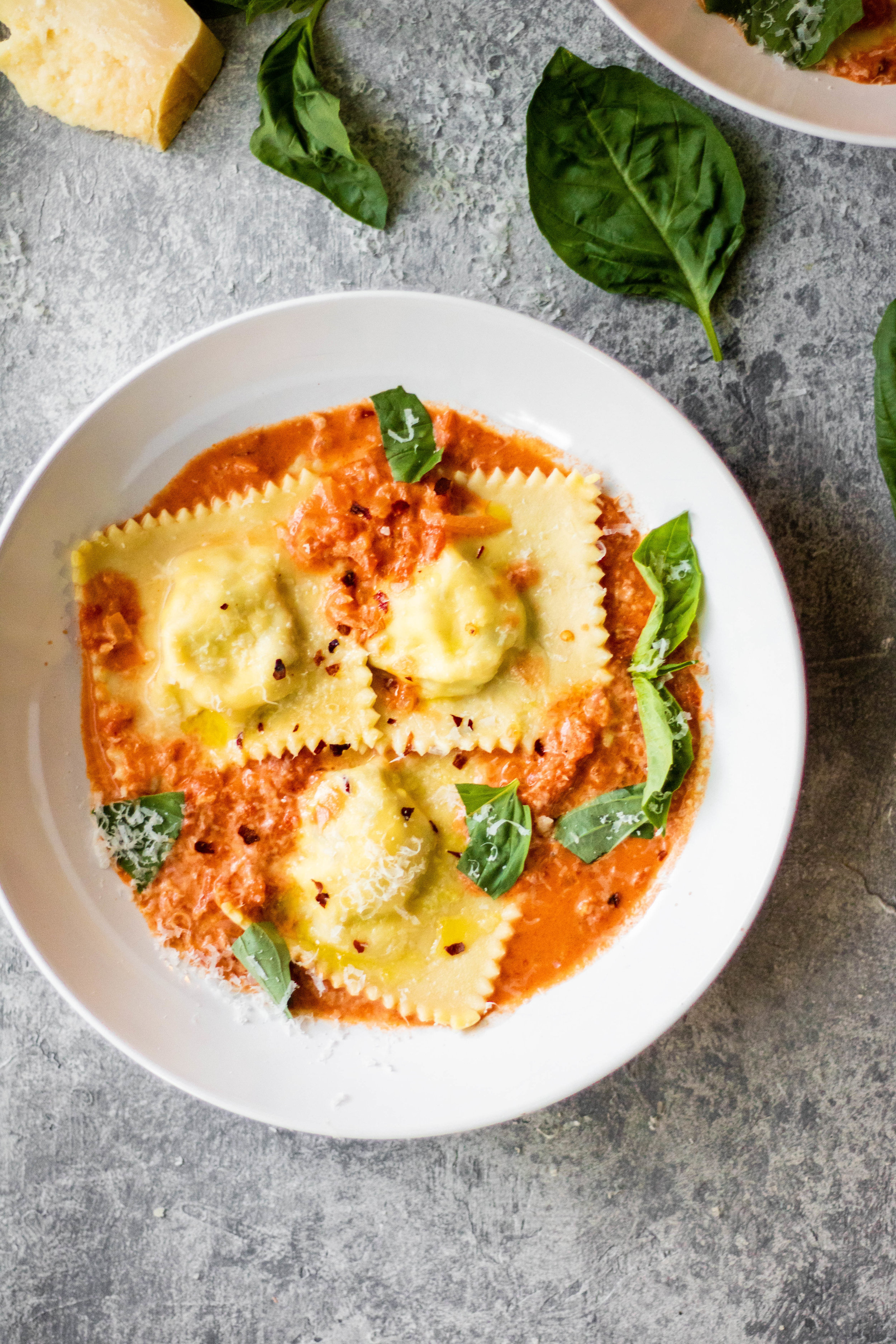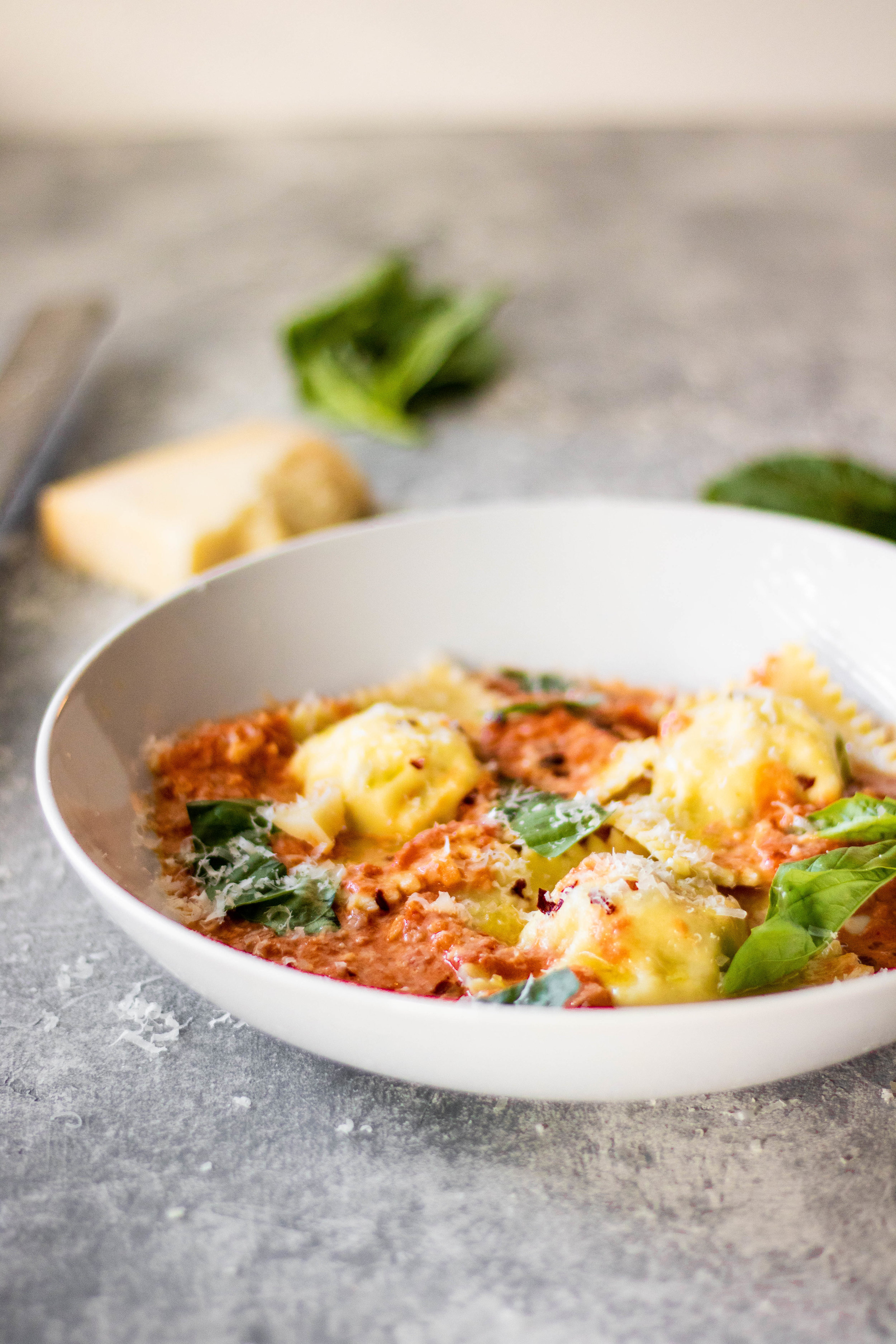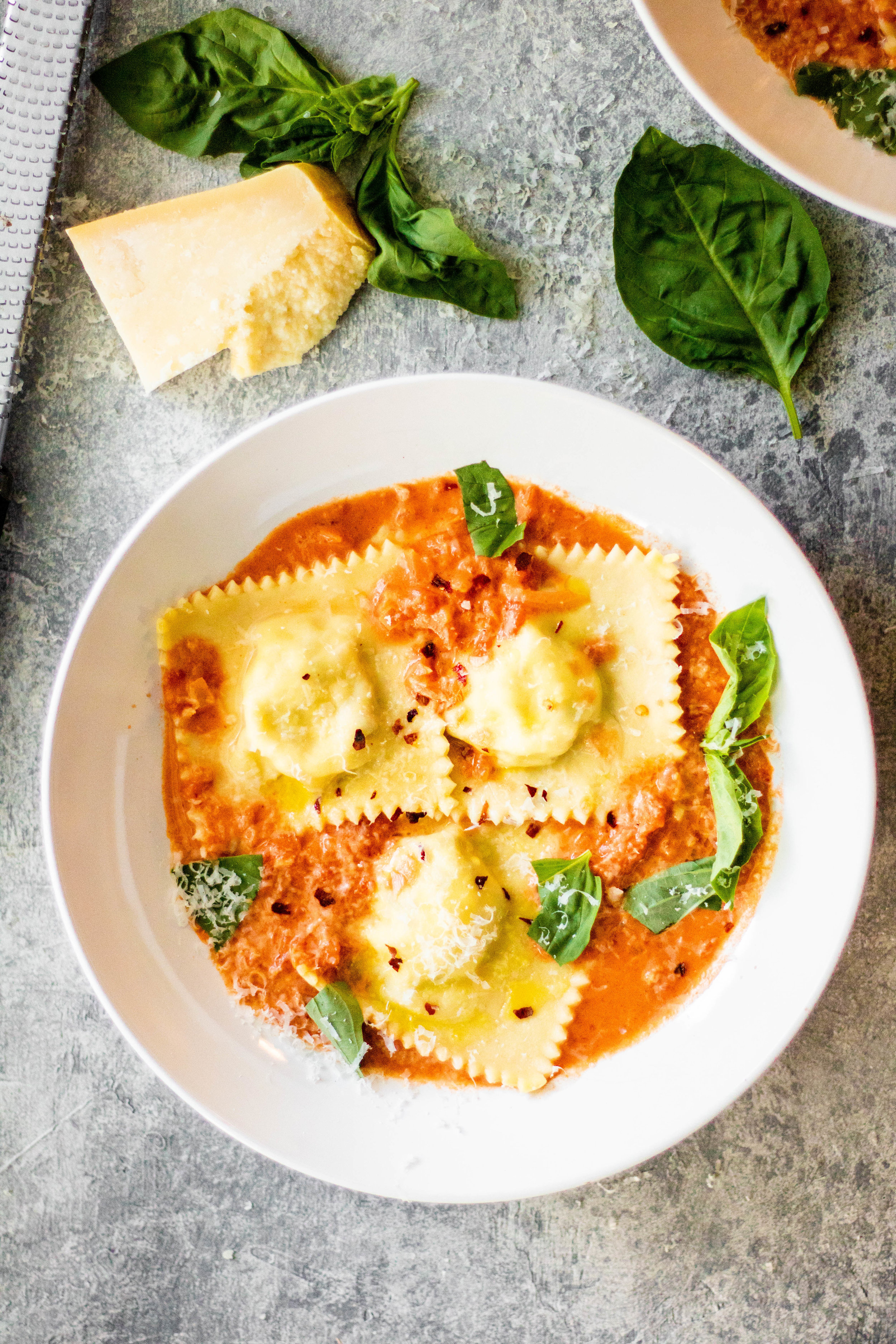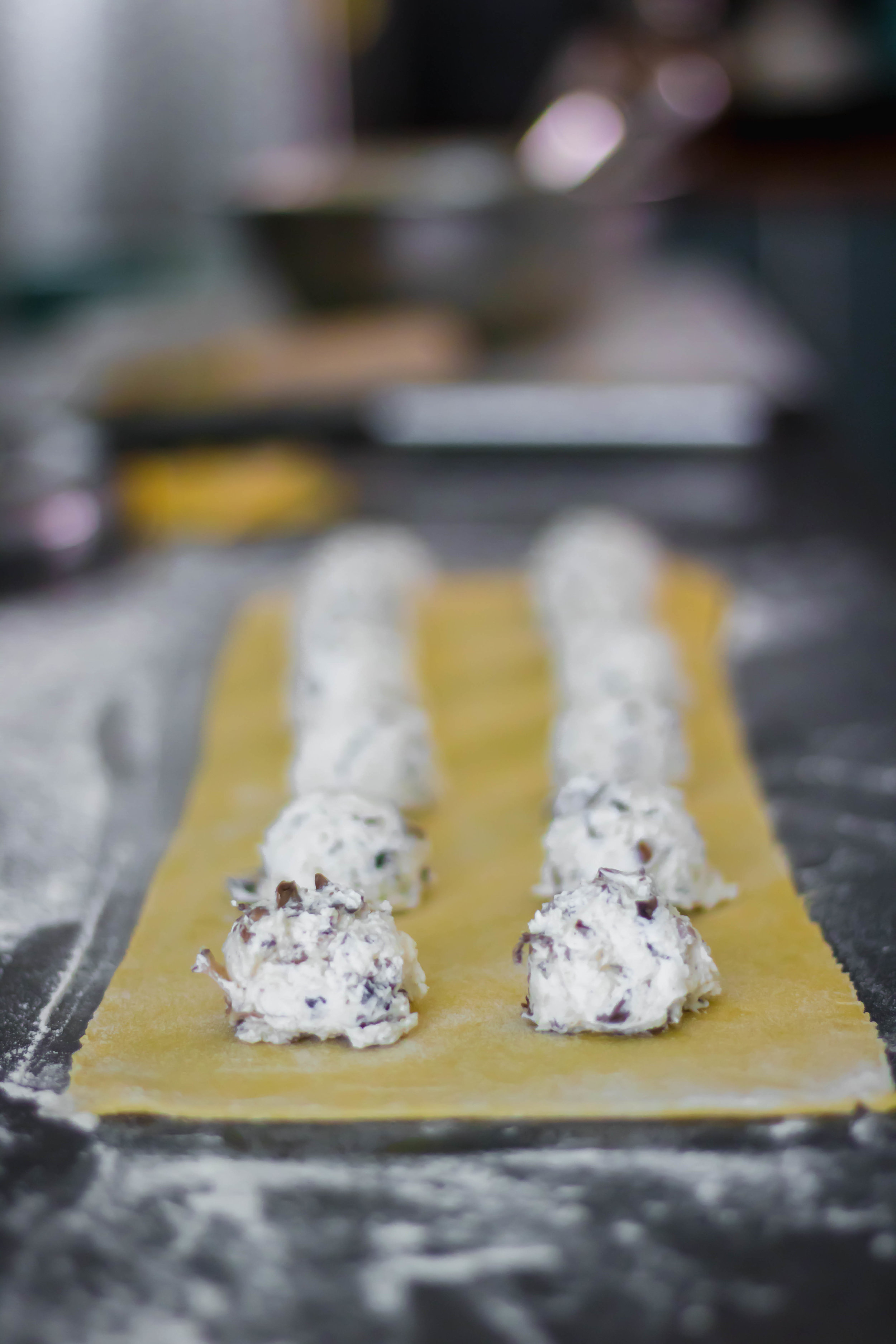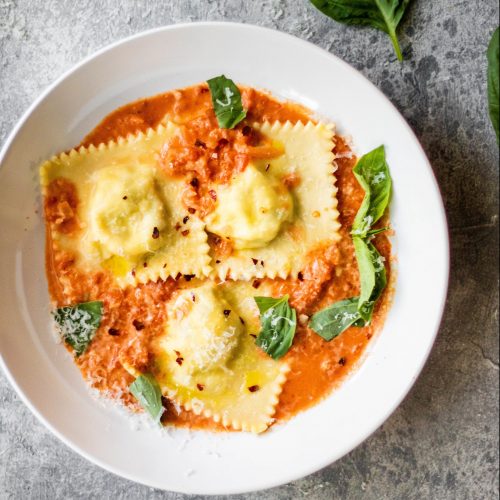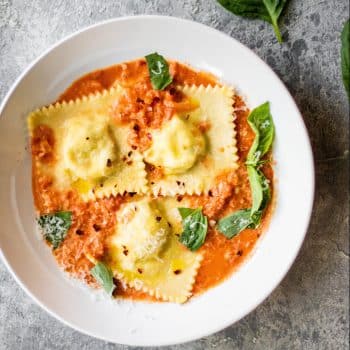 mushroom-ricotta ravioli with tomato-vodka sauce
This is my favorite ever tomato vodka sauce and it's delicious over mushroom and cheese ravioli whether it's homemade or storebought!
Ingredients
1

lb.

mushroom-ricotta ravioli

store bought or recipe below

2

tablespoons

olive oil

1/2

yellow onion

finely diced

5

cloves

garlic

minced

28

oz

can whole

peeled san marzano tomatoes

1

tablespoon

tomato paste

1

teaspoon

crushed red pepper flakes

1/2

cup

vodka

1/2

cup

heavy cream

salt and freshly cracked pepper to taste

basil leaves

for garnish

grana padano parmesan

grated, for sprinkling
Instructions
In a medium saucepan, heat oil over medium heat until just warm. Add onion and cook, stirring occasionally, for 3-4 minutes until onion is soft. Add garlic and cook 2 minutes more.

While onions and garlic cook, crush canned tomato by hand and save their juice as well. Add tomato paste and crushed red pepper to onions and stir. Add crushed tomatoes and juice. Remove from heat and add vodka. Return to heat and simmer until sauce thickens and vodka cooks out. For a smoother sauce, you can substitute crushed tomatoes or tomato puree. I opted for a chunkier sauce.

Add cream to sauce, season with salt and pepper to taste, and cook another 5-10 minutes, simmering gently, until sauce has darkened a little. Remove from heat and set aside.

Bring a pot of salted water to a boil and cook ravioli according to package instructions if using store bought. Homemade ravioli will take about 5-7 minutes. Drain pasta, portion into bowls, top with sauce, basil, freshly grated parmesan and a little drizzle of olive oil. Enjoy!
You might also like...