instant pot beef barbacoa
instant pot beef barbacoa
Since I've moved to Texas, I've always lamented the lack of Mexican food that I was used to in San Diego. I've resorted to making my own baja fish tacos, carnitas, and al pastor tacos among other recipes whenever my cravings hit. Making this instant pot beef barbacoa has been a game changer! Traditionally it would take me 3-4 hours to get this recipe done from the braising and prep, but now it's done in an hour and a half start to finish! The instant pot has become such a popular tool (and I absolutely love mine!) that I can't help but make recipes that utilize it. However, if you don't have an instant pot, I've got directions below to make this in a slow cooker so no one has to be without barbacoa!
Barbacoa actually originated in the Caribbean where the term "barbecue" was coined. It was later adopted into Mexican cuisine and is prepared with different cuts of meat depending on the region. Some regions prepare it with sheep or goat, some with pork and some areas with lamb. It was traditionally made in a fire pit and slow roasted. Popular culture has converted much of the barbacoa that you see now into beef.
It's often made with the tougher cuts of beef because the process is to cook the meat slowly until tender. I've made the recipe with both chuck and brisket and both are delicious (you want to choose a slightly fatty meat). By no means is this recipe super traditional, but it is DELICIOUS. Cold brew is my secret ingredient and helps create a really rich and flavorful sauce. Regardless of the preparation, folks in Mexico agree on one thing: this instant pot beef barbacoa is meant to be served on tortillas with cilantro, onion and lime! Salud!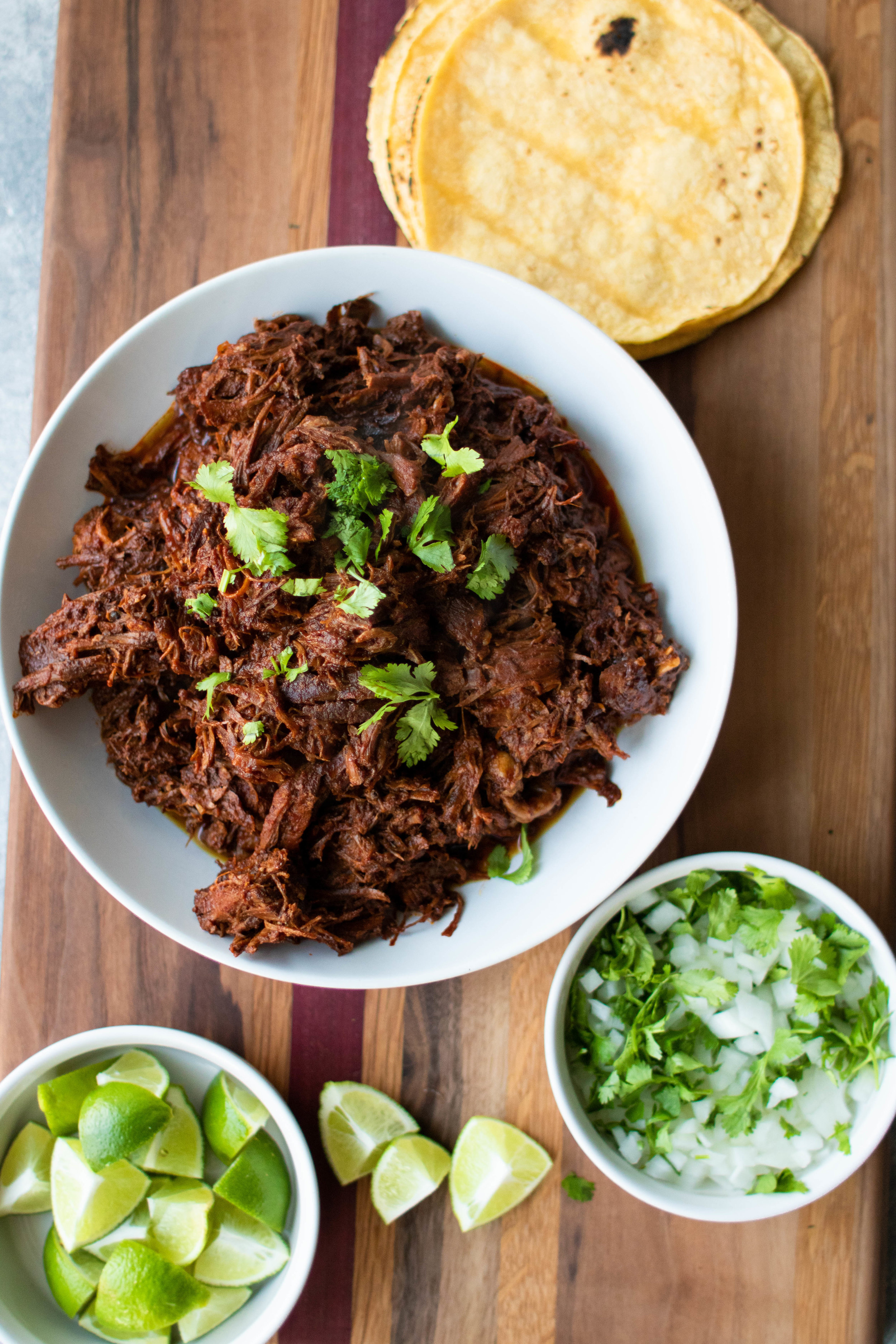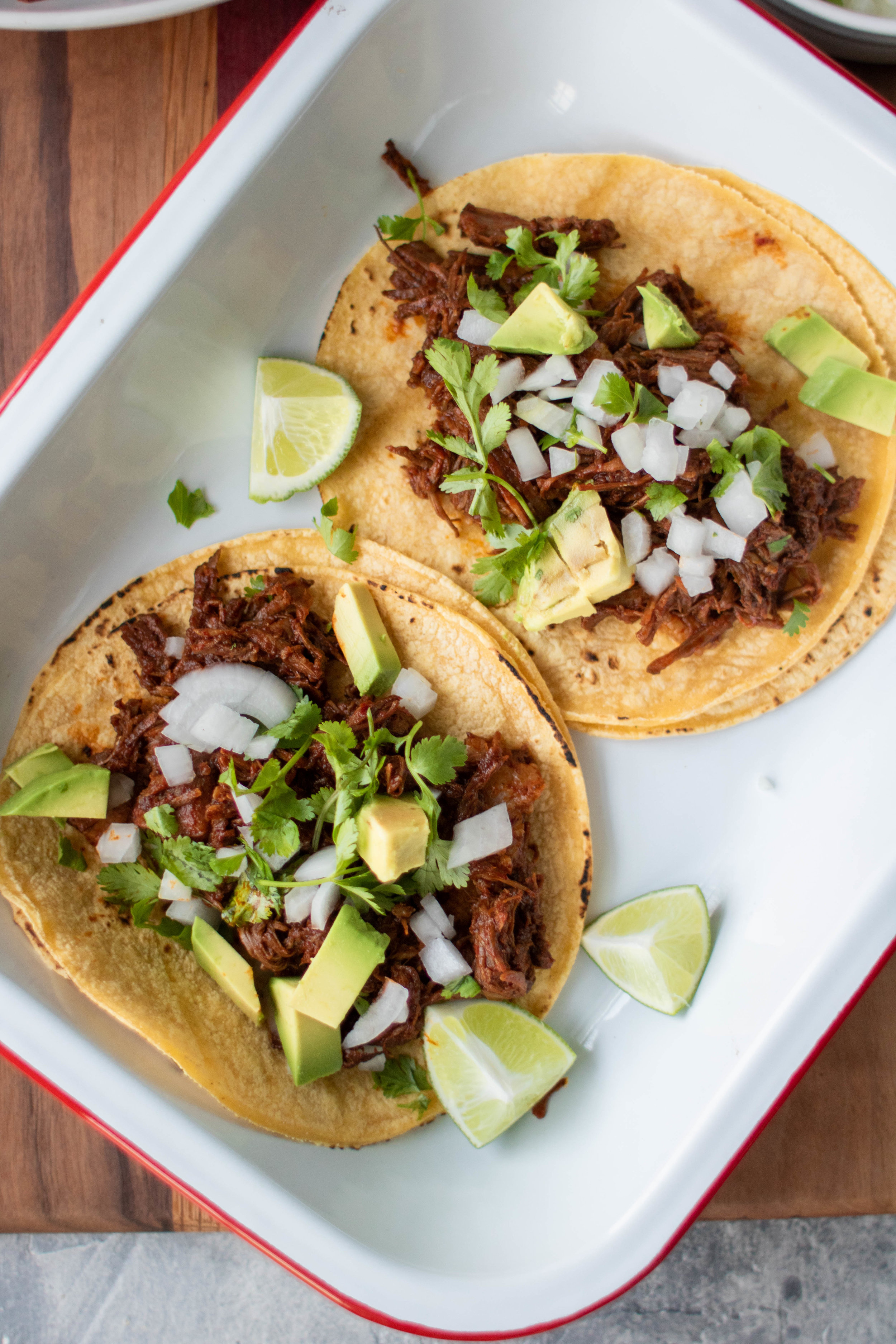 Products I used in this recipe:
Instant Pot DUO Plus 60, 6 Qt 9-in-1 Multi- Use Programmable Pressure Cooker, Slow Cooker, Rice Cooker, Yogurt Maker, Egg Cooker, Sauté, Steamer, Warmer, and Sterilizer
instant pot beef barbacoa
I love a flavorful barbacoa taco and it's so easy to make in the Instant Pot!
Cook Time:
1

hour
30

minutes
Ingredients
4

lbs.

bone-in beef chuck

cut into large chunks

1/2

white onion

sliced

8

cloves

garlic

peeled

5

dried guajillo chilies

stems and seeds removed

2

dried ancho chilies

stems and seeds removed

5

chile de arbol

optional

2

teaspoons

ground cumin

1

teaspoon

ground coriander

2

teaspoons

dried oregano

1

teaspoon

freshly ground pepper

1

bay leaf

1/2

teaspoon

ground cinnamon

16

oz.

negra modelo

or beef broth

1

cup

cold brew coffee

1/4

cup

white vinegar

salt and pepper
Instructions
Pat the pieces of beef chuck dry with a paper towel and season with salt and pepper. Turn your instant pot on to the sauté function on high. Heat 1 tablespoon of neutral oil until shimmering and hot. Place 3-4 pieces of the beef chuck in the instant pot and sear until golden brown. Flip the pieces and repeat. Transfer beef to a plate and place the remaining pieces in the instant pot and repeat the searing process. Return the beef to the pot and add the remaining ingredients (don't add more salt, yet). Lock the lid in place and change the function to 'pressure cook' on high for an hour and 15 minutes.

Use the natural release method and wait for the pressure valve to go down--this can take about 20 minutes. You can use the 'quick release', but be very careful as liquid can come out of the steam vent. Transfer the beef to a plate (it should be very tender) and discard any bone pieces. Using a slotted spoon, transfer the solids (dried chilies, onions, garlic, bayleaf, peppercorns) to the carafe of a blender. Use just enough braising liquid to create a thin-ish sauce. I usually start with half of the liquid and see what the consistency is like in the sauce and add more as needed. Blend until the sauce is very smooth. You can discard the remaining braising liquid or freeze for the next time you braise meat!

Add the beef and sauce back to the instant pot and turn on the 'sauté' function. Simmer, while stirring occasionally and gently shredded the meat, until the liquid has thickened significantly and now coats the beef (about 15 minutes or so). Season to taste with salt and pepper.
Notes
You do not need to use beer in the recipe (though bear in mind that the alcohol cooks out) and can substitute beef broth.
You can make this in a slow cooker (if you don't have an instant pot) by adding the beef and the remaining ingredients to a slow cooker for 4 hours on high or 8 hours on low and then follow the remaining steps for the recipe.
You might also like...