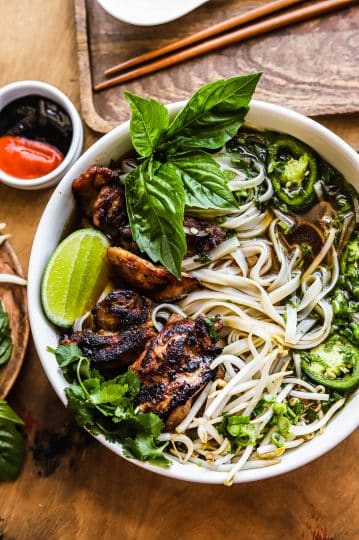 Quick Chicken Pho
Quick Chicken Pho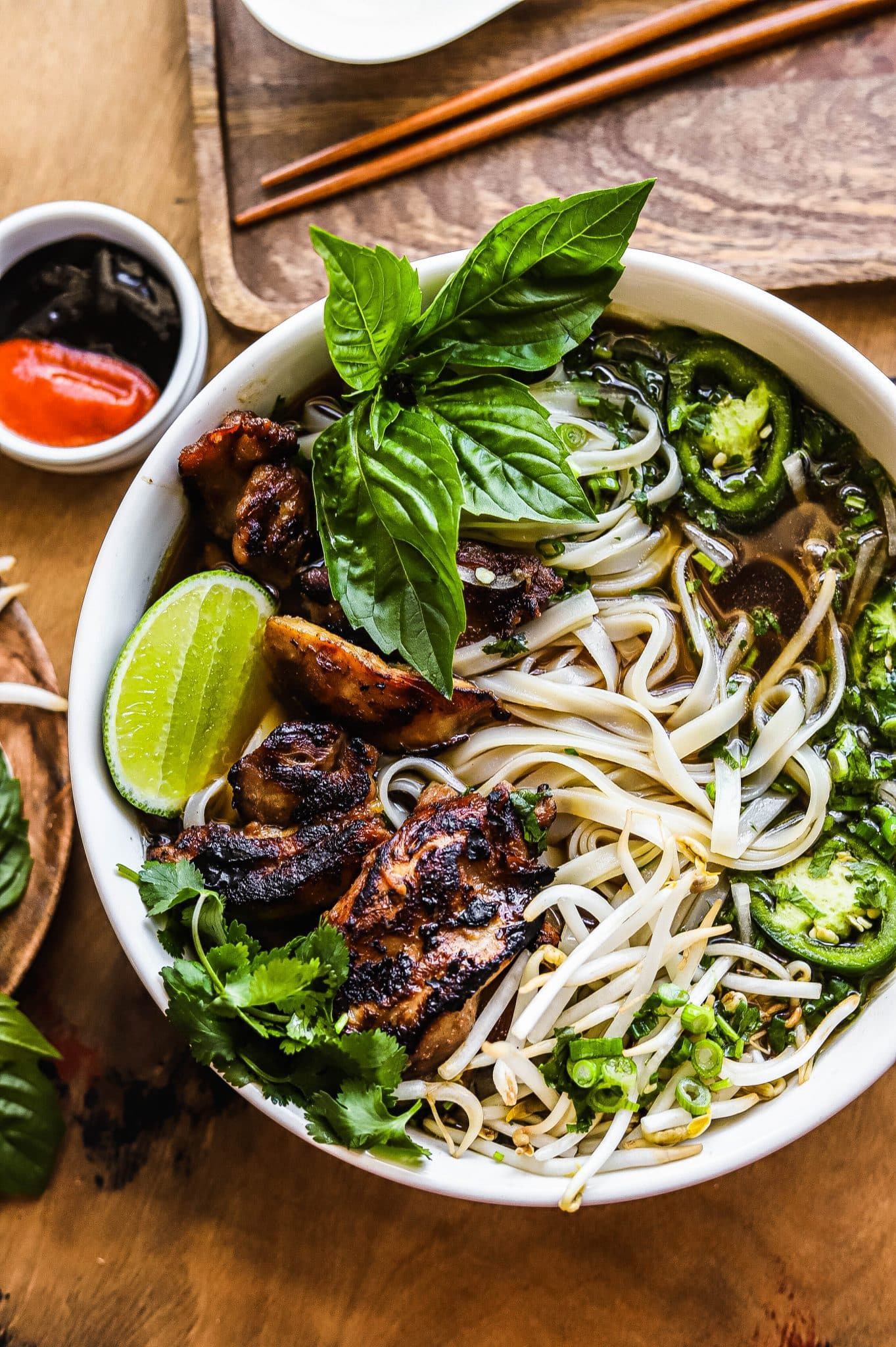 This Quick Chicken Pho-inspired soup is everything you love about pho but with some shortcuts to make it possible any night of the week! Chicken Pho is a nourishing and healthy, Vietnamese noodle soup. Rice noodles and aromatics are loaded into a bowl with flavorful broth and savory grilled chicken.
Pho is a dish that we love ordering out for! It's one of my all-time favorite soups. So, I knew I wanted to recreate an abbreviated version that you can make at home. This is the final recipe for So Much Food Soup Week, and I definitely saved the best for last!
Pho normally takes hours to make, but this shortcut quick Chicken Pho is ready in just 90 minutes! While this may not be quick quick, it's a shortcut to a really great bowl of Chicken Pho. By jazzing up store bought chicken broth, we save tons of time. I love the grilled chicken in this version of chicken pho. It adds a hugely savory flavor and makes excellent leftovers. I want to be clear that this recipe is not at all authentic, but this spirit and flavors of the recipe are meant as a homage to the iconic Vietnamese dish.
What is Pho?
Pho, pronounced fuh, is an extremely popular and historic dish of Vietnam. It's typically made with beef broth and meat that cooks in a flavorful broth with rice noodles and topped with a variety of fresh herbs. While most bowls of pho that you find in Vietnamese restaurants usually feature beef—beef brisket, thinly shaved rare beef, beef meatballs, and perhaps even tripe—you may also see chicken pho on the menu.
The origins of Pho are vague, but many believe that when the French colonized Vietnam, they brought their love of beef. In Vietnam, beef was not a prevailing protein as cows were used mostly for labor. With the influx of beef came an influx of beef bones which let to the production of rich beef broth.
Pho became popularized throughout the world by refugees after the Vietnam War. The Hanoi (northern) and Saigon (southern) styles of pho differ by noodle width, sweetness of broth, and choice of herbs and sauce.
I want to reiterate, this chicken pho recipe is not authentic. I am not Vietnamese and have no cultural background in Vietnamese cooking. When I set out to create this recipe, I wanted to make a recipe whose flavors paid homage to the original. If you are looking for an authentic chicken pho recipe, check out this recipe from Becca at Cooking Therapy.
Principles of a Great Bowl of Chicken Pho
This quick Chicken Pho recipe may take some shortcuts, but it still needs to be delicious! In order for pho to be great, it's got to nail some principles.
Broth.
The broth is obviously the star of the show! Traditional beef Pho takes hours and hours of simmering to make the ultra flavorful broth. To shortcut this step, we're going to jazz up store bought chicken broth with roasted chicken wings and tons of aromatics and spices. An hour of simmering later and you've got broth that tastes nothing like the boring store bought stuff.
Protein.
As I mentioned above, Pho is typically made with beef broth. The soup itself usually contains either brisket, rare steak, meatballs, or tripe. However, Chicken Pho is also a staple in many restaurants. I went to a Pho restaurant here in San Antonio and they offered the option of having grilled pork or chicken on top. I was blown away by the savoriness that the grilled meat lent to the soup. By all means, you can opt for chicken to simmer in the soup, but the grilled chicken is SO good.
Noodles.
Using the right noodles, bánh ph?, is essential to great pho! At your local Asian or Vietnamese market, look for flat, thin, rice noodles. They are flat in shape, white in color and smooth, soft, slippery and very slightly chewy in texture. They're usually labeled as bánh ph?, or pho noodles. You can also find them on Amazon here. I'm always going to encourage you to visit your local Asian market before turning to amazon.
Toppings.
My favorite part of enjoying pho is piling on the toppings! Whenever you dine out at a Pho or Vietnamese restaurant, you're presented with a plate piled high with bean sprouts, jalapeños or chilies, fresh herbs, and limes. You can also season your broth with the hoisin and sriracha usually found at the table. It's a fun an interactive dish and I always keep this element when I serve Chicken Pho at home.
How to Make Quick Chicken Pho
You don't really need anything special to make quick Chicken Pho at home. All you need is a large stock or soup pot, a sharp knife, and a skillet or grill pan.
Tools Needed
Ingredients and Substitutions
Chicken. I love grilled chicken thighs, so that's what I used here. You can also use chicken breast, or fully cooked rotisserie chicken for a shortcut.
Chicken broth. We're jazzing up store bought broth, but I would still opt for quality chicken broth.
Chicken wings. Simmering chicken wings in the store bought broth will take it to homemade level in an instant. Wings are my favorite budget-friendly option for making my own chicken stock. They're widely available and have a great meat-to-bone ratio.
Aromatics. The broth is all about aromatics, so we're using white onion and fresh ginger which we'll char before adding to the broth.
Spices. Cinnamon stick, coriander seeds, and star anise give our Chicken Pho broth it's hallmark flavor.
Fish sauce. Fish sauce is a staple ingredient in Vietnamese cooking and adds rich savoriness to the broth. Don't skip this ingredient! Fish sauce adds umami and in the broth does not taste fishy.
Rice Noodles. Look for bánh ph? noodles at your local Asian market, or in the Asian aisle at most well-stocked grocery stores.
Hoisin and Sriracha. I always serve my Chicken Pho alongside hoisin and sriracha so I can season the broth to taste, just like in a Vietnamese restaurant.
Toppings. The best part! I serve my Chicken Pho with fresh Thai basil, cilantro, bean sprouts, sliced jalapeño, and limes.
*You can find all these ingredients at your local Asian or Vietnamese market. I encourage you to visit and patronize local businesses before buying ingredients on Amazon.
The Process
Roast the wing. Roasting the wings before adding them to the broth adds just another layer of flavor to dress up the store bought chicken broth. Toss the wings with a bit of oil, salt, and pepper, and lay them on a baking sheet lined with parchment. Roast at 425 for 20 minutes.
Char the aromatics. While the wings are roasting, heat a cast iron over medium heat and add just a little bit of oil. Add the onion, cut side down with the ginger slices and cook them until they're a bit charred all over.
Make the broth. Combine the wings, aromatics, spices, and store bought chicken broth in a large stock pot. Bring to a simmer, skimming away any foam. Simmer at a gentle boil for at least an hour (the longer the better), and remove from the heat. Strain the broth into a smaller pot and return to the stove over low heat. Season to taste with sugar, fish sauce, and salt or msg.
Marinate the chicken. Toss the chicken with the marinade ingredients and marinate an hour at room temperature in a covered mixing bowl. You can also do this part way in advance. Grill or sear the chicken until cooked through to 165 F. Slice before serving.
Assemble. Cook the noodles according to package instructions, drain them, and divide among bowls. Top with thinly sliced white onion, green onion, chopped cilantro, and jalapeño slices. Add the sliced grilled chicken on top. To serve, ladle the hot broth over the noodles and let it stand for 5 minutes before digging in. Top with more fresh herbs, bean sprouts, and serve with limes on the side. Adjust the broth seasoning using sriracha and hoisin.
Storing, Freezing, and Reheating Quick Chicken Pho
This is one of those recipes that I love to store if I'm going to make it! The broth and chicken freeze wonderfully, and I love having a stash in my freezer so I can make Chicken Pho whenever the craving hits.
To freeze Pho broth, cool the broth to room temperature and store in an airtight container. I love using these quart-size deli containers. It's a holdover from my restaurant days and they are so great for storing food in. They're perfect for freezing broth. Label and freeze for up to 6 months.
In the fridge, the Pho broth is good for about a week. ALWAYS store your broth and noodles separately. The noodles will get waterlogged and it's not a great texture. If you have leftover noodles, toss them with a little oil and store in a ziplock bag in the fridge for up to 3 days. I usually prefer to make noodles fresh every time, so I tend to only make as much as I'll need.
The grilled chicken will hold in the fridge in an airtight container for up to 5 days. Just reheat in the microwave before using. You can also freeze the cooked (or uncooked chicken in the marinade) chicken. Store in a freezer-safe ziplock bag, pressing as much of the air as possible out. Freeze for up to 3 months.
More Soup Recipes to Try Now
This post contains affiliate links from which I receive a small commission at no additional cost to you. Affiliate links allow me to keep providing great recipes for free and I never recommend products that I don't love and personally own.
Quick Chicken Pho
This Quick Chicken Pho-inspired soup is everything you love about pho but with some shortcuts to make it possible any night of the week!
Total Time:
1

hour
25

minutes
Ingredients
Chicken Pho Broth
8

cups

chicken broth

4

cups

water

1

lb

whole chicken wings

1

white onion, cut in half

2

inches

fresh ginger, cut into slices

4

whole star anise

1

cinnamon stick

1

tablespoon

whole coriander seeds

1/4 –

1/3 cup

fish sauce

1/4

cup

brown sugar
Grilled Chicken
1

lb

boneless skinless chicken thighs

1/4

cup

soy sauce

2

tablespoons

hoisin

3

garlic cloves, grated

1

tablespoon

freshly grated ginger
For Serving
1

lb

Pho rice noodles

1/2

white onion, very thinly sliced

4

scallions, thinly sliced

1

cup

chopped cilantro leaves

1

bunch

Thai basil leaves

1

jalapeño, sliced

2

cups

fresh bean sprouts

2

limes, cut into wedges

hoisin sauce, for serving

sriracha, for serving
Instructions
Grilled Chicken
In a large mixing bowl, toss the chicken with the remaining ingredients. Cover and marinate at room temperature for 1 hour. You can do this ahead of time and marinate the chicken in the fridge for 8 hours, up to 24.

Heat a large skillet or grill pan over medium heat. Add a little bit of neutral oil and grill the chicken until cooked through to 165 F. Rest the chicken for 10 minutes and then slice before serving.
Chicken Pho Broth
Preheat an oven to 425 F. Line a rimmed baking sheet with parchment paper.

In a large bowl, toss the wings with a little oil, salt, and pepper. Lay the wings on the baking sheet and roast for 20 minutes.

While the wings roast, heat a cast iron skillet over medium heat and add a little oil. Char the onion, cut side down, with the ginger until both are charred. Remove from the heat.

Add the wings, charred onion, charred ginger, cinnamon, anise, and coriander to a large stock pot. Add the chicken broth and water. Bring to a simmer over medium-low heat, skimming away any foam or scum that rises to the surface. Simmer at a gentle rolling boil for 1 hour. After an hour, strain the broth through a mesh strainer into a smaller pot and return to the stove. Season to taste with fish sauce, sugar, and salt or msg. Keep the broth hot.
To serve
Cook the noodles according to package instructions and drain. Divide them among bowls and top with thinly sliced onion, sliced scallions, cilantro, jalapeño, and sliced grilled chicken. Ladle the broth on top and serve with bean sprouts, Thai basil, limes, hoisin, and sriracha.
You might also like...