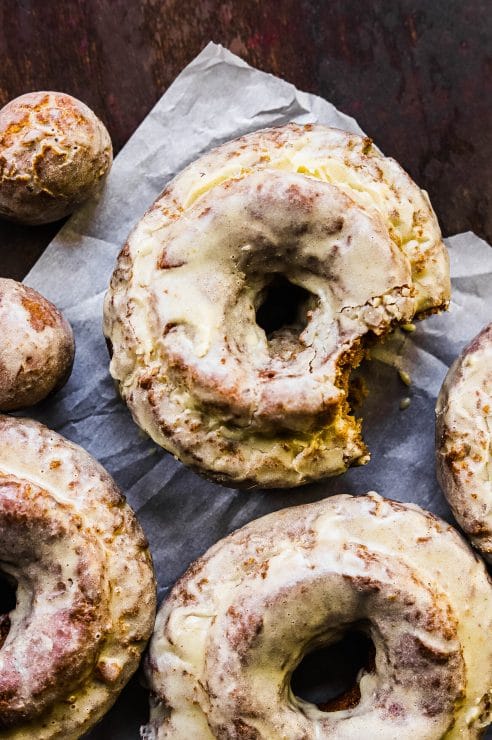 Gingerbread Old-Fashioned Donuts
Gingerbread Old-Fashioned Donuts
Updated 11/22/2021
Gingerbread old-fashioned donuts are the perfect holiday breakfast recipe! They are so easy to throw together and who doesn't love fresh donuts? Gingerbread old-fashioned donuts have all the gingerbread flavors with a crispy exterior and super soft cakey interior. You don't need yeast to make these donuts which means they're done in just about an hour, including chilling time!
Old Fashioned Donuts vs Yeasted Donuts
If you haven't ever had an old-fashioned donut, you're missing out! They're the easiest donut to make. An old-fashioned donut has the texture of cake while a yeasted donut is super light and fluffy, like bread. Both are often glazed, but the difference is the texture. I love both equally, but old-fashioned donuts are definitely easier to make and take less time.
How to make gingerbread old-fashioned donuts
This recipe couldn't be easier to make and you can do parts of it ahead of time for ease!
Tools needed
Ingredients you'll need
Dry Ingredients. You'll need some all-purpose flour, sugar, brown sugar, baking powder, and baking soda. Whisk all your dry ingredients together.
Spices. Ground cinnamon, ginger, cloves, and nutmeg create the best gingerbread flavor.
Sour Cream. Sour cream is a key ingredient to old-fashioned donuts and gives the donuts the best flavor and texture.
Eggs. Make sure your eggs are room temp for easy mixing.
Molasses. Opt for unsulphured high-quality molasses. My favorite brand is Wholesome and you can find it at Whole Foods.
Butter. Melted butter gives the donuts the perfect touch of richness so they don't dry out.
Oil. I use canola oil for frying, but you can swap in any high-heat neutral oil like vegetable or peanut.
Tips for frying donuts like a pro
If you're the kind of person who worries about frying things here are the most important tips I can give you for doing it easily and safely.
Use the right vessel. I use my 4 qt dutch oven for frying because it maintains heat and has high sides which minimize oil splatter. Don't use something too small, you want to have at least 3 inches between the surface of the oil and the top of the pot.
Ease the donuts into the oil. Even if you're scared of getting burnt, dropping the donuts in from up-high will definitely cause a ton of splatter and potential burns. Get the donuts close to the surface and just gently ease them in.
Use a thermometer. Maintaining the oil temperature is a huge key to frying successfully. Too hot and the donuts burn, but too cool and the donuts absorb oil and become soggy. Use a probe thermometer to make sure you're frying at the right temperature.
Exercise patience. Between batches, let the oil heat back up. The donuts are cold and will bring the temperature back down so have your heat at medium-high and give the oil to heat up between batches.
Don't crowd the pot. Depending on the size of the vessel, you can only fry about 3 donuts at a time. Fry in batches for best results.
If you follow these steps, you'll be frying donuts like a pro!
Making the perfect donut glaze
Powdered sugar is a must here! It dissolves easily and will dry so that you have a nice, shiny glaze coating. Whisk the powdered sugar together with enough eggnog to give you a thick, but smooth consistency. Not an eggnog fan? Swap in heavy cream and omit the nutmeg.
Making gingerbread old-fashioned donuts ahead of time
If you're serving these during the holidays, you might want to break up the work to make things easier on yourself. Follow the until it's time to fry. You can roll out the dough, cut and score the donuts, cover them with plastic wrap, and keep them in the fridge overnight. Then you can just fry them up first thing in the morning and everyone has fresh donuts!
Gingerbread Old-Fashioned donut FAQs
Can I use blackstrap molasses?
Yes! However, blackstrap molasses is a really strong flavor so just keep that in mind.
Should I cool the donuts before glazing?
Absolutely. They should be just barely warm when glazing and then let them dry until the glaze is dry and shiny.
How long do donuts stay fresh at room temperature?
Store your donuts in an airtight container for 1-2 days.
Other Holiday Baking Recipes
This post contains affiliate links from which I receive a small commission at no additional cost to you. Affiliate links allow me to keep providing great recipes for free and I never recommend products that I don't love and personally own.
Gingerbread Old Fashioned Donuts
If you love all the flavors of gingerbread, but really want a donut then this is the perfect recipe!
Ingredients
Gingerbread Donuts

3

cups

450g all-purpose flour

1 1/2

teaspoons

baking powder

1/2

teaspoon

baking soda

Pinch

of fine sea salt

1/2

cup

120g granulated sugar

1/4

cup

50g brown sugar

1

tablespoon

ground cinnamon

1

tablespoon

ground ginger

1/2

teaspoon

ground cloves

1/4

teaspoon

ground nutmeg

2

eggs

4

tablespoons

55g unsalted butter, melted

1/4

cup

60g unsulphured molasses

2

teaspoons

vanilla extract

1/2

cup

100g sour cream

Canola oil

for frying

Eggnog Glaze

2 1 /2

cups

powdered sugar

1/3

cup

eggnog

2

teaspoons

vanilla extract

1/4

teaspoon

freshly grated nutmeg
Instructions
In the bowl of a stand mixer fitted with the paddle attachment, combine flour, baking powder, baking soda, salt, sugars, and spices and whisk to combine.

In a medium mixing bowl, whisk together the eggs, melted butter, molasses, and sour cream until smooth. Add all wet ingredients to the bowl and mix on low until the dough comes together. Cover and chill for 30 minutes.

Line a baking sheet with parchment paper and set it aside. Turn the dough out onto a floured work surface and knead a couple of times just to bring the dough together. Press the dough roughly into a circle and flour the top. Roll the dough out to about 3/4" thickness. Using a 3.5" circle cutter, cut out as many rounds as possible and place them on the baking sheet. Gather the scraps of dough back up and smush them together. Roll the dough out again, cutting as many rounds of dough as possible.

Using a 1.5" circle cutter, cut holes in the center of each donut round. Save the holes as we will also fry up some small donut holes. Cover with plastic and refrigerate for 30 minutes.

In the meantime, heat up your oil. I used about 6 cups of oil in a 4qt dutch oven. Heat the oil to 350 F. Remove the donuts from the fridge and gently score a circle into the top with another circle cutter.  Make sure to only cut about a 1/4" into the donuts--the scoring helps them cook all the way through before burning.

Line another baking sheet with a wire rack to help the oil drain off the freshly fried donuts. Gently lower donuts (I did 3 at a time) into the hot oil and fry for 2 minutes per side. Using a slotted spoon or skimmer, remove the donuts from the oil and transfer them to the wire rack.

Wait until the oil reaches 350 F again before repeating the process. Repeat until all donuts have been fried. Add the donut holes to the oil and fry for 2 minutes, moving the holes around every 10 seconds so that they fry evenly. Remove from the oil and transfer to the wire rack.

To make the glaze, whisk all ingredients together until smooth. Dip the donuts in the glaze when they are just barely still warm. Donuts are best eaten the same day!
Nutrition
Serving:
1
donut
Calories:
350
kcal
Carbohydrates:
33
g
Protein:
3
g
Fat:
17
g
Saturated Fat:
10
g
Cholesterol:
25
mg
Sodium:
300
mg
Fiber:
1
g
Sugar:
15
g
You might also like...