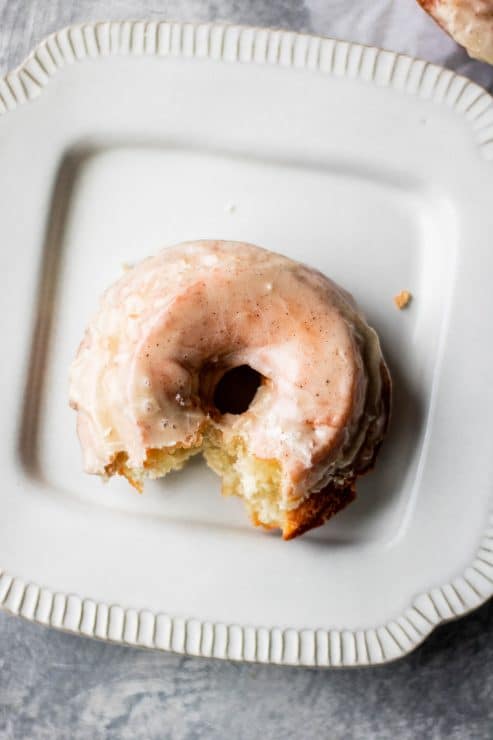 old fashioned sour cream donuts with coffee glaze
old fashioned sour cream donuts with coffee glaze
I can't think of anything better than a warm donut on a weekend morning with a cup of coffee in hand. That literally sounds like my heaven. And these old fashioned sour cream donuts are my absolute favorite ever. The beautiful thing about these donuts is that they aren't yeasted! The whole recipe, from start to finish, comes together in an hour. Meaning, you are one hour away from the cakiest, best old fashioned donuts ever! It's basically like making cookie dough and then frying it. They are too easy to not make all the time. Plus, the glaze is where it's at.
Browned butter, coffee and vanilla bean?! I can't think of anything I would rather eat. And if you want to make it even easier on yourself (I did this, for the record), you can make the dough the evening before you want to enjoy them, roll them out, cut them and just refrigerate the donuts overnight. So all I did when I woke up was heat up some oil, fry the donuts, glaze them and make a french press of my favorite coffee. I hope you enjoy them as much as I did! Don't forget the donut holes too, because they make the perfect little vessel for dunking in your morning coffee.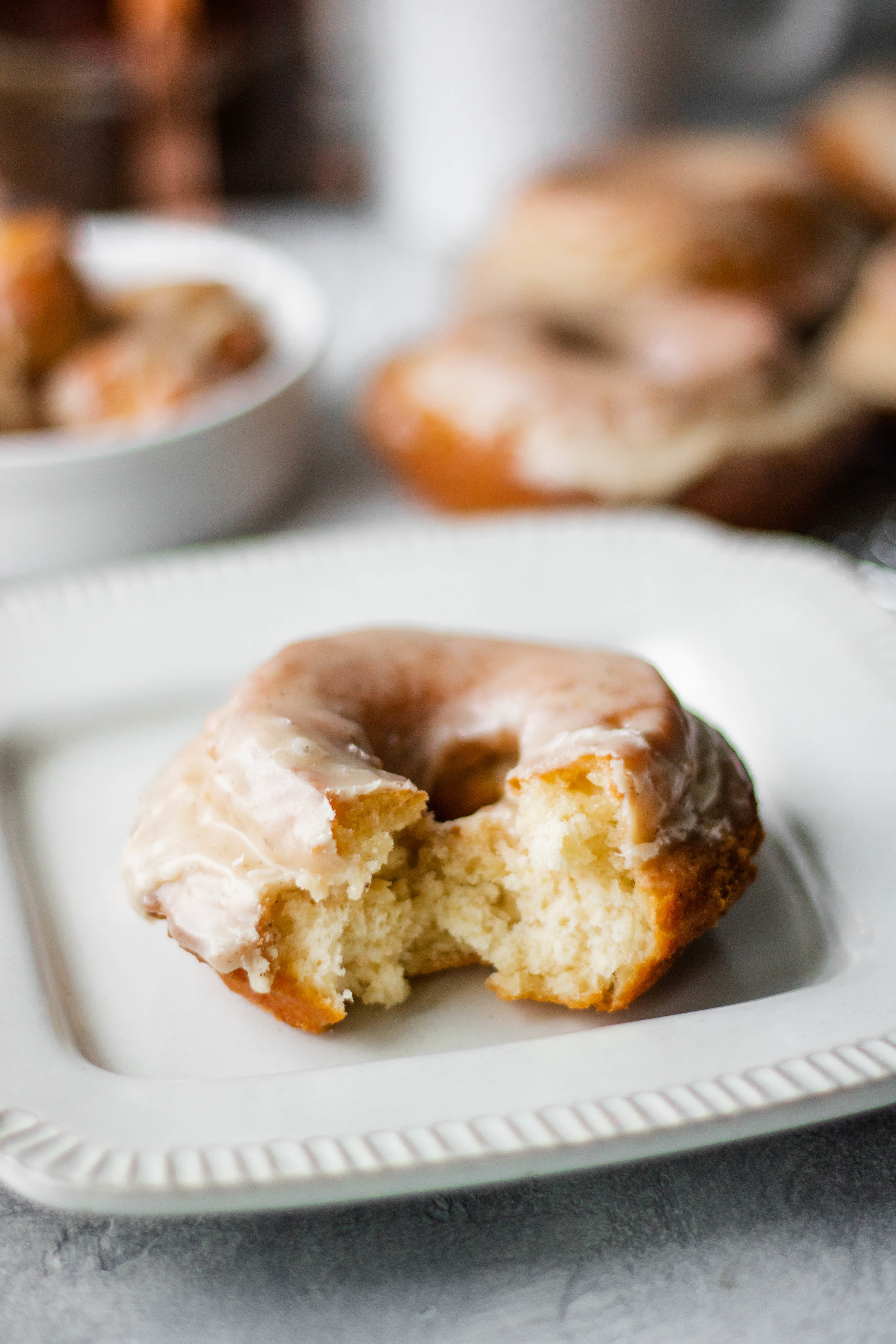 Products I used in this recipe: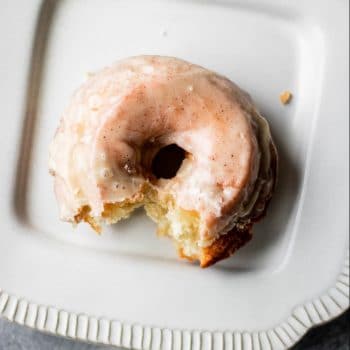 old fashioned sour cream donuts with coffee glaze
Homemade donuts are one of my favorite things to enjoy on the weekend and a classic old fashioned donut is so easy to make!
Makes:
10
-12 donuts + holes
Ingredients
Donuts
2 1/2

cups

flour

1/2

cup

granulated sugar

1/4

cup

brown sugar

1 1/2

teaspoons

baking powder

pinch

of salt

1/2

teaspoon

ground cinnamon

2

eggs

1/2

cup

sour cream

4

tablespoons

unsalted butter,

melted

1

teaspoon

vanilla bean paste or extract

canola oil

for frying
Glaze
3

cups

powdered sugar

3

tablespoons

unsalted butter

3

tablespoons

cold brew coffee

2

tablespoon

heavy cream

1

teaspoon

vanilla bean paste
Instructions
To make the donuts: In the bowl of a stand mixer combine all the dry ingredients and mix to combine. In a small bowl whisk together the vanilla, eggs and sour cream. Pour the wet into the dry and mix on low with the paddle attachment. Pour in the melted butter and mix until a soft cookie dough forms, then cover and refrigerate for 30 minutes.

On a well floured surface, roll the dough out to about 3/4" thick. Using a floured 3 1/2" circle cutter, cut as many circles from the dough as possible and place them on a parchment lined baking sheet. Gather the scraps of dough up, and bring them back together and repeat until all the dough has been used up. Using a 1" circle cutter, cut holes from the middle of each donut and place them on the tray. Refrigerate donuts for 15 minutes.

Heat 2 inches of canola oil in a high sided pot to 350 degrees F. Using a 2" circle cutter, gently press the cutter into the donut around the middle ring just to score the top, but don't press all the way through (just enough to leave a small imprint). Gently lower 2-3 donuts into the oil, scored side down, and fry for 1-2 minutes per side until golden brown. Transfer to a wire rack set over a baking sheet. Once all the donuts have been fried, fry the donut holes for 2 minutes, until golden brown and then transfer to the wire rack.

To make the glaze: In a small saucepan, melt the butter over medium heat. Cook until slightly golden brown, and then remove from heat and allow to cool slightly. Whisk all the remaining ingredients together in a mixing bowl until smooth. While the donuts are still warm, dip them into the glaze and return them to the wire rack. Then, coat the donut holes in the glaze and allow them to dry. Serve still slightly warm.
You might also like...