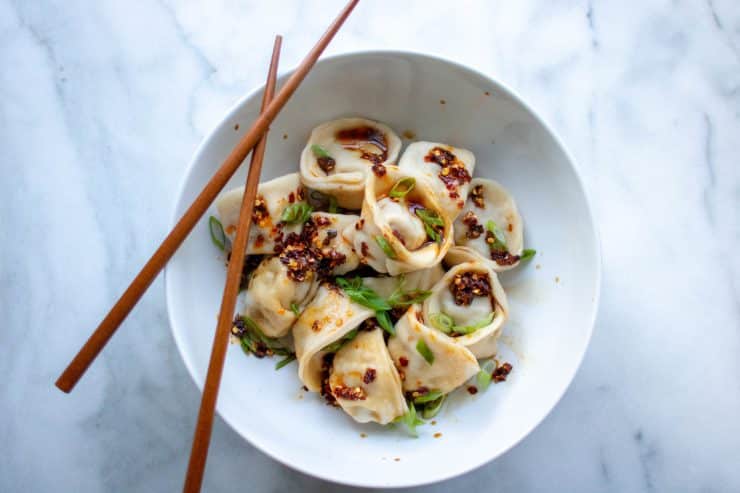 spicy pork dumplings + chili oil
spicy pork dumplings + chili oil
Pork dumplings are one of my simplest joys. Spicy, gingery, pork wrapped in dough and simply topped with green onions, my homemade chili oil and a little bit of soy sauce. I could eat that for days. Don't test me, though. If you let me loose on a bowl of these bad boys, don't expect me to share. This is definitely one of my simpler recipes that can be adapted to be even easier. I borrowed Lady and Pup's sesame-miso ramen paste and I loved it so much that whenever I make it, I double the recipe and keep it in my fridge for occasions such as this. A couple of tablespoons of that paste, some fresh ginger, green onions and good ground pork and you're in business. I elected to make my own wonton wrappers, because I am ridiculous like that, but store bought wrappers are great and will infinitely speed up the process to get these little pork morsels in your mouth as quickly as possible.
If you're lacking motivation to hunt down ingredients for the paste (amazon is your friend), throw some sliced green onions, fresh grated ginger, fresh chopped garlic, toasted sesame oil, chili oil (recipe below) into your ground pork with some salt and pepper and you're still in business. However, if you are like me and want an amazingly versatile paste to bring flavor to really anything, make this paste and make a lot of it. Keep it in your fridge and bust it out anytime you want to jazz up chicken soup, find a delicious rub for various roasted meats, or for pork dumplings, anytime, any place.
PORK DUMPLINGS:
makes 30-40 dumplings
1lb ground pork
1/4 cup spicy-miso paste (recipe below)
1/4 cup sliced green onions, green parts only plus more for sprinkling
1 tablespoon freshly grated ginger
2 garlic cloves, grated
1/2 teaspoon salt
1/2 teaspoon freshly ground pepper
circle wonton wrappers (store bought or recipe for homemade below)
chili oil (recipe below)
soy sauce
Mix pork with seasonings and set aside. Have a small bowl of water nearby to brush onto the wontons. Fill each circular wrapper with about 1 1/2 teaspoons of pork filling. Tip your finger in the water and brush all the way around the edge of the wrapper. Fold the wrapper over the pork to form a half moon shape. Press the edges to seal well. Dip your finger into the water again and brush water on both corners of the half moon. Bring the edges together to overlap. Repeat until all your filling is used up.
Bring a pot of water to a simmer. Add 10-15 wontons at a time and boil for 5-6 minutes or so. Fish wontons out of the water using a slotted spoon. Drizzle with soy sauce, chili oil and top with some sliced green onions.
SPICY MISO PASTE:
makes roughly 2 cups
from Lady and Pups
1/2 cup white miso paste
1/2 cup red miso paste
1/2 cup sichuan douban chili
1/2 onion, chopped
6 cloves garlic
2″ ginger, peeled and sliced
1/4 cup mirin
1 teaspoon toasted sesame oil
1 tablespoon tahini
Combine all ingredients in a blender or food processor and process until very smooth. Transfer the mixture into a pot and set over medium heat. Bring to a low simmer and keep cooking/stirring for another 5 min. Let it cool completely and store in an air-tight container in the fridge until needed.
WONTON WRAPPERS:
makes enough for 30-40 wrappers
250g all purpose flour
250g bread flour
1 egg
12g salt
200g water
In the bowl of a stand mixer fitted with the dough hook, weigh all your ingredients together. Run your mixer on low until the dough is smooth, about 5-7 minutes. Wrap your dough in plastic wrap and let it rest for about 15-20 minutes. Alternately, you can mix by hand in a bowl until the dough comes together. Knead by hand until smooth, wrap and rest your dough.
Divide your dough into 4 equal portions. Run dough through your pasta machine, starting at the thickest setting and continuing to pass it through, generously flouring the dough to keep it from sticking, until the dough is thin enough to see the outline of your hand through. This is going to vary by each pasta machine. I have the kitchenaid attachment, and I start at size 1 and roll through until size 5.
Using a 3″ circe cutter, cut circles from the dough you have rolled. You can use the remaining dough, like I have done in the past, almost as noodles. If I have leftover filling, I sauté it up and add the boiled pasta remnants.
Repeat the process until all your pasta is rolled out, cut and filled.
CHILI OIL:
makes 1 pint
1 cup crushed red chili flake
2 Tablespoons grated ginger
2 cups neutral oil, such as canola, avocado, vegetable, etc.
1. Preheat an oven to 250 degrees F. On a sheet tray lined with foil, mix chili flake and ginger until well combined. Toast in the oven for 1 hour, stirring occasionally. Transfer toasted chili flake to a small pot and cover with oil. Simmer over the lowest heat setting for 1 hour until dark in color. Cool to room temperature, place in an airtight container (mason jars work well) and keep in the fridge for up to 1 year.
You might also like...