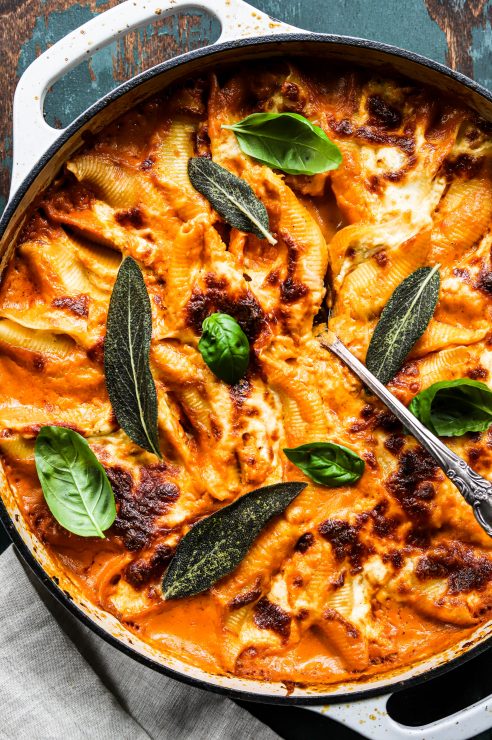 Pumpkin alla Vodka Stuffed Shells
Pumpkin alla Vodka Stuffed Shells
Pumpkin alla vodka stuffed shells are the perfect weeknight dinner recipe. During the holidays, things are always crazy. It's nice to have an easy dinner recipe that you can throw together in one pot. Plus, you can use up any leftover pumpkin puree that you may have hanging around.
How to Make Pumpkin alla Vodka Stuffed Shells
I love how easy this recipe is to make! You don't need fancy equipment or ingredients–just a few pantry staples and you've got dinner on the table.
Tools Needed
Ingredients you'll need
Butter. All great sauces start with a bit of butter!
Sage leaves. Gently frying the sage leaves in the butter gives the sauce the best flavor. Plus, you have fried sage leaves for garnish!
Aromatics. Shallots and garlic are the base for flavoring the sauce.
Tomato Paste. Tomato paste gives some extra depth of flavor and umami.
Pumpkin puree. Couldn't be a pumpkin sauce without pumpkin! Be sure to use pumpkin puree and not pumpkin pie filling.
Vodka. You can omit the vodka if desired.
Pasta water. Make sure to hang onto at least 1 1/2 cups of starchy pasta water–it helps thicken and emulsify the sauce.
Cream. Adding cream to the sauce really adds the perfect amount of richness.
Cheese. This is one cheesy pasta and calls for ricotta, parmesan, and mozzarella!
adding vodka to pasta sauce
This may seem like a gratuitous step, but I swear it makes a difference! The alcohol creates a brighter, creamier, more cohesive sauce. The vodka really enhances the flavor of the tomato and the pumpkin and adds depth without adding its own flavor. It also helps emulsify the sauce. If you're concerned, almost all the alcohol cooks out of the sauce. That being said, you can omit the vodka, but it won't be pumpkin alla vodka then.
the best way to fill pasta shells
The best and easiest way to fill pasta shells for pumpkin alla vodka stuffed shells is to use a piping bag or a ziplock bag. Sure, you can spoon the filling in, but it tends to make a mess! First, I lay out all my cooked and cooled shells on a baking sheet. Then, I throw my filling in a ziplock bag or large piping bag, cut the corner or piping tip off, and then fill the shells. It couldn't be easier and then you don't have a ton of mess.
how to make pumpkin alla vodka vegan
If you want to make this recipe plant-based, I recommend swapping your pasta for penne or rigatoni instead of stuffing the shells. Swap in olive oil for butter and swap your favorite plant-based flavorless creamer or full-fat coconut milk. You can skip the baking step, or top your pasta with your favorite plant-based cheese and bake for 15 minutes.
other types of pasta to pair with pumpkin alla vodka
Rigatoni. If you want to skip the filling and make a simple pasta dish, I love rigatoni!
Ravioli. Store-bought ravioli can save you some extra labor here! Toss in your favorite ravioli–a mushroom ravioli would be amazing.
Tortellini. Spinach and ricotta tortellini would be delicious also. Or try chicken tortellini for extra protein.
Manicotti. If you don't have shells but you have manicotti tubes, that would be delicious! Cook to al dente, fill, and follow baking instructions.
Bucatini. Tube-shaped pasta is traditional, but I adore bucatini. Finish cooking the pasta in the sauce for total perfection.
More Easy Pasta Recipes to Try
This post contains affiliate links from which I receive a small commission at no additional cost to you. Affiliate links allow me to keep providing great recipes for free and I never recommend products that I don't love and personally own.
Pumpkin alla Vodka Stuffed Shells
Pumpkin alla vodka stuffed shells is the perfect fall pasta recipe! It's easy, cheesy, and the perfect way to use up leftover pumpkin puree.
Ingredients
Stuffed Shells
16

oz

whole milk ricotta

1

egg

1/2

cup

freshly grated parmesan

1

cup

shredded whole milk mozzarella

1/8

teaspoon

grated nutmeg

10

oz

about 24 jumbo pasta shells
Pumpkin alla Vodka Sauce
3

tablespoons

salted butter

8-10

fresh sage leaves

2

shallots

finely minced

3

garlic cloves

minced

1

teaspoon

crushed red pepper flakes

2

tablespoons

tomato paste

1

cup

pumpkin puree

3

oz

1/3 cup vodka

1 1/2

cups

reserved starchy pasta water

1

cup

heavy cream

Kosher salt

Freshly ground pepper

1 1/2

cups

shredded whole milk mozzarella
Instructions
Bring a pot of salted water to a boil and cook the pasta to al dente, about 2-3 minutes shy of the time on the box. Reserve 1 1/2 cups pasta water. Drain, rinse with cold water, and set aside.

To make the filling: whisk the ricotta, egg, nutmeg, and parmesan together until smooth. Season with salt and pepper and fold in the mozzarella. Transfer to a piping bag or a large ziplock bag.

To stuff the shells, cut off the tip of the piping bag or the corner of the ziplock bag and pipe the filling into the cooled shells. Set aside.

Preheat the oven to 425 F. Melt the butter in an oven-safe skillet over medium heat. Once the butter is melted and foamy, add the sage leaves. Fry for 2 minutes per side, until darkened and crispy. Transfer the sage leaves to the paper towel-lined plate.

Add the shallots, garlic, and crushed red pepper to the skillet and cook for 2-3 minutes, stirring occasionally, until softened. Add the tomato paste and pumpkin puree and cook for 1 minute. Next, add the vodka, bring to a simmer, and cook for 1 minute. Add the pasta water, bring to a boil, and reduce by half. Pour the cream into the pan and bring to a simmer. Cook for 2-3 minutes, until thickened. Turn off the heat and gently arrange the stuffed shells in the sauce. Top with mozzarella and bake for 25 minutes. Broil for 2 minutes towards the end to brown the cheese.

Remove from the oven, top with the fried sage leaves, and serve.
You might also like...