nutella linzer cookies
nutella linzer cookies
As I've already expressed in my previous post about gingerbread cookies, holiday cookie baking is my JAM and these nutella linzer cookies are such a winner. I don't have kids, so I'm always happy to borrow friends' kids to have an excuse for a baking party at my house. I actually ended up baking these cookies on a whim the other day. Sometimes I wake up and just really wanna bake. So I scrounged in my kitchen to see what I had on hand, and luckily I had everything I needed to create this recipe.
While the gingerbread cookies are a more involved process and super fun for decorating projects, these linzers are much simpler, require less time in the fridge, and bake up in a jiffy. With only 9 total ingredients, these are perfect for a quick baking project and they turn out so damn cute. I couldn't decide between hearts and stars for the middle, so I did both. Having your kids help cut out the cookies and spread the nutella on the baked halves, is the perfect project for young children wanting to help in the kitchen.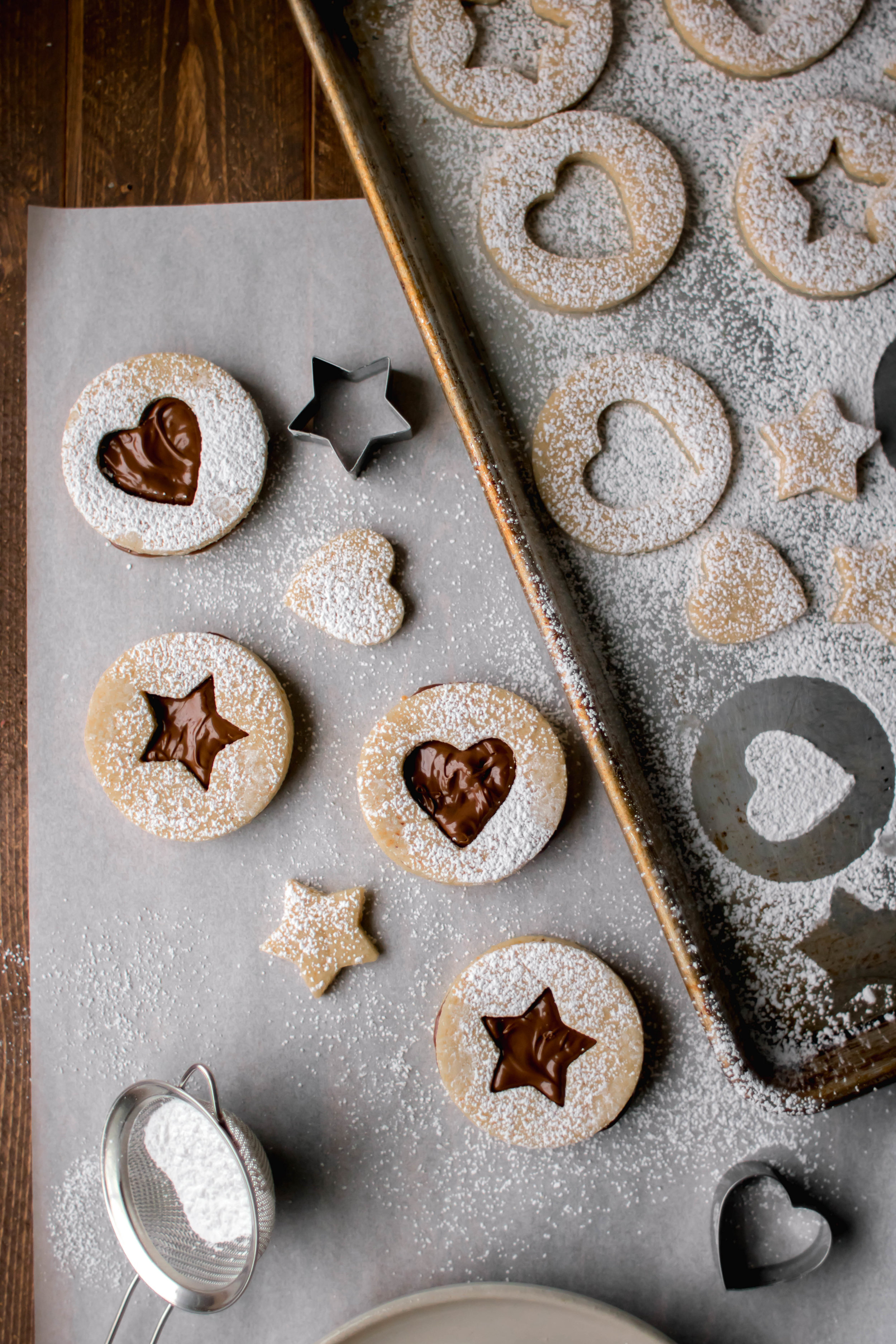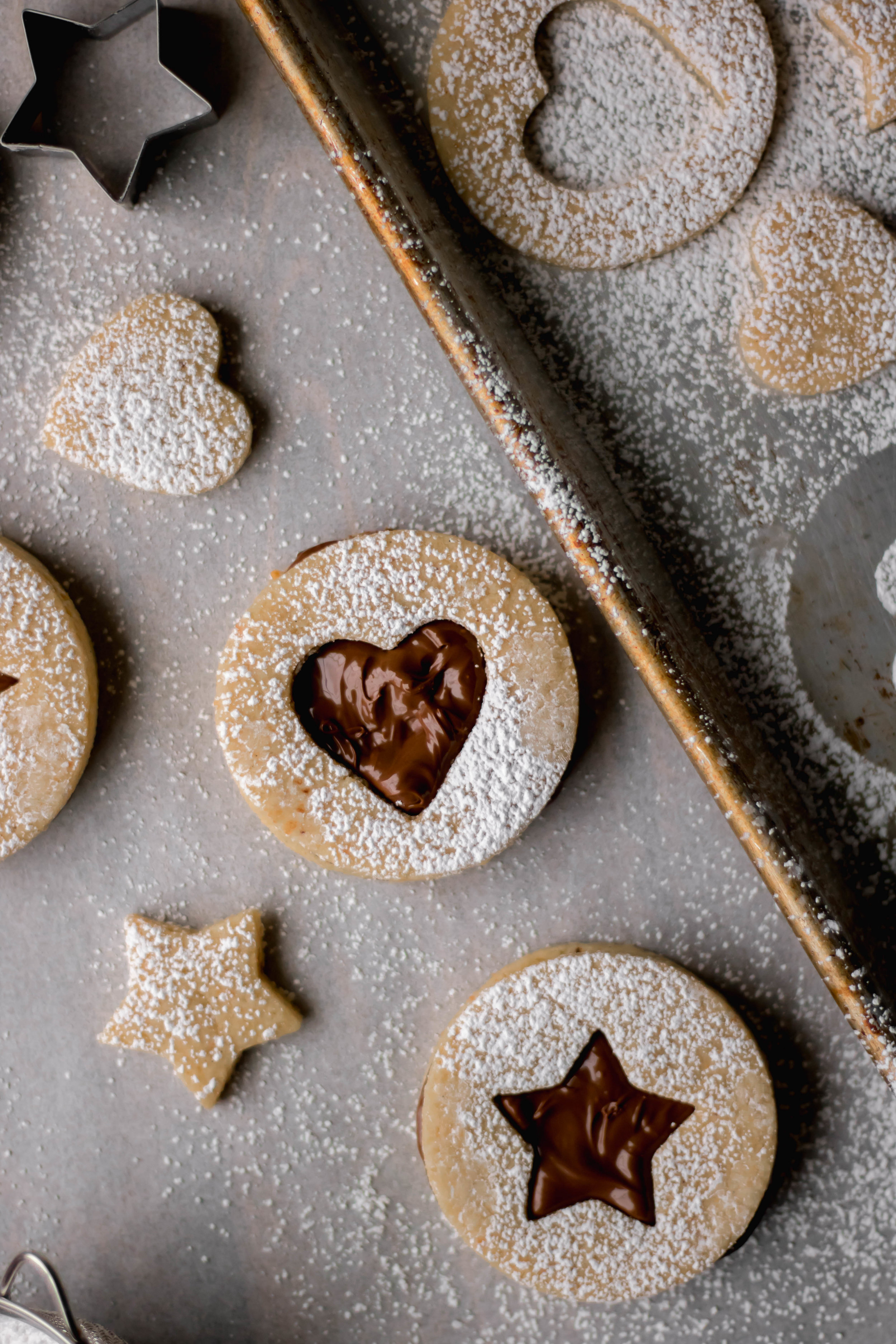 I'm not a huge fruit cookie person and having two large jars of Nutella in the pantry really tipped the scales in favor of nutella linzer cookies. If you love a traditional jam cookie, feel free to substitute your favorite jam in for nutella. OR DO BOTH. Who am I to tell you how to live? A raspberry and nutella linzer would be next-level good. Just sayin'. And the browned butter, ugh. So good. Browned butter should be included in every baked good. It really just gives such richness and flavor to the cookie dough.
Once thing I will say is don't let the dough get too cold. If it's really stiff once you pull it out of the fridge, let it sit for 30 minutes before rolling. If the dough cracks a little while rolling out, that's totally fine. Just pinch the dough back together with your finger tips and they'll bake up just fine. Happy baking!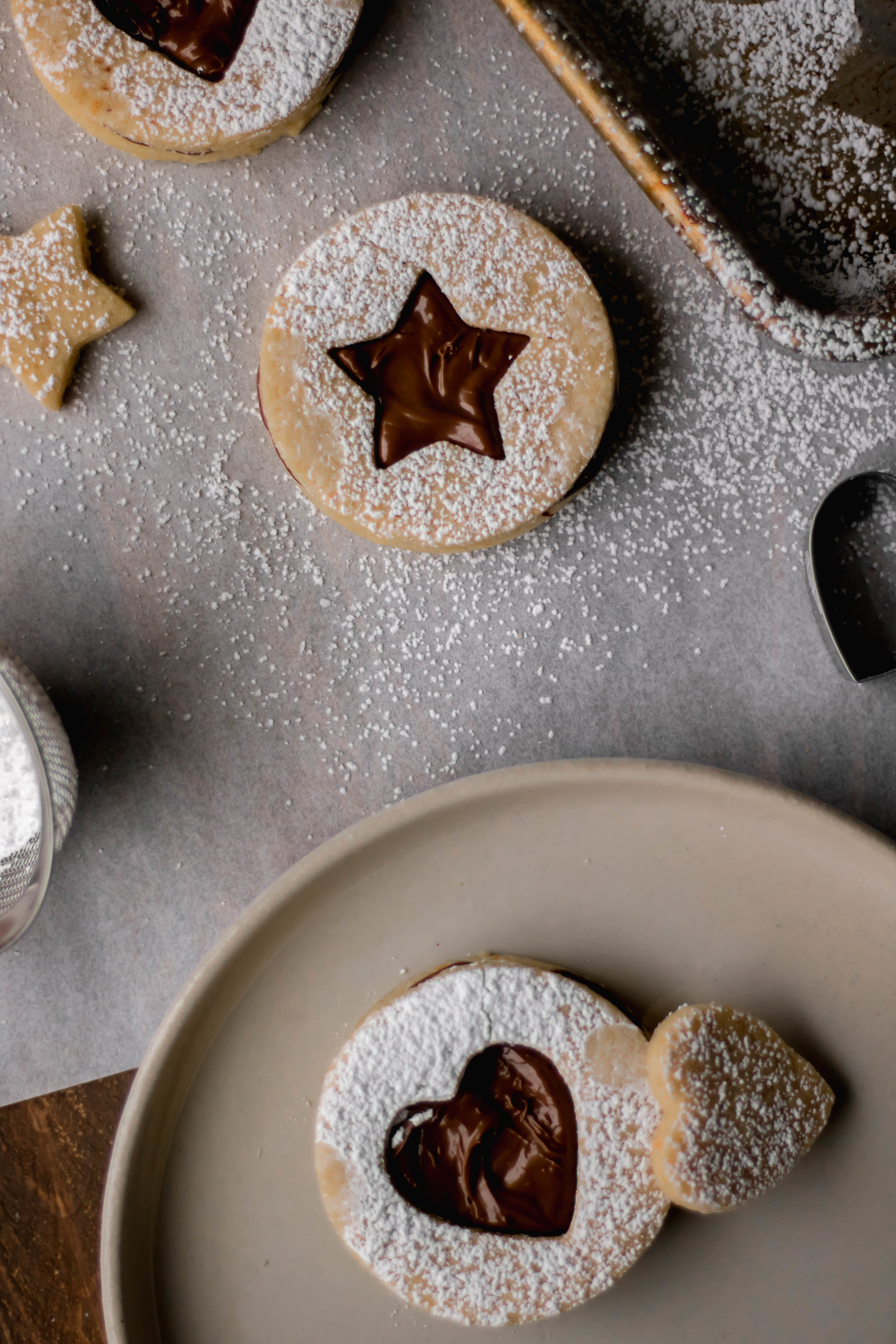 Products I used in this recipe:
nutella linzer cookies
This is such a fun and cute baking project to take on! So easy to make and nutella is the best thing ever which equals the perfect cookie!
Ingredients
2/3

cups

90g slivered almonds

2

sticks

227g unsalted butter, at room temperature, divided

1/2

cup

100g granulated sugar

2

eggs

1

teaspoon

vanilla extract

2 3/4

cups

400g all purpose flour

pinch

of salt

1/2

teaspoon

baking powder

3/4

cup

Nutella

powdered sugar

for dusting
Instructions
Preheat an oven to 350 degrees. Place almonds on a small baking sheet and toast in the oven for 8-9 minutes until slightly golden brown. Allow to cool to room temperature. In a small saucepan or nonstick pan, melt 1 stick of butter. Cook over medium low heat until golden brown in color and nutty smelling. Remove from heat and let cool for 10 minutes.

In the bowl of a food processor, add the toasted almonds and sugar. Pulse until the almonds have been processed down and no large pieces remain.

In the bowl of a stand mixer, beat remaining stick of butter until fluffy. Add browned butter and almond/sugar mixture and mix until combined. Add eggs and vanilla, beating between each addition. In a separate bowl whisk flour with salt and baking powder. Add dry ingredients and mix until just combined, the dough should come together. Divide the dough evenly in two, press into discs and wrap with plastic wrap. Place in the fridge for about 45 minutes. The goal is to cool the dough, but if it's too cold it won't roll out well. I did 30 minutes in the fridge, and 10 minutes in the freezer.

Remove one disc of dough from the fridge or freezer and remove the plastic. Liberally flour your workspace and the dough and your rolling pin. Roll out to just under 1/4" thickness. Using a 2.5" circle cutter, cut out 16 rounds and place them on parchment or silpat lined baking sheets. You may need to gather the scraps back up, re-roll and cut to achieve 16. Bake in the oven for 11 minutes, remove and let cool.

Remove the remaining disc of dough from the fridge and roll out to the same thickness. Using the 2.5" cutter, cut 16 circles out. Again, you may need to gather the scraps back up and re-roll out the dough. Using a small heart, star, circle or whatever shape cookie cutter you like (about 1"), cut a piece out of the middle of each cookie. We'll call these "donut" cookies since they have a hole in the middle. These are the tops of the cookies and only need to bake for 8-9 minutes. Remove from the oven and allow to cool completely.

While the cookie tops are still on the baking sheet, dust them lightly with powdered sugar. Spread 2 teaspoons of nutella on each bottom cookie and top with a donut cookie, pressing down lightly to seal. Cookies will stay fresh covered at room temperature for 2 days or in the refrigerator for up to 1 week.
You might also like...