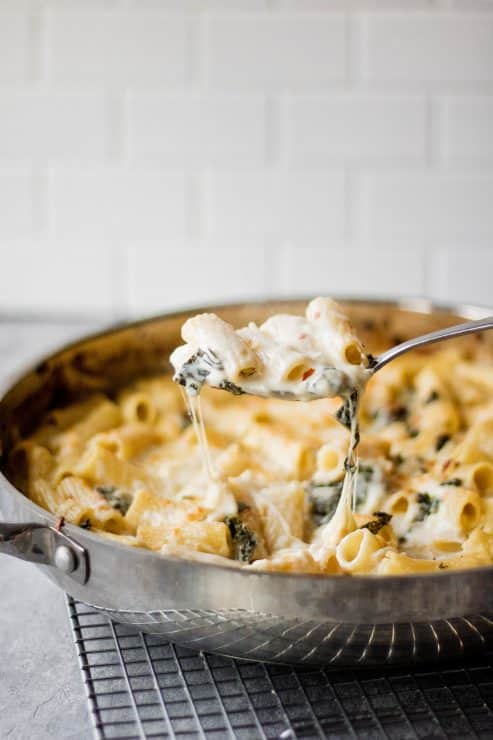 four cheese rigatoni with garlic kale
four cheese rigatoni with garlic kale
There's something about the cold and rainy weather that really just makes me want to gorge myself on carbs and fat. A good cheesy pasta always satisfies that craving for me and this four cheese rigatoni is like really fancy mac n cheeese. There's kale in it, for the illusion of "health", but don't worry it doesn't detract from the dish and only adds some nice texture. If kale isn't your thing (I don't blame you), spinach would also be great. So if your resolution was to eat more kale, Boom! This recipe is for you.
If you also follow me on instagram, I've been doing a recipe or two a week step by step in my stories and people seem to really like that. I've gotten a lot of positive feedback as people are visual learners. So you can catch this recipe in my instagram highlights if you want a visual walkthrough of the recipe. I swear, it's so easy though. This recipe is basically a glorified mac n' cheese but there's no roux making (thank goodness). Just some cream thinned out with some starchy pasta water and loads of cheese and garlic. If you don't like goat cheese, you can swap in another soft cheese like brie (cut the rind off) or boursin cheese.
I've been doing these little polls on instagram to determine what people want to see in the recipes and apparently people wanted veggies in this four cheese rigatoni! However, if I were making it just for me I would have also maybe browned a little italian sausage in the beginning with the kale, onions and garlic and that would have really taken it over the top. You could also omit the kale and make it just a really cheesy pasta. The whole thing came together in about 20 minutes and it's perfect for a comforting weeknight meal. Happy cooking!
four cheese rigatoni with garlic kale
This cheesy pasta is the perfect weeknight meal when you need comfort food!
Ingredients
12

oz.

rigatoni

cooked to al dente

1 1/4

cups

pasta water

reserved from cooking the pasta

2

tablespoons

unsalted butter

1

tablespoon

olive oil

1/2

yellow onion

diced

6

cloves

garlic

minced

1

bunch of kale

leaves removed from stems and chopped

1

cup

heavy cream

1/2

teaspoon

crushed red pepper flakes

2

cups

grated fontina cheese

2

cups

grated white cheddar cheese

4

oz.

goat cheese

1/2

cup

freshly grated parmesan

salt and freshly cracked pepper
Instructions
In a large skillet, melt butter and olive oil until the butter is foamy. Add the diced onion and cook for 3-4 minutes, until softened. Add the minced garlic and cook for 1 minute. Add the kale and cook, stirring occasionally until the kale is wilted. Add the cream and reserved pasta water and bring to a simmer. Season with a little salt and pepper and the crushed red pepper. Add the pasta back to the pan and toss with the sauce. Lower the heat and add all four cheeses, reserving 1 cup of the cheddar and fontina mixed. Stir until the cheese is melted. Top with the reserved cheese and place under the broiler on high for 4-5 minutes, or until the cheese is bubbly and browned.
Notes
Please don't buy pre-shredded cheese! It makes such a difference to grate the cheese fresh and only takes a few minutes.
You can omit the kale. You can also add in your favorite protein to bulk up the meal a bit. Chicken, bacon or Italian sausage would all be equally great!
To get perfect al dente pasta: Check the time suggested on the pasta package and subtract 2-3 minutes. Drain and rinse with cool water.
You might also like...