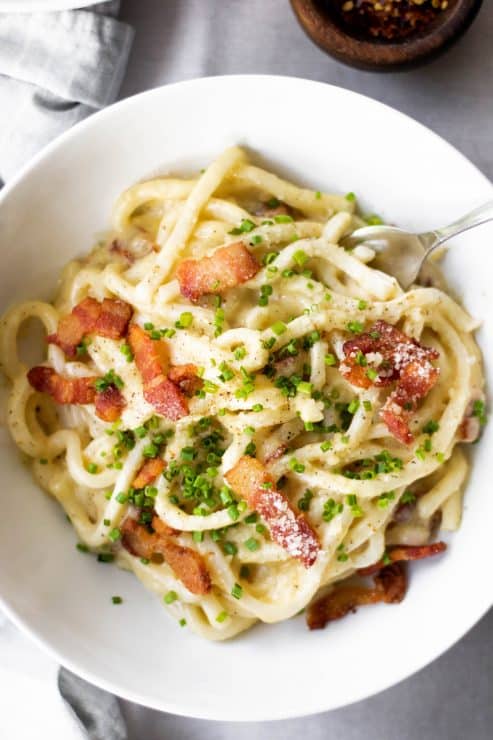 Easy Udon Noodle Carbonara
Easy Udon Noodle Carbonara
This recipe for weeknight udon carbonara might just be my favorite noodle dish yet. If you've not had any experience with them, udon noodles are a thick wheat noodle used in a lot of Japanese cooking. They are the ABSOLUTE best. Thick and chewy, they are the perfect noodle for soups and stir-fries.
What is Carbonara?
Carbonara is an Italian dish made with pancetta and a sauce of pasta water, egg and cheese. It's basically breakfast pasta. I created this not-so authentic recipe but it is absolutely delicious. Crispy bacon, parmesan cheese, and these delicious noodles. It's the perfect comfort food for a cold night and only takes about 20 minutes to throw together!
How to make Udon Noodle Carbonara
This recipe only takes about 15 minutes start-to-finish and comes together in one pan!
Tools Needed
Ingredients You'll Need
Fresh Udon Noodles
Bacon
Egg Yolks
Parmesan Cheese
Pecorino Romano
Heavy Cream
Freshly Ground Black Pepper
Chives or Scallions
The Process
Making udon noodle carbonara goes similarly to making traditional carbonara.
Make the sauce. Whip up room temp egg yolks with finely grated parmesan, and pecorino romano. Use a large bowl and a whisk to really whip it up, aerating the thick mix as much as you can.
Crisp up the bacon. You don't need to add any extra fat to the pan, just pop large pieces of bacon into a dry pan over medium low heat and stir regularly, rendering out the fat and crisping up the nuggets of deliciousness. When crispy, remove the bacon from the pan and reserve 1 tablespoon of bacon fat in the pan.
Cook the pepper. Add the pepper and butter to the pan and cook for 1-2 minutes until fragrant.
Cook the udon. Briefly warm up the udon in boiling water. When hot, scoop the udon directly from the pot of boiling water into the pan with the pepper, coating the udon in the rendered fat.
Toss. Scoop out 1/2 cup of hot udon water into the bowl with the egg and cheese. Whisk well to emulsify and combine then add the sauce to the pan. Place the pan over low heat and toss the udon with the sauce, loosening with extra udon water if needed, until coated and glossy.
Enjoy. Plate it up, top with extra cheese, scallions or chive, and pepper and enjoy!
More Easy Pasta Recipes to Try
This post may contain affiliate links from which I receive a small commission at no additional cost to you. Affiliate links allow me to keep providing great recipes for free and I never recommend products that I don't love and personally own.
Easy Udon Noodle Carbonara
Udon noodle carbonara is one of my favorite fusion recipes!
Ingredients
1

lb.

fresh udon noodles

6

strips thick cut bacon

diced

2

tablespoons

butter

1/2

teaspoon

freshly ground black pepper

4

egg yolks

1/4

cup

heavy cream

1/2

cup

freshly grated Parmesan

1/4

cup

freshly grated Pecorino Romano

Minced chives or green onions

for topping

Kosher salt to taste
Instructions
In a large skillet, cook the bacon over medium-low heat until the bacon is crispy. Remove the bacon from the pan and transfer to a plate. Drain all but 1 tablespoon of the bacon fat. Add the butter and pepper to the pan and cook over medium heat for 1 minute.

Cook the udon noodles in a pot of boiling water, according to package directions, about 3-5 minutes. Reserve 1/2 cup of the water. Drain the noodles and add to the pan while still hot. In a small bowl, whisk together the eggs, yolks, heavy cream, and cheese. While whisking, pour in the reserved pasta water until the sauce is smooth.

Pour into the pan over the noodles, and stir constantly over medium-low heat, until the sauce is warmed through and thick. 

Return the bacon to the pan and season to taste with salt. Serve immediately topped with chives or green onions and extra parmesan.
You might also like...